While SEO specialists concentrate on raising a site's search ranking, little attention has been paid to the factors that affect that same site's rankings on mobile devices.  Smaller screens, slower networks, intermittent connectivity, and user location are just some of the unique factors that need to be considered when creating SEO for mobile sites and making sure they can compete with the day to day life of people on the go.
CEO of MobileMoxie, Cindy Krum
, aims to make sure nothing is missed.
This interview was originally published on

December 17, 2018

.
Please tell me a little bit about your background before founding MobileMoxie.
Before starting MobileMoxie, I was designing and building simple websites and working as an SEO at a small agency in Denver.
How did you go from designing simple websites to the more technical back end of the internet?
The sites I built were basic HTML and JavaScript. At first, I had some people helping and teaching me, but then I took the initiative to read and research until I understood the nuts and bolts of how the web works and how things all fit together. A lot of what we do as SEOs is focus on the technical nuances that make sites function better and more efficiently. Many of the developers we work with get really bogged down by a site's complexities and requirements that they're just so thrilled to get the thing working! But they forget that to assure high rankings, the site must also be fast and crawlable – and the strategies for accomplishing those goals change a lot. We help them keep up with the finer points of coding issues that may negatively impact their search rankings.
Why did you create MobileMoxie, and what needs does it fill?
Mobile SEO was growing in importance, and yet, there was no one dedicated to helping companies achieve mobile SEO success. Everyone seemed to focus on desktop SEO which is different for several reasons, so I decided to address that need. Today we are actually celebrating our 10-year anniversary, and we're really proud of that!
What are the unique marketing challenges for sites when viewed on mobile devices as opposed to desktops?
Smaller screens, slower networks, intermittent connectivity –  all of which means websites need to work harder at loading faster and be more efficient in communicating their message while minimizing user interaction. Mobile sites must be able to compete with day to day life as people are on the go. From Google's perspective, they are looking for different things within code to indicate if a site would be a good mobile website terrain and those things will also affect a site's rankings.
Are MobileMoxie's tools intended for web professionals or the individual site owner?
We have several different packages to fit the needs of agencies handling lots of clients with mobile SEO as well as for in-house SEO teams, external SEO advisors and independent SEO consultants. We also have APIs that enable our tools to be integrated and work in other systems such as proprietary dashboards and CMS systems.
Let's talk about the MobileMoxie tools. What is the SERP test?
The SERP test allows you to test any keyword in any language on a mobile phone as if you are standing anywhere in the world. One of the biggest differences in mobile SEO is the importance of location and how a user's location can change which sites rank and which sites don't. Since Google tries hard to localize search results on mobile devices, the problem with a lot of existing SEO tools is that they don't show localized results, they show results based on wherever they have an IP address. So, if you're using those tools, you might think you're ranked in a certain position, but really, it could change quite a bit depending on the user's location when searching. Our tool's advantage is that it can run your test, for example, as if you were standing at a specific address in Tokyo and wanted to search for pizza or at that address in Tokyo and wanted to search for pizza in Japanese. You can select up to two phones at a time from the many we support and see how those search results might even differ from phone to phone. With our SERP test, you get the same real live search results as you would if you're standing right there in Tokyo. To determine your location, Google uses not only your phone's IP address but a combination of location signals that are usually more related to GPS coordinates. Even when you are doing desktop searches, Google is getting your GPS coordinates from your phone. With SERP, not only can you test one keyword at a time in one location at a time, you can also test one keyword in up to a hundred different locations at a time by uploading those addresses as a spreadsheet. So, let's say you're a chain like Macy's or California Pizza Kitchen and you want to see how you rank in a search of a very important keyword as if you were standing just outside all of your stores. You can upload a .csv file of all those addresses, set the test to run and we'll send you an email when it's complete. You can then see how rankings change from place to place on those one hundred addresses. We're about to come out with a service area tool that will allow you to check rankings on a keyword within a specified radius of an address. So, with your starting address, you can check your rankings five miles out in a circle, ten miles out in a circle, fifteen miles out in a circle, whichever increments you want.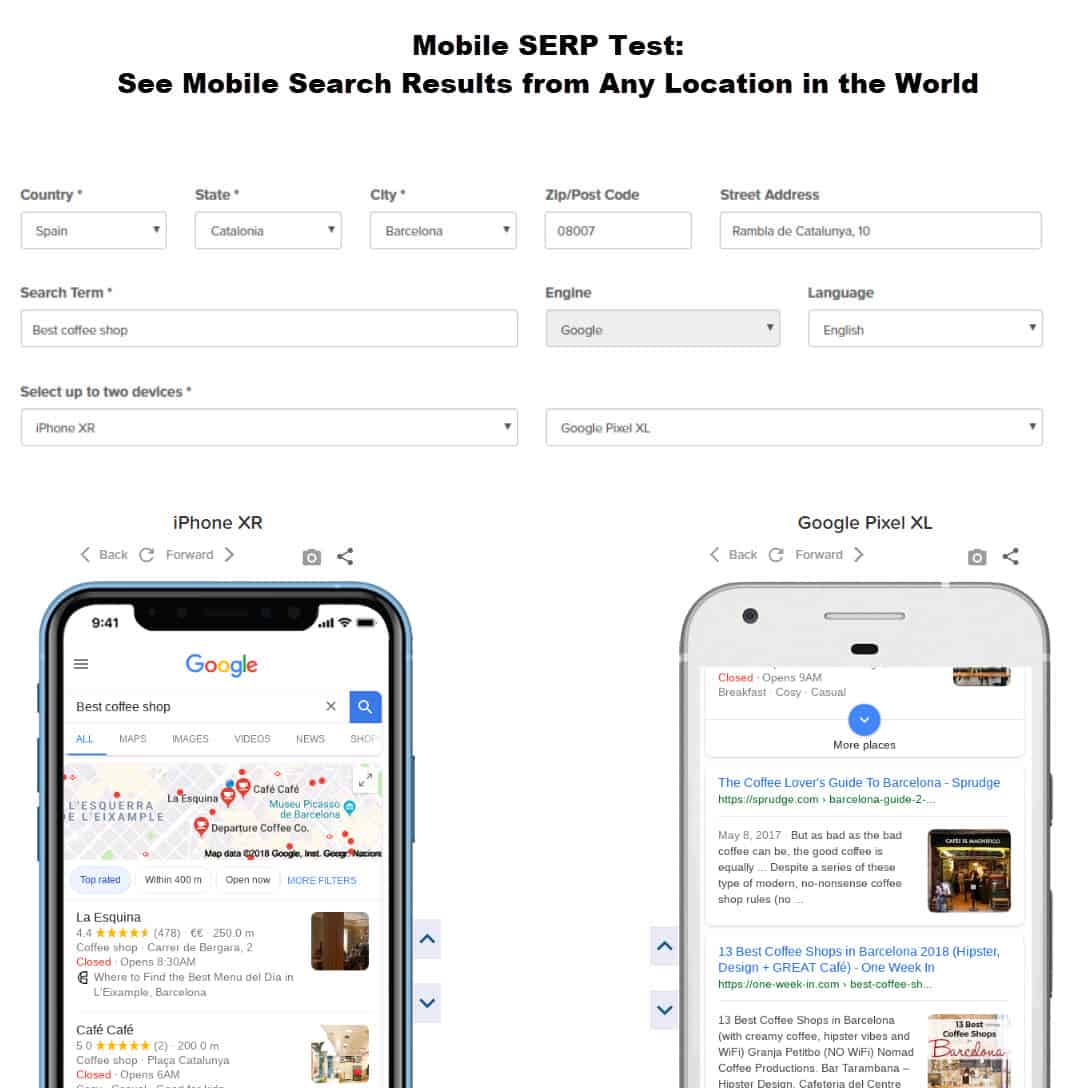 Can these searches be saved so companies can track how SEO changes they made have affected their rankings?
Yes, all searches are saved and can be rerun or edited. Searches can also be set up to run at regular intervals, so if you want to run the test monthly, that's not a problem.
How does the mobile page test work?
The Mobile Page Test is similar except it's more focused on landing pages. So, let's say you have a landing page for a product on Amazon and you want to know exactly how that landing page looks and functions on several different phones. Like SERP, we can test landing pages on one or two phones at a time, just by putting in the URL and choosing the phone(s). We also have bulk versions so you can upload and test multiple pages on two phones at a time or test one landing page on all of the phones. Again, those also run in the background, and we send you an email when complete.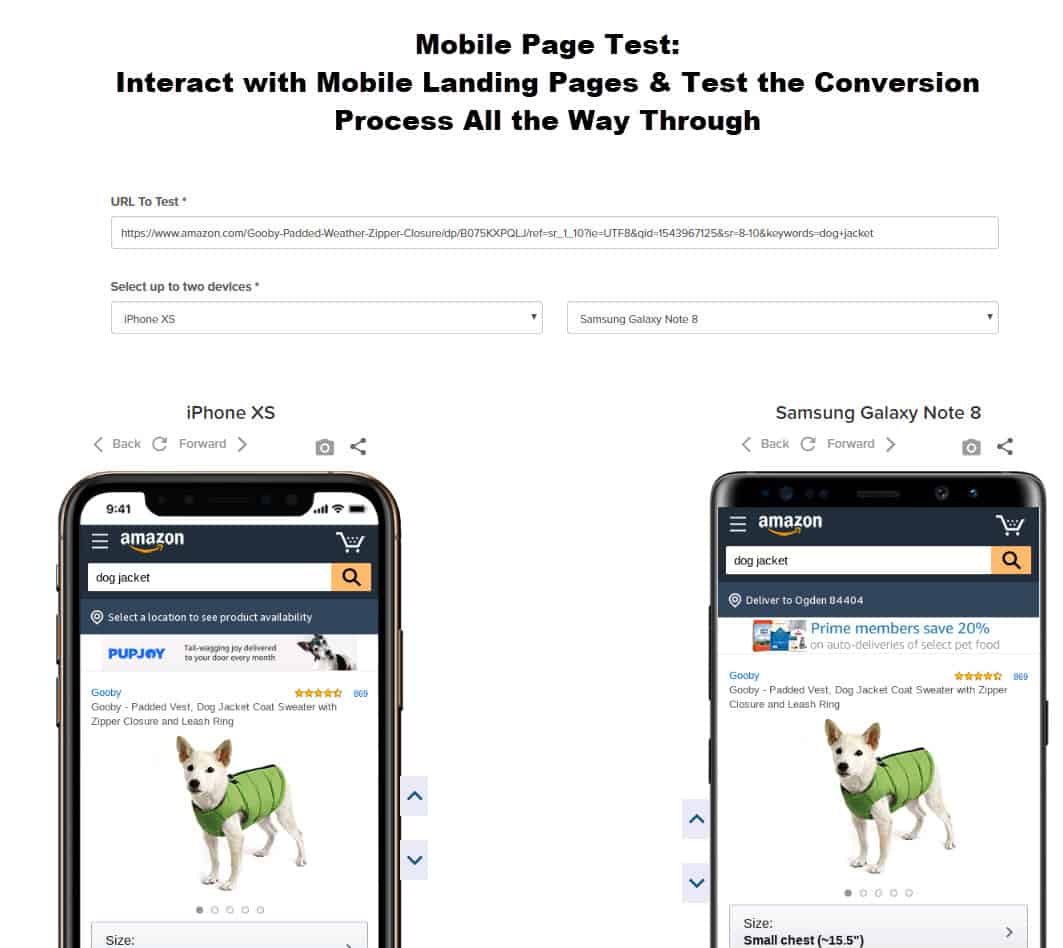 Based on these test results, do your tools give recommendations for improving SEO?
MobileMoxie provides SEO consulting as a distinct service. We also extend complimentary assistance to Enterprise users, aiding them in comprehending their results. However, our current user base comprises highly sophisticated digital marketers who are well-versed in effectively addressing any issues they uncover using our tools. In my experience, a lot of tools that generate automated recommendations aren't very good or don't always apply across the board, so that's kind of a dangerous place to go. We are, however, working on generating automated recommendations for universal issues such as page speed, the nuts and bolts of page building and whether or not Google can easily crawl and understand the page.
Are test results saved so users can review how their ranking has improved over time?
Yes, absolutely. Additionally, the one-time test is not static but has live clickable results, so it's great for testing the conversion funnel or the conversion path on a particular mobile page across several different phones. Again, let's use the example of a landing page on Amazon. Suppose analytics is suddenly showing that users of a particular phone, let's say the Pixel One, are having trouble converting or their conversion rate just dropped off. To figure out what might be going wrong when using a Pixel One, select that model from our phone database, enter the landing page's URL and you can click through
live
all the way through conversion.
What is your International App Store Optimization?
We also specialize in what we call ASO or app store optimization. Companies who build apps sometimes forget that those apps must rank well both when searching Google in a browser and searching within the app stores. Our tool tracks rankings for particular apps and keywords in all the different app stores allowing you to view and track your ranking on a particular keyword over time. Additionally, rankings for an app can change if you're an international company. For example, let's say you've developed a children's game app. In the U.S. that app classification might be incredibly competitive, so you might rank at position 200 in the U.S.  However, in another country, let's say Sweden, if there are fewer people developing kids' apps in Swedish it's much easier to rank and you may find yourself in position 20 or even position 5 in an app store in Sweden.