Finding the right image or video to enhance your content is one of the most significant factors in drawing your audience. We spoke to
Serban Enache, CEO of Dreamstime
, about their multimedia marketplace, how their interface is designed to provide both their contributors and end-use designers with a smooth and efficient experience, and the changes he has seen in the industry since he founded Dreamstime  20 years ago.
This interview was originally published on October 19, 2020.
What is Dreamstime?
Dreamstime is a community-based stock photo marketplace that sells visual and audio content to designers worldwide.  We sell stock photography, illustrations, and vectors (our most popular) and, in recent years, have added video clips and audio. We also sell vector format and raw files. We have a broad array of content to complement various websites because sometimes designers need both video and photographs. Or once they've used video, they realize they need sound as well, so we have tried to provide all those elements and be an all-encompassing media marketplace.
What types of filters are available for finding the perfect content?
We provide a keyword-based search, which is the most frequently used way to find content. That is augmented by artificial intelligence, where we suggest content based on both visual searches and additional keywords. Users can search by various other ways to include or exclude specific content, such as the number of people in a photo or their ethnicity, for instance. They can also create a set of their favorite photographers and limit their search within that set. Let's say you are looking for authentic content from Armenia, and you don't want to use the editorial images, but you want to illustrate your article with a genuine photograph. You can search for a photographer based in that area. Let me show you how adding advanced filters such as ratio, primary color, RAW/vector filters, can refine your search for amazingly accurate results. A designer needing a background image for that a perfect blue vector format banner, can simply use the search term "
background
,"  and the results will show images suitable for use as backgrounds. However, a better approach is to limit the scope of the search using filters to find images that will be easier to work with. Usually, when creating banners, there are certain constraints regarding the images' content so that the text and buttons fit nicely, and this is where the vector format comes in handy. Designers can search for vector illustrations, which will allow this kind of flexibility. Depending on the banner's format, the ratio can be limited to landscape, portrait, or square ratios. Designers can even choose a primary and secondary color if they wish to use a particular color palette. In this example, we used blue as a primary color. As can be seen from the two examples, the general search for "background" provides plenty of useful images but using the advanced filters will take designers to the perfect image much faster.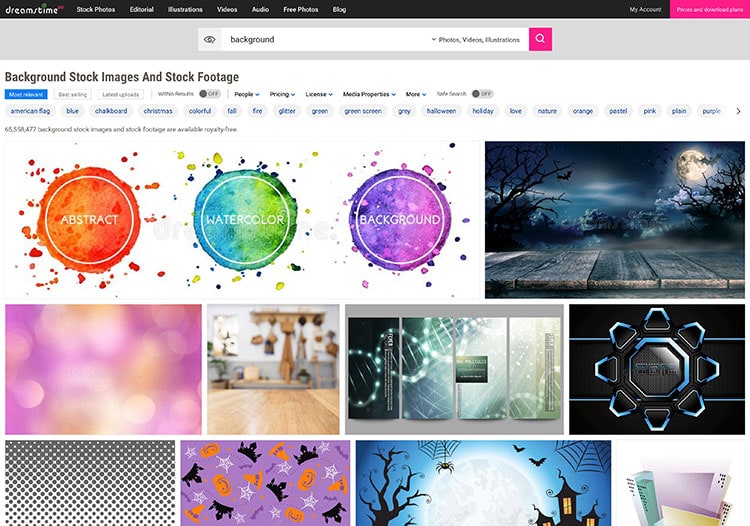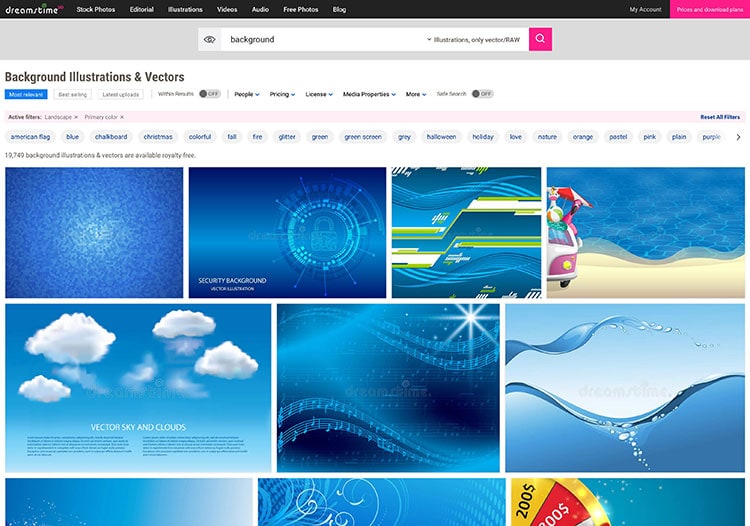 Is there a way to find related content across your different media types?
Yes. The most common way to do that is to search in a photographer's portfolio or search for a photograph that includes a set of people and then find videos with the same people. It's a great way to enhance your website's visual message because you often want to provide a responsive layout that works differently based on the viewer's device's resolution. You can offer a similar experience using the video for the hi-res and the photo for the low res version.
Can downloaded content be modified or edited by the end-user?
Yes, our license provides access to such rights. You can modify the photo reasonably, but you cannot claim the copyright on the resulting product. If you want to get into the legal aspect, that will be a derivative work of the original photograph.
What, if any, are the limitations of licensing content through Dreamstime?
The usage of our content is pretty broad. It's a lifetime, perpetual license and can be used for as many designs as you need. However, you have to be careful about malicious usage, especially if there is a photographed model. We provide a template of our model release so designers can check what the models have agreed to, but a negative, derogatory context is always forbidden.
How do content creators contribute to the Dreamstime database?
Initially, we were a web-based platform. We now provide mobile access as well through a phone's browser or our dedicated app. It's sometimes easier for photographers to submit while they are commuting. Upon submission, we provide AI-supported automatic tools to keyword the media presented.
So when content is uploaded, you use AI to suggest keywords?
Yes. We found that contributors, particularly those from the mobile world, were so eager to have their photographs instantly submitted that they were less interested in providing keywords. That's a problem because designers use keywords to search for images, so images without keywords would not be found. Now when they submit an image, our system provides keywords and categories. Because those recommendations are not always perfect, creators can review them and choose to remove or add keywords themselves to complete their submissions much faster.
Is content vetted before it is accepted to the database?
Yes, we have various filters, and all content is reviewed by both AI scripts and human reviewers. A stock agency needs to make sure their content is curated because there could be legal implications and adverse effects on the user experience. Curating the database ensures that designers spend less time on our website and more time working on their projects or just enjoying life.
What advice do you have for creators to make their content marketable?
Marketable content is content that can be used in as many designs and industries as possible. If it's archetypal, if it's iconic, if it's unique, then the same photograph can be used for an insurance ad or a lifestyle magazine.
What is your PhotoEye™ AI & Machine Learning?
Stock agencies usually sell content to advertisers or ad agencies to be used in all kinds of industries, but a limited set of people uses them. It is a business-to-business industry between designers and photographers, and that is it. The AI and Machine learning channel open up a new world for us because we can now provide content to third parties from different industries, such as a printer manufacturer needing content for the printers in their shops. We had a recent partnership just like that with HP. This customizable solution offers users content filtering, copyright and logo detection,  automatic keyword suggestion, smart cropping, privacy tools, and scalability to improve results for companies and their customers. Companies can save time by implementing this advanced photography solution and reducing the hours spent by humans on mundane, manual tasks. With a more efficient search and editing process, this tool improves marketing, advertising, and creative campaigns and projects through several helpful features. It's a great way to provide content outside our regular stock media business.
How is pricing structured?
There are several types of pricing models starting with credits, where you pay as you download. We have a unique system in the industry, where the popular images are more expensive to motivate designers to search for and purchase our newer content, which is less costly. We have a subscription-based model where you pay a monthly fee for a certain number of downloads, with every image priced the same. We have recently added subscriptions that allow you to download both photos and videos.
What can we expect to see from Dreamstime in the future?
We've just celebrated 20 years, and being industry for so long allows us to see how designers react over time and how the demand has changed from printed magazines to online or today's video blogs. We've seen requests for a new type of content growing, but regular photographs are still the most demanded items. We always try to enhance our features and improve our software, so soon, we will be releasing a new upload section redesigned to provide a better experience for photographers submitting content.
What changes have you seen in the stock photography industry in the last 20 years?
For starters, all the images we had in our first year probably take up less space than the videos we currently receive in a single day! The difference is enormous. Bandwidth is better and less expensive, customer access worldwide is faster, and storage is cheaper, so we can expand as the number of submissions increases.