Regardless of the industry, and whether you are in the business of selling products or content, if you have a website there's a pretty good chance that you will need to use stock photos from time to time. For this reason, having the best stock photography resources is nearly as vital as having access to one of the best website builders.
A recent study found that articles which featured a compelling and relevant image had 94% more views than articles without one. This is even more important for businesses that sell products online, as over two thirds (67%) of consumers deemed clear, high-resolution images to be very important in their online purchase decisions. They're so important, in fact, that most respondents reported that a quality image has a bigger impact on their purchase decision than a full description, customer rating, or even the product information.
The problem is, the cost of original photos through websites like Shutterstock or Getty Images can be prohibitively expensive, and having your own photo shoot can be even more so. And on the most popular stock photography sites, many of the most photos have already been used countless times before. This why you need to arm yourself with a well-researched list of the best websites out there today, to find high quality, original, and—most importantly—free stock photos.
#1: Pixabay
With a library of well over one million photos, Pixabay is one of the largest free stock photo collections that's currently available. They have over 30,000 photographers who are actively contributing new content on a daily basis. Pixabay's collection not only includes photos, but also illustrations, videos, and vector graphics. Due to the diversity of videos and images, this site is very popular with advertisers, authors, bloggers, graphic designers, and journalists.
#2: Unsplash
Created in 2013 by a team in Montreal, Unsplash has made a big impact in the stock photo industry nearly from its inception. Currently, there's well over 400,000 images on Unsplash, shared by nearly 65,000 different photographers. With this many images, there's a good chance that you'll find something relevant, regardless of your industry. This is why many consider Unsplash to be one of the better starting points when searching for the perfect free stock photo for your site.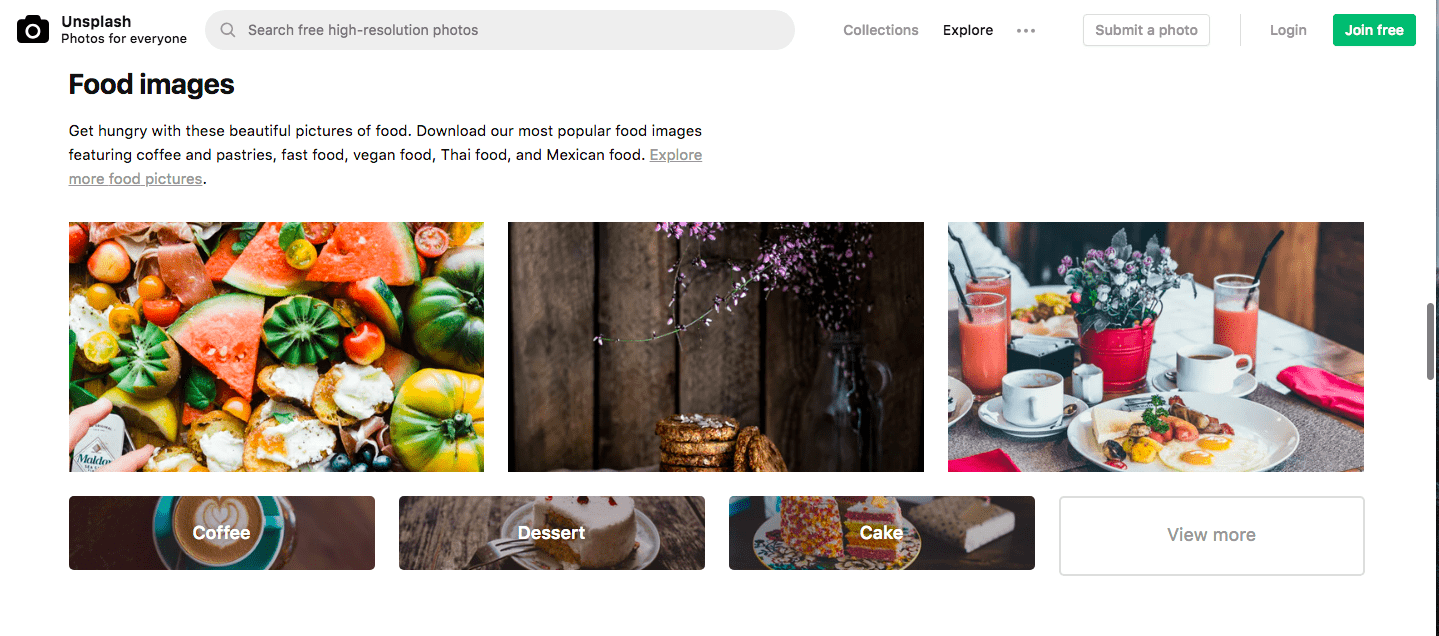 #3: Pexels
As one of the top free stock photo websites today, Pexels is a great source for both bloggers and designers to find high-quality photos that can be used, and modified in whatever way you might like. Although, the one thing that really sets Pexels apart is their vast library of free stock videos, something not offered by many other free sites.
#4: stockvault.net
With over 110,000 free photos in their repository, stockvault.net is one of the larger collections out there today. All their content is user submitted by photographers, students, and designers. More than just photos, stockvault.net features graphics, textures, wallpapers, and vector files, all free of charge. With such a wide offering, stockvault.net is good for people in just about any industry.
#5: Kaboompics
All pictures on Kaboompics were taken by one, probably very busy, woman who specializes in taking stock photographs. That being said, Kaboompics doesn't lack variety and content. While it may not have the number of photos as mega sites like Unsplash and Pexels do, Karolina at Kaboompics still offers an impressive array of images. Because of this, Kaboompics is one of the world's top sources of free images used by interior design, lifestyle, and other specialized bloggers. A unique feature of Kaboompics is the ability to search photos by the color palette present within them, as well as by keyword, making it easier to find photos that will match your aesthetic.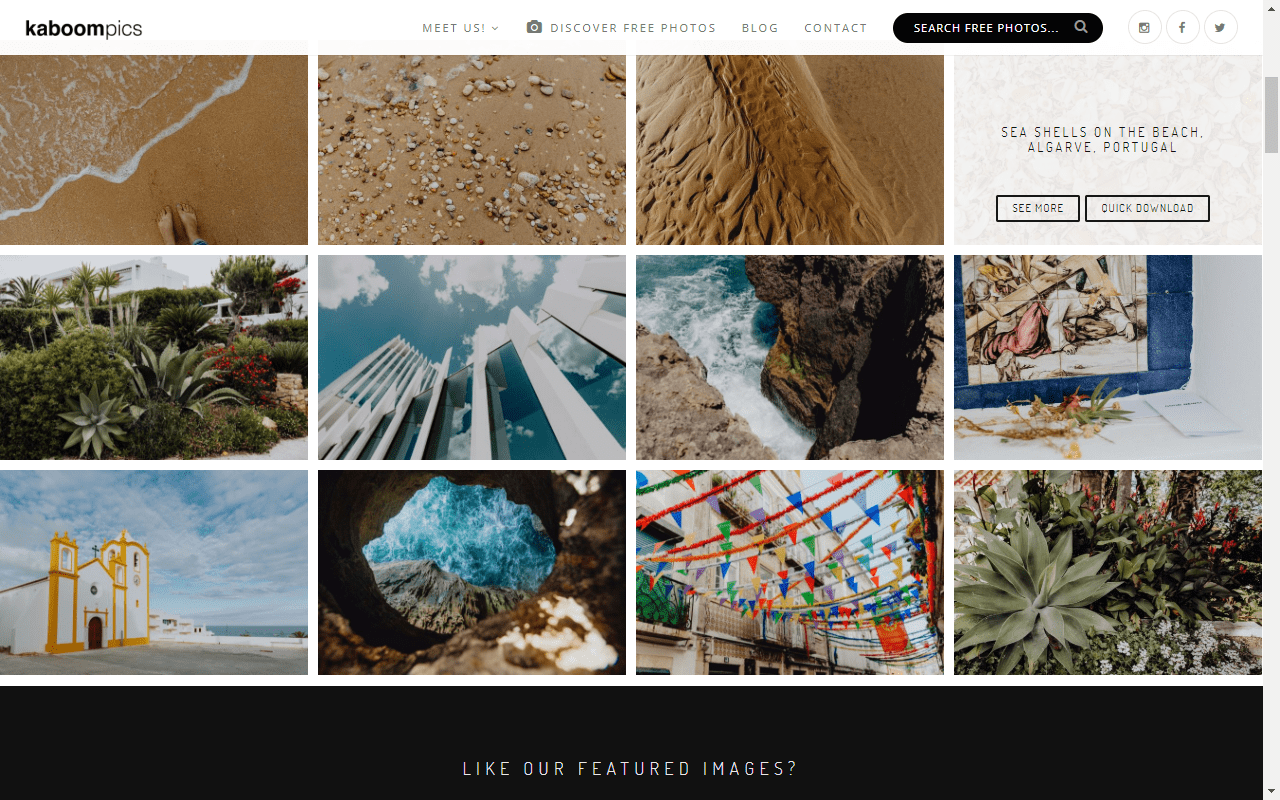 #6: StockSnap
With a massive library of carefully curated photographer submitted stock photos to choose from, StockSnap is another fantastic source to find photos for nearly any purpose. StockSnap also has an easy to use tagging system, making it simple to find a broad range of photos based on a variety of convenient categories.
#7: Libreshot
The website and all the photos on Libreshot are the work of SEO consultant and photographer, Martin Vorel. He features many photos from European and Asian countries, but particularly from his homeland, the Czech Republic. There's also a fair amount of nature photography available, with many unique images of insects, mushrooms, and plants. Libreshot is especially popular with journalists, teachers, and students due to the many nature and international photo options.
#8: SplitShire
The personal project of graphic designer and photographer Daniel Nanescu, SplitShire includes an impressive collection of beautiful images and videos freely available for nearly any purpose. What SplitShire lacks in quantity it makes up in quality, with photos that are truly exceptional. And with over two million downloads, and six million page views, there seems to be quite a few people out there that agree.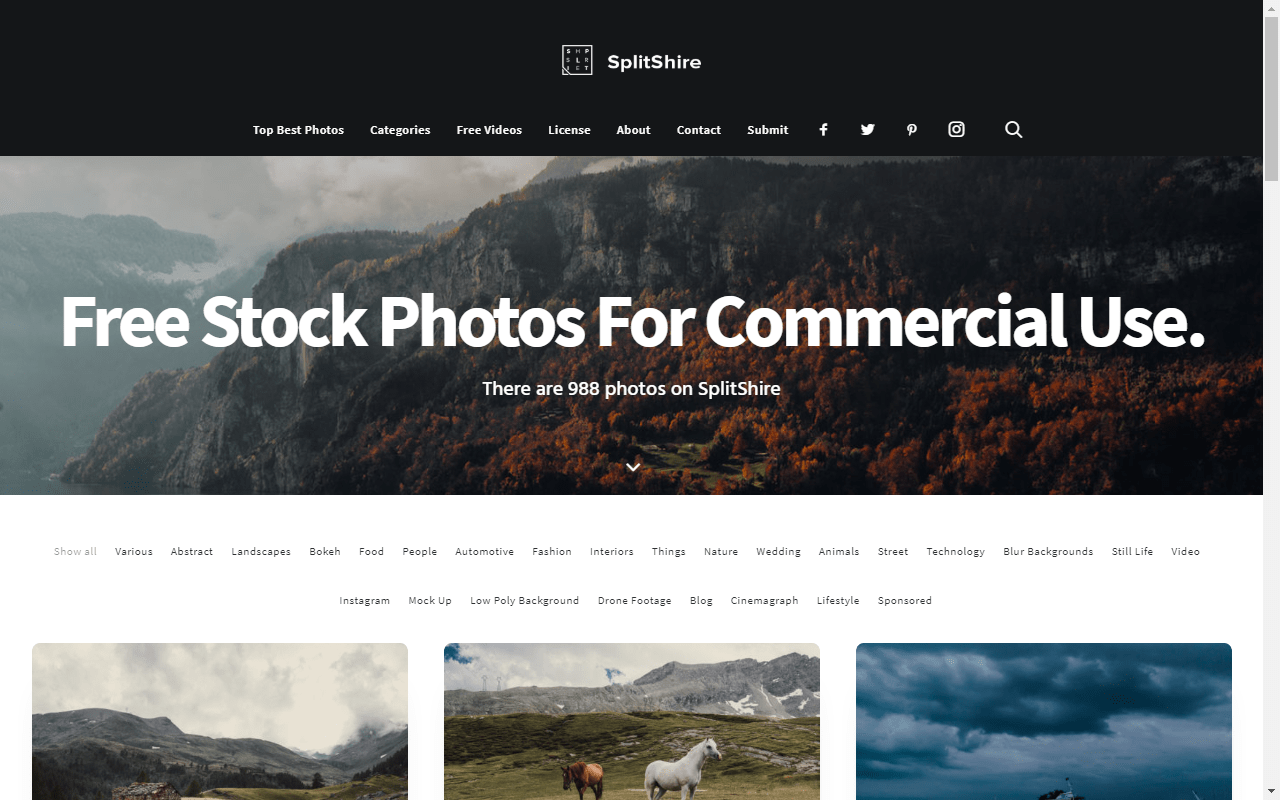 #9: Burst
Burst is a fairly new free stock photo site that was put together by the Shopify team. That being the case, it's not surprising that the website is primarily targeted toward people who are running their own online stores, but it can be a great resource for bloggers as well. All of Burst's high resolution images are under the Creative Commons Zero (CC0) license, which means that you're free to do with them as you please (including any modification), all without needing to credit the original photographer.
#10: Life of Pix
This free stock photo site works something like a social network, where you create a profile and are able to follow your favorite photographers. Put together by the LEEROY web design agency and their network of photographers, each week the team at Life of Pix chooses a photographer to feature based upon their number of outstanding contributions. This is a fantastic site to find original, high-quality stock photos that aren't as widely used as those on many of the other sites.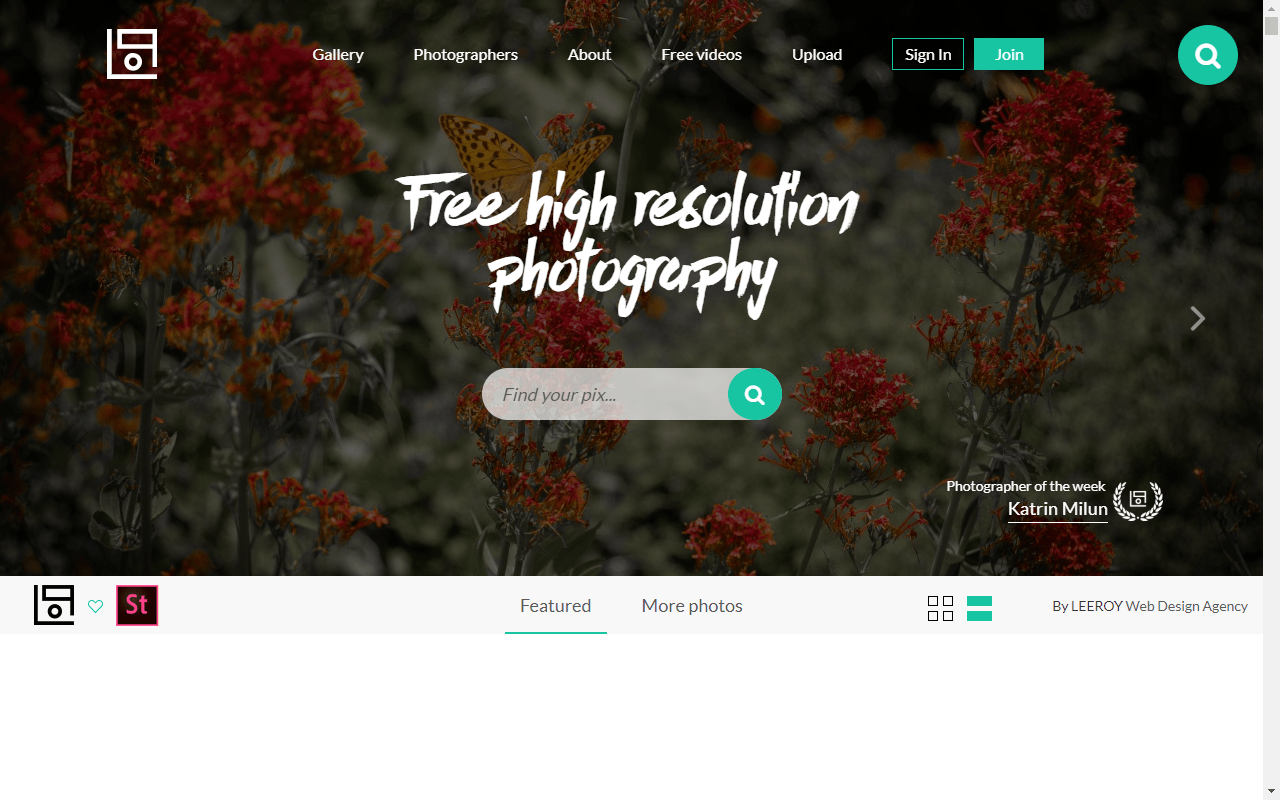 #11: freestocks.org
As the website's name implies, freestocks.org is another great place to find free stock photos. Most of the website's images are submitted by a single photographer, Asia Malinowski, but there are a few other contributing photographers as well. Due to this, the images on freestocks.org are of an exceptionally high-quality, although the library isn't huge, with just over 1,100 photos available. For anyone looking for stock photos that are a bit more unique and artistically shot, freestocks.org is a great place to start.
#12: Gratisography
Gratisography claims to have the world's quirkiest collection of stock photos, and after browsing through their library one would be hard pressed to disagree. The passion project of photographer Ryan McGuire, much of Gratisography's photos are rather humorous, and truly unique, with images that focus on weird hair, dinosaur heads, bunny costumes, and even fuzzy slippers. Their library is still rather small, but overall very enjoyable to scroll through.
#13: Pikwizard
One of the top websites for bloggers and graphic designers, Pikwizard is also a great source for small businesses to find free photos. They have an impressive collection of over 30,000 images, 5,000 of which are exclusive to them. One thing that really makes Pikwizard really stand out is the number of "people images" that are included on the site. So, if you're looking for a natural looking shot of a person, this is a great place to start.
#14: Foodiesfeed
Looking at the name, it's probably not too difficult to ascertain that Foodiesfeed specializes in images of food. They're primarily used by food bloggers (obviously), as well as social media managers, and small food businesses, such as restaurants. The website is comprised of a worldwide community of food photographers who offer their images 100% free of charge under the CC0 license.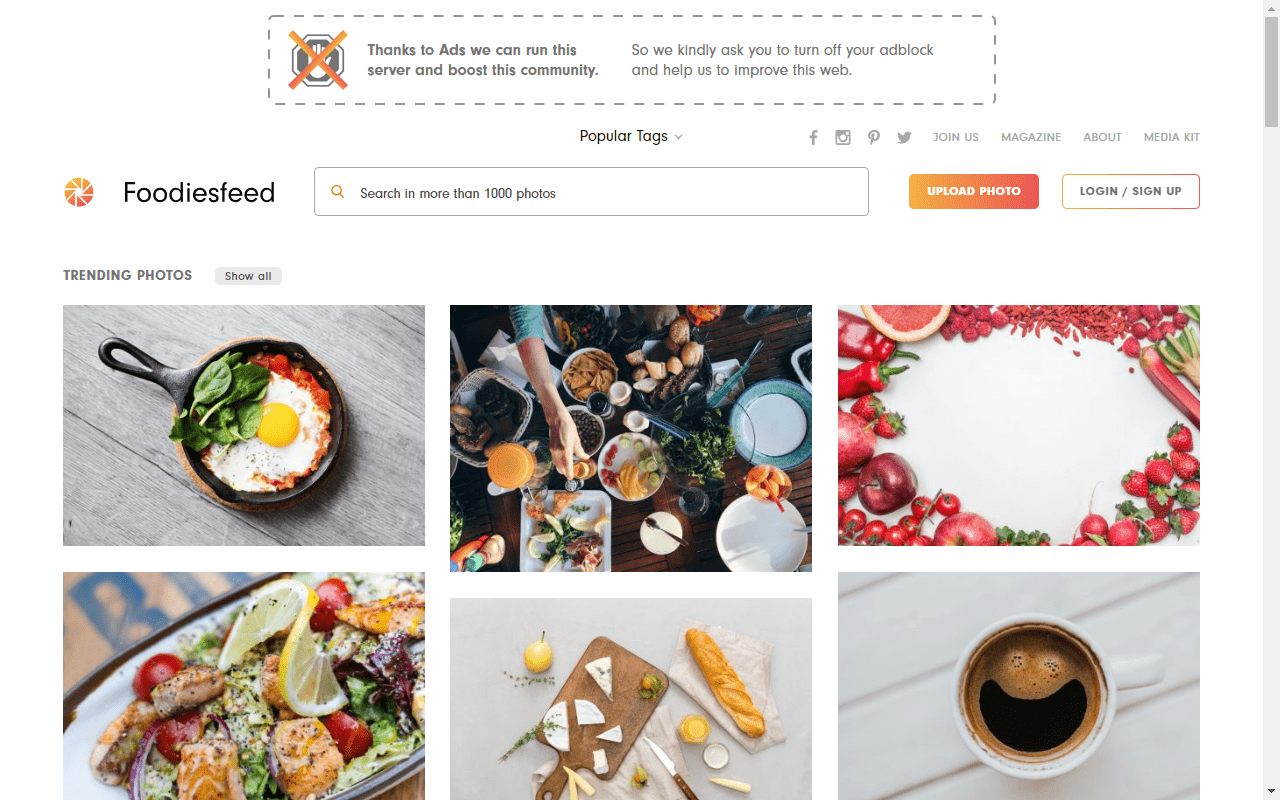 #15: IM Free
IM Free has many different categories of stock photos, although most people use them for nature photography, cityscapes, and images of people. One of the unique features that's offered by IM Free is the ability to create your own templates using their online template making tool. IM Free is a side project of the IM Creator free website builder, allowing you to find photos, build a template, and design your website all in the same place, and all for free!
#16: New Old Stock
If you're searching for a photo from a bygone era, or any image with a classic appearance, New Old Stock is a great place to look. They specialize in vintage images that were sourced from public archives, and are therefore free of any copyright restrictions. While not the most diverse place to find photos, New Old Stock is great at what they do, and offer most of their classic images in high-resolution. Not only are many of their images beautiful, but they're also great fun to look through.
#17: picjumbo
Created in 2013 by Czech photographer Viktor Hanacek, all of the photos featured on picjumbo are his work. Currently, picjumbo has over five million downloads from users all across the globe. The site is updated with new photos regularly, and is used primarily by marketers, designers, and bloggers.
#18: Reshot
If you're looking for a beautifully curated collection of photos, Reshot is worth checking out. All the photos are submitted by various photographers from around the world, but only the best of the best are actually featured. Reshot is particularly popular among startups and freelancers.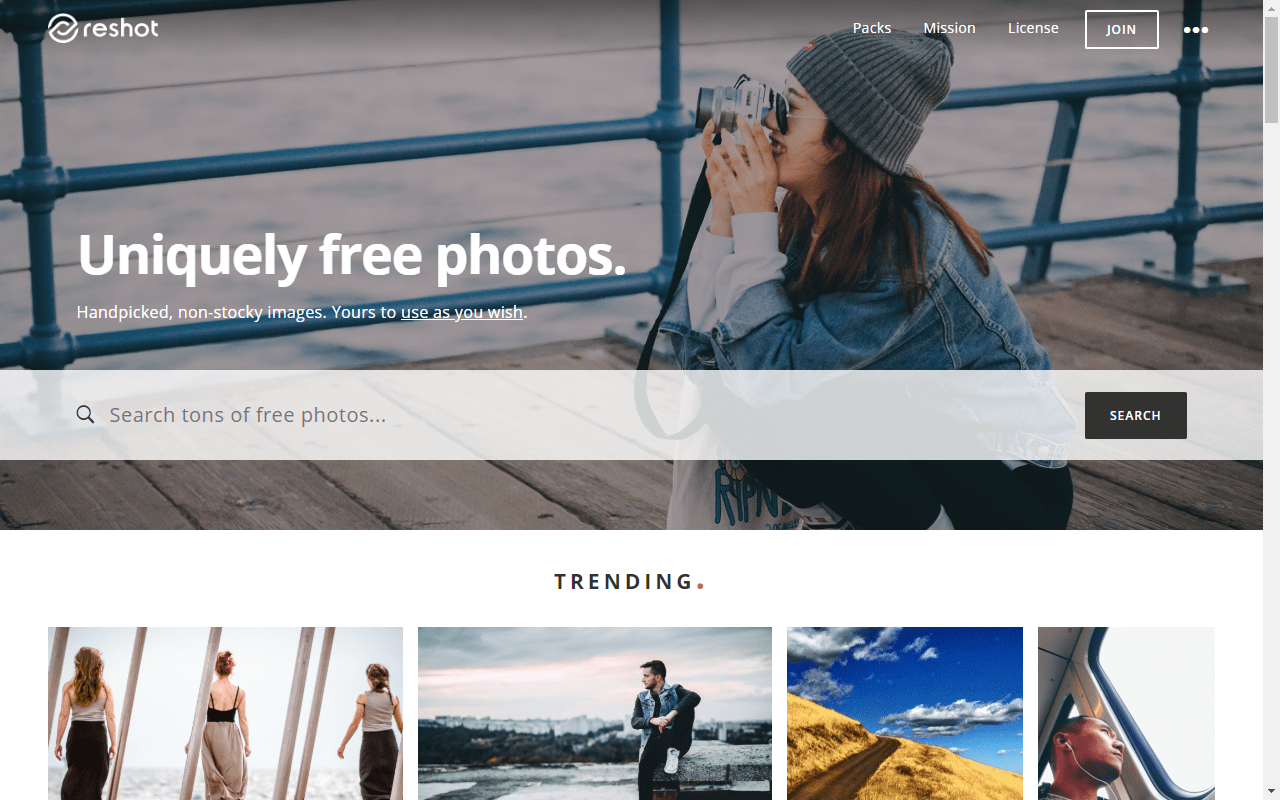 #19: Rawpixel
This is a great site to visit for a diverse range of photos, but especially for those that include people. While Rawpixel's library is fairly small, the photos are of an extremely high-quality, so they're worth looking through. By creating an account, you're also able to save your favorite photos to collections, making them easier to find later.
#20: Death to Stock
Death to Stock was founded in 2013 with the mission of ending the ridiculous practice of overpriced, yet mediocre stock images offered by companies such as Getty or Shutterstock. By subscribing to Death to Stock you will receive an email once a month which contains free photo packages, each of which adhere to a specific theme. Death to Stock is most popular among creatives, such as designers and bloggers.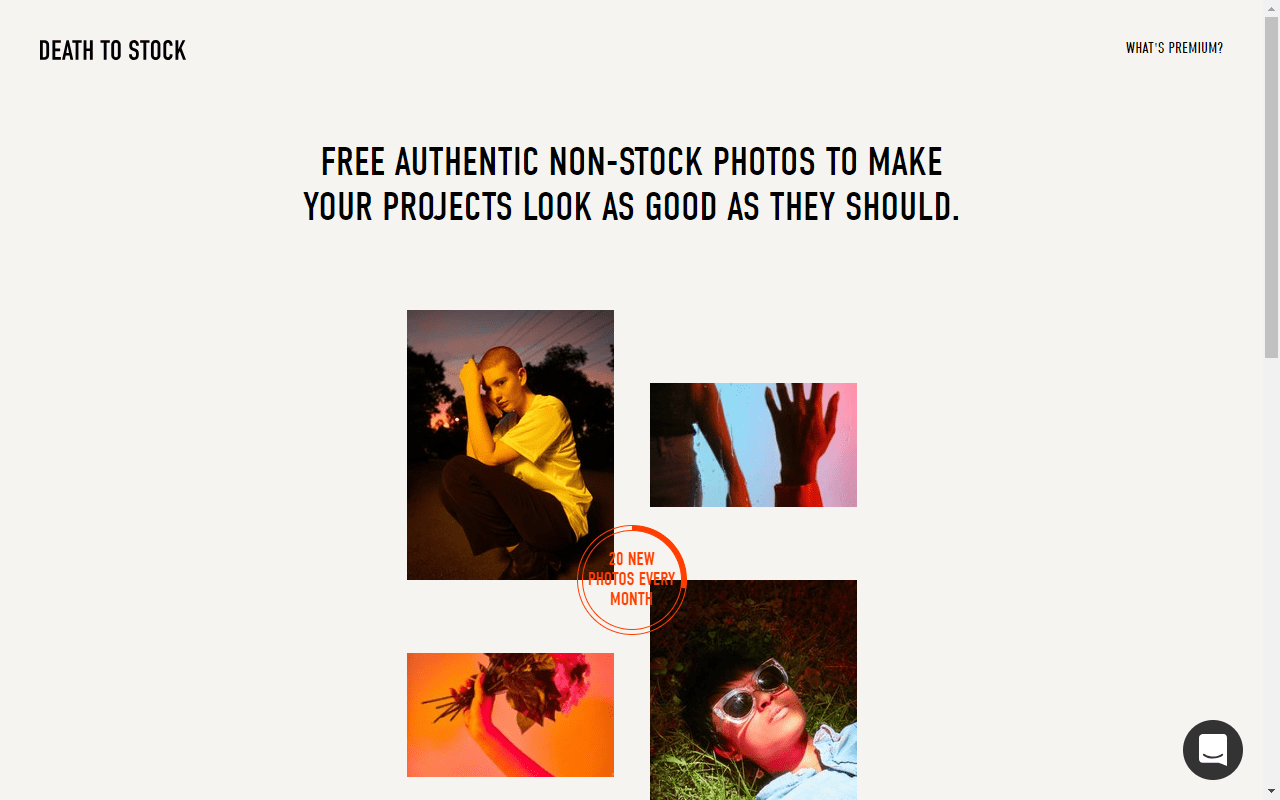 #21 Creative Commons
Creative Commons was founded on a simple premise: "To build a vibrant, usable commons, powered by collaboration and gratitude." There are over a billion images in a huge range of styles and subjects available on a number of Creative Common-owned platforms, including Flickr. Individuals who submit the work can determine the licensing of each image, but many are free to use and can even be adapted for commercial purposes with the appropriate attribution.
Finding the Right Photo
Now that you have a bunch of websites to choose from, you may be feeling a little overwhelmed. And, given the millions of photos available on all of these websites combined, that's perfectly understandable!
When looking for photos, it's often good to begin with one of the bigger repositories, and work your way down to more specific aesthetics or collections. Just be careful, as the images on some of the larger sites have likely been used countless times before. For originality, check out some of the smaller collections. Chances are that hiding somewhere among this list is the perfect stock photo for you!