While all the builders on my list will get the job done, my personal favorite is Squarespace. It has the best-looking templates around, and all the tools you could possibly need to build your website, integrated straight into its editor (so you don't have to look for them elsewhere). You can take advantage of
Squarespace's 30% discount on annual plans
 to save on your subscription.
Some website builders claim to be the best option for kids, but they're too basic to create a real, functional website.
 Other builders are too complex or difficult to use and could potentially lead to frustration. Whether you're a parent or a teacher, I know how important it is to you to find a tool that can allow younger users to unleash their creativity and expand their horizons. But you also want to make sure the site builder you choose is safe, age-appropriate, and affordable.
I tested some of the most popular website builders on the market, with the help of my lovely niece (Karen, 8) and nephew (Oliver, 13).
 Together, we selected our favorites and put together this list of the best website builders for kids.
In a Hurry? These Are The Best Website Builders for Kids
Wix – A huge variety of colorful templates make this builder an appealing choice for kids
Squarespace –A simple and powerful editor for learning design fundamentals
SITE123 – The easiest builder to use for kids of all ages, especially first-timers
What We Look For in the Best Website Builders for Kids
Ease of use – 8-year-old Karen had lots of fun using all the website builders on this list. They all come with kid-friendly site editors and simple tools kids can figure out on their own.
Templates galore – Kids like to have choices (doesn't everyone?), and all the builders on this list provide loads of templates they can choose from to get their website started. 13-year-old Oliver enjoyed taking things a step further and using the more advanced design and customization options – but that's not a must.
Fun features – Just because a builder is easy to use, that doesn't mean it should only provide the boring basics. These builders all include a wealth of extras kids can easily add to their website, like image galleries, blogs, and even video players.
Free plans and affordable pricing – You can try these builders for free to allow kids to create and publish as many websites as they like. If your kids are anything like Oliver and they insist on an upgrade so they can connect their own domain name to their site, don't worry – upgrading is easy and the basic paid plans are so cheap, your kids can easily cover them with their weekly allowance. (Don't miss my next article: Since When Do 13-Year-Olds Have Their Own Domain Names?)
Wix offers 900+ templates for kids to choose from.
 The templates are divided into categories, providing a great way to get a simple website started in minutes. The drag-and-drop site editor is fun to use, and kids can easily add their own text and images, change colors, play around with different fonts, and much more. Another option is to use Wix ADI (Artificial Design Intelligence) – a step-by-step wizard that creates a site for you based on your answers to a few simple questions. Karen said it was just like magic!
Wix has a free plan your kids can use for as long as they want.
 The storage space on the free plan is a bit limited (500MB), but this should be enough for a simple website. Another downside is that the free site will display Wix branding, and it will be published under a Wix subdomain (sitename.wixsite.com). The good news is that the basic paid plans are very affordable. Here are some other features that make Wix a great choice for kids:
Kid-friendly templates – If your kids are building a website as part of a school project, they might want to start with one of the templates in the Education category. These brightly-colored templates provide a lot of space to upload text and images.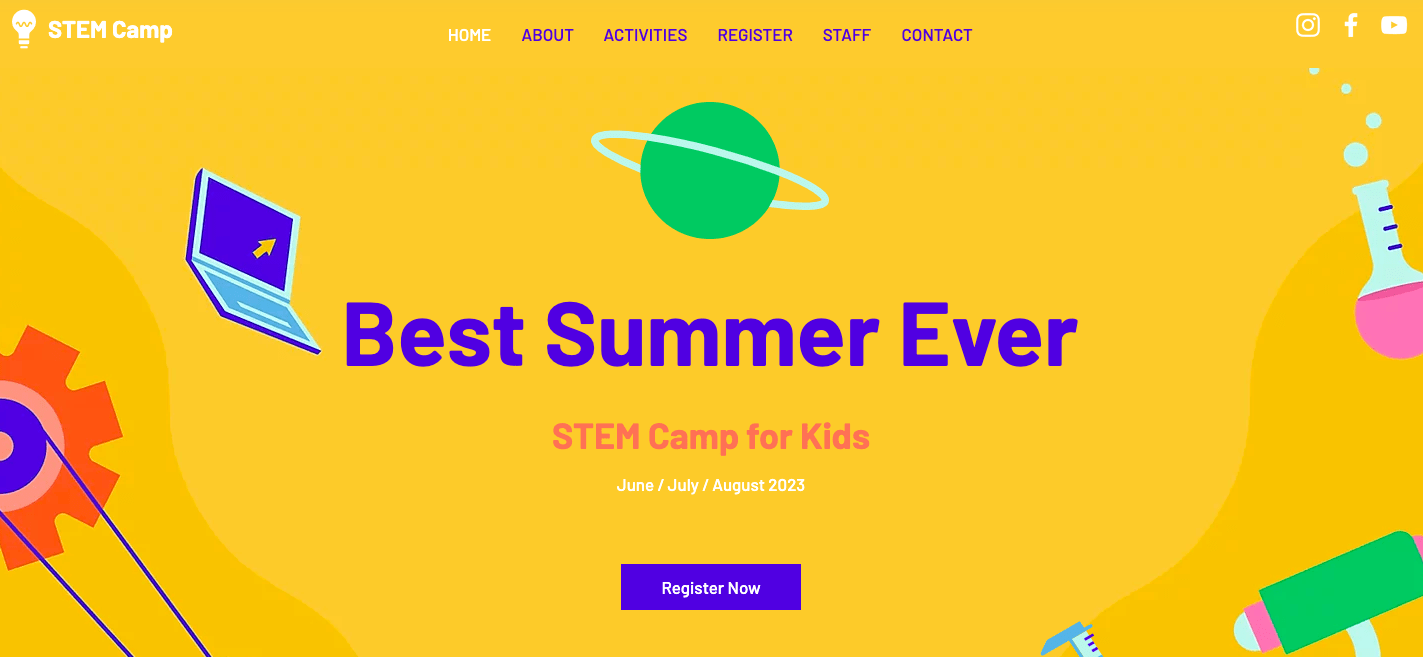 Easy drag-and-drop editor – Wix's site editor makes it simple for kids to add elements and place them wherever they want on the page. Younger kids are sure to have fun playing around, while older kids will appreciate how easy it is to add new pages and functions to their site.
Wix Gallery – If your kids want to show off their photos to their friends, they can easily add image galleries to their site. They even get access to the Wix stock image library, which includes countless free photos, clipart, icons, and more.
Learn more in our
in-depth Wix review
.
Free plan available?
Yes
Starting price:

$

0

Kid-friendly templates?
Yes
Simple editor?
Easy drag-and-drop page editor
If you're interested in going for a more didactic experience, the Squarespace editor is super fun and easy to use
, but with enough restrictions to create a good-looking site. This is thanks to Squarespace's grid editor and the "site styles" editor.
The former lets you add new sections to your sites using a grid. The sections come pre-designed for anything from photo galleries to a blog. Thanks to the grid layout,
kids can add any form of content while maintaining a consistent design.
The latter lets you decide the broad aspects of your site, like color and font choice.
It's easy to play around and experiment with these settings.
Kids can make as many changes as they wish without having to change the color of every page individually. This encourages them to experiment without frustration.
The result is a site that always maintains a level of visual quality without being boring
. Squarespace is a great way for kids to learn the fundamentals of web design.
Some features that make Squarespace great for kids are:
Easy-to-add sections

– It's incredibly simple to add new and interesting sections.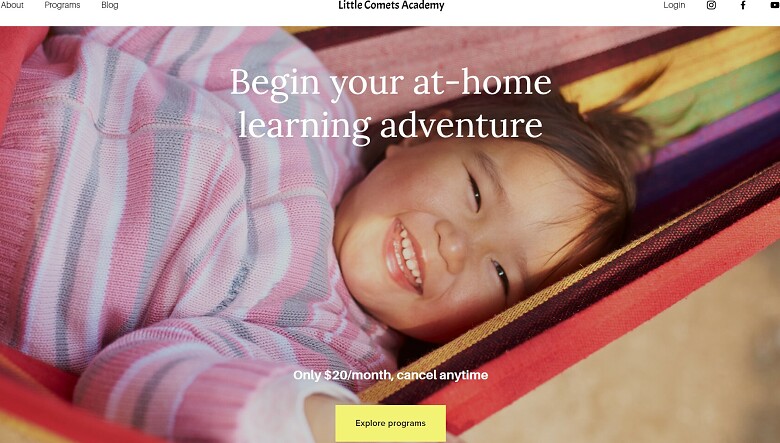 Fun dynamic elements

– Things like animations and image effects are fun to play with and add interest to a site.

Great blogging features

– For any future writers looking to create, update and publish a blog online.
Unfortunately, Squarespace doesn't have a free plan. But the 14-day free trial gives kids enough time to play with the software and find out if it's good for them. If you decide to upgrade, at

$

16.00

, the Personal plan is one of the cheapest premium plans around.
You can learn more in our in-depth Squarespace review.
Free plan available?
No
Starting price:

$

16.00

Kid-friendly templates?

Not specifically

Simple editor?

Easy-to-learn block editor
SITE123 is so easy to learn, even kids who are less computer-savvy should have no trouble picking it up.
 While it doesn't offer as many features as Wix, this makes it simpler to use. Oliver was a bit iffy about this one, but Karen absolutely loved it. The SITE123 editor isn't drag-and-drop, but what we call "point-and-click" in the industry – you click the element you want to add to your site, and then click again to place it on the page. It really couldn't be easier.
ITE123 also offers a free plan.
 It comes with a few limitations, of course – you only get 500 MB of storage space and some customization options (such as choosing your own color palette) are locked. If your kids manage to run out of storage space or just need more color in their lives, it's easy to upgrade. Here are some other features that make SITE123 stand out:
Basic templates – SITE123's templates are pretty minimal and the designs look pretty similar. This means kids can get started with just about any template, without having to remove unnecessary pages and features they don't need.

Easy blogging – With SITE123, kids can easily start a blog to share their thoughts with the world (how I wish I had this option when I was a kid!). Their friends and classmates can comment on their posts and even share them on social media.
Image and video galleries – SITE123 lets you upload both videos and images to your galleries, with interesting display options such as slideshow, carousel, and more. Kids can also embed videos from YouTube or Vimeo on their site.
Find out more in our
full SITE123 review
.
Free plan available?
Yes
Starting price:

$

0

Kid-friendly templates?
Yes
Simple editor?
Click to add, edit, or move elements around a page

Kids will have no trouble using Zyro, thanks to its flexible drag-and-drop editor. You can add any element to your page, and it will snap into a predetermined grid, so your content is bound to look good. You can add elements like image galleries and slideshows, videos, social media links, and Zyro has announced that animations will also be available soon. Another feature that kids may find appealing is Zyro's set of AI tools. There are Business Name and Slogan generators, an AI Writer, which generates content based on the details you give it, a Blog Title generator, and more.
Zyro has over 100 pretty designs
, grouped into categories such as Photography, Events, eCommerce, and more. All templates are mobile-responsive, and you can edit them via mobile, too. Here are some other features that make Zyro a good option for kids:
Free stock image library – Zyro has a large stock image library, which gives you access to over 1 million photos for free.
Video options – You can embed videos from any streaming service, including YouTube and Vimeo, and make videos play automatically when a visitor loads your page or set them to play on a loop.
Downloadable content. You can include downloadable digital content on your site. This is a great way for your kids to share fun pictures with the rest of your family and friends.
Find out more in our
full Zyro review
.
Free plan available?
No
Starting price

$

2.61

Kid-friendly templates?

Yes, a couple of designs in the Services category

Simple editor?

Easy drag-and-drop editor
DoodleKit offers a dedicated child-friendly website builder that allows kids to create a site, start a blog, upload photos, and add custom pages.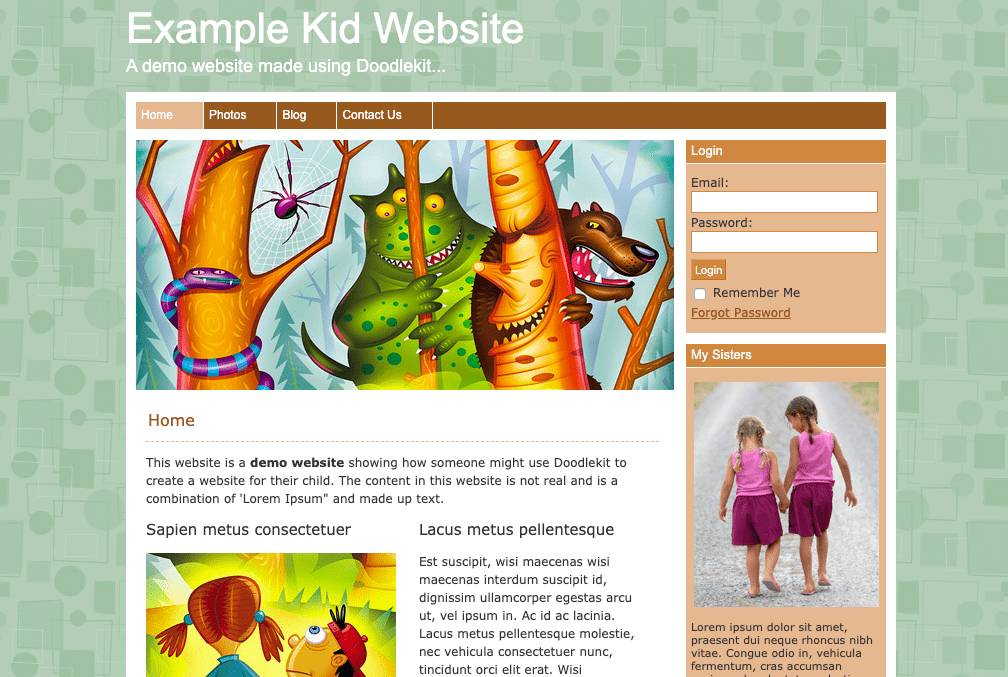 As I highlighted earlier, the downside of using dedicated website builders for kids is their usually basic nature, which doesn't present many creative options for inquisitive young minds. That said,
one advantage DoodleKit has over other website builders is its advanced security feature, which lets parents monitor their kid's activity on their website.
 You can act as the "admin" of the website and control different features. You can filter comments from strangers, set photo albums to visible for approved users only, and more.
DoodleKit offers a free plan
 that includes 100 MB of storage. To add more than one user to the site, you'll need to upgrade to a paid plan.
| | |
| --- | --- |
| Free plan available? | Yes |
| Kid-friendly templates? | Yes, a dedicated website builder for kids |
| Simple editor? | Easy to use editor for children with limited features |
Learn more in our
full DoodleKit review
.
Which Website Builder Should You Choose for Your Kids?
Every website builder on this list has its own set of advantages, and different kids have different preferences and abilities – so at the end of the day, what's right for one kid might not be right for another.
But after much deliberation, Karen, Oliver, and I declared Wix "the ultimate-mega-magical-king of website builders for kids all over the world" (their choice of words, not mine).
It's easy to
get started with Wix for free
, and it offers the best templates and the most customization options. Both kids couldn't get enough of the drag-and-drop editor (in fact, they're probably both still playing around with their websites as I write these words). Here's a quick breakdown of the standout features for each website builder:
Wix

Wix ADI creates a website "like magic"
The most design freedom to truly personalize a site

Squarespace

Stunning and simple grid editor
Fun animations and visual details

SITE123

Easy point-and-click editor
Simple blogging features

Zyro

Grid-based editor means your content is always properly organized

Great AI tools for kids to have fun with

DoodleKit

Dedicated website builder for kids
Parents can monitor website activity
FAQ
What is the best website builder for beginners?
There are so many great website builders out there that it can be tough to choose! If you've never built a website before and you want to be able to guide your kid through the process, I'd recommend SITE123 – it's very easy to learn and your kid will never guess you have no idea what you're doing. If you're just a bit more ambitious, though, Wix is also easy to learn and has some amazing features to offer.
Can a child build a website on their own?
These days, many website builders are so easy to use (especially the ones recommended above), that many kids will be able to figure them out without much assistance. Younger children may require some guidance through the process.
How can kids build a free website?
All the website builders on this list offer free plans that allow anyone to build and publish a fully functional website. Free plans do come with limitations, but in most cases, they will provide what a kid needs to get a basic site online.