Some platforms are too simple and don't offer enough features to create a real, functional website
. Other builders are too complicated for kids to use effectively. Whether you're a parent or a teacher, I know how important it is to you to
find a website builder that provides kids with a constructive and creative online environment
. But you also want to make sure the site builder you choose is safe, age-appropriate, and affordable. After researching popular options, I found 6 website builders that can help kids build their own websites in a straightforward and safe manner. Of these,
Wix stood out as a clear winner, thanks to its powerful and fun customization options and an intuitive editor that kids can easily navigate
. Try Wix for free or continue reading to learn about my other recommended website builders that can be a good fit for children.
Short on Time? These Are the Best Website Builders for Kids in 2023
Wix – A huge variety of colorful templates and a great free plan.
SITE123 – The easiest builder for kids of all ages to use, especially first-timers.
Squarespace – A simple and powerful editor for learning design fundamentals.
What We Look For in the Best Website Builders for Kids
A website builder should tick a few important boxes to be fitting for children. Here's what I focused on during my research.
Ease of use. All website builders on my list come with kid-friendly site editors and simple tools kids can figure out on their own.
Templates galore. Kids like to have choices (doesn't everyone?), and all the builders on this list provide loads of templates they can choose from to get their website started.
Fun features. Just because a builder is easy to use, that doesn't mean it should only provide the boring basics. These builders all include a wealth of fun elements kids can easily add to their website, like image galleries, blogs, and even video players.
Free plans and affordable pricing. Most of the builders on my list offer free plans so your kids can create and publish their website for free. If your kids insist on an upgrade in order to connect a custom domain name to their site, don't worry – upgrading is easy and the basic paid plans are cheap. Your kids can easily cover the fees with their weekly allowance.
Best Practices for Ensuring a Safe Website Building Experience for Kids
As parents and teachers, it's our job to provide our kids with a secure online experience. Here are some things to keep in mind while guiding your kids through the website creation process:
Pay attention to hidden fees. Be sure to check for potential hidden fees your kids might not be familiar with, such as domain name registration or third-party app charges.
Minimize exposure to ads. It's a good idea to avoid platforms that feature heavy promotional content, as these can distract kids from learning and having fun.
Provide help with payment. If your kids plan to sell products for a fundraising project, be sure to help them set up product pages and payment methods.
Ensure privacy. It's a good idea to check whether your chosen website builder offers privacy features, such as password protection. These restrict unwanted visitors from viewing website content.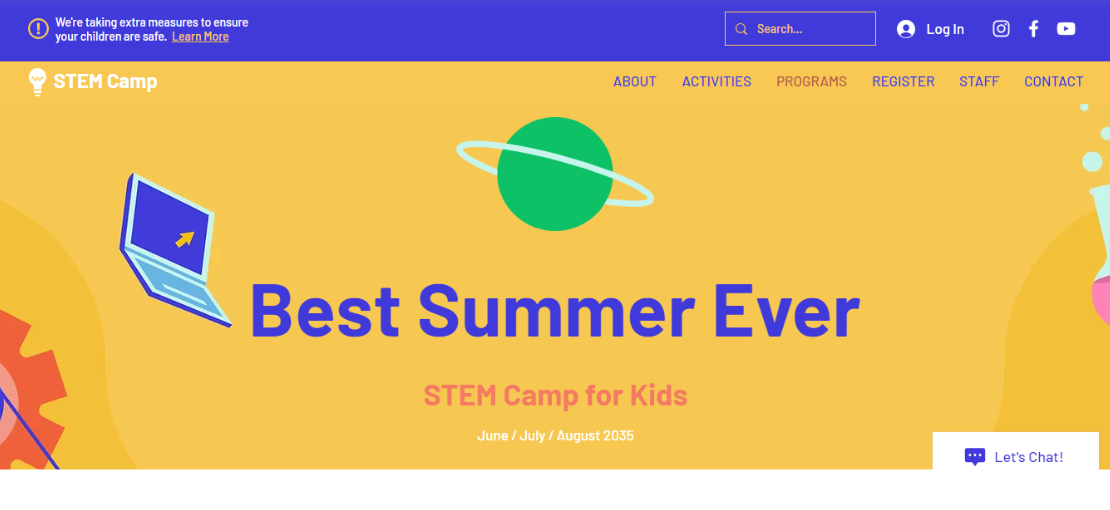 Wix offers 800+ templates for kids to choose from.
The templates are divided into categories, providing a great way to get a simple website started in minutes. If your kids are building a website as part of a school project, they might want to start with one of the templates in the
Education
category. These brightly colored designs provide a lot of space to upload text and images.
Wix's drag-and-drop editor makes it simple for kids to add elements and place them wherever they want on the page.
Younger kids are sure to have fun experimenting with design, while older kids will appreciate how easy it is to add new pages and functions to their site. They can easily add their own text and images, change colors and fonts, and much more.
Wix has a free plan with unlimited websites your kids can use for as long as they want.
Its storage space is a bit limited (500 MB), but this should be enough for a simple website. Another downside is that the free site will display Wix branding, and your URL will be under a Wix subdomain (sitename.wixsite.com). The good news is that the basic paid plans are very affordable and your kids can enjoy a free custom domain for one year.
Features
Wix Pro Gallery. If your kids want to show off their photos to their friends, they can easily add image galleries to their site. They even get access to the Wix stock image library, which includes countless free photos, clipart, icons, and more.
Streaming tools. Wix has plenty of fun apps your kids can install for free. For instance, they can get creative with a camera and showcase their videos with the Wix Video app. If they're musically inclined, they can upload their favorite songs and albums and create playlists with Wix Music player.
Wix Forum. If your kids are working on a group project, they can create groups and keep everyone on the team in the loop by adding the free Wix Forum app to their website.
Mobile site editing. Wix allows you to edit the mobile version of your site separately, which means your kids can get even more creative when designing their website for mobile screens.
Want to learn more?
Read our expert Wix review
.
Free plan available

✔

Templates
800+
Type of editor
Drag-and-drop editor
Starting price

$

0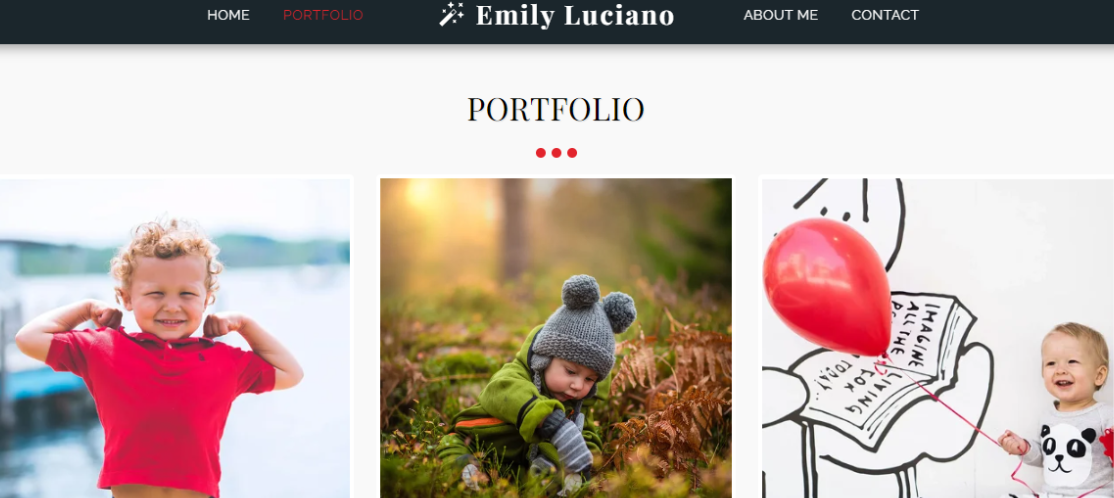 SITE123 is so easy to learn that even kids who are less computer-savvy should have no trouble picking it up
. While it doesn't offer as many features as Wix, this makes it simpler to use. Likewise, its templates are pretty minimal and the designs look pretty similar. This means
kids can get started with just about any template
 without having to remove unnecessary pages and features they don't need. The SITE123 editor isn't drag-and-drop, but what we call "point-and-click" in the industry. Your kids can simply select the element they want to add to their site and then click to place it on the page. It really couldn't be easier.
SITE123 also offers a free plan.
It comes with a few limitations, of course – you only get 250 MB of storage space and some customization options (such as choosing your own color palette) are locked. If your kids manage to run out of storage space or just need more color in their lives, it's easy to upgrade.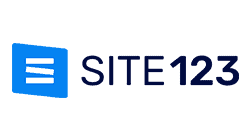 Get a FREE domain + hosting with any SITE123 annual plan!
This exclusive offer is only available for your first purchase.
31 users used this coupon!
Features
Safety features. While not directly a "fun" feature, you'll appreciate the platform's safety features like password protection to limit website access. You also get free domain privacy protection to hide personal data from the public.
One-page/multi-page options. Your kids can choose whether they want to build a one-page or a multi-page website, depending on how much content they want to add.
Versatile gallery designs. SITE123 offers several different gallery layouts to enhance your children's photos, such as slideshow, carousel, and even rounded image galleries.
Interactive elements. Kids can add elements such as contact forms and social media buttons to their website. These features encourage interaction, which can be exciting for kids who want to engage with friends and family members through their website.
Read our in-depth SITE123 review
for more features.
Free plan available

✔

Templates
80+
Type of editor
Point-and-click editor
Starting price

$

0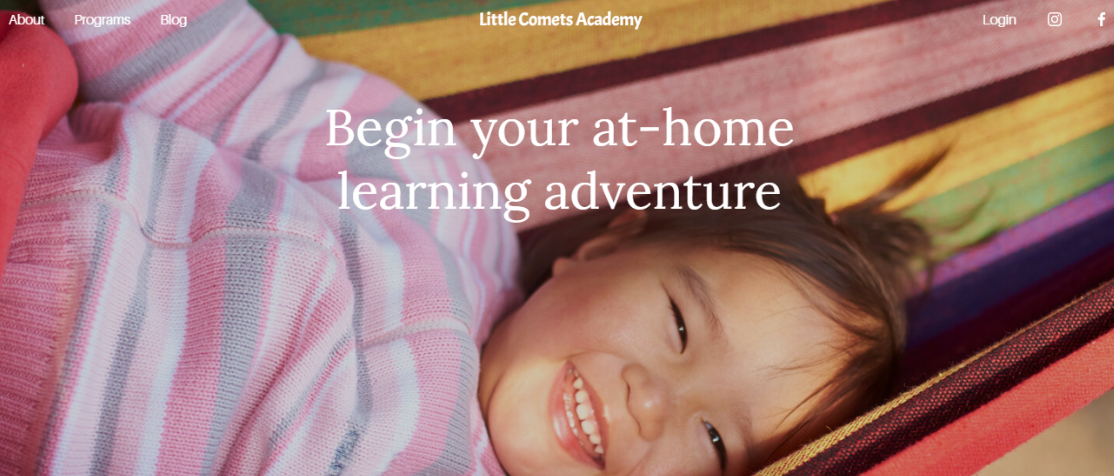 If you're interested in a more didactic experience,
Squarespace's editor is super fun and easy to use but offers enough direction to create a good-looking site every time
. Thanks to the grid layout, kids can customize their website while maintaining a consistent design. This type of editor lets you easily add prebuilt sections like photo galleries or a blog to your site using a classic grid-based approach.
If your kids want to up their game and play around with web design, they can try using Squarespace Blueprint.
This feature lets you design a website from scratch. Your kids can choose colors and fonts one at a time and add sections until they're happy with their site's look. Also, they'll have expert design tips available to them at all times to keep them on the right track. Squarespace doesn't have a free plan, but it has affordable and feature-rich paid plans.
Even Squarespace's cheapest plan includes access to all design tools, unlimited storage for images, plus 30 minutes of video storage
. Your kids can try out the platform for free for 14 days. If they like it, signing up for a plan is easy.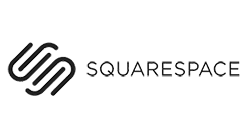 Save up to 30 % on your Squarespace plan today!
Plus get a free domain for one year!
1031 users used this coupon!
Features
Dynamic elements. Squarespace's editor offers cool customization options such as animations and image effects. Your kids will appreciate these extra fun touches and these elements can add interest to a site.
Free logo maker. Your kids can have fun using Squarespace's completely free logo-making tool. They'll get access to over 2 million icons they can use to create memorable logos and add a signature look to their website.
Great blogging features. If they love writing, your kids or students can use Squarespace's easy blog editor to write posts about their experiences, interests, or anything they're learning about.
Squarespace app. You and your kids can manage their site on the go with the Squarespace mobile app. They can add new images to galleries directly from their device, write and edit new blog posts, and more.
Curious to learn more?
Read our full Squarespace review
.
Free plan available

✘

Templates
160+
Type of editor
Drag-and-drop grid-based editor
Starting price

$

16.00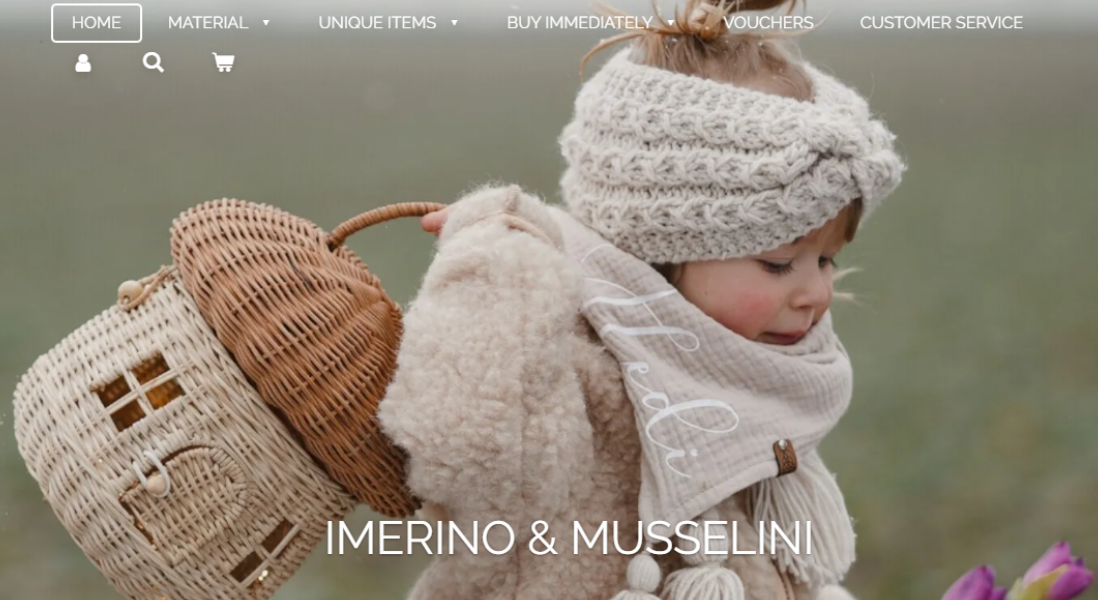 Webador has an incredibly intuitive interface that your kids can easily navigate.
There aren't too many customization options offered but thanks to its grid editor, any layout they create will be structured and visually appealing.
If your kids want to express themselves through blogging, they'll like exploring Webador's flexible blog editor.
Webador makes it easy to add a blog to any site, and your kids or students can easily add photo albums and videos to their posts. For security, you can also decide whether you want to enable the commenting feature for the blog.
Webador's free plan offers all the fundamentals, including unlimited storage, blogging tools, and access to all templates.
The downside is that your children's website will display Webador branding and ads. The free plan is a good way for your kids to test the platform. If they like it, upgrading is easy – but keep in mind that only the Pro plan or higher lets you have an ad-free website.
Features
Built-in media-streaming tools. Webador offers fun widgets for media streaming, such as audio and video players. There's also a document-sharing system, which can come in handy if your kids are working on a group project.
Rating system and comments. Webador lets you add a five-star rating system and a comment box anywhere on your site (not just under blog posts). These features make it easy for your kids to gather feedback on the work they've done.
Free stock images. Webador gives you free access to its library of over 100,000 stock photos. Kids can play around with these images to enhance the look of their websites.
Personalization tools. On the Pro plan and above, Webador lets you connect a forever-free custom domain and add a website icon. Your kids can use these tools to make their website more authentic and recognizable.
Read our in-depth Webador review
to learn more about the platform.
Free plan available

✔

Templates
50+
Type of editor
Drag-and-drop editor
Starting Price

$

0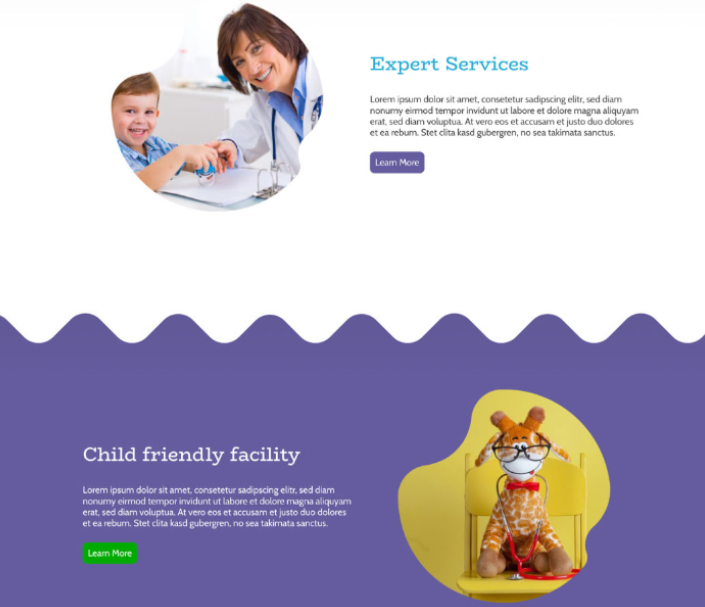 IONOS has a fairly simple drag-and-drop editor that includes
prebuilt color schemes and layouts
. Your kids can simply add their own text and images to the predesigned template sections and they're good to go. Another option is to use IONOS' artificial intelligence (AI) tools, which include a text-based editor.
Based on your answers to a few simple questions, your kids will be able to create a custom optimized site.
You can further edit these AI-generated websites so your kids can tweak the design if they wish. IONOS is quite easy to use, but compared to other builders on this list, it lacks some more advanced customization options that would make the site creation process more fun for kids. There's no free plan available, but your kids can still test the platform risk-free with
a 30-day money-back guarantee
.
Features
Advanced AI tools on higher-tiered plans. On the Plus and Pro plans, you'll get access to its AI Image Generator, AI Text Improver, and AI SEO Text Generator. These tools can help your kids create more compelling text and images based on the information they provide.
IONOS Personal Consultant. On all plans, IONOS assigns you a personal consultant that provides advice on any website building topic your kids might need help with.
Built-in photo editor. Your kids will have fun cropping, resizing, or adding overlays to your images directly in IONOS' integrated photo editor.
Adjustable design styles. If your kids don't like prebuilt color palettes, IONOS allows them to create their own styles.
Interested in learning more?
Read our expert IONOS review
.
Free plan available?

✘

Templates
20+
Type of editor
Drag-and-drop editor
Starting price

$

6.00

For older kids involved in endeavors such as school fundraising projects, Shopify has a ton of specialized tools for building an online store.
Your kids could use the platform's e-commerce capabilities to manage products, track orders, and receive payments.
Shopify has top-notch templates that come with excellent built-in features.
For instance, you can add image sliders to showcase your products, sticky headers for easy navigation, and countdown timers to create buzz around important events or sales. That said, the best-looking designs often come with a hefty price tag and only a handful of Shopify templates are free. Another downside is that Shopify has limited customization options, so your kids won't be able to do much to change their site's design. Still, they can use the free trial to explore the platform's features without committing.
Features
Numerous payment options. If your kids are looking for an easy way to receive donation payments for their project, Shopify gives access to over 100 payment gateways they can add to their store. There's also the platform's proprietary payment solution, Shopify Payments, which eliminates transaction fees.
Built-in email tool. Shopify has its own email marketing tool your kids can use to craft compelling emails and spread the word around. Shopify Email lets you send up to 10,000 monthly emails for free.
Shopify Magic. This free AI tool helps with writing emails, blog posts, product descriptions, and more, so your kids can set up their store quickly.
App Store for everything. Shopify has a huge app store that counts over 8,000 free and paid apps. For example, your kids can use the Cool Full Page Zoom app to let visitors zoom in on their product images. Another nifty tool is the Pasilobus Confetti app, which creates a fun confetti effect when a customer places an order.
Find out more about Shopify in
our comprehensive review
.
Free plan available?

✘

Templates
160+
Type of editor
Drag-and-drop editor
Starting price

$

1.00
Choose the Best Website Builder for Kids to Unleash Their Creativity
Each website builder on this list has its unique advantages, but what suits one kid might not necessarily be the best choice for another. The best website builder for your children will depend on their age, familiarity with digital tools, and the complexity of the website they want to make. For a balance between ease of use and creative freedom,
Wix is my top recommendation
. Wix offers 800+ templates to choose from, which your kids can tweak as much as they like using its intuitive editor. On the other hand, if your kids are looking for the simplest and fastest way to get their site online,
SITE123 gets the job done
. The platform is incredibly easy to use even if you've never built a website before, and it's an excellent choice for single-page websites. Or, If you're looking for a fun way to teach your kids the basics of web design,
Squarespace is a great option
. Its grid editor makes it easy for newbies to create a visually appealing website, while tech-savvy kids can design a site from scratch.
Here's a quick breakdown of the standout features for each website builder.
Free Plan
Best Feature
Best For
Starting Price
Wix

✔

Colorful templates and tons of customization options
 Kids who want dynamic tools and creative freedom

$

0

SITE123

✔

Incredibly easy point-and-click editor and advanced privacy tools
Getting a simple website online quickly

$

0

Squarespace

✘

Simple grid interface and fun dynamic elements
Older kids who want to learn the basics of web design

$

16.00

Webador

✔

Flexible blog editor and built-in streaming tools
Older kids interested in writing and engaging with their audience

$

0

IONOS

✘

 Great AI and image editing tools
Kids interested in learning about AI and image editing

$

6.00

Shopify

✘

Powerful but user-friendly online store tools
Older kids with a fundraising project that need an online store

$

29.00
FAQ
How can kids build a free website?
Many website builders offer generous free plans. For example, Wix's free plan gives you access to nearly every feature you need to build and publish a fully functional website. Free plans do come with limitations but in most cases, they'll provide what your kids will need to get a basic site online.
Is Wix good for kids?
Yes, Wix is a great option for kids. It offers a variety of colorful templates which can engage children's attention and stimulate their creativity. The intuitive editor makes it easy for kids to build a website by dragging and dropping elements onto the page. Additionally, the abundance of customization options enables them to personalize their projects, while learning digital skills.
Can a child build a website on their own?
These days, many website builders are so easy to use that most kids will be able to figure them out without much assistance. Nonetheless, it's essential for parents and teachers to supervise young children in online activities to ensure a positive and safe experience. If you've never built a website before and you want to be able to guide your kids through the process, I'd recommend SITE123. It's very easy to learn and your kid will never guess you lack technical experience.
How do website builders for kids help in developing a child's design skills?
Website builders can be a great way for kids to learn the basic principles of web design. For instance, older kids can take advantage of Squarespace's Blueprint feature, which allows them to design a website by building their own template from scratch, with expert design tips provided.