Just like every frame has a purpose, every part of your website should too.
 Your audience might never watch your carefully-crafted videos if your site doesn't "frame" them properly. You need a template that lets you display self-hosted and embedded videos (that way, you can upload content that's exclusive to your site). But you also want
a template with plenty of customization options, so you can give your site a personal twist.
I tested dozens of options, and found the best WordPress themes to make your video website both effective and unique.
You might want to set up your own streaming website, create a stunning page for your video blogs, or simply show off your portfolio. Either way,
there's a template on this list for you.
If WordPress isn't your favorite, that's also fine. I've included some fantastic website builder templates created for visual content, as well as my secret tips for
getting a custom-made website at an affordable price
.
WordPress Themes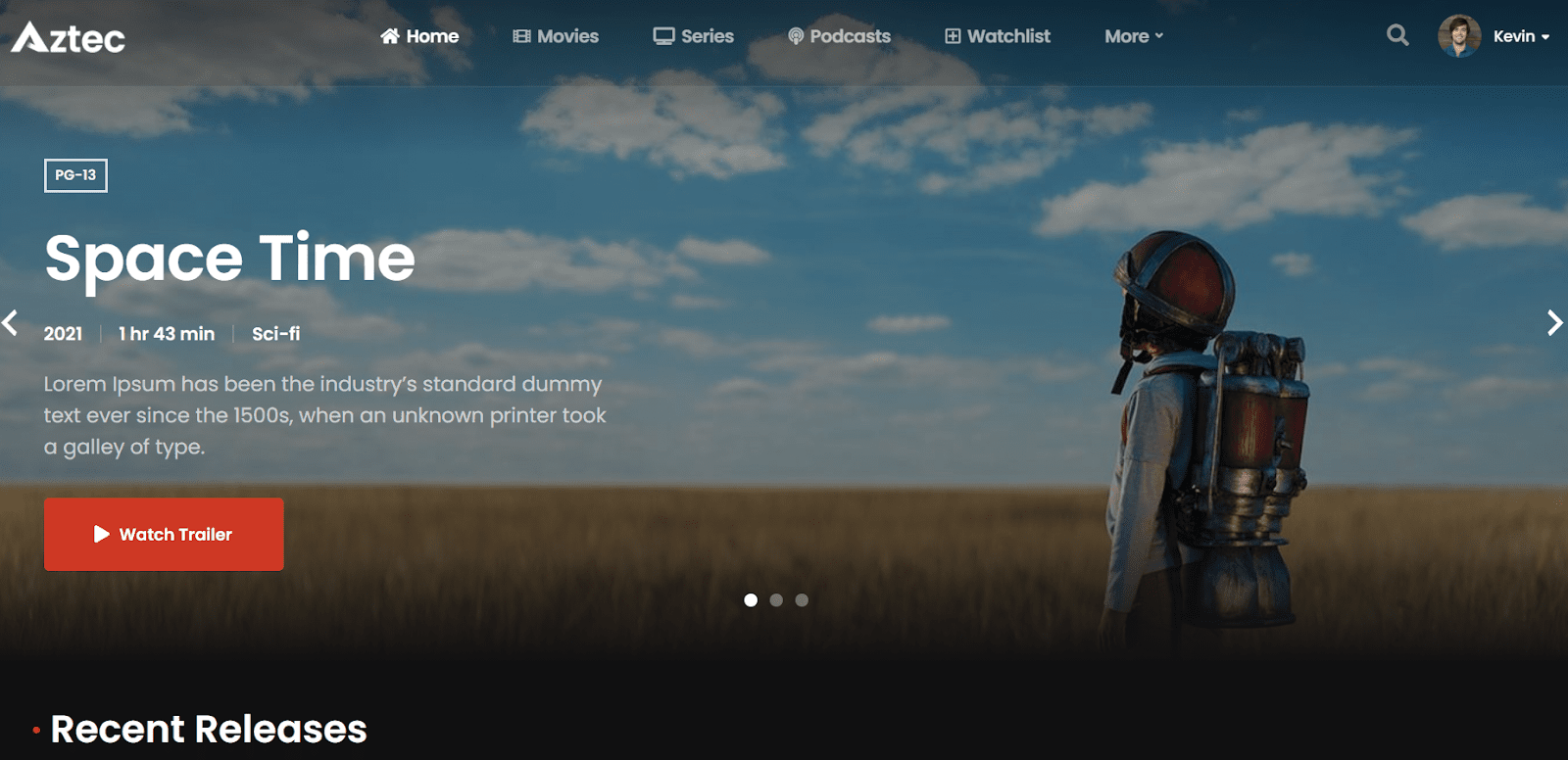 Aztec from ThemeForest is ideal for distributing premium, self-hosted content.
 The full-screen image previews and clean media player design draw attention to your videos and make navigation super simple. You can quickly categorize your content with different tabs for movies, series, and even podcasts. The navigation tab on top is eye-catching without being distracting, and it motivates your viewers to discover new content. Many themes have similar characteristics, but unlike them,
 Aztec doesn't look like a cheap Netflix imitation.
Also,
Aztec includes features that help you monetize your content.
The theme comes with a page for subscriptions and integrated payment options like bank-transfers and PayPal. This means that you won't have to worry about finding and incorporating extra plugins, which could be time consuming and expensive.
And your viewers won't have to worry about sketchy payment sites
, which could drive the most loyal fan-base away.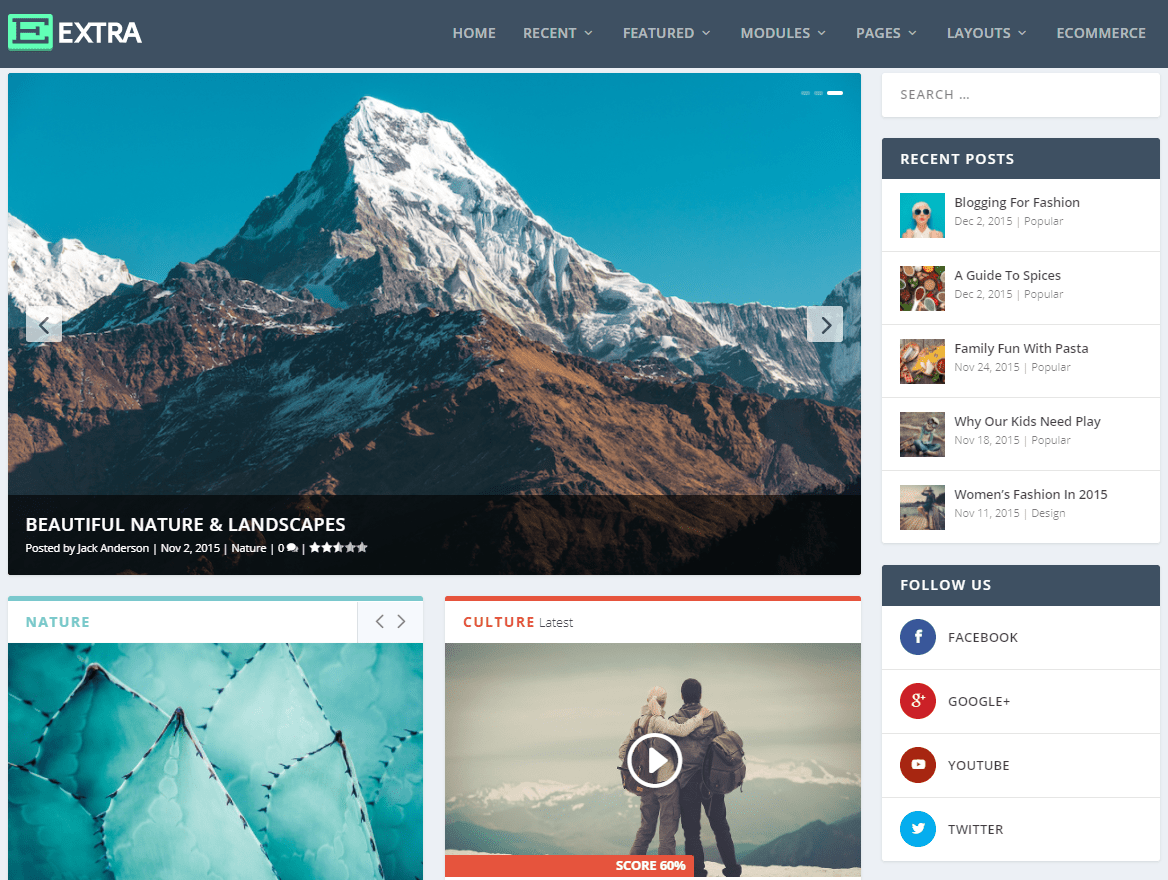 Extra by Elegant Themes (Divi) gives you the tools you need to create an information-heavy site with a distinctive visual identity.
Not too shabby for a theme that's technically not designed for video websites.
Extra
 was originally created for online magazines, but its video features are beautiful and responsive. The theme comes with features for drag-and-drop building, custom page creation, and 140 third-party extensions.
It's designed for visual editing, so you can see how your website changes as you work on it.
There's no built-in way for your users to upload their own content, but that's because
Extra
is designed for you to show your own work.
If you're looking for a site that balances long-format text with stunning video content, then Extra is what you need.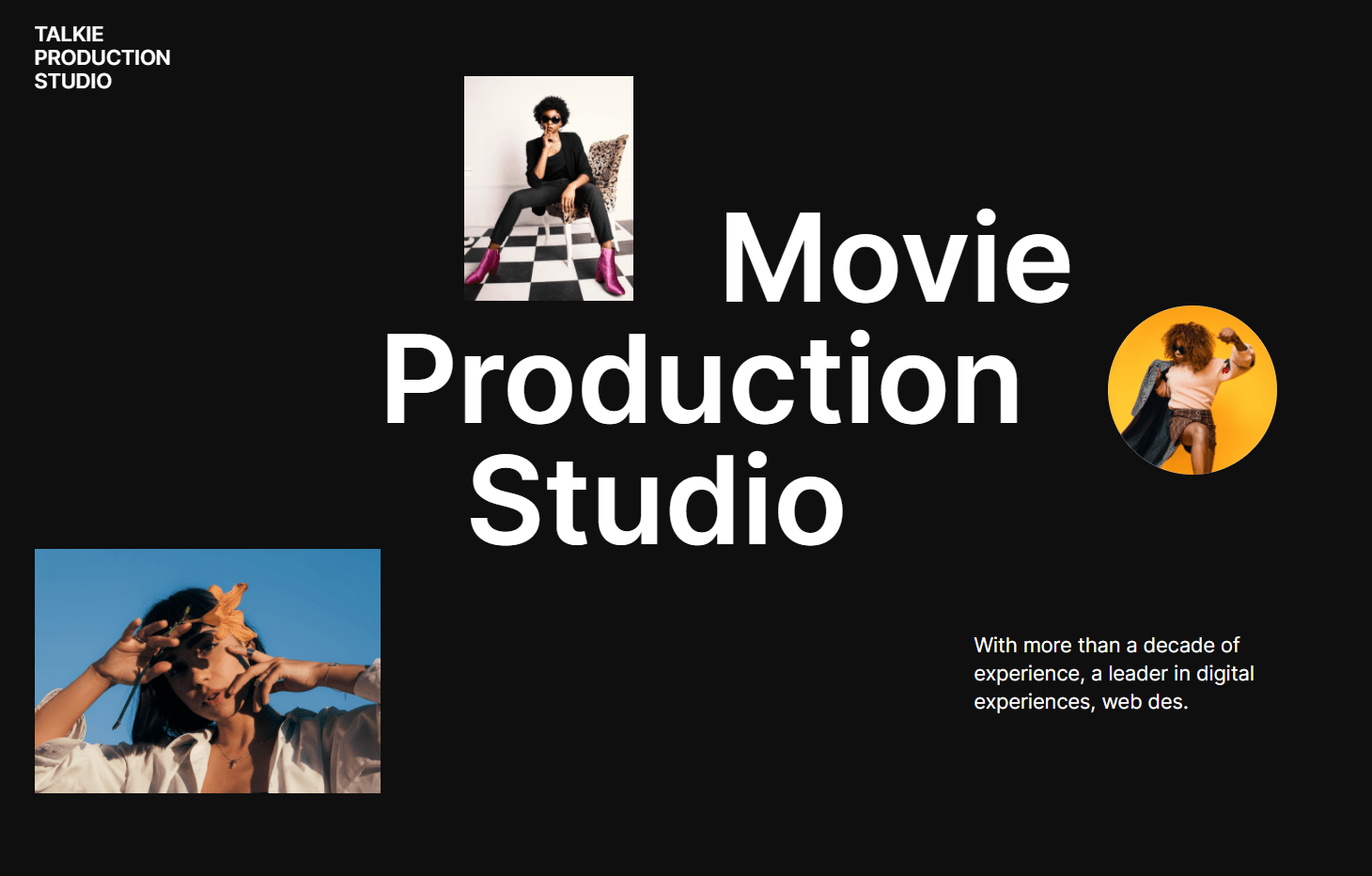 You'll need a lot more than a pretty video player if you want an online home for your production company.
TemplateMonster's Talkie Production Studio comes with features for blogging, contact, and an About Us page
 (plus a
really pretty
 video player). The design is easy to navigate and minimalist, which gives weight to your work by removing distractions.
Talkie Production Studio
 isn't designed to show too many videos, but that's perfectly fine for a company site.
You want to have only your very best work on display.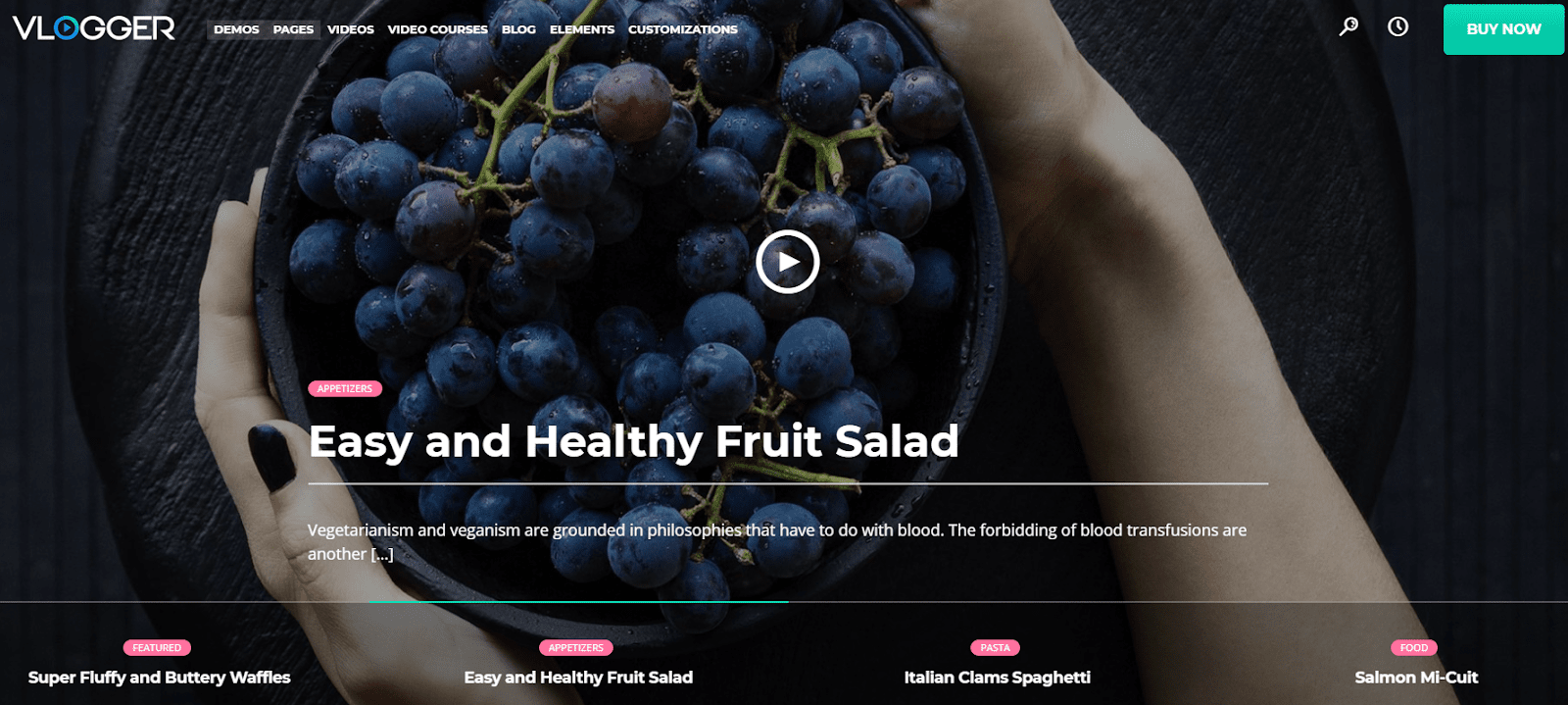 Vlogger
 by ThemeForest is designed to handle large amounts of content with the same topic, like gaming or beauty. By giving you several display options (like the full-screen header) and different presentation styles between categories,
Vlogger allows you to display a ton of videos without making your site look stuffed.
Don't be dissuaded by
Vlogger's
 (honestly not great) default demo.
If you click on the demo tab, you'll find beautiful and personalizable demos for DIY, cooking, and travel.
Features like popular videos and video playlists help you increase traffic and on-site time. Plus,
Vlogger includes dedicated ad slots that support most ad plugins,
 so you can easily earn some extra revenue for your blog.
Website Builder Templates
WordPress isn't the only option for creating a site that suits your needs.
There are plenty of website builders that offer high-quality templates and customization options.
 They can be fast and easy to use, and they're often more intuitive. This gives you greater creative freedom even if you don't have a lot of experience. Not only that, but many site builders come with integrated tools for SEO and add-ons to help you improve your design.
Overall, website builders take care of the fine details so you can focus on creating the site that you want.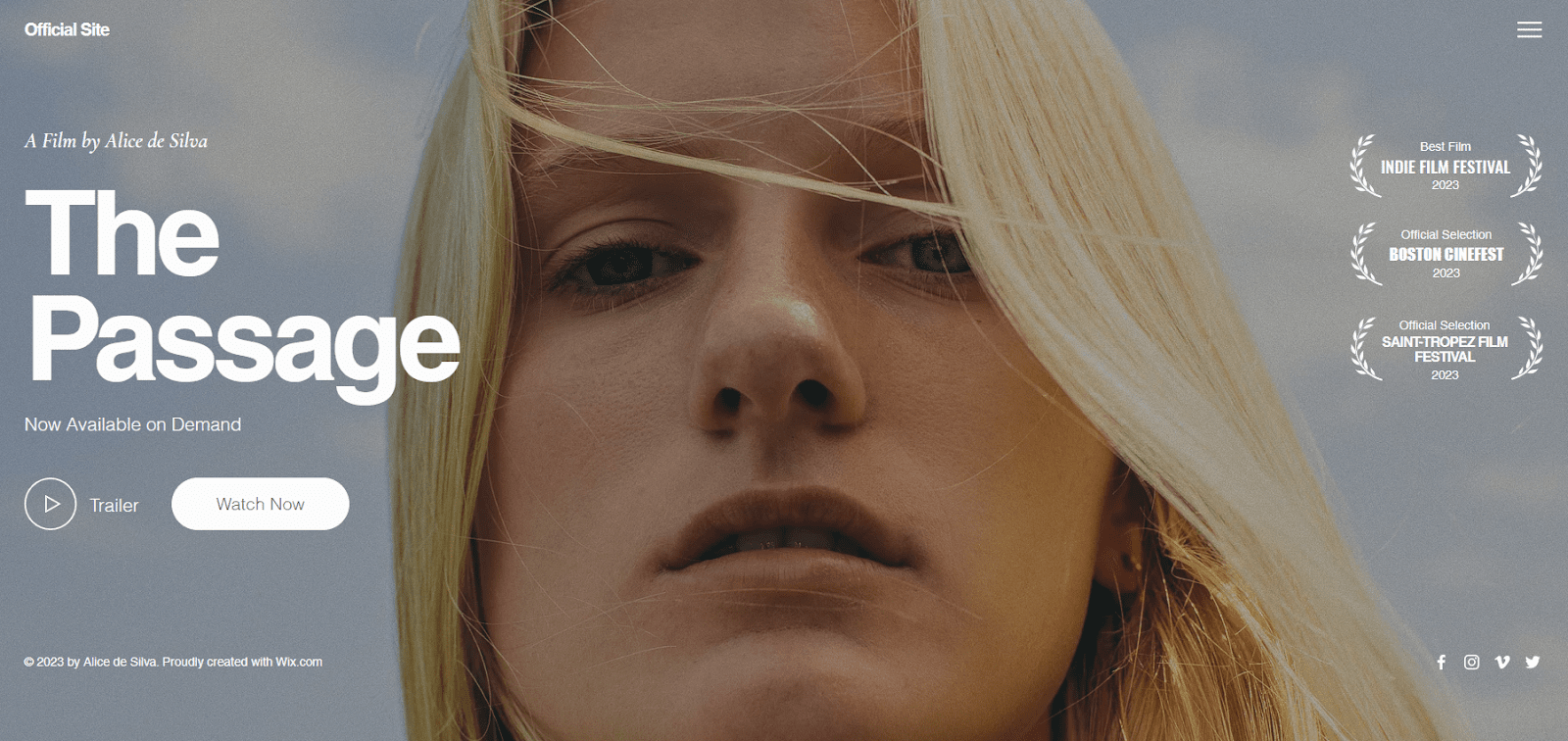 Movie
 by Wix doesn't waste a single pixel of the screen with unnecessary information. 
The home page lets the visuals of your film speak for themselves, creating an immediate emotional connection with your audience.
There are built-in pages for everything you need to promote your film, like showcasing your cast and story details. If you'd like to do online showings, the
Watch Now
 tab is visually pleasing and comes with features to set up payment options.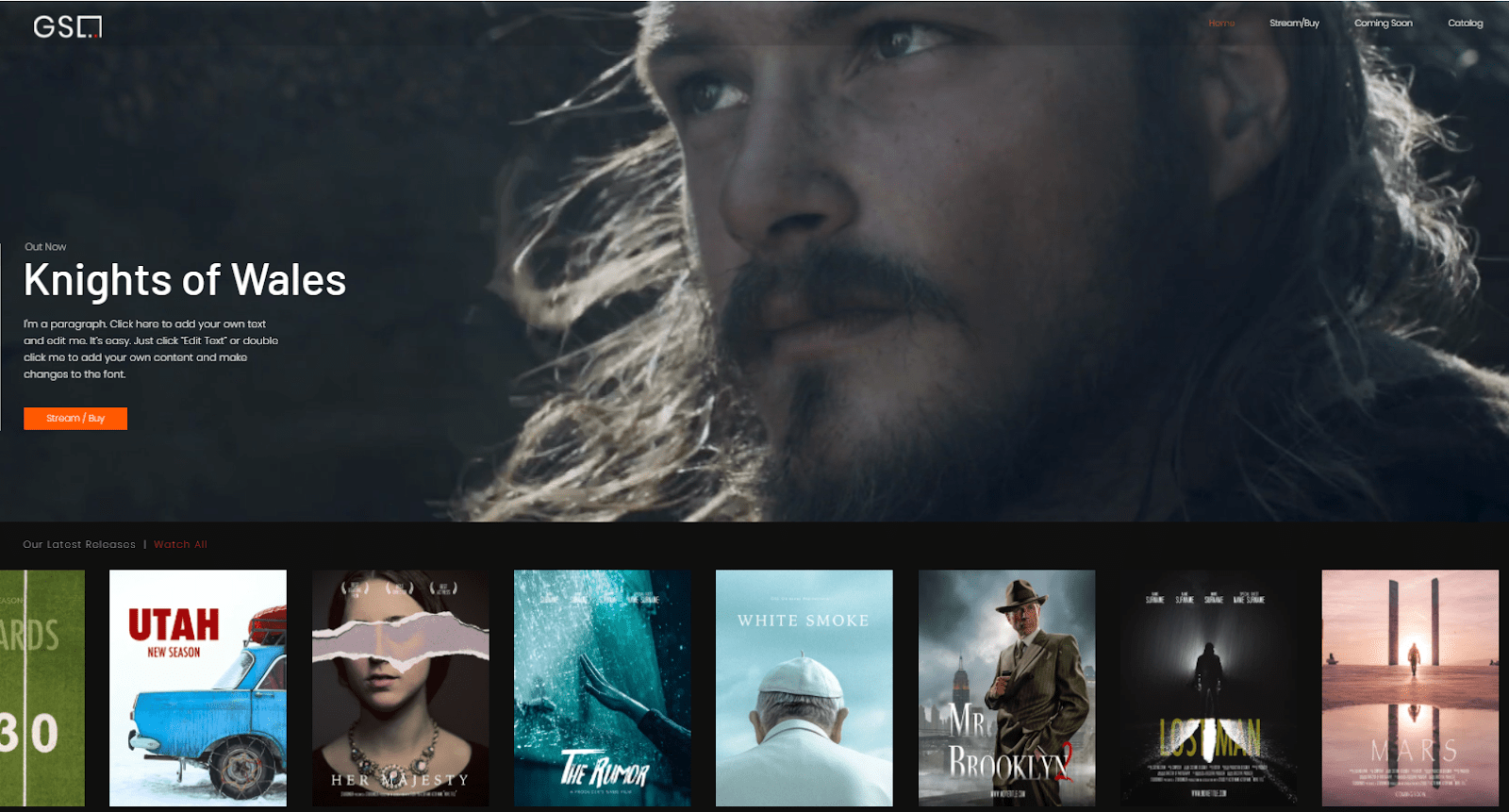 Production Company
 by Wix incorporates e-commerce features with big attractive thumbnails, making it the best choice for a pay-per-view video service.
The video header on the landing page and the poster thumbnails on the catalog page give your site the visual style of an old-school cinema.
The design itself is very simple. There's a heavy focus on image previews, and little text to get in the way of the viewer. Simple doesn't mean plain, however. 
The template is great for displaying eye-catching advertisements for your videos.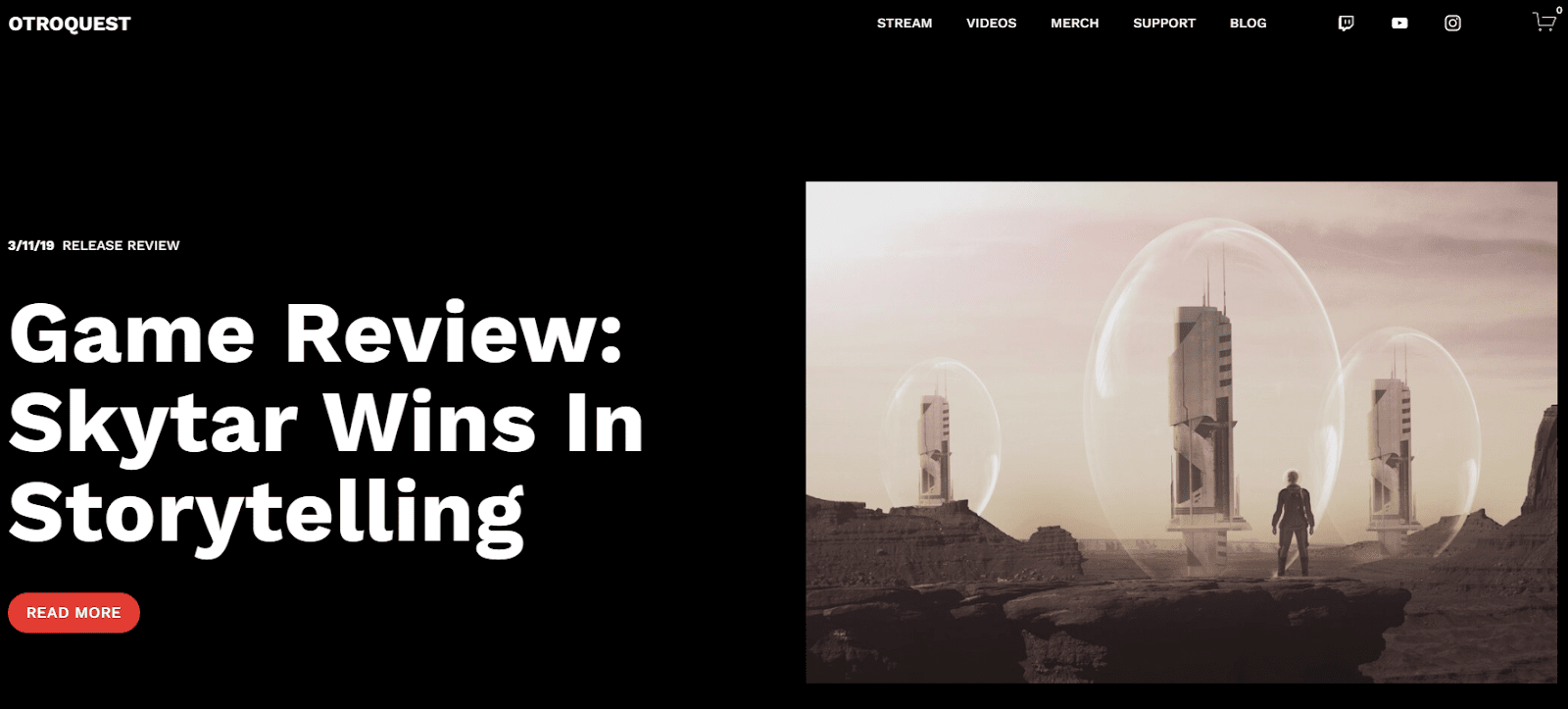 Squarespace's Otroquest is designed to integrate e-commerce, live streams, videos, and blogging.
 The template uses big image thumbnails and simple text to present your work with minimum distractions.
The different pages are well organized,
so your fans will never get lost trying to find your merch or your upcoming streams. Squarespace has a user-friendly interface and a drag-and-drop editor, which makes it super easy to upload new content or quickly reorganize your site. It also offers plenty of third-party integrations,
so you can painlessly update your Youtube or Twitch accounts along with your site.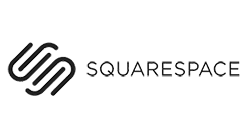 Save up to 30 % on your Squarespace plan today!
Plus get a free domain for one year!
1031 users used this coupon!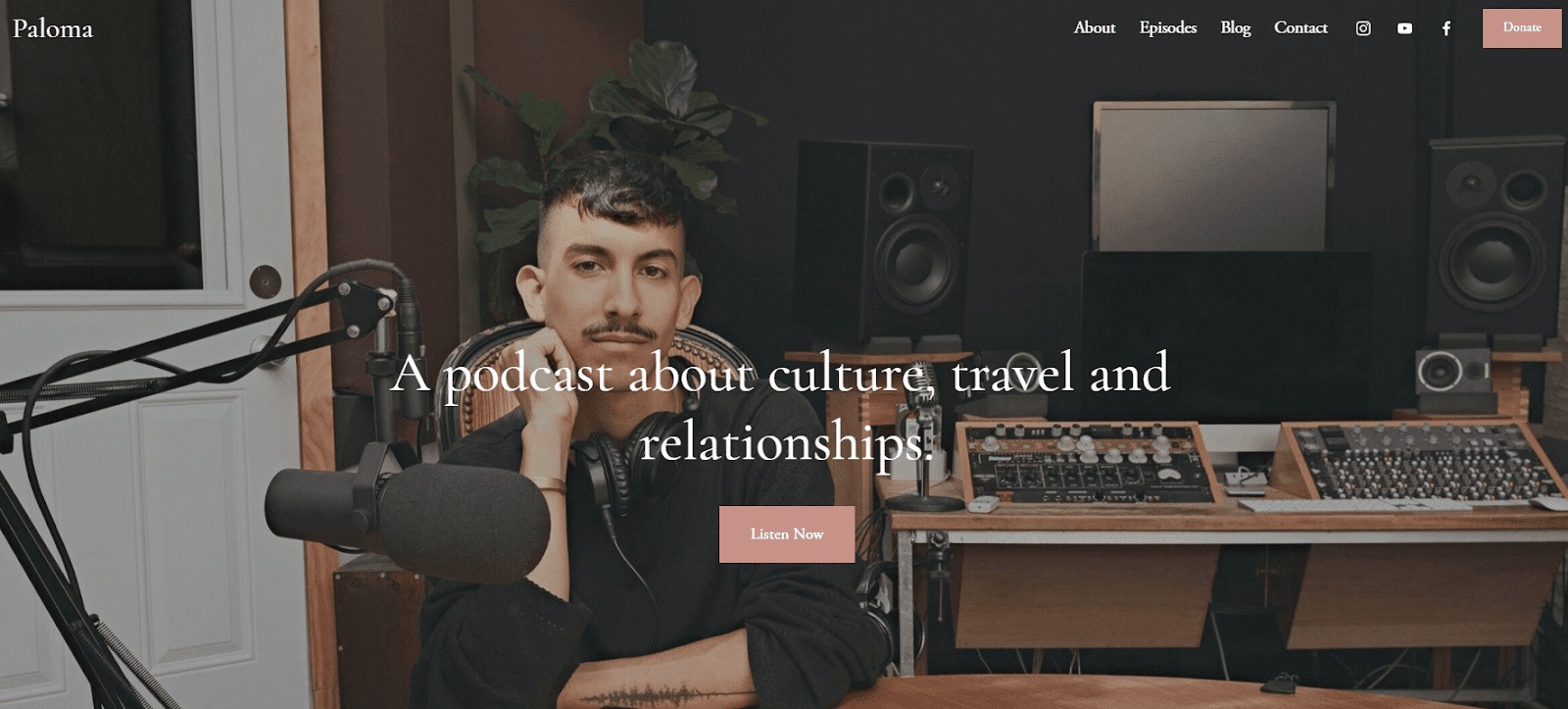 Paloma
 from Squarespace uses warm tones and a clean page layout to convey a sense of familiarity.
It's a fantastic theme for establishing a personal connection with your audience.
The design is simple, and includes pages for blogging, contact, and your story, while ensuring that the main focus is your show. Although the template is designed primarily for podcasts, Squarespace makes it easy to integrate videos into any post.
The elegant design makes Paloma great for a personal and wholesome web series.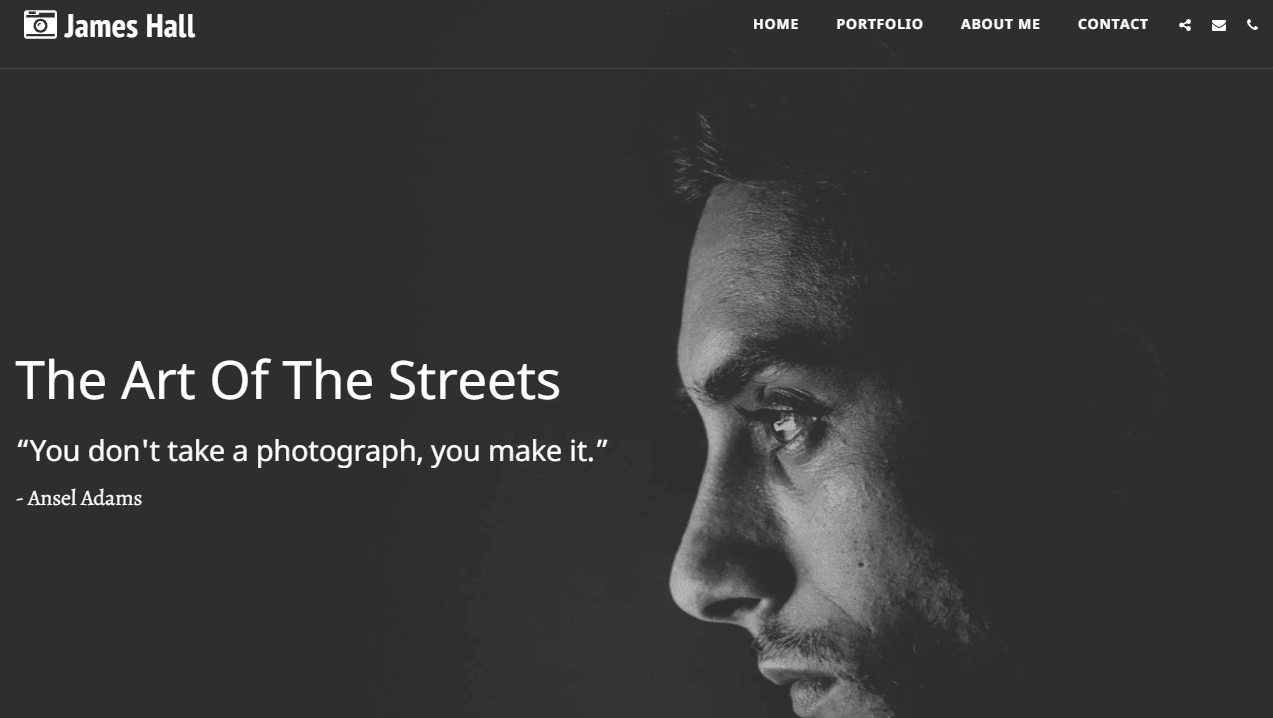 The straightforward design of
James Hall
 by SITE123 presents your work elegantly and without distractions.
The mosaic view for your portfolio is a great way to show your range
, and the
About Me
 and
Contact
 pages make you easily reachable. Like any of SITE123's templates,
setting up your site is a quick and easy process.
You also have access to AI tools that show you the most visually attractive elements on the page.
These tools help you select your best work and make it stand out.
How to Get a Custom Template for a Great Price
If you have a specific idea for what you want your site to look like, hiring a professional might be the best option.
Using Fiverr, you can get in touch with certified pros at reasonable prices
.
Battling with templates that don't meet your needs can be a costly process and more than a bit of a headache. Meanwhile,
hiring a designer can save you both time and money.
So, if you're looking for someone with lots of experience, I recommend
monodeepsamanta
, who has been on Fiverr for over six years and earned a stellar reputation in that time
. The variation in his portfolio shows that he's capable of adapting to the needs of each client while keeping an eye out for the best possible design.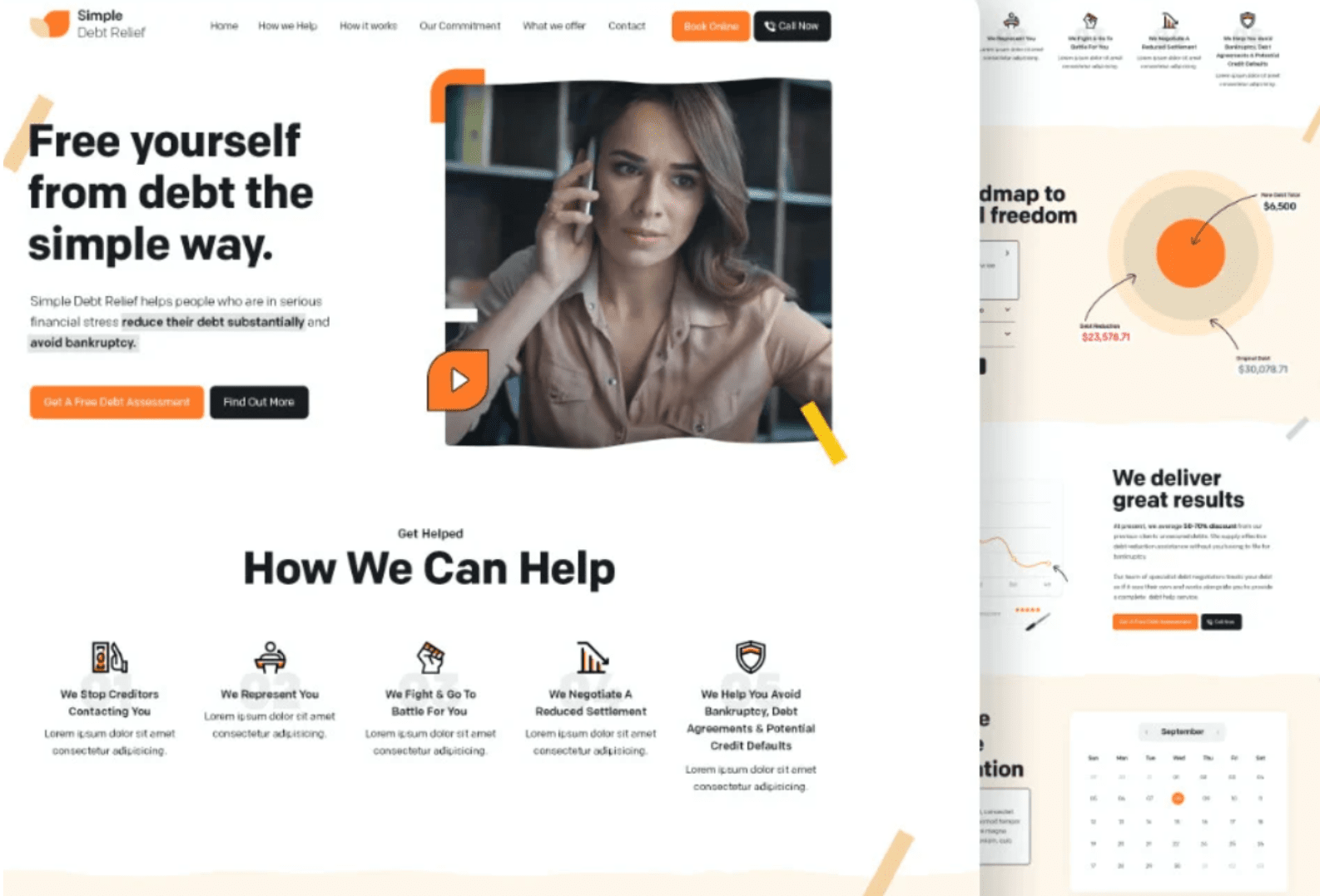 Summarydesign
has also managed to build quite a great reputation despite the short time they've been on the site.
They understand modern design trends and the best way to incorporate them into their clients' vision.
I particularly like the music site on their portfolio, which shows that they can create a media platform that looks great and handles a large amount of content.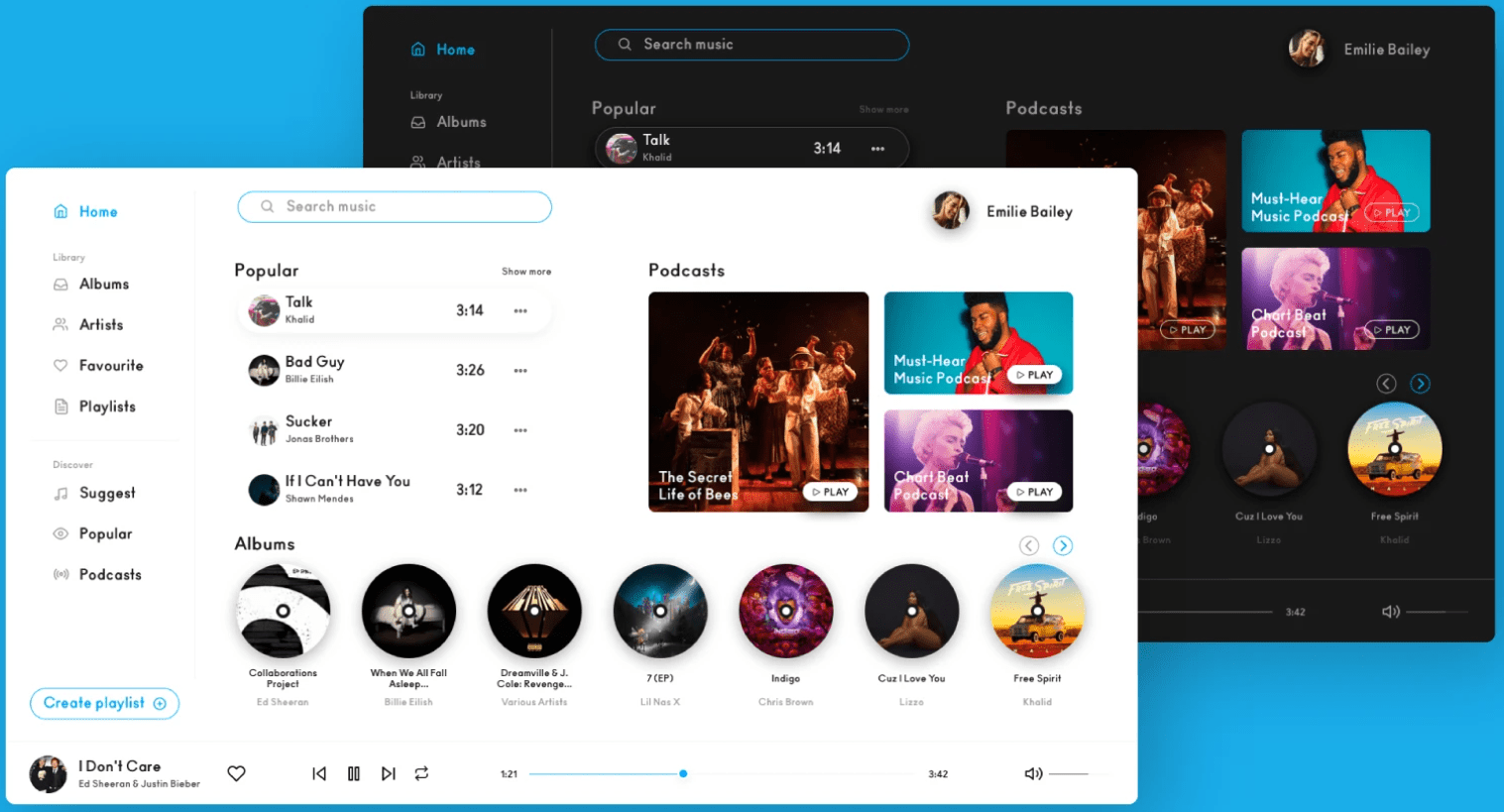 Last but not least,
co_tran
's portfolio shows that he's capable of designing video sites with a unique visual identity. His work has gained him pro status in less than a year on the site.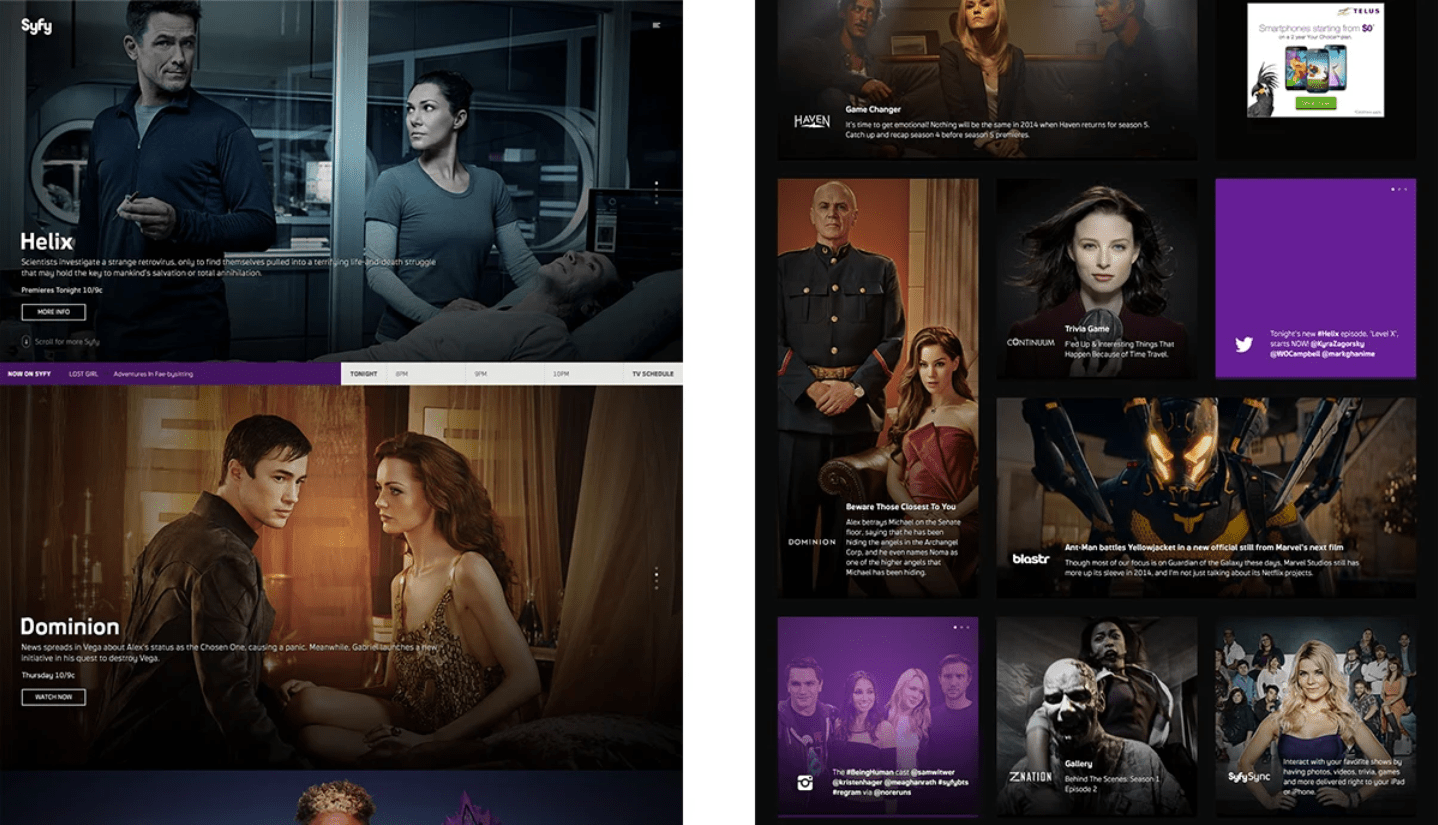 An Excellent Website Promises Excellent Videos
A video website should capture the viewer's attention from the beginning.
Every part of your site, from the main page to the media player's buttons, should look remarkable and match the tone of your content. If you wish to establish a new comedy-streaming service, ensure your website exudes humor rather than adopting a somber and minimalist appearance. If your aim is to highlight your original film, a crowded video catalog may divert attention. Additionally, if you plan to produce a 100+ episode series, avoid a text-heavy format as it may not be suitable. The variety of WordPress themes available makes it easy to find one that suits your content and style.
A good theme will also come with everything you need to bring your website to life, including subscription options, a visual editor, or livestream integration.
But WordPress isn't the only way to create a video website that matches your needs.
Builders like Wix and Squarespace make it easy to create a unique site
, no matter your skill level. They also offer integrations for things like SEO, e-commerce, and advertisement. Or, if none of these templates suit what you have in mind,
you can always hire a professional to design a website exclusively for you.
 Fiverr makes this process easy and affordable.
FAQ
Which WordPress theme is best for a video website?
There isn't a single theme that's the best for any video website. The real question is: what kind of website is better suited for your content? Personally, I love Extra because it balances high-customization and ease of use. I also recommend Aztec, which incorporates everything a streaming site needs, while maintaining a super high-quality look.
How do I create a video website in WordPress?
Creating a video website in WordPress is simple. But first things first: you need the right template. WordPress might be a very customizable builder, but unless you're a website-building pro, you can waste a lot of time trying to build a website from scratch. As such, you need a template that can easily adapt to the site that you want. It should offer the characteristics you need (like options for paid content or subscriptions), and provide a satisfying experience for your users.
Which website builder is best for a video website?
I'd recommend either Wix or Squarespace. Their templates are good-looking and customizable, and the integrated SEO tools can help you put your website on the map. SITE123 is a great option for beginners, but I wouldn't choose it if you need to display a ton of content. If you're unsure of the pros and cons, you can read our review of the best website builders in 2023 for more info. 
What are the best free video website templates?
The free templates offered by Wix are visually appealing and easy to edit. I've included some of my favorites above. That being said, a premium subscription is worth the price if you take your website seriously. Free plans don't offer a custom domain name, and give you limited customization options. If you're worried about the price of a paid plan, you can always check our coupon pages to save a bit of money.