Real Estate & Properties
 section to select the best ones for hotels and travel agencies. I found several that would do the trick, but what I didn't expect was to discover
a handful of beautiful choices
hidden in a previous version of Squarespace.
These templates are purpose-built to offer the essential features the average traveler will appreciate:
 a booking page, quality images of your property and amenities, and easy-to-find location and contact information.
Ready? Let's take a look!
Squarespace Real Estate Templates That Make Me Want to Pack a Bag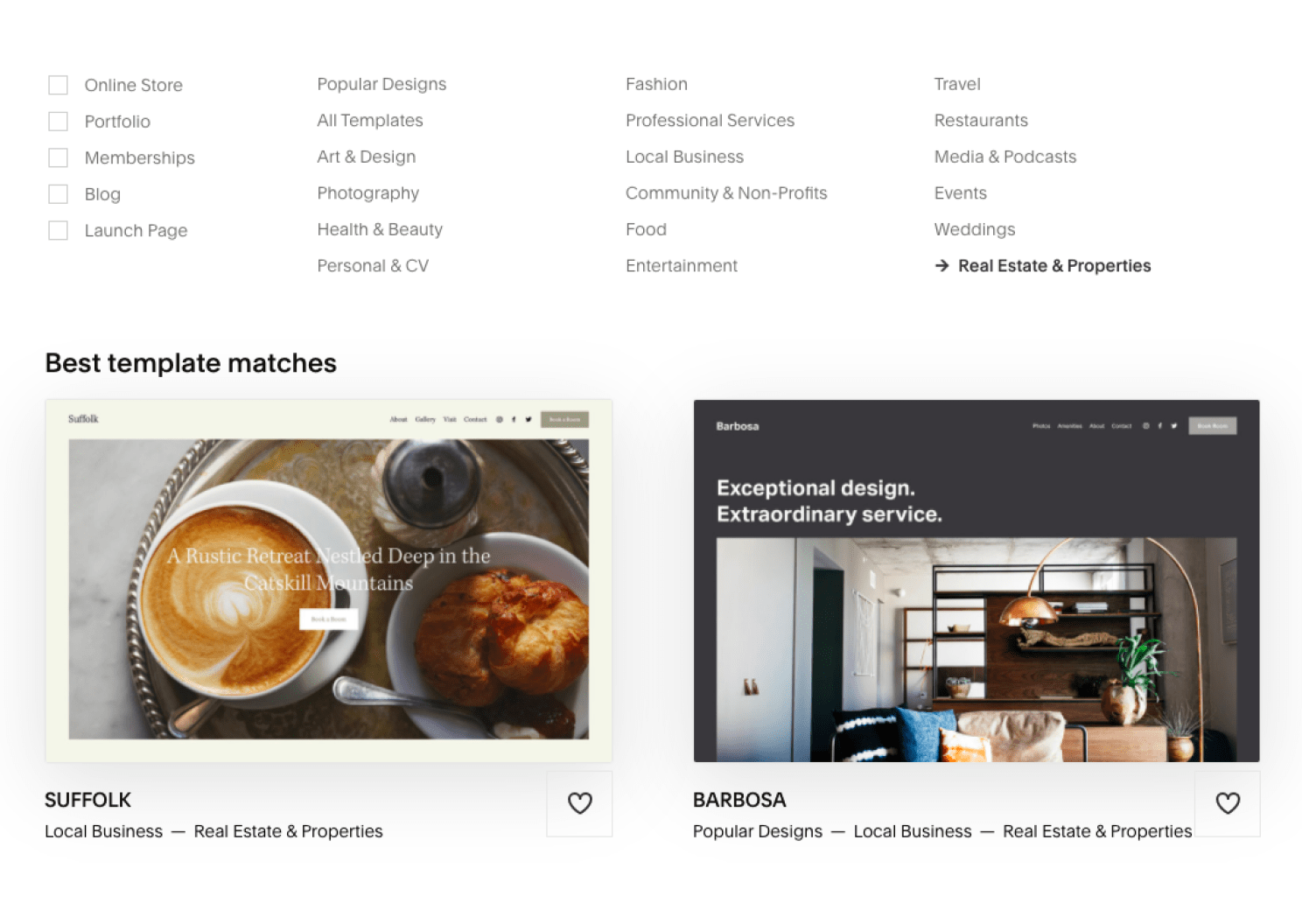 Below, you'll find 3 templates from the
Real Estate & Properties
section and 4 from Squarespace 7.0, which you'll have to do some digging to find. Since they can't all be winners, I also made note of 2 templates that I'd definitely steer clear of.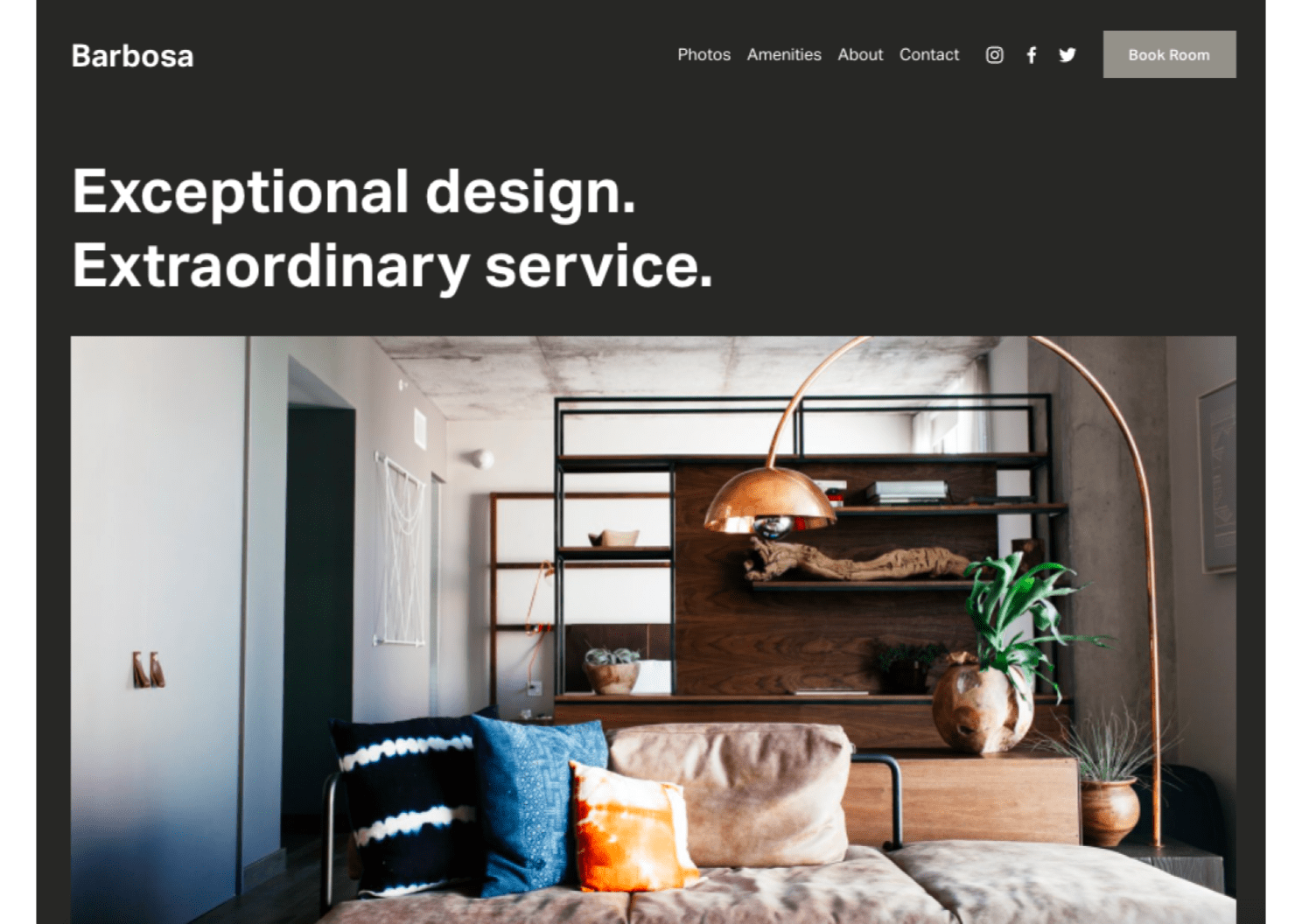 Barbosa
 is a sleek, monochrome template that serves as a fantastic jumping-off point for any boutique hotel or chain.
You can use the striking title text to draw your viewer in
by calling attention to a unique aspect of your property, or perhaps a limited-time deal. The homepage easily guides visitors through all the essential information they need to make a decision on where to stay, ending with a distinct call to action to book.
There's even a section where you can add a couple of glowing testimonials to pique their interest.
I like that this template contains a dedicated page for a photo gallery,
which is an essential part of any hotel's website.
Social icons can be found at the top and bottom of the site, making them difficult for anyone to miss.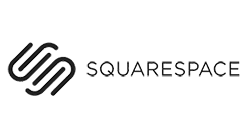 Save up to 30 % on your Squarespace plan today!
Plus get a free domain for one year!
1031 users used this coupon!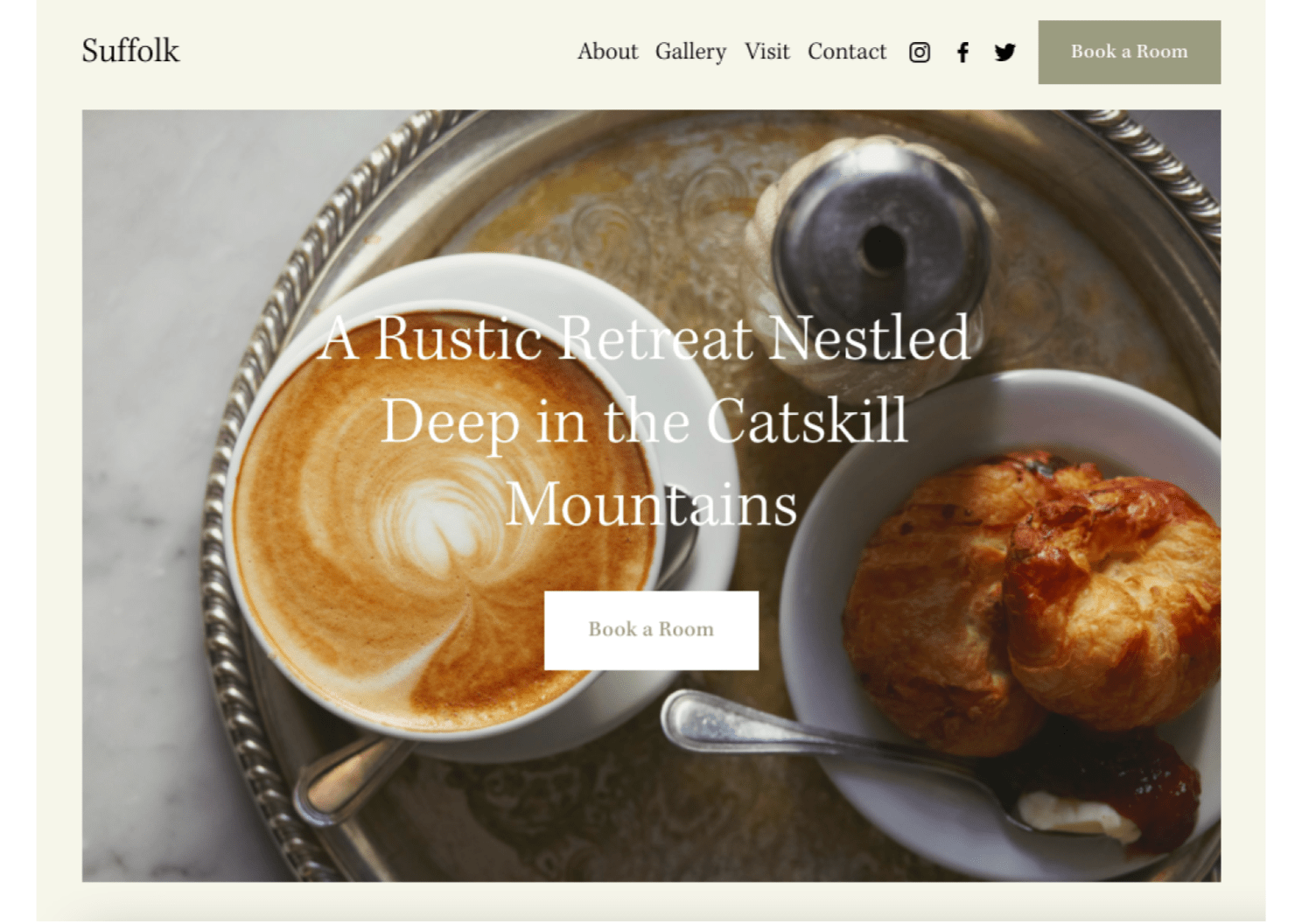 While
Barbosa
 would work best for a modern or minimalist property,
Suffolk
 was clearly designed for a more traditional establishment.
This template has a comforting, hometown feel
that would work well for a bed & breakfast or guest house. Visitors are immediately encouraged to book a room with
 a prominent CTA (call-to-action) button nestled inside the cover image.
 This directs to
Suffolk's
 pre-built booking page, where they can enter their preferred dates, number of guests, and contact information.
From the header menu, potential guests can find information about your amenities, rooms and rates, location, and contact information.
The Visit page contains a useful map plugin, which you can set to black and white or color and customize by adding labels and a zoom function.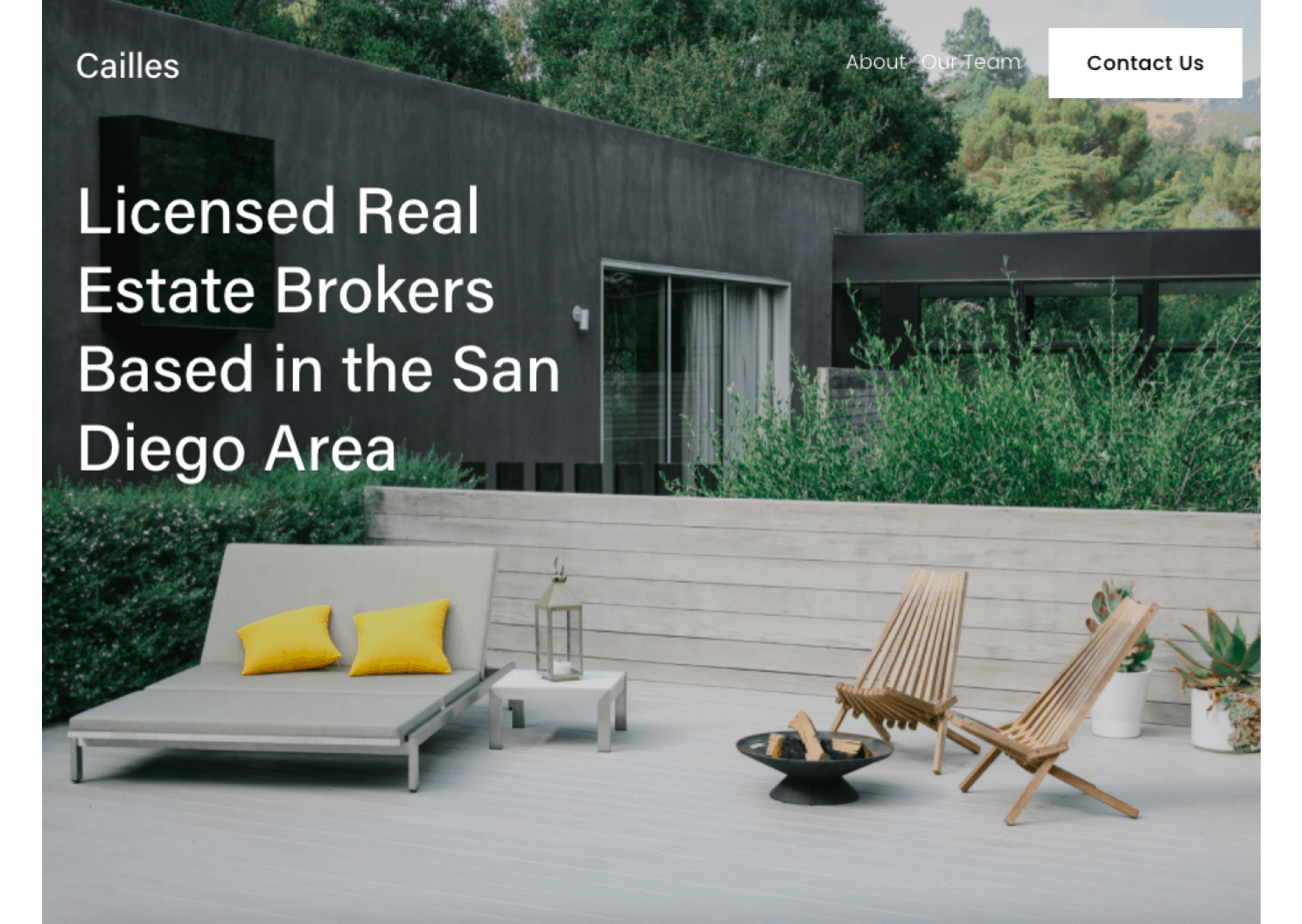 Cailles
 was created for real estate brokers, but its clean layout and built-in features would work well for most hotels.
The long-scroll homepage features large images of each listing, which could be adapted to show your best hotel rooms and suites.
The abundant image space means you can highlight what matters most to potential guests: where they'll be settling in to rest during their stay.
The
Schedule a Viewing
 CTA button can be switched to
 Book a Room
 in a few quick clicks,
 and you'll just need to change a few fields on the booking form. Another great aspect of this template is its newsletter signup, which is helpful if you're looking to grow your email list.
If I were you, I'd add social icons to the header menu, along with a few more info pages (such as attractions in the vicinity).
Squarespace Real Estate Templates That I'd Avoid
Not all of the templates I found in the
Real Estate & Properties
 section would work well for a hotel. These two are simply too bland and don't have enough features to get you off to a good start. If I were you, I'd avoid them altogether.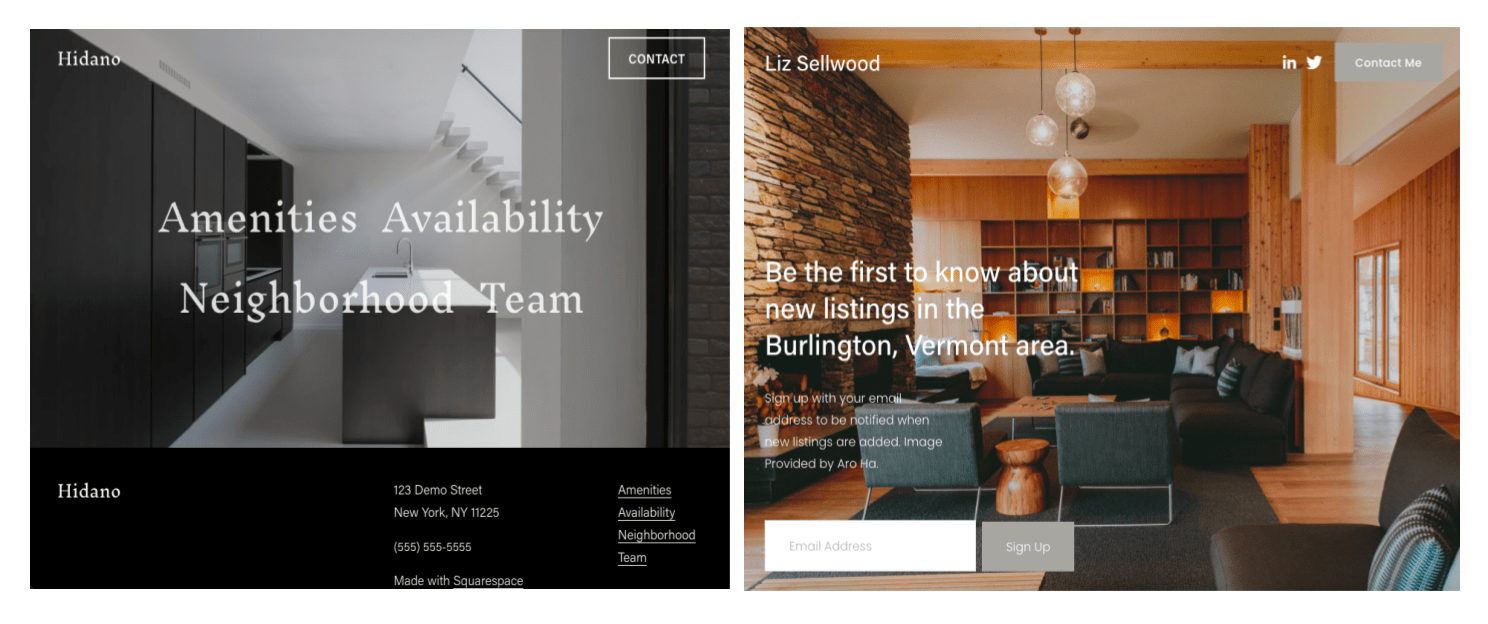 First up is
Hidano
.
In my mind, a hotel should feel light and airy, or warm and cozy… but
this template just feels dark and dreary.
While the large
Contact
button certainly draws attention, it feels abrupt and not quite rooted in hospitality. Plus, this template is a bit
too
minimalist, with no additional sections on the homepage, no header menu, and no social icons.
Sellwood
is another template with just the bare minimum.
While the layout is attractive, the template doesn't have any pre-built pages or features that would be useful for hotel seekers. For example, rather than linking to a contact form or a page with more information, the
Contact Me
 button just opens the visitor's default email server to send the website owner a message.
Hidden Squarespace Templates That'll Do the Trick
While browsing through all of Squarespace's templates to find the very best for hotels, I came across an alternate section that could be easily overlooked. To find it, you need to
scroll all the way to the bottom of the templates page
 until you see this prompt: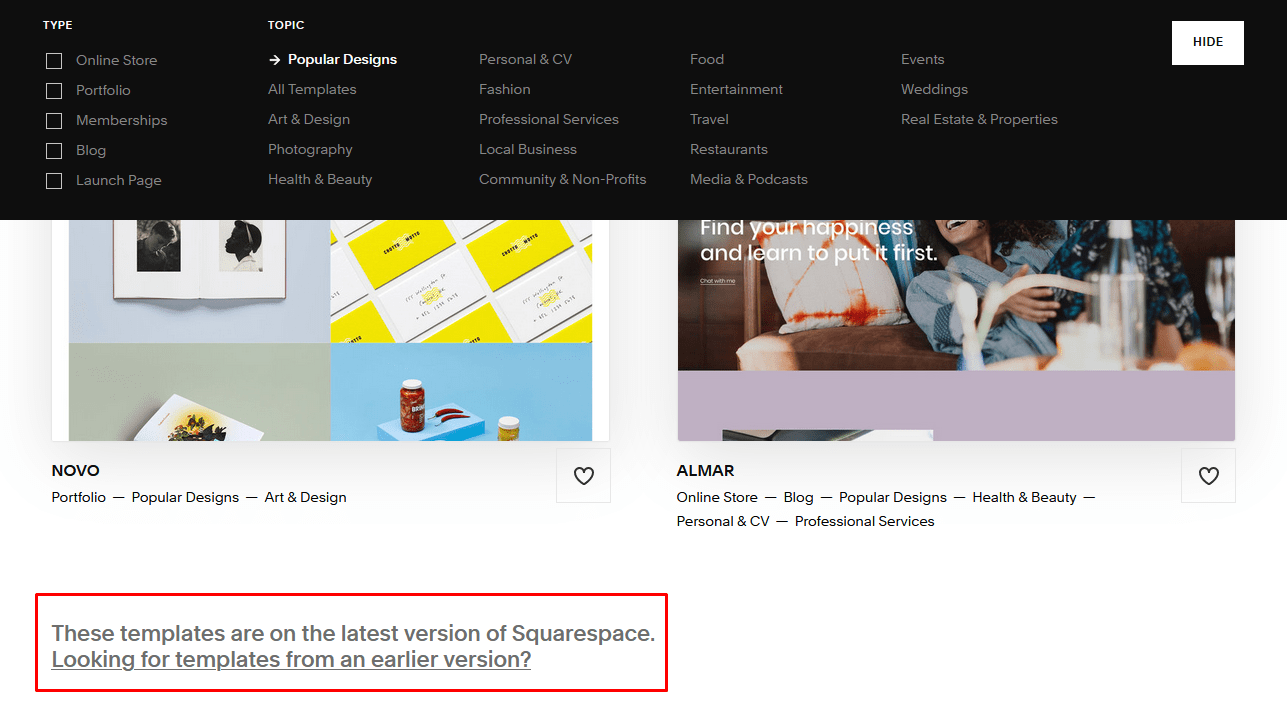 Click the second sentence, and you'll be taken to an entire archive of templates to choose from. Here are four hidden gems I found in the
Real Estate & Properties
section of Squarespace 7.0.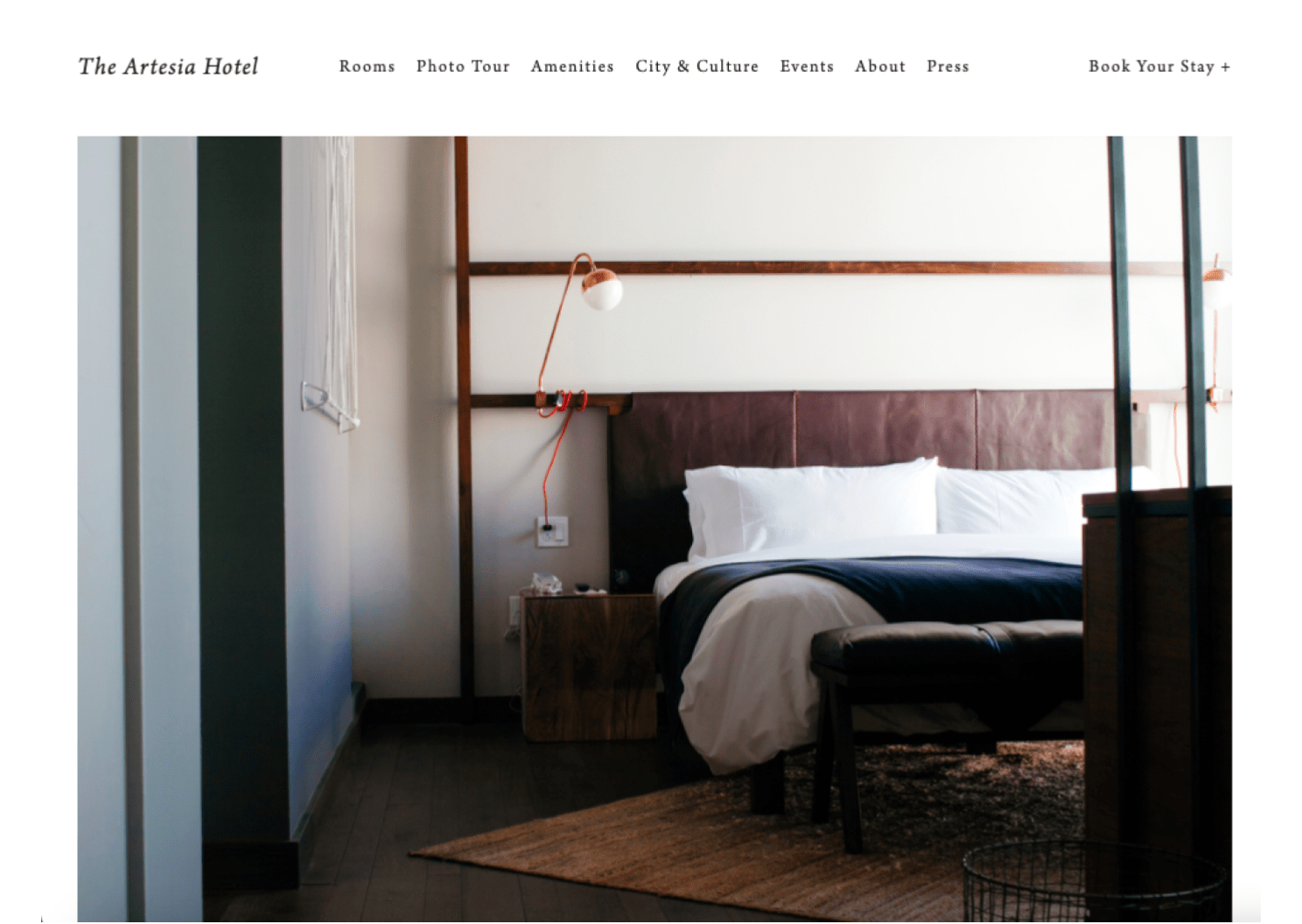 Artesia
captures the serene, inviting essence of a luxury hotel property. What I like most about this template are its
 thoughtful, pre-built pages
for your rooms, amenities, city and culture, hotel events, and more. The use of
 white space and asymmetry
 in this template is excellent and draws viewers' attention to the most relevant information.
The header menu is easy to navigate, and the
Book Your Stay
 button is noticeable but subtle, adding to the tranquil feel of the site. You should consider adding your socials to the top of the site. If your hotel hasn't been featured in the media yet, you can easily use the Press page for customer testimonials.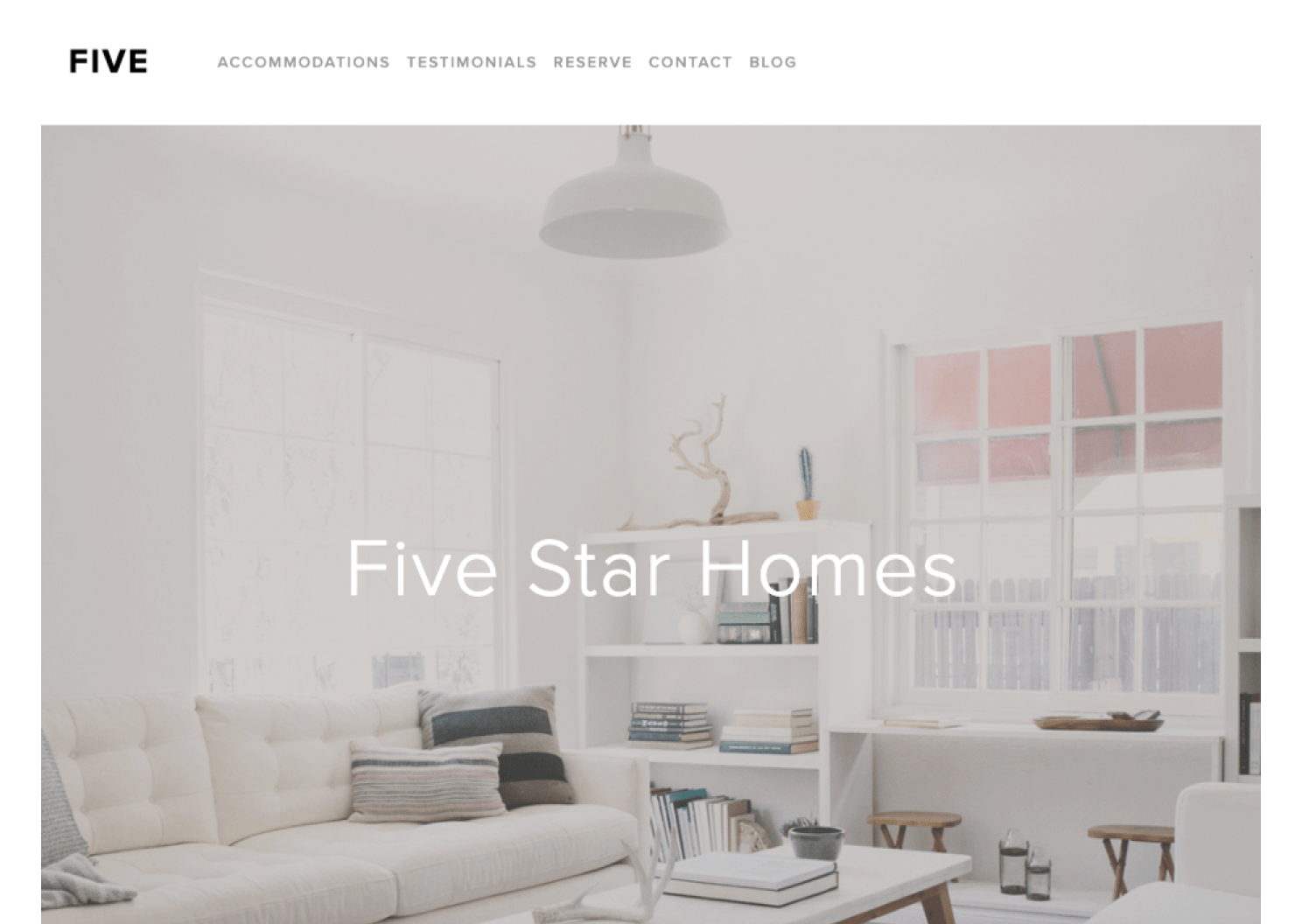 Five
 is a
clean, bright, and modern template with a dynamic layout
 that would cause any visitor with a hint of wanderlust to take a second glance. This template was built for vacation home rentals, but its design and features lend themselves well to the hotel market. The homepage lists your various types of accommodations with an image and short description. And if visitors click
Read More
, they're taken to a dedicated page with a detailed description of your amenities, rates, reviews, a photo gallery, and a
Reserve
 CTA button. In addition to a Testimonials page,
 the homepage includes text links to media outlets
that have featured your property.
I also like that this template comes with a pre-built Blog page, which is ideal if you're interested in content marketing.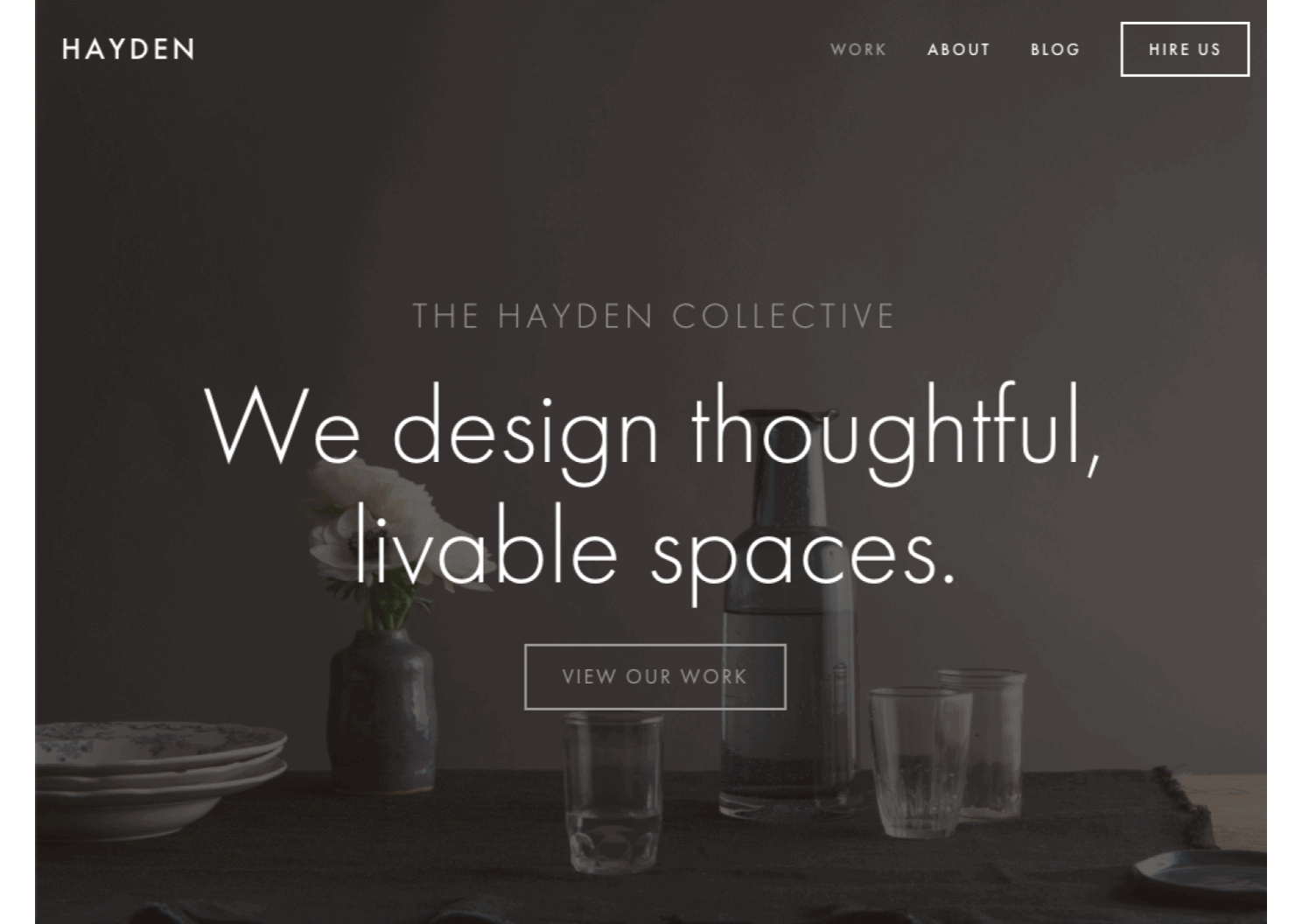 Like
Cailles
 and
Five
,
Hayden
 was intended for rental properties but could be tweaked to suit a hotel. And like those templates,
 it also provides space for important info about your different rooms right on the homepage.
What makes
Hayden
stand out, though, is the
Team section on the About page, which adds a personal touch to any business.
It also contains a section outlining open positions and even a quick application form. This would certainly streamline your hiring process!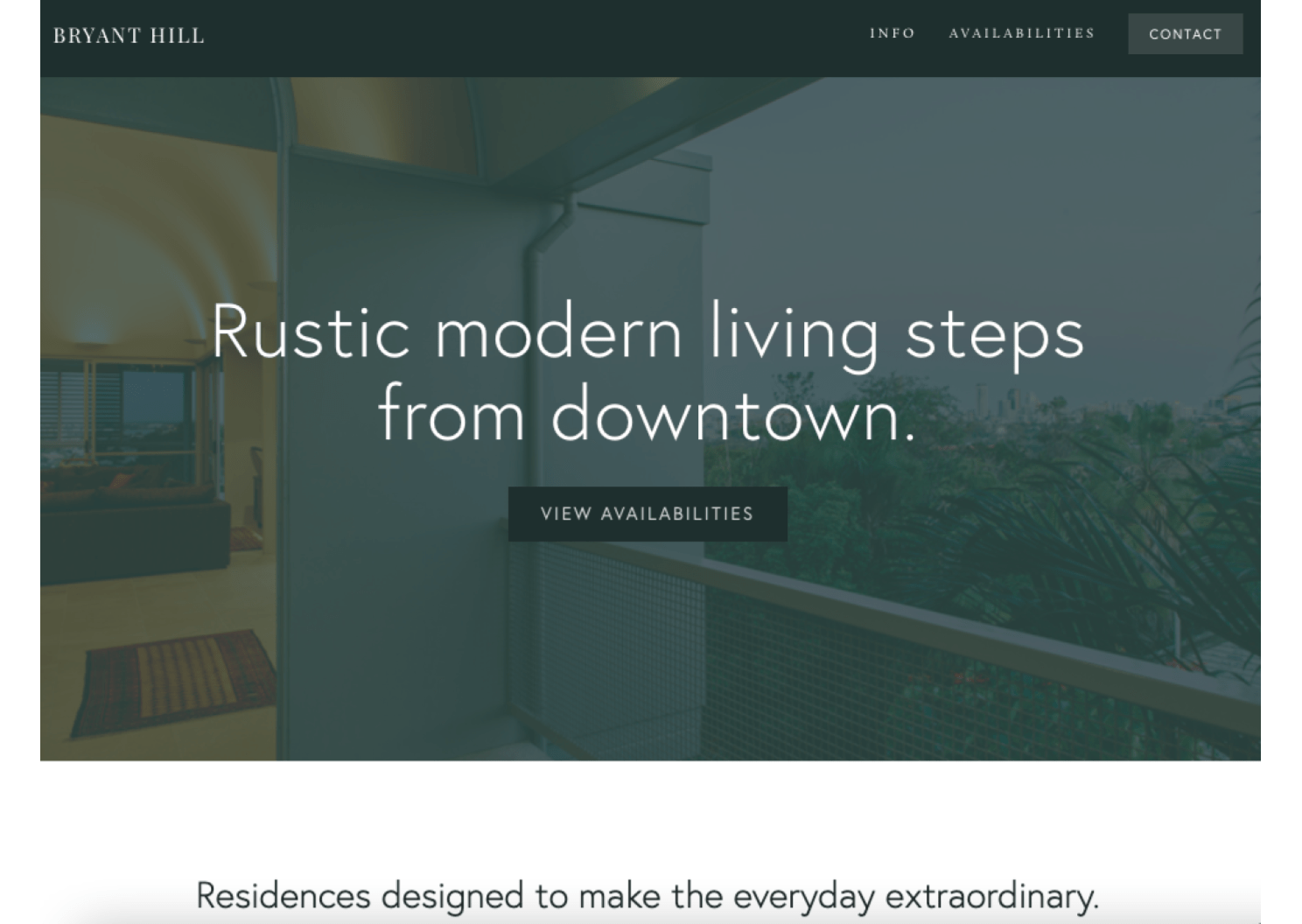 Last but not least,
Bryant Hill
is a simple and attractive template for luxury residences that would work well for hotels with a few small changes.
My favorite feature is the photo gallery section of the homepage,
 which lets visitors click to enlarge any image and browse at their leisure. The detailed homepage has specific sections for highlighting your amenities, neighborhood, and location that can almost be used as is. The Availabilities page, which lists properties for purchase,
can be easily changed to showcase your available rooms.
 Simply add a booking page to seal the deal!
Welcome Your Guests With a Beautiful Site
Just like the turndown service you offer your guests each evening, you should show the same tender loving care in choosing the right website template for your hotel. A template that doesn't fit your image will mean headaches down the line when you have to rebuild your site.
And it can also cost you customers,
because you won't be conveying the right message. Your website is the first glimpse potential guests have of your hotel, bed & breakfast, or guest house. Even though you can always change colors, fonts, and other elements, the template you pick will do much of the hard work, so make your choice wisely!
FAQ
Do I need a website for my hotel?
Absolutely! A website will be the first place your prospective guests will look when they consider staying with you. So, your website is your first opportunity to go above and beyond to showcase the type of hospitality they can expect from you. Not only is an attractive and well-managed site a powerful marketing tool, but it can also be used as a communication hub, online booking portal, online store, and more. Creating a website doesn't have to be difficult, either. Our list of the best website builders in 2023 includes several builders that are effective, yet super easy to use.
Is Squarespace free?
No. Squarespace is a premium service and does not offer a free plan – although it does have a 14-day free trial so you can try it out. The lowest priced plan costs

$

16.00

per month, but you'll need at least a Business plan or above to accept payments through your site. To lower the initial cost, head over to our coupons page and check out the latest discounts.
How can I make a travel blog?
To start, you'll have to create an account from the Squarespace homepage and choose your favorite blog template. Then, you'll need to customize your site design in the Squarespace editor and start adding content. To make the most of your travel blog, you'll want to follow the best SEO practices for images, linking, and keywords. Squarespace has a set of SEO tools that can help you get started.
Which is better, Wix or Squarespace?
Squarespace has lots of sleek, professional-looking templates that are automatically mobile-responsive, making it an ideal choice if you want an attractive website without a lot of tweaking. The drag-and-drop editor also makes it virtually impossible to mess up your site's design, as it uses predefined regions to limit your spacing options. Wix, on the other hand, is great for those who want a bit more creative freedom — and it's still a simple enough software to learn. For more on how Wix and Squarespace stack up against each other, read our expert comparison.