We all know the power of email. But to make the biggest impact, it is important to personalize the experience for each and every one of your contacts, subscribers, and customers based on how they have engaged with your site and emails in the past. While effective,
Daniel Miller, CMO for Benchmark Email
 knows it is also a time-consuming nightmare to manage and explains how the Benchmark platform works to automate the process effortlessly.
Still not convinced about Benchmark? Check out our expert Benchmark review to see what we think!
Please tell us a little bit about your background before you joined Benchmark.
I was born in Vegas and lived in Spain for about 12 years, where I started a computer consulting business. What made me different from the other consultants was while they charged on a per-call basis, I followed a subscription model and charged my clients a flat monthly fee for as many service calls as needed. Well, that got out of hand pretty quickly as I found myself at a client only to discover they forgot to change the batteries in their mouse! So, I started a biweekly newsletter covering basic computing, which reduced my calls by about 60% and increased my clientele by another 50%. That's when I discovered the magic of email marketing. When I started at Benchmark Email, there were about 20 employees. Now we're in 15 countries with 140 employees – so it's been an amazing journey!
Are contacts stored within the Benchmark Email platform?
Yes, we are a "permission-based" email marketing service, which means that we only allow clients to upload their list of contacts who gave permission to be emailed. When a contact list is uploaded, our scanning system helps determine if somebody is trying to pull a fast one. For instance, if all the email addresses are @gmail.com, it is probably a purchased list rather than their contacts.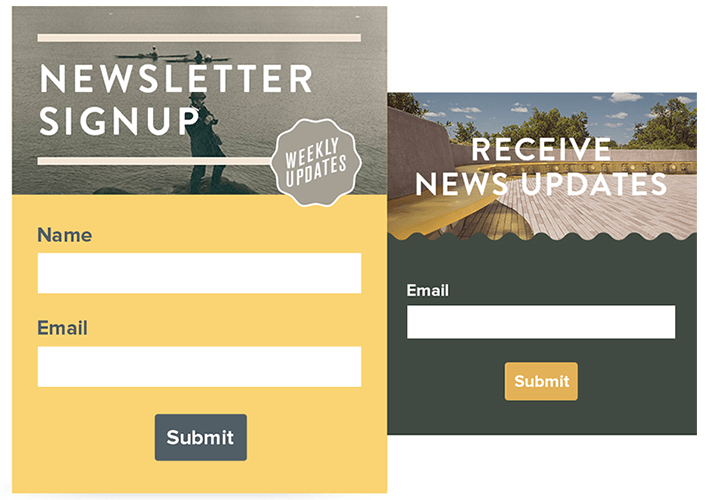 By default, we have a certain threshold based on bounce rates and contacts who report mailings as spam. Anyone who goes over those thresholds will receive a warning. If we find they are maliciously attempting to spam, their account is immediately terminated. If we see that it is somebody who isn't quite sure how email marketing works and is making honest mistakes, our team will sit down and work with them.
Do you support multiple contact lists?
Absolutely. Users can organize their contacts however they prefer. You can have all your contacts in one list and segment from there or have separate lists that can also be segmented. Lists can be segmented by any contact field, so within a list of customers, you can further break it down by who purchased t-shirts, who purchased socks, shoes and so on. If you have contacts' birthdays or zip codes, you can segment by that information as well.
What plugins or services do you offer to integrate signup forms?
Because we integrate with Zapier, we can integrate with over a thousand services. We also integrate with lead capturing services like PieSync.
How is contact rating determined, and can a segment be based on contact rating?
Yes, it certainly can. Contacts are rated zero to five stars based on engagement. Brand-new contacts start at zero. Once you send an email, it gets one star. Over 90 days, that contact's engagement will cause their rating to go up or down. So, if you send an email that gets opened and clicked, that contact is likely to receive a four-star rating. If they continue to do that throughout multiple campaigns within 90 days, that turns into a five-star rating. If within 90 days that contact hasn't opened or interacted with new campaigns in any way, their rating will immediately go down to a three, and then down again to a two or even a one. However, once a contact has received an email, it will never go back down to a zero.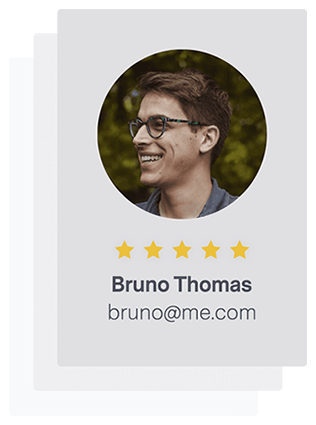 What about a contact who constantly opens your email and clicks but never responds or orders? That might make them a five-star contact, but after a certain amount of time wouldn't that be somebody who's probably never going to engage?
Totally, and that's where our contact management system,
Benchmark CRM
, comes in. Currently, it's a separate product, but we're looking at combining them since email marketing and a CRM go hand-in-hand. By using these two products, you can automatically push your five-star contacts into Benchmark CRM for further handling. Within our CRM, you can interact with contacts individually. You can add additional fields and notes like "I called them a few times and they're probably not going to buy," or "They came to the site multiple times," or "They're interested in these products but not until December."
How can you gauge the success of a campaign?
With
Benchmark Email marketing
, you can view engagement rates based on opens, click-throughs, bounces, and unsubscribes. You can also see unique vs. multiple clicks on specific links, as well as which devices recipients were on when opening the campaign. If you are connected to Google Analytics, we also show you all user activity on your website once they have clicked through.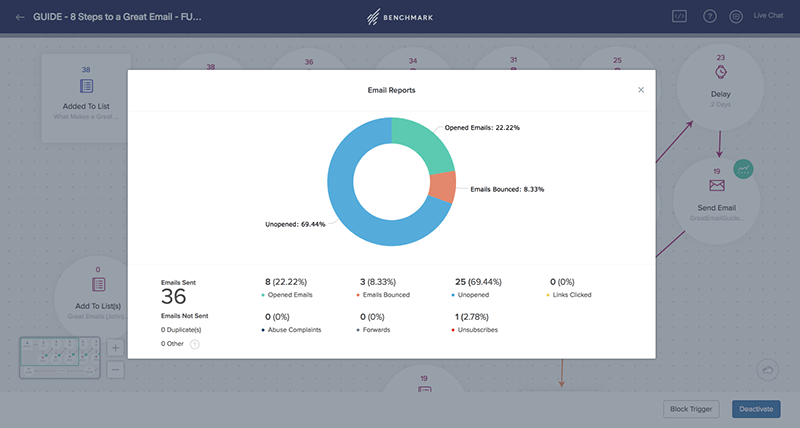 How does Email Designer work?
We looked at our entire product and saw that people spend pretty much 80% of their time in Email Designer, so our team of engineers,  designers, front and back-end guys have done an incredible job making our editor easy, intuitive and seamless. We have a selection of over 500 templates, or users can create and save custom templates within the editor. It's got all the bells and whistles to do merge tags, custom coding, videos, images, gifs – the whole nine yards.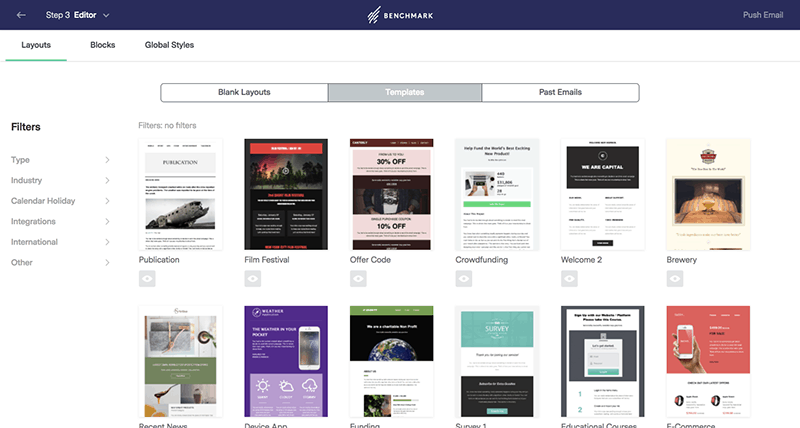 What is Automation Pro?
Automation Pro allows you to visually create an automatic sequence of events triggered by a contact's actions. We made it visual to give you a clear picture of your contacts' path throughout the series. Since it connects to your website as well, it's not only triggered by how contacts engage with emails; it can also be triggered by their interaction and behavior on your site. Actions like visiting or
NOT
visiting a specific page or section of your site can be set up to trigger a sequence of events in the automation, whether it's sending out an email, moving a contact to a different list, or even pushing contacts to your Facebook audience and showing them ads through Facebook.  You can also have Automation Pro define somebody who goes to a product page, then to the cart page, and finally to the Thank You page, as a new customer and automatically add them to a New Customer list.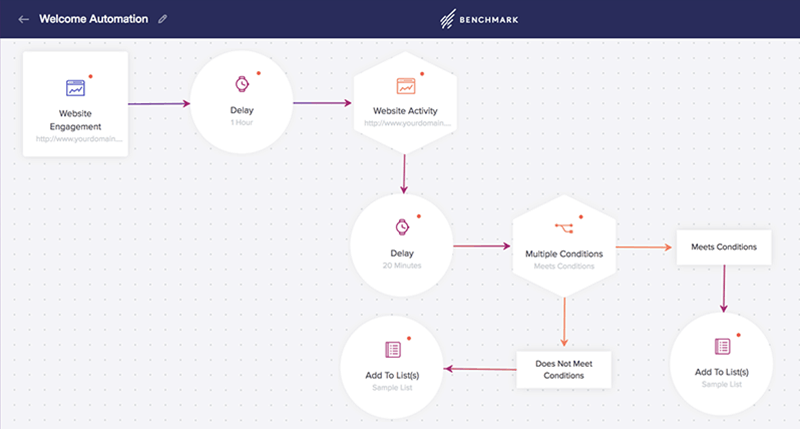 While there are no limits when creating an automation campaign and triggers, the most common uses are welcoming new subscribers, lead nurturing and following up on abandoned carts. A
Welcome Email Campaign
is triggered when someone adds themselves to a mailing list.  While some create a sequential email campaign for new subscribers, I recommend sending just one welcome email
immediately
. You can then move that subscriber to a different list for additional action. When creating a
Lead Nurturing Campaign
, we highly recommend that users set up goal-based automations.  Think about your goal – do you want customers to sign up for a demo or webinar? Maybe you want to request a review or get them to your pricing page. Whatever the goal, keep it in mind when building every step of the automation. Decide what action or behavior will trigger the series. Make sure that contacts that have attained the goal are filtered out while the new contacts are continuously added.
Abandoned Carts
work a little differently when integrated with an e-commerce store like Shopify, Bigcommerce, or WooCommerce. But when using Automation Pro without any integration, you can identify the behavior of someone who goes to a product page, then the cart page but doesn't get to the Thank You page as someone who has abandoned their cart. They can be automatically added to an abandoned cart list/series and followed up with an email, whether it's a one-off for free shipping or a coupon, it's totally up to the user. With abandoned carts, you've got to strike while the iron's hot, so we recommend sending an email after about 24 hours. You don't want to send the special promo too soon because the customer may still come back to their cart and complete the purchase after shopping around.
Is moving a contact from one list/sequence to another part of the automation?
Yes, of course. As sad as it sounds, our main goal is for you to
not
have to log in to Benchmark! We want you to spend your time doing what you love to do – whether it's working on your craft or having a martini on the beach. With Automation Pro's tools, based on a contact's behavior, opening and clicking on an email can have them automatically moved to one list while those who don't open and click can be automatically moved to a different list.
When a new contact is added, can they be added to an existing series or do you need to start over again?
When a series is assigned to a list, that series and list become attached. Once a series has begun, you can decide whether new contacts to that list should be added to the sequence or not.
What type of support do you offer?
Our support services encompass phone, chat, and email assistance for our products. If you are new to email marketing, we are pleased to offer an account manager who will engage in more than just answering yes or no questions. Instead, they will actively collaborate with you to devise effective strategies. This experience can be likened to having a dedicated personal consultant by your side!