Creatium is a Russian user-friendly website builder. It doesn't offer web hosting or domain registration, so to get your website online you'll need to first register a domain with another company and then register Creatium's NS address in it.
The Creatium website has a simple design, but is quite limited in information and is only available in Russian. When you register, the account section is available in English and Russian, but the editor itself is only available in Russian. All prices are displayed in Russian rubles.
Features and Ease of Use
Setting up your website with Creatium is quite easy. Once you register for an account and choose your required website name, you can choose from among more than 140 different attractive themes.
All content can be adjusted and put into place using a simple drag-and-drop mechanism.
Creatium has a unique feature called Zero block which means that everything can be moved separately, including certain texts, icons, or images, without disrupting the overall background of the website layout.
All themes and sites are automatically adjusted to fit any screen (desktop, laptop, tablet, smartphone, etc.). There's also a manual adaptation tool if you require specific adjustments in the layout for certain devices.
Through Creatium's highly intuitive editor you can easily create quiz surveys for your clients to stay engaged. You can customize questions and answers based on your clients' chosen options.
If you're building an online store, with Creatium, you can easily add the shopping cart feature with automatic cost calculation as well as an online cash register for accepting online payments via Yandex Cashier and Robokassa.
In a few clicks you can easily integrate multiple useful services such as CPM systems, online mailings, payment channels, analytical services and also all your social media channels. 
In addition to beginners, Creatium is also convenient for developers as it supports HTML, CSS, Javascript API, and more. You can also embed pages into hosted websites. 
Other features and capabilities include adding pop-up windows for promotions, bulk editing, adding a built in calculator for customizable services and prices, SEO optimization, A/B testing (testing client reactions on different site layouts), multi landing (adjusting page contents to clients' requests), and SSL certificates.
Creatium uses its own servers to store your information, eliminating the need for third-party hosting. You have the freedom to remove the section at the bottom of your website that says "Made on Creatium" as it is not mandatory.
Pricing and Support
All the mentioned features come as standard with Creatium's only paid plan. In addition, you get 20 pages on your first website, but if you require more, you can get 100 pages as an add-on for a certain fee. 
Creatium doesn't offer a free plan, but it does provide you with a 14-day free trial when you register. This free trial gives you full access to all the features and capabilities included in the plan.
Finally, let's talk about customer support. Here was my interaction.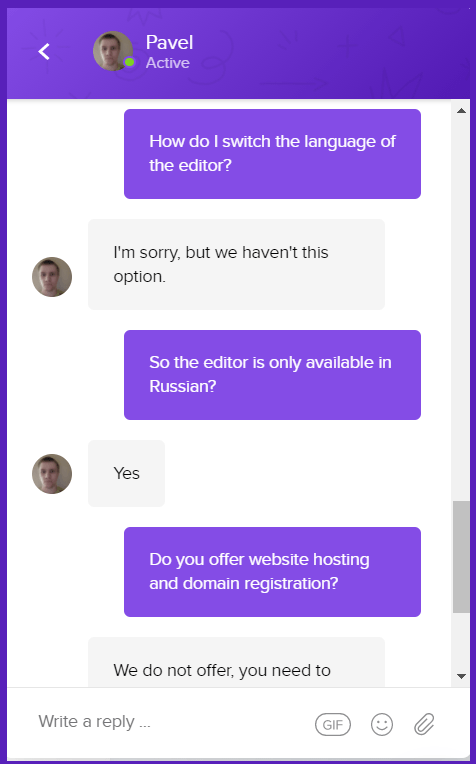 Even though Creatium has a Knowledgebase, it's relatively limited in its content. This clearly left me with some questions to ask support. Customer support is available 24/7, but only via live chat. Fortunately, I was connected to an agent instantly who was very helpful and answered all my questions.