Introduction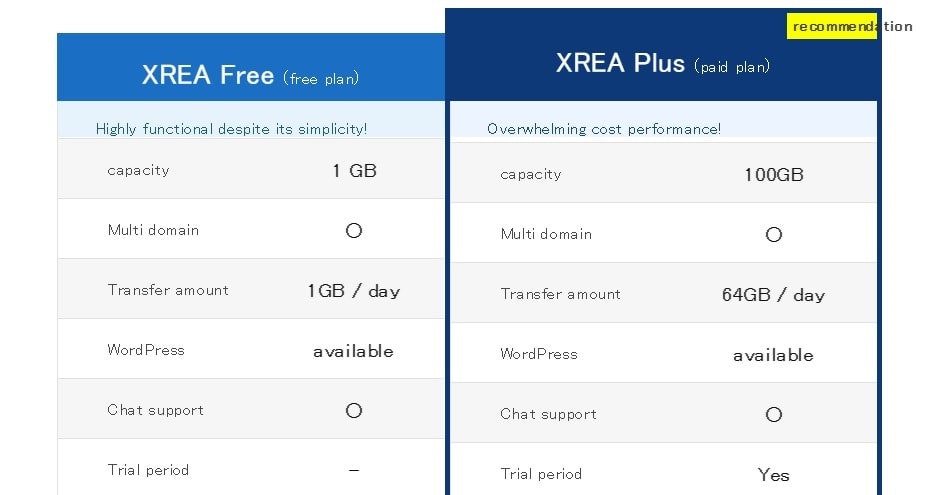 Xrea is part of GMO DigiRock, Inc. that was established in 2001. Based in Japan, Xrea offers free and paid rental web servers and paid mail servers for Japanese clients. Through its parent company, it also offers DNS services and cloud servers. Xrea's website supports Japanese.
Features and Ease of Use
Xrea offers 1 free web server, 1 paid web server, and 1 paid mail server. The two web servers (XREA Free and XREA Plus) come with
10-64 hosted domains
1GB-100GB web space
Daily transfer of 1GB-64GB
100 email accounts
1-5 MySQL and PostgreSQL databases
Support for Perl, Ruby, and PHP (v5.3-7.4 and 7.0 – both CGI/FastCGI versions)
Shared SSL
WordPress availability
Since Xrea uses SSDs, it offers faster hosting speeds and enhanced data security than HDDs. Due to the utilization of SNI (Server Name Indication) technology, it allows your server to connect multiple SSL certificates to a single IP address. As the company also offers an API (application program interface), you can change or update your account easily without using the control panel. In case you need to manage multiple domains and websites, you can change or update them promptly and conveniently with the API.
With SSH access offered by Xrea, exercising complete control over your hosting environment is made easy. Availability of cron jobs for XREA Plus will let you schedule specific tasks on your server at a particular time and date or after regular intervals. However, the unavailability of backups is a disappointment.
Pricing and Support
While the free web server is available for free, those looking for the paid XREA Plus that has no advertising display will find it pretty cheap. This plan is payable in Japanese Yen through credit card, bank transfer, WebMoney, and convenience stores. Available billing periods are from monthly to annual with price discounts for longer billing cycles.
Though no money-back guarantee is on offer as far as I can see, you'll get a free seven-day trial period with XREA Plus.
You can reach Xrea's customer support via live chat (available only in Japanese from 10 am-12 pm; 1 pm-5 pm, Monday to Friday; 10 am-5 pm on Saturdays), phone (after you've logged in to Value Domain, your domain account managed by a GMO DigiRock, Inc. company, and made a reservation in advance; however, the plan page doesn't mention phone support), and an inquiry form (only available for registered users). When I tried their live chat to seek answers to a few pre-sales questions (with some help from Google Translate), I was told I first needed to register at their Value-Domain and that I would need a Japanese address as an overseas address won't be allowed. As a result, I couldn't proceed any further.

An FAQ section along with video manuals and user guides are some of the self-help tools on offer, which would be useful for those needing self-support.