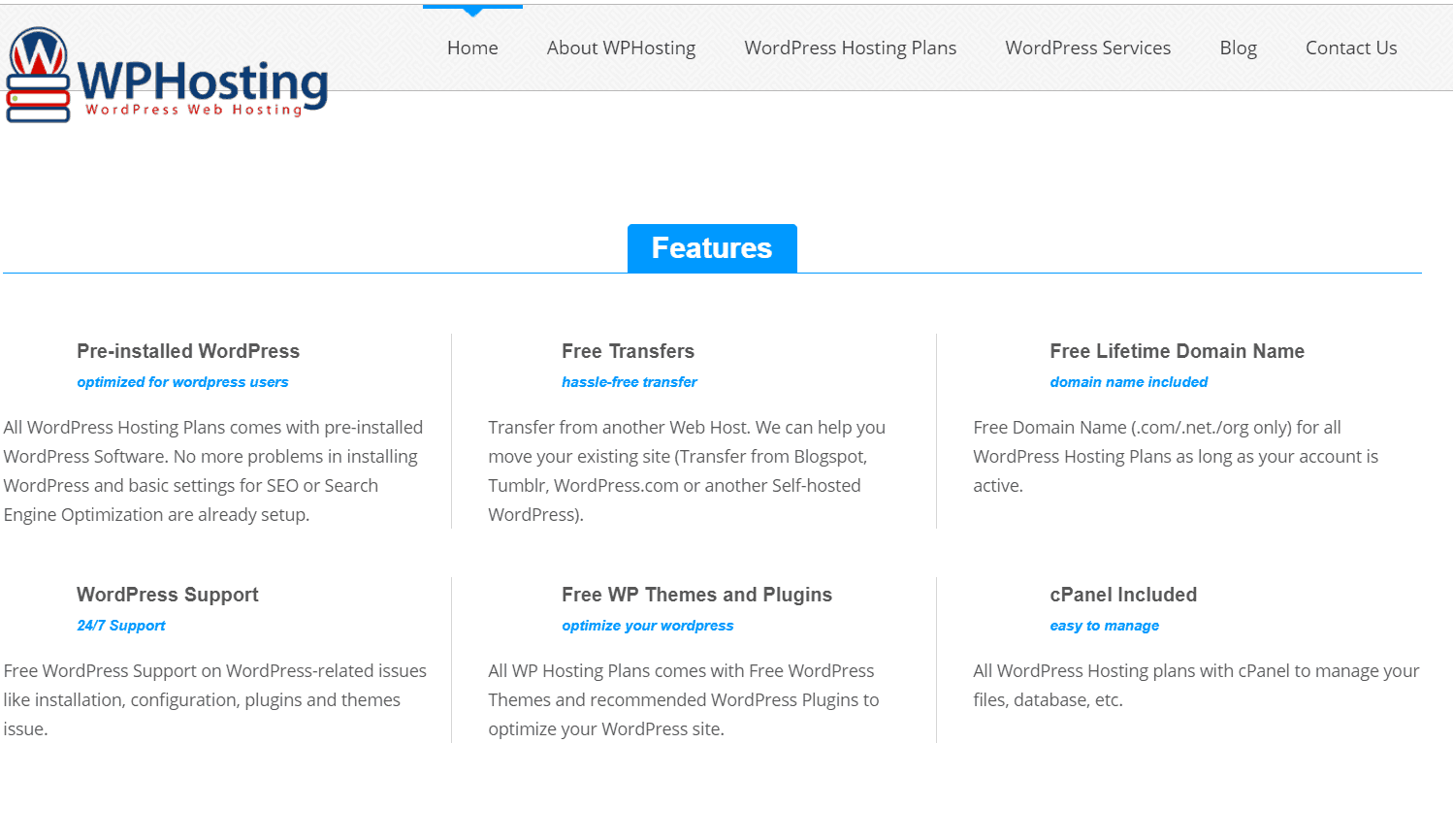 To compare the best web hosts, we hosted the same WordPress website on each one and tested performance, customer service, and value for money.
Check out the results here.
WPHosting is a Philippines-based WordPress hosting service that's been around since 2011. The company claims to be the first of its kind in the country. WPHosting's goal is to deliver WordPress hosting geared specifically for users in the Philippines — and include WordPress-specific support and inexpensive pricing along with it. The company mainly provides shared WordPress hosting, though a managed WordPress option is available upon request (with variable pricing). WPHosting's website is in English.
Features and Ease of Use
WPHosting delivers straightforward WordPress hosting plans that provide most of the bare essentials:
Free domain registration (.com, .net, and .org) for the lifetime of your hosting plan
Host up to three websites with ten subdomains
Free starter pack of WordPress plugins and themes
Up to 4 GB of storage
Up to 45 GB of bandwidth
WPHosting has a very simple catalog of shared web hosting packages. In terms of features, its packages are only really suitable for individuals or small businesses. Storage and bandwidth start at just 500 MB and 4 GB respectively, which is the bare minimum one needs for a small business website or blog. It goes up to a maximum of 4GB storage and 45 GB bandwidth, which might just be enough for a medium-sized business website or blog.
However, you won't be able to scale your hosting indefinitely as you'll still have relatively strict limits. For instance, you'll have a maximum of ten databases, FTP accounts, email accounts, and subdomains as well as only three websites per account.
That being said, WPHosting does provide cPanel with all of its shared WordPress hosting packages. cPanel is a good tool because it gives you more control over your hosting. It also provides AWStats, which is great for tracking your website's traffic. On top of installing WordPress for you, WPHosting also does some basic SEO setup for you, which is great if you'd rather not have to deal with that yourself. You'll also have access to free plugins and themes to further help you get off to a good start.
If you need custom work done, you can hire the WPHosting team for a range of WordPress-related services, like theme/plugin development, seminars or training, website development, and so on.
Pricing and Support
One of the most eye-catching features of WPHosting's plans is that you get a free lifetime domain for as long as you hold an account with the company. To make it even more affordable to get started with WPHosting, it also has a free website transfer service. The catch is that you'll only have longer billing terms with annual and biennial options, but that's still reasonable.
WPHosting's pricing starts very low, and biennial plans are even further discounted (if only slightly). However, you get what you pay for in terms of resources, since you'll only have very limited storage with this host. Bandwidth is slightly better, but you can get much more generous allowances for the same, or lower, prices elsewhere. WPHosting's prices also don't include any free SSL certificates.
All other features have limitations as well, such as FTP accounts, emails, subdomains, databases, and so on. Therefore, even though you'll find very low prices here, it doesn't necessarily mean it's a good deal.
Unfortunately, there's no free trial or money-back guarantee to try out WPHosting's platform risk-free.
Although WPHosting does provide 24/7 technical WordPress support, it's only available via an email/ticketing system. The team also maintains Facebook and Twitter accounts, although they're only really active using the latter. Instead of a knowledge base, they run a blog on their website — but this also seems to be rarely updated. You also shouldn't expect the best support availability: on multiple occasions, I never received replies to my tickets, and there are similar complaints from other customers.

How much does WPHosting.ph cost?
WPHosting.ph offers multiple plans priced highest to lowest. The price depends on which type of hosting plan you choose. You can see the updated pricing table (updated weekly) below.

Which WPHosting.ph plan should I get?
My recommendation is to start with a cheaper plan. You can always upgrade later on. WPHosting.ph can help you with the migration to a more expensive plan. The increase in visitors many times takes longer than expected and you shouldn't pay a lot of money until the need arises. Of course, your needs may vary, and you can consult with a hosting expert from WPHosting.ph here.

How good is WPHosting.ph's customer support?
WPHosting.ph is not ranked as one of our top web hosts. But that can also be a result of WPHosting.ph being a small, under the radar, hosting provider. There are advantages to a small hosting company – as a customer, you are more important to them. You can also check out our comparison of the most popular web hosting services here.