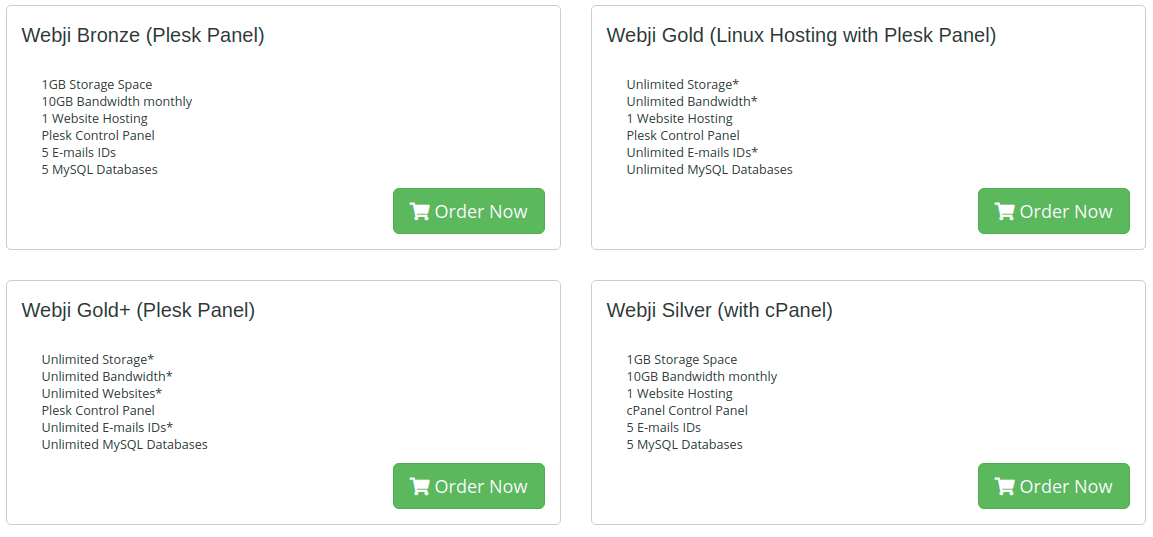 Webji Hosting Pvt. Ltd., formerly known as B4UIndia, is a web hosting company based in India. The hosting company has been in the web hosting industry for over 15 years now and it has a team of experts in place that ensure the vendor can meet its customer's demands.
The hosting company has a client base of over 10,000 customers that consists of individuals and companies based in India and across the globe. Its web hosting solutions include shared web hosting, VPS servers, dedicated servers, reseller hosting, website builders, and bulk email services, among others.
Features and Ease of Use
Webji offers a range of web hosting products that come with the following standard features:
Direct Admin, Plesk, WHM, cPanel control panel

Apache web servers

MySQL, MSSQL databases support

PHP selector

24/7 technical support

Softaculous one-click auto-installer

Online website builder

Root-level SSH access

Unlimited monthly bandwidth
Webji leverages its high-performance servers located in Indian data centers as well as in data centers across North America and Europe.
These data centers are equipped with world-class infrastructure that inter-link with up to 1Gbps network ports that do not compromise on speed. This offers redundancy in case of network failure and increases resilience so that users can run their websites without having to experience any interruption.
Webji creates separate virtual servers by using Virtuozzo or XEN virtualization technology on its physical servers. These two platforms provide customers with hyper coverage infrastructure that helps simplify the management of server resources to deliver highly scalable system resources optimized to boost performance.
This vendor's web hosting packages support both types of operating systems: Windows and Linux operating systems. Linux web hosting solutions use the cPanel control panel and come with unlimited disk space and bandwidth along with support for applications such as PHP and HTML coding.
On the other hand, the Windows hosting solutions work best with the Plesk control panel, and meet the needs of websites developed using Microsoft's technologies such as MSSQL database websites, ASP, and ASP.NET.
Webji web hosting servers come with remote R1soft backup add-ons. The backups are performed automatically in the cloud to help secure customers' data in the event of a data loss.
Pricing and Support
Webji web hosting solutions are quite cheap, especially given that they include several advanced features. The firm allows clients to choose their billing cycles with a minimum of one-month payment options.
Moreover, the hosting plans come with up to 40% discounts to customers who commit to long-term contracts of two years (as of the time this article was written). Prices are listed in four currencies: U.S. dollars, British pounds, Indian rupees, and euros.
Webji provides a 30-day money-back guarantee for every web hosting, email hosting, and reseller hosting package. That said, its VPS servers and dedicated servers are non-refundable. At all account levels, the vendor promises an uptime guarantee of at least 99.9%.

Users can contact this hosting provider via telephone, email, live chat, or through submitting a ticket. The technical support staff is quite active and provides excellent customer support 24/7.
Webji has a fairly detailed knowledge base, and they also have well-addressed FAQs on their website.