WebHostUK offers hosting solutions to companies across the globe. Their offices are located in the United Kingdom and the United States, but their customer base extends across Europe, North America, the Middle East, Asia, and Australia. WebHostUK began their operations in 2003. Today, they
serve over 150,000 clients
, guaranteeing each one 24/7 customer support and 99.9% uptime. This vendor markets themselves as having
the fastest web hosting
in the United Kingdom.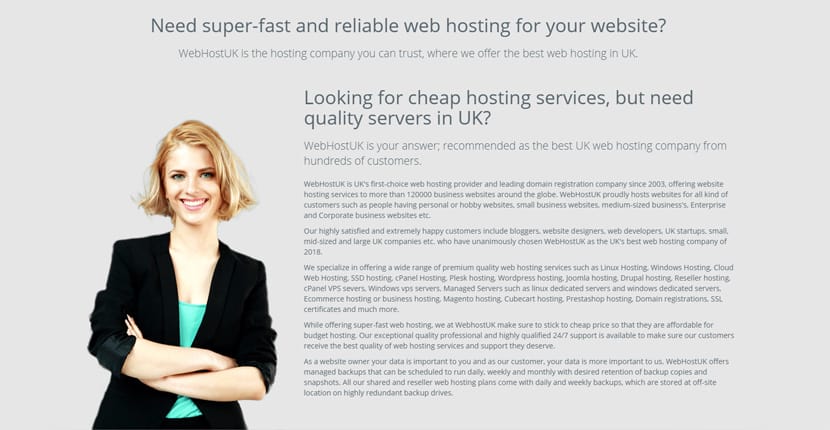 Features and Ease of Use
WebHostUK's hosting services are designed to be fast and easy to use even for beginners. Most of their shared hosting plans (with the exception of their Standard and Elite plans) include the following features:
Unlimited bandwidth
Fast Intel SSD disk space
Unlimited email accounts
Free SSL certificates
One-click WebApp installer with 400+ auto-installed applications
Free website builder
99.9% uptime guarantee
Unfortunately, most of their plans — particularly the cheaper ones — don't include a free domain registration.
Other sought-after and forward-looking features you'll often find in these plans include:
Free DDoS protection – With DDoS attacks becoming a bigger and bigger problem these days, a basic level of protection is a must-have for those on shared hosting plans.
Managed backups – WebHostUK provides managed backups, allowing you to schedule them to run every day, week, or month. These backups retain snapshots and backup copies of your website, storing them at off-site locations on redundant backup drives.
Cloud infrastructure with non-overloaded servers – Given that many shared hosting providers oversell their servers and rely on the assumption that no individual account will utilize all their allocated resources, it is crucial to ensure that your web hosting partner does not adopt the same practice.
Pricing and Support
WebHostUK provides pocket-friendly web hosting solutions powered by state-of-the-art servers in the U.K. and other locations across the world. Their solutions are amongst the cheapest in the U.K., perhaps one of the reasons why they have, on several occasions, been voted the best web hosting solutions provider in Great Britain. That said, WebHostUK offers no free hosting plans, and it should be noted that part of why they're able to offer such low-cost solutions is that many of their hosting plans don't include a free domain registration. Once you've factored that in, their prices are on-par (sometimes even more expensive) than their leading competitors.
WebHostUK provides a 30-day money back guarantee with their shared, reseller, and managed WordPress hosting plans.
WebHostUK has exceptional customer support available to their customers 24 hours a day, seven days a week. In my experience, the support team's response times are generally pretty fast and the conversations I've had with their experts are usually helpful and enjoyable. It was refreshing to get a response in less than 30 minutes when I submitted a ticket — most hosting providers I've interacted with generally only get back to me after several hours. The information they sent me was helpful and I felt that my issue was adequately addressed. You can contact them through their ticketing system, the live chat on their website, email, or their U.K. customer support phone number.
For users who prefer figuring things out by themselves, WebHostUK has a well-run knowledgebase where you will find most of the hosting-related information you'll need. What's more, the web hosting vendor has a public support forum where you can exchange thoughts and seek help from other customers who use this company's hosting solutions.