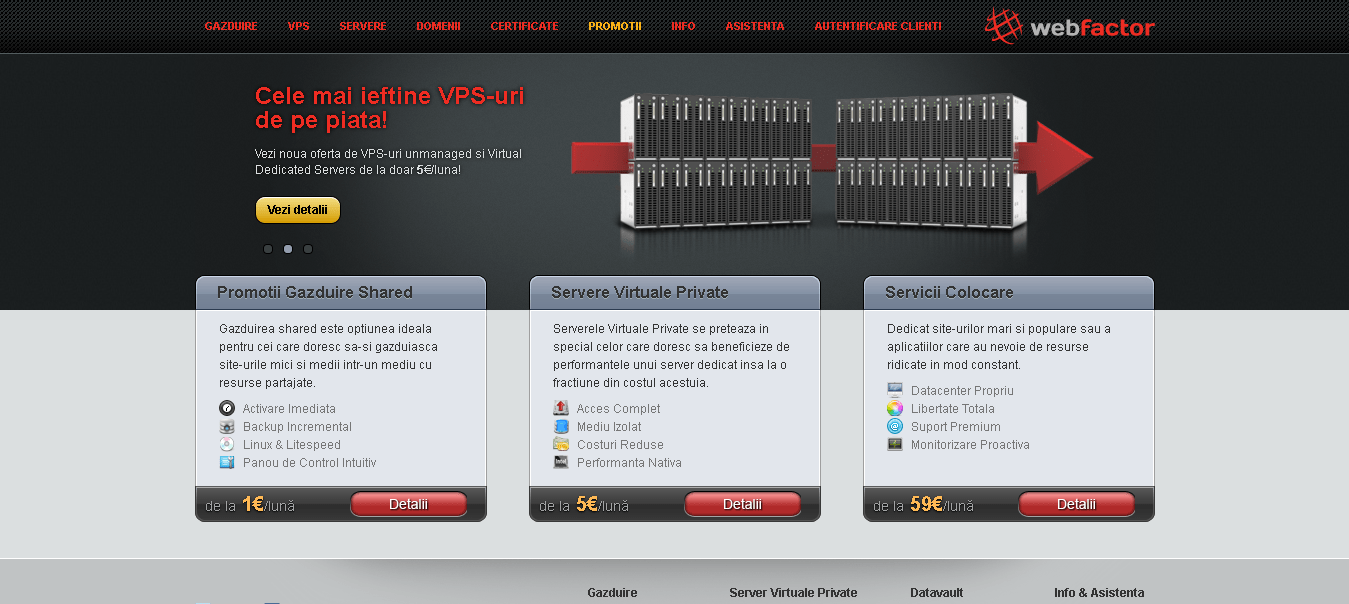 Webfactor is a Romanian hosting provider that has been in the industry since November 2005. They have always made it their aim to use the most modern infrastructure (currently Cisco and ExtremeNetworks) to provide high-performance hosting on a budget. Although they have clients all around the world, they still focus mainly on the Romanian market and only provide their services in Romanian.
Features and Ease of Use

Webfactor mostly provides relatively standard hosting services and features, but they go above and beyond when it comes to data backups and redundancy:
Multidomain hosting with up to unlimited domains
Purchasable SSL certificates
Daily local and offsite incremental backups via R1Soft, stored for up to a month
SSD or SATA II storage with RAID 10 redundancy
High monthly traffic limits of between 40 GB and 2 TB
The standard website hosting setup includes Linux, email hosting, MySQL and PostgreSQL, and PHP. What's not so standard is that their web hosting products run on SSD drives with RAID redundancy, and their products run on distributed servers to spread the load.
For VPS plans, they don't provide the highest resources allocations, but you do have access to burstable memory as well as up to 6 CPU cores. You can choose from a number of Linux distributions to be installed on your server.
Their dedicated servers are bare, so you can do with them whatever you want, and install the operating system of your choice. These products provide decent enough resource allocations, and they benefit from active monitoring and regular security audits.
Pricing and Support
Webfactor provides pretty straightforward pricing structures for their range of web hosting, VPS, dedicated server, and colocated server products. The cheapest web hosting package comes with only annual billing, but you can unlock shorter billing terms with more expensive plans until you have monthly, quarterly, and semi-annual billing on the most expensive plan. Longer hosting terms are discounted, saving you up to 30% for annual hosting on the most expensive plan and up to 50% for biennial billing. You needn't worry too much about making an annual commitment because all plans are backed by a 30-day money-back guarantee. VPS and dedicated server plans only offer monthly billing.
Webfactor's prices start very low. You still get quite generous features and bandwidth limits for what you pay, although the storage can be a little low. That said, this is SSD storage with RAID redundancy.
You have to pay extra for domains and SSL certificates, and on VPS plans you have extra expenses for backup restores plus the cost of a cPanel license.
Webfactor offers round-the-clock support for all their plans, and customers with dedicated servers receive priority response and phone vouchers as standard. To contact the support staff, you will need to submit a ticket through the help center. Although their knowledge base is not the most comprehensive I've come across, it does provide some useful information. It's important to note that this company does not offer technical assistance for certain web hosting applications or software, so keep that in mind when considering their services.