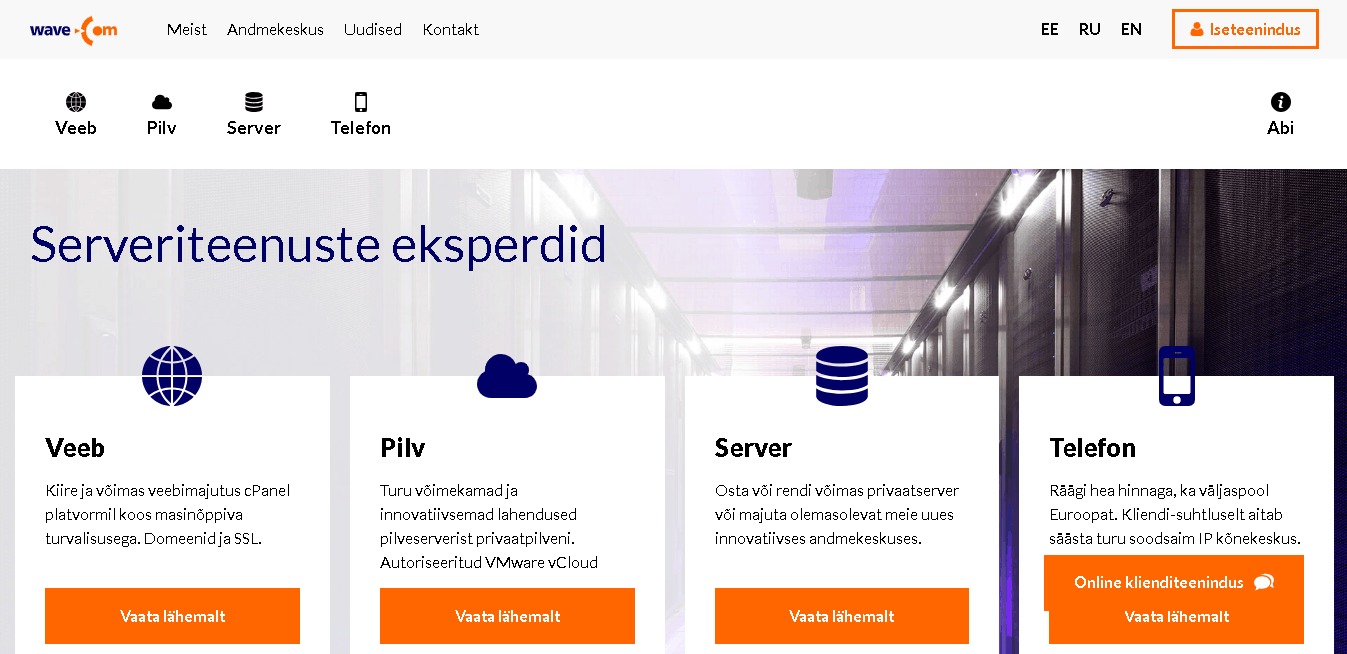 Founded in 2001, Estonian company WaveCom offers web hosting, cloud services, private servers, domain registration, and VoIP. It operates an ISO 9001 certified data center in Tallinn, which features advanced security features like fingerprint and retinal scanners.
The WaveCom website can be switched between Estonian, Russian, and English languages.
Features and Ease of Use

WaveCom offers shared web hosting, dedicated servers, and virtual cloud server hosting. The virtual cloud hosting comes in a few different flavors – OpenVZ, KVM, or VMware vCloud – and each plan can be configured according to customer preferences.
For more basic hosting, WaveCom's shared web hosting plans are available in three tiers: Entry Web, Business, and Premium. The Entry Web plan comes with 50 GB of storage, hosting for one domain, five databases, 1TB of monthly traffic, 1 vCPU core, and 1TB of RAM. The Business plan increases the allowances to 100 GB of storage, hosting for 10 domains, a dedicated IP address, up to 20 databases, 2 vCPU cores, and 2GB of RAM.
Each web hosting plan includes:
Free SSL certificate
Unlimited email accounts
RVsitebuilder
30 days of backups
cPanel control panel
Automatic software installation
All website hosting packages include a free Let's Encrypt SSL certificate, but Business and Premium plan customers can upgrade by buying a Comodo SSL certificate.
WaveCom runs a newly constructed ISO 9001 certified data center in Tallinn, Estonia. The data center boasts advanced security measures, including access controls based on high-security fingerprint, finger vein, and facial recognition technologies. To enhance security further, the facility is equipped with digital, microwave, and infrared sensors, and the alarm system can only be disarmed using an RFID card. Additionally, the data center upholds the highest standards in terms of climate control, power supply, and data communication systems.
Pricing and Support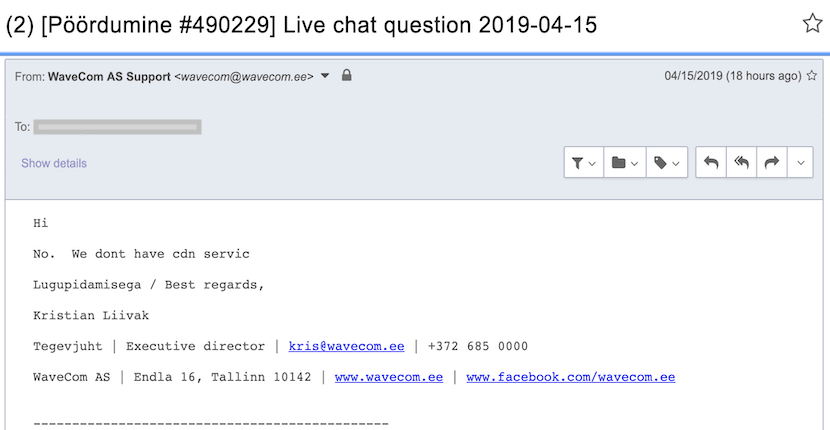 WaveCom's website hosting is competitively priced compared with other European and international providers. For less than the price of a fast food meal per month, the entry-level hosting plan includes a free domain, SSL, and hosting for one website. Some providers appear to be less expensive than this, but they often bump up their prices in the second and subsequent years.
You can pay for hosting plans monthly, quarterly, semi-annually (with one month free), and annually (with two months free).
The virtual cloud hosting is totally configurable in terms of vCPUs, RAM, and storage, with the affordable prices being about 50% lower many providers' entry-level cloud plans.
WaveCom's customer support team can be contacted by telephone, ticket, live chat or email during working hours on weekdays and weekends (but not 24/7). I received a reply later the same day when I sent a message via the live chat window.