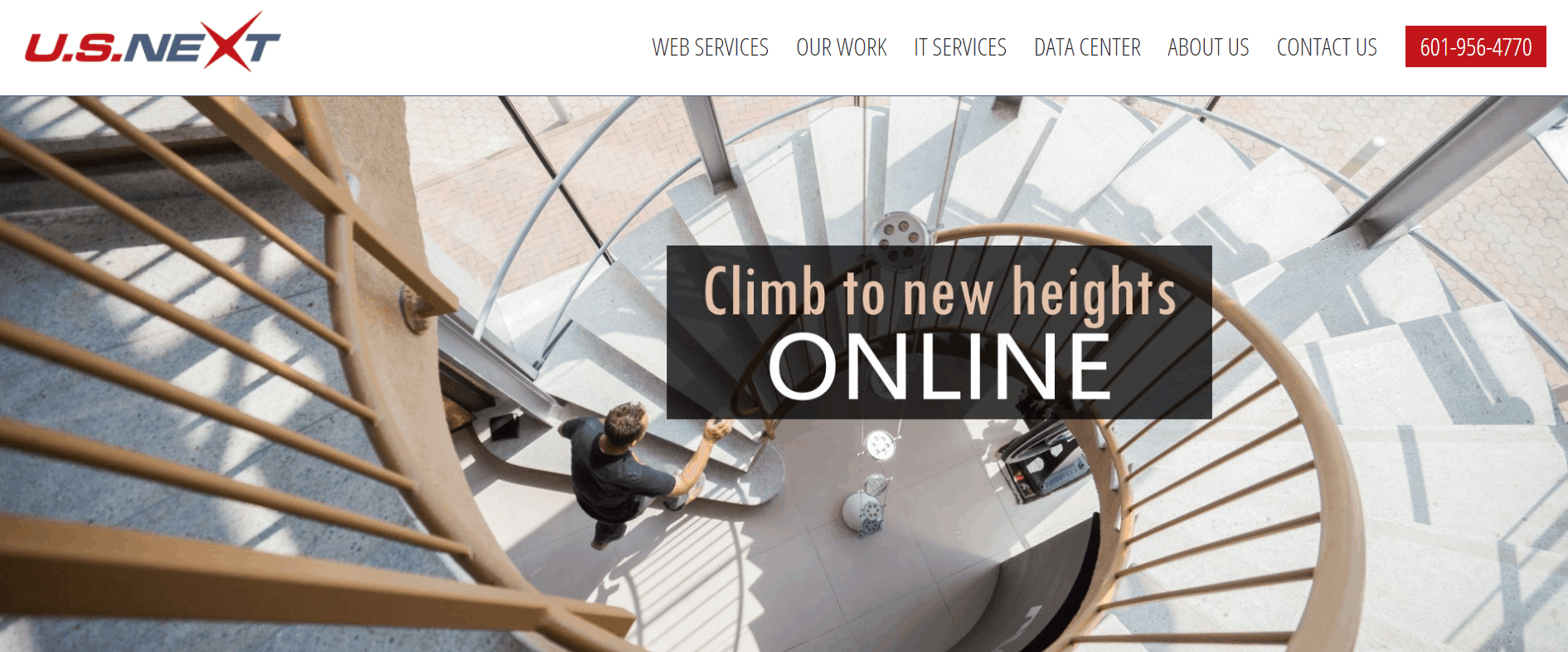 Since 1998, U.S.Next has been offering a wide variety of services related to web development, and website hosting is one of them. They have over
800 clients spread across 24 different states in the U.S
. Thanks to all the different web services they offer, you can find a solution to almost all of your online needs at U.S.Next, which makes them stand out from the rest of the service providers.
Features and Ease of Use
99.9% uptime guarantee
Backup available only for databases
Domain registration possible, free 1-year extension with domain transfer
Unlimited add-on domains
Premium SSL certificates available
Unlimited storage and bandwidth available

The feature I appreciate most at U.S.Next is the ability to host unlimited domains. This is slightly restricted by the fact that you only have 25 databases (Deluxe package) but unlimited databases are also available, though they cost more. Similarly, unlimited storage and bandwidth are easily available, though I recommend you read the fine print so that there aren't any surprises later.
What U.S.Next does better than the rest is make website management easy for people with little technical knowledge. Whether you want to create a blog or an online store, all you need to do is install the appropriate software from the control panel with a single click (no need to mess around with uploading files, installing complicated software, etc.) and you're good to go. As mentioned above, they offer such a wide variety of web related services that you can even ask them to create websites for you, though they'll charge you a fee for that.
A reliable hosting service is vital for your online success, and reliability depends not just on the uptime, but also the speed. Since they manage their own data centers, they ensure a 99.9% uptime, made possible mainly through redundant power supply and cooling systems. On top of this, the fast servers give you faster page loading times which in turn helps your website's visibility in search engines. This is of great benefit, especially if you have an online store.
You can also opt for either a Linux based account or a Windows-based account. Even though you have a wider choice of applications in the Linux based account, the Windows account still offers all of the main applications you'll need.
Pricing and Support
The three plans available at U.S.Next are Economy, Deluxe, and Ultimate. The Ultimate package gives you unlimited features with twice the usual processing power and memory (Linux only). But if computing power isn't a preference for you, the Deluxe package is ideal as it also offers unlimited features with 500 email accounts and 25 databases, which are more than enough. The price is fair and is about what you would expect for a package with these features. As far as the economy package is concerned, I wouldn't recommend it as it only allows a single domain and limited space, despite the fact that it costs nearly as much as the deluxe package. SSL certificates cost extra.
You can pay monthly as well as up to three years in advance. The website contains some conflicting information regarding the discount on advance payments, so it's advisable to reach out to them directly and inquire about it. They also offer a money-back guarantee, although the website doesn't specify the exact time period for it.
While they promise a 24/7 customer support system, it is disappointing that they don't have any live chat. Via telephone and email (the ticket system), you are promised a 'prompt response,' so I believe it is safe to assume you will get a response within a short time. Sadly, there is no social media presence either.