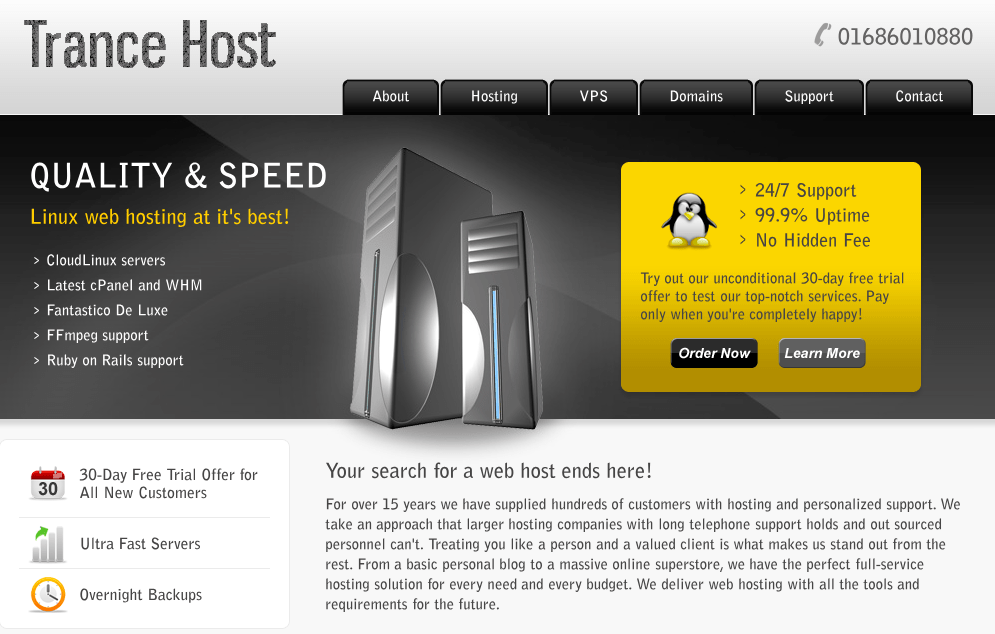 Founded in 2003, Trance Host is a Bangladeshi website hosting business that is a subsidiary of I.T. solutions company Trancetronic Technologies. This host's website is in English.
Features and Ease of Use
Trance Host offers shared hosting plans, virtual private servers, and domain registration. The shared hosting plans come with the following core features as standard:
9% uptime, not backed by a service level agreement
Automatic overnight backups
Free domain registration with the highest plan
Free Let's Encrypt SSL certificate with all plans
1 GB, 3 GB, 5 GB, or unlimited disk space
5 GB, 15 GB, 25 GB or unlimited bandwidth
The hosting plans run on Intel Xeon-based CloudLinux servers with the widely-used cPanel control panel.
The four shared hosting plans – Armin, Tiesto, Roger, and Elite – all include multiple MySQL databases and FTP accounts. SSH access is available only with top two plans.
There is no website building tool, so the only notable feature for beginners is the Fantastico one-click installer. However, experts can also enjoy the support for CGI, Ruby on Rails, and Perl.
Trance Host's slightly blurred website (go see for yourself) and its simple hosting plans are both easy to understand. Although not the most feature-packed plans I've ever seen, therefore not suitable for everyone, I do like the simplicity of the plans that have no unnecessary add-ons or complexity.
My main gripe with this company is the fact that the 99.9% uptime guarantee is not backed by an SLA (as confirmed by customer service).
Pricing and Support
The plans are very well-priced. If you don't need myriad extra features, and if 1 GB disk space plus 5 GB bandwidth is enough for you, then you can grab a really affordable plan.
There is a 30-day free trial, which is an excellent way to get going with minimal risk. But getting going is not possible entirely online. Signing up is a matter of emailing support, which, while not a huge problem, is a little inconvenient and very unusual these days.
24/7 customer service is available by email, live chat, phone, Skype, Google Talk, MSN, Yahoo, and ticket. The average response time for sales is advertised as one hour, whilst it's twenty minutes for technical support. I'm really impressed with the customer support staff. When I contacted them via live chat at 9 PM (GMT + 6), an operator picked up straight away and answered quite a few questions over the course of ten minutes: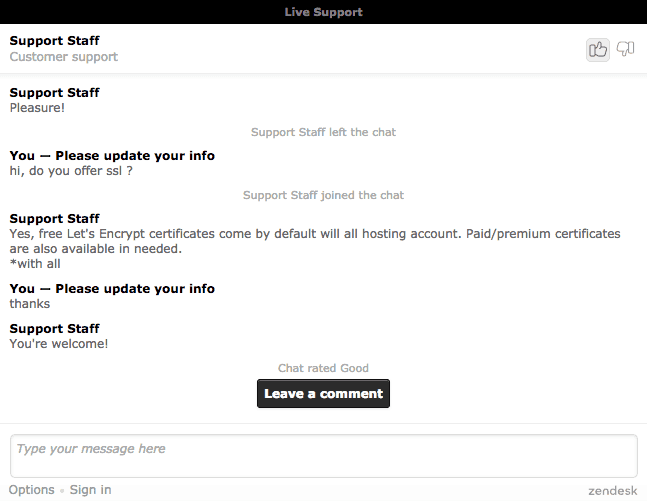 This hosting vendor disappoints slightly with its knowledge base, which only provides answers to three questions. However, considering that it is a budget brand, you can't expect everything at such a low price.