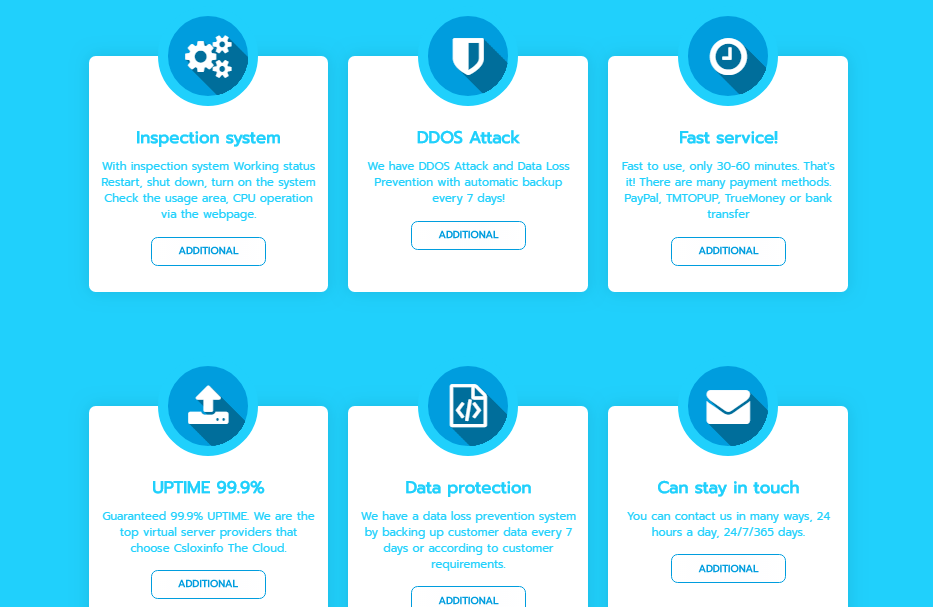 ThaiEasyVPS is a web hosting company that operates under Thai EC Solution Co., Ltd, a company with over 12 years of experience. ThaiEasyVPS started its operations in 2012 and today, it boasts of a client base of over 1424 customers and over 2584 successful online projects. Its hosting solutions include VPS, dedicated servers, and colocation services powered by network distribution brands in Thailand. Its website is only available in Thai.
Features and Ease of Use
ThaiEasyVPS server solutions incorporate the following standard features:
DDoS protection

IP addresses

Free control panel: DirectAdmin

OS: either Linux/Windows

Unlimited bandwidth
ThaiEasyVPS web hosting servers are placed at CS LoxInfo and INET data center locations in Thailand. The data centers are equipped with high-end web hosting servers available with the lastest core processors like core i3, i5, i7, or Intel Xeon processors. The servers are also interlinked with up to 1Gbps non-shared connection ports for high-speed data transfer.
ThaiEasyVPS uses enterprise-grade infrastructure from leading brands such as Cisco networking systems and Supermicro NODE brand machines. This assures its customers of highly available and top-quality services powered by legit brands.
Its dedicated and virtual servers come with either SSD or HDD storage systems in RAID 5 enterprise configurations. However, the hosting provider recommends the use of SSD storage servers that offer high web page loading speeds, up to 20 times faster than websites hosted on HDD hard drives.
The vendor's hosting services also include firewalls as well as DDoS protection that helps prevent online threats such as DDoS attacks and online hackers, among others. Moreover, to prevent customer's data loss, the hosting vendor offers automatic backups that are created every seven days.
Pricing and Support
ThaiEasyVPS has served many customers in the Thai market and there have not been complaints about its prices. However, customers should be prepared to purchase add-ons from the vendor, including IP addresses and in some cases, a setup fee for operating systems. The hosting solutions start with monthly payment options and prices are listed in Thai baht.
Since customers can customize their server specs to only pay for what they use, the vendor provides no money-back guarantee policy. However, its server systems provide a 99.9% uptime guarantee.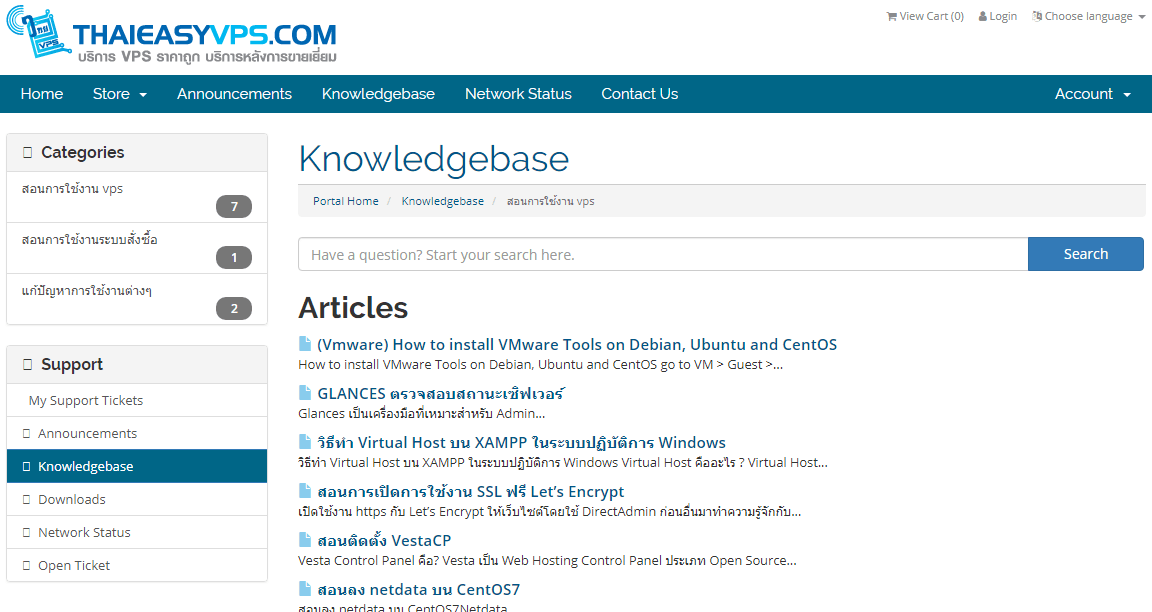 Customers can get in touch with ThaiEasyVPS support service in several ways: telephone, live chat, email, and ticketing system. There is also a contact form available on its website. The technical support staff is available 24/7/365 days.
ThaiEasyVPS has around seven articles in its knowledge base.