To compare the best web hosts, we hosted the same WordPress website on each one and tested performance, customer service, and value for money.
Check out the results here.
SinoHosting.net is the only China-based web hosting company to offer English language support. Founded in 2007, they currently host over 10,000 web, email, and server accounts. They also partner with a hosting group that has a specific e-commerce focus.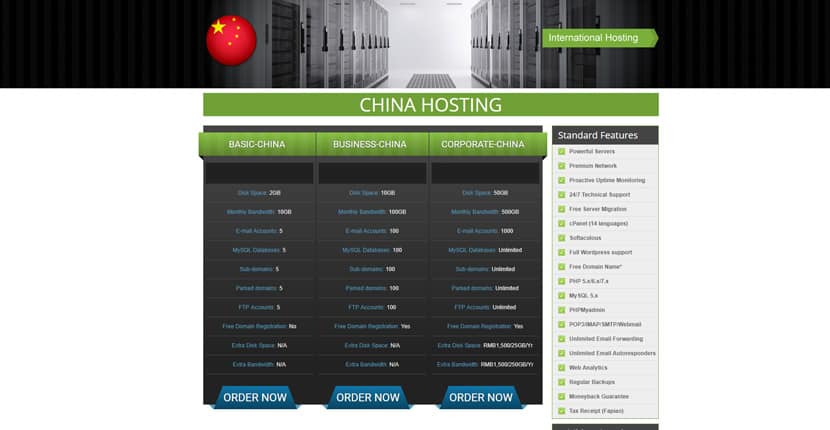 Features and Ease of use
SinoHosting.net offers different plans for web hosting with servers based in China, Hong Kong, Taiwan, Korea, Singapore, the United States, and Europe. They offer one-click integration tools for all the most well-known and popular extensions including WordPress and Magento.
One of the unique features SinoHosting.net brings is their access to servers within China. For webmasters operating websites with a large Chinese clientele, this is a huge upgrade over hosting options in North America or Europe. Not only will the load times for visitors from mainland China will be significantly faster, but you'll also benefit from a rankings boost in Chinese search engines. That access — along with English language support options — is a significant strength for SinoHosting.net.
All entry-level international plans allow a single hosted domain and do not come with free domain registration. However, going for their higher-tier plans will increase this to up to ten hosted domains and net you a free domain.
SinoHosting.net performs "proactive uptime monitoring," but doesn't guarantee a specific percentage of uptime. Also, all plans require you to purchase SSL certificates separately, unfortunately.
Additional features included in all plans are:
Free website migration
cPanel
Softaculous
PHP 5.x/6.x/7.x
MySQL 5.x
phpMyadmin
Unlimited Email Forwarding
Unlimited Email Autoresponders
POP3/IMAP/SMTP/Webmail
Web analytics
Regular backups
Pricing and Support
SinoHosting.net's pricing is geared towards users looking to reach out to the Chinese market. Despite a feature list that's similar or even slightly smaller than competitors, their entry-level plans cost several times that of their competition. However, the speed and memory offered by the higher-tier plans are similar to what you'll find elsewhere, and although the price is still slightly high, it's much closer to what you'll see elsewhere.
What's excellent is the value to price ratio between the low-end and high-end price points. Both the international and China-based server plans offer a significant increase in disk space by a factor of 25 and a monthly bandwidth increase by a factor of 50 when comparing the two plans. Surprisingly, the price only increases by four to five times, making it a fantastic deal for higher-end customers who require that level of power.
One pricing nuance to consider for merchants of all sizes is the ability to get English language support for a web hosting company with servers based in China. If you're a merchant that does a lot of business in the Chinese market or even Asia generally, the amount you'll pay to be close to your customers while also being able to work in English is a bargain.
SinoHosting.net boasts a multi-cultural team, and my contact with their phone support staff bore that out. They were helpful, friendly, and answered all my questions expertly. I got a response to my email within 48 hours — slow by web hosting standards, but passable. However, there's no live chat option. Of course, Chinese language support is also available if you want it.
How much does SinoHosting.net cost?
SinoHosting.net offers plans from $10 to $38. The price depends on which type of hosting plan you choose. You can see the updated pricing table (updated weekly) below.

Which SinoHosting.net plan should I get?
My recommendation is to start with a cheaper plan. You can always upgrade later on. SinoHosting.net can help you with the migration to a more expensive plan. The increase in visitors many times takes longer than expected and you shouldn't pay a lot of money until the need arises. Of course, your needs may vary, and you can consult with a hosting expert from SinoHosting.net here.

How good is SinoHosting.net's customer support?
SinoHosting.net is not ranked as one of our top web hosts. But that can also be a result of SinoHosting.net being a small, under the radar, hosting provider. There are advantages to a small hosting company – as a customer, you are more important to them. You can also check out our comparison of the most popular web hosting services here.