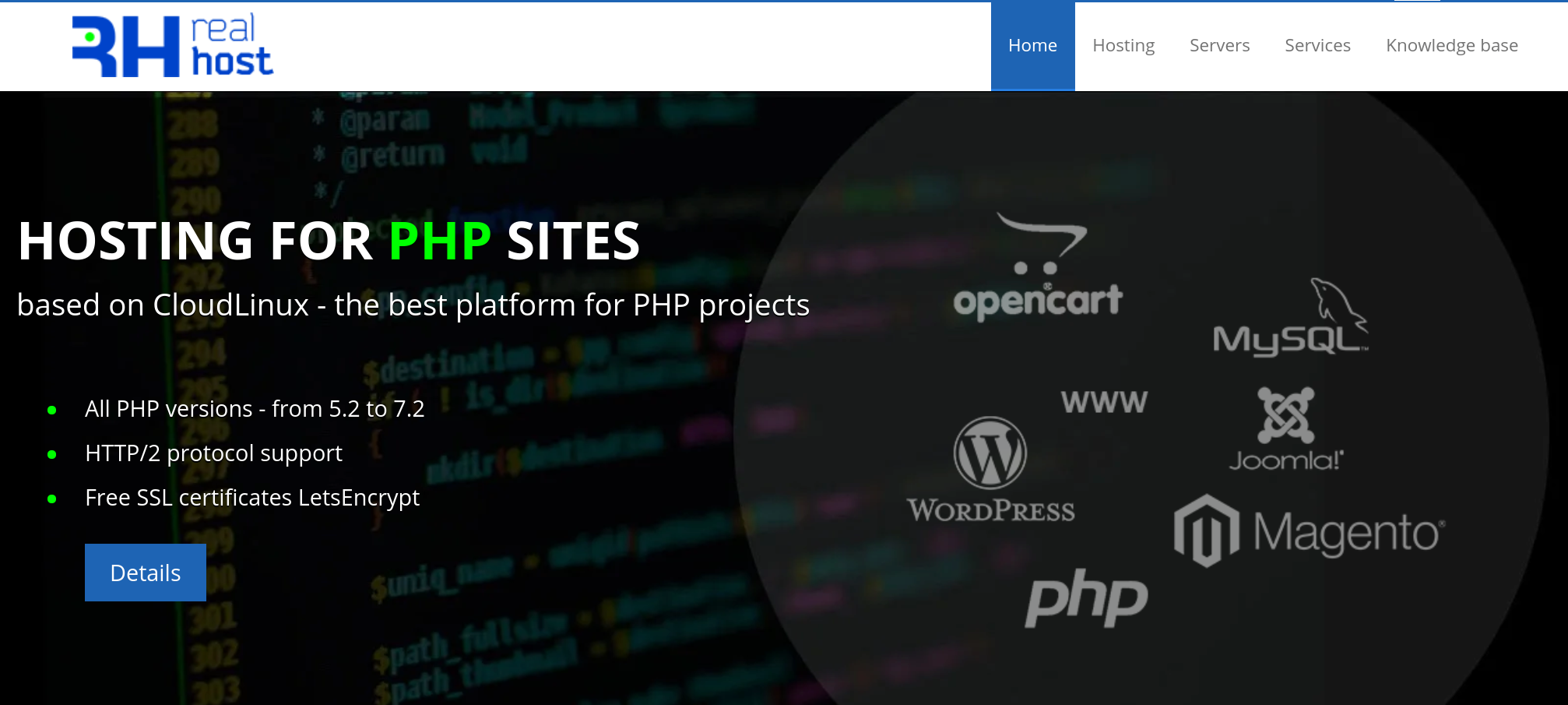 To compare the best web hosts, we hosted the same WordPress website on each one and tested performance, customer service, and value for money.
Check out the results here.
It can be hard to find a hosting service that provides you with simple space for your custom-built website. Ukrainian company RealHOST attempts to address this need with its ASP.NET and (Linux) PHP hosting services. Its website can be switched between the Russian, English, and Ukrainian languages.
Features and Ease of Use

With RealHOST's ASP.NET hosting, you get ample storage space to host your website with Microsoft technologies such as ASP.NET and MS SQL. The Linux hosting, on the other hand, is ideal for hosting PHP/MySQL websites and CMS-backed websites (with WordPress, Joomla, OpenCart, or Magento).
Some of the other supported features include:
Domain registration
PHP 5.2 to 7.2
Unlimited inbound and outbound traffic
Roundcube webmail
MariaDB and MySQL 5.7 databases
Linux console access
SSL certificates
Navigating the provided (Russian and English) ISPmanager control panel was much easier than I expected since it's simpler than most control panels.
Depending on your package, you can order add-on domains and host multiple websites. And to boost visitor confidence, you can install a now-essential free Let's Encrypt SSL certificate, with a step-by-step tutorial to show you how.
Since I couldn't see any mention of uptime, I set out to see what the uptime of RealHOST's own website is like. I recorded 100% network uptime over a 24-hour period, which bodes well for your own website.
Scaling up from shared hosting, you can get a Linux VPS with KVM or a Windows VPS, both of which come with SSD storage. Available operating systems are CentOS, Ubuntu, Debian, FreeBSD (Linux), Windows Server 2008 R2, Windows Server 2012 R2, and Windows Server 2016. Via the VManager control panel, you can take unlimited snapshots with an easy restore option. Take advantage of the three-day trial to see how it works.
Pricing and Support
When you order a hosting package, you can pay month-by-month or pay upfront for three, six, or twelve months. The 30-day money-back guarantee gives you the opportunity to get out early if anything goes wrong, but you won't be refunded for your domain fees. Pay by credit/debit card, Privat 24, WebMoney, or bank transfer.
The technical support team is available to assist you with hosting issues, website support and maintenance, and server setup and administration. You can reach out to the pre-sales support team by using the online contact form, and registered users have the option to contact support through telephone, ticket, email, or the control panel. Since I didn't find any information about an app installer, I decided to submit a query to find out how customers can install WordPress. I received a reply in less than an hour: