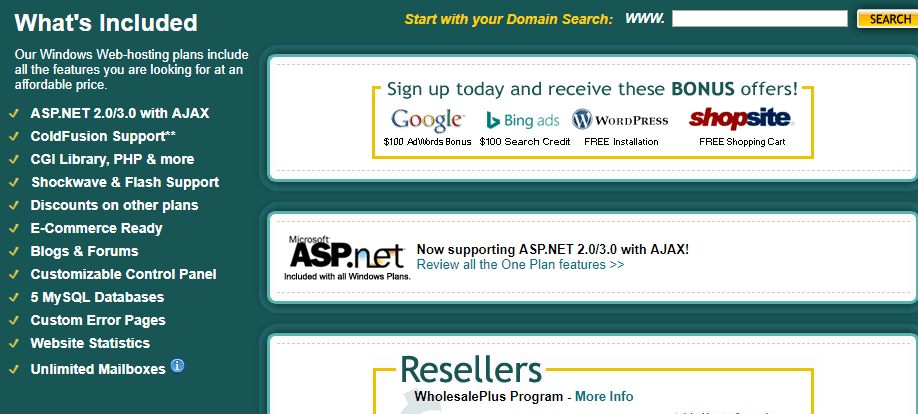 ReadyHosting started its journey in 1997 and has been offering shared hosting services since its inception. Today, the company, which is owned by the Endurance International Group, Inc., offers a variety of Windows-based plans and services including shared hosting and reseller hosting. It also offers domain registration and renewal along with website optimization, backup, and security solutions, and a full suite of design and marketing services (including search engine marketing).
Features and Ease of Use
ReadyHosting offers four shared hosting plans – OnePlan, Windows Advanced Plan, ReadyCommerce Plan, and Email Plan – the last one being for those who don't need a full hosting plan. With the Email Plan, the company offers free new domain registration for one year. With the first three plans, you'll get:
Web-based customizable control panel
Unlimited disk space
Scalable bandwidth
Five – 20 MySQL and MSSQL databases
Unlimited mailboxes
Multimedia support (Shockwave and Flash Support; MP3 and MultiMedia Download)
Microsoft FrontPage 2003 extensions
Secure Server (SSL)
PHP 5.3, 5.5 and 5.6 Support
FTP access
ASP support
These plans also come with Webalizer that's equipped with a user-friendly interface, which you can use to visualize your website's performance in terms of web page analysis and visitor traffic. Since these plans come with a ShopSite version (which is software for building online stores), those looking for E-commerce-ready hosting can easily get their online store up and running fast.
The company mentions 99%+ uptime for its OnePlan. It also offers two WordPress Hosting plans namely WP Starter and WP Essential.
If you have no experience in web design and development, you can use the drag-and-drop website builder to quickly create a website that has a professional look and mobile-friendly theme. ReadyHosting also offers goMobi's mobile site builder, which you can use to give your customers a great mobile experience irrespective of the type of mobile device they use.
A unique feature of ReadyHosting is the Google Webmaster Tools on offer, which you can use to examine Google crawling data and visitor search data. Armed with useful insights from such data, you can tailor your site to provide users with exactly what they're searching for. Letting you add Google Custom Search Engine to your site is another unique feature of the company, which would let you help your website visitors find what they need.
The company also offers support for ColdFusion 7, which can help those seeking to build robust applications. SiteLock's CDN that helps your website load faster for visitors located farther away from your website's servers is another unique feature of the company.
Pricing and Support
ReadyHosting's shared hosting plans are pricey. Even the starter OnePlan costs more than twice the industry average (according to the promotional price on offer, which is applicable just for the first term). Your renewal price would be more than three times the industry average (since standard rates would be applicable for the renewal after your first term expires). You can pay for these yearly plans in USD via PayPal or credit card (MasterCard, Visa, American Express, and Discover).
The company offers a 30-day free trial plan for Windows hosting. It also offers a 30-day money-back guarantee for its hosting plans (but not for its add-on services), which is valid only for credit card payments.
If you registered a free domain name through ReadyHosting, you'll have to pay a non-refundable domain fee if you want to keep your domain name (which you can point elsewhere or transfer) even when you cancel your hosting plan within the first 30 days.
You can reach ReadyHosting's 24/7 customer support through phone and live chat. The company also provides remote support using Glance, a screen sharing application that allows the support agent to view your screen and help resolve any issues. I personally tried their live chat and received a prompt response.
ReadyHosting also has an extensive knowledge base with several tutorial-styled posts and videos, which would offer useful assistance to those who seek to resolve issues on their own.