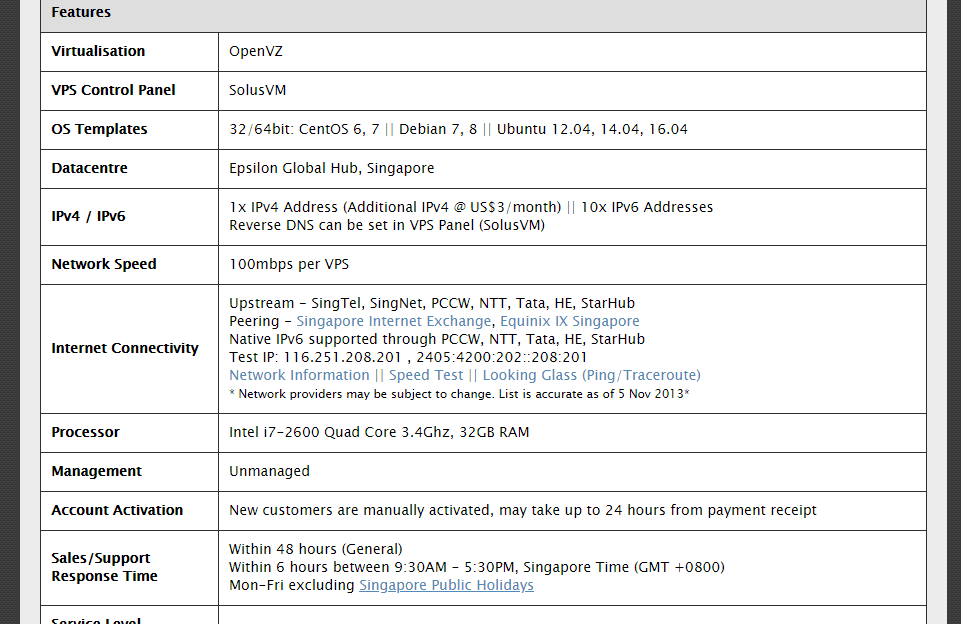 OneAsiaHost is a Singapore-based web hosting company. Its hosting solutions include VPS hosting, dedicated servers, and reseller hosting. All of its solutions are unmanaged and the vendor expressly states that it does not offer technical support; support is only provided for billing. This is in an effort to keep the prices of its solutions low.
Features and Ease of Use
OneAsiaHost hosting solutions come with the following standard features:
SolusVM

TUN/TAP/PPP VPNs

Private use proxy

CentOS, Debian, and Ubuntu operating systems

Easy OS Installation
OneAsiaHost provides hosting services through a premium network that has a direct connection to Europe and China. The vendor's hosting solutions are powered by its Epsilon Datacenter in Singapore. Its decision to use SSD drives is informed by the need to have low latency and deliver faster VPS hosting.
This hosting company has designed its solutions for different users looking for different things in a web hosting provider. For instance, for users who are less interested in latency and more interested in bandwidth, the vendor offers Core VPS hosting packages where bandwidth is given priority and latency largely left unoptimized.
OneAsiaHost's most basic offering is OpenVZ VPS OVZ-128. This package comes with 128MB RAM/vSwap, 10GB hard disk space, 200GB bandwidth, and one CPU core. The most advanced plan under OpenVZ VPS is the OVZ-2048 package. It comes with 2048MB RAM/vSwap, 120GB hard disk space, 1200GB bandwidth, and four CPU cores.
This hosting company does not offer backup solutions, thus users have to maintain their own backups. The vendor says that in the event of a server failure, it will reset its platform and make the platform available again with no existing data.
The OneAsiaHost website has a very simplistic look. While it's relatively easy to navigate, it seems like it could use a design update.
Pricing and Support
OneAsiaHost offers very cheap hosting solutions, but they come at the expense of many features that many users might find necessary to have. The prices are listed in Singaporean dollars. Users have the option to choose a plan based on the billing cycle they would prefer between monthly and quarterly subscription plans.
OneAsiaHost does not offer a money-back guarantee. In fact, the vendor states that it does not "entertain" user requests for refunds. All the same, the hosting provider does offer a 99.5% uptime guarantee with two exceptions: during scheduled maintenance or during Denial of Service (DoS) attacks.
OneAsiaHost allows users to contact its support team only for billing purposes. You can send the support team a message by opening a ticket or by reaching out via its Twitter and Facebook pages.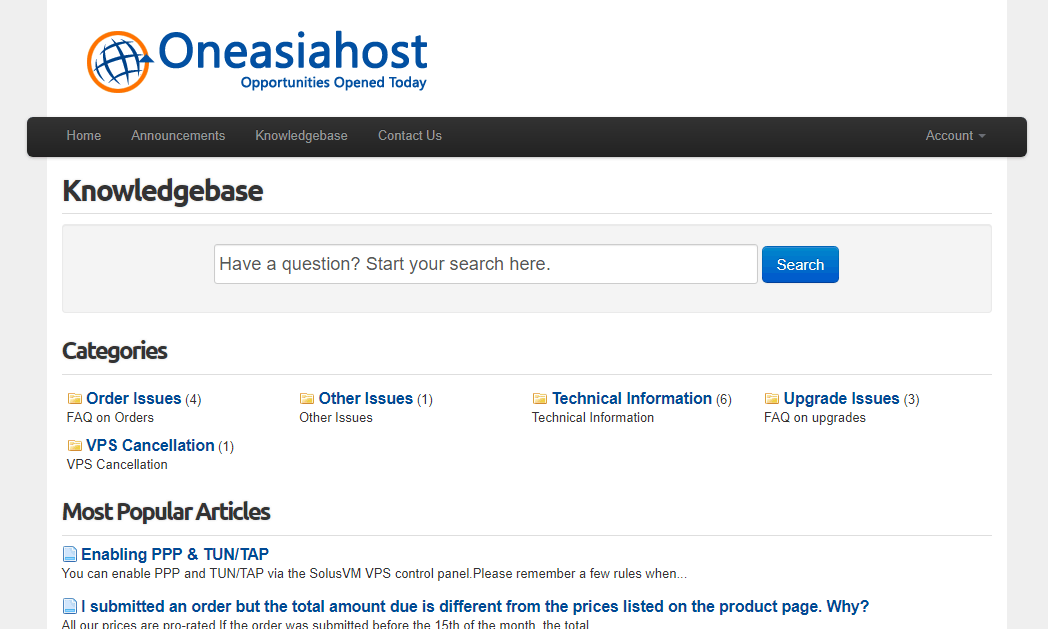 That said, I noticed that the vendor's social media pages have not been updated since April 1, 2013. Therefore, don't be surprised if your messages via these social platforms don't get answered. I opened a support ticket asking about its WordPress hosting solutions. The vendor sent back a brief reply stating that it only offers VPS hosting solutions.

The OneAsiaHost website has a knowledge base but it includes just a few articles and tutorials.