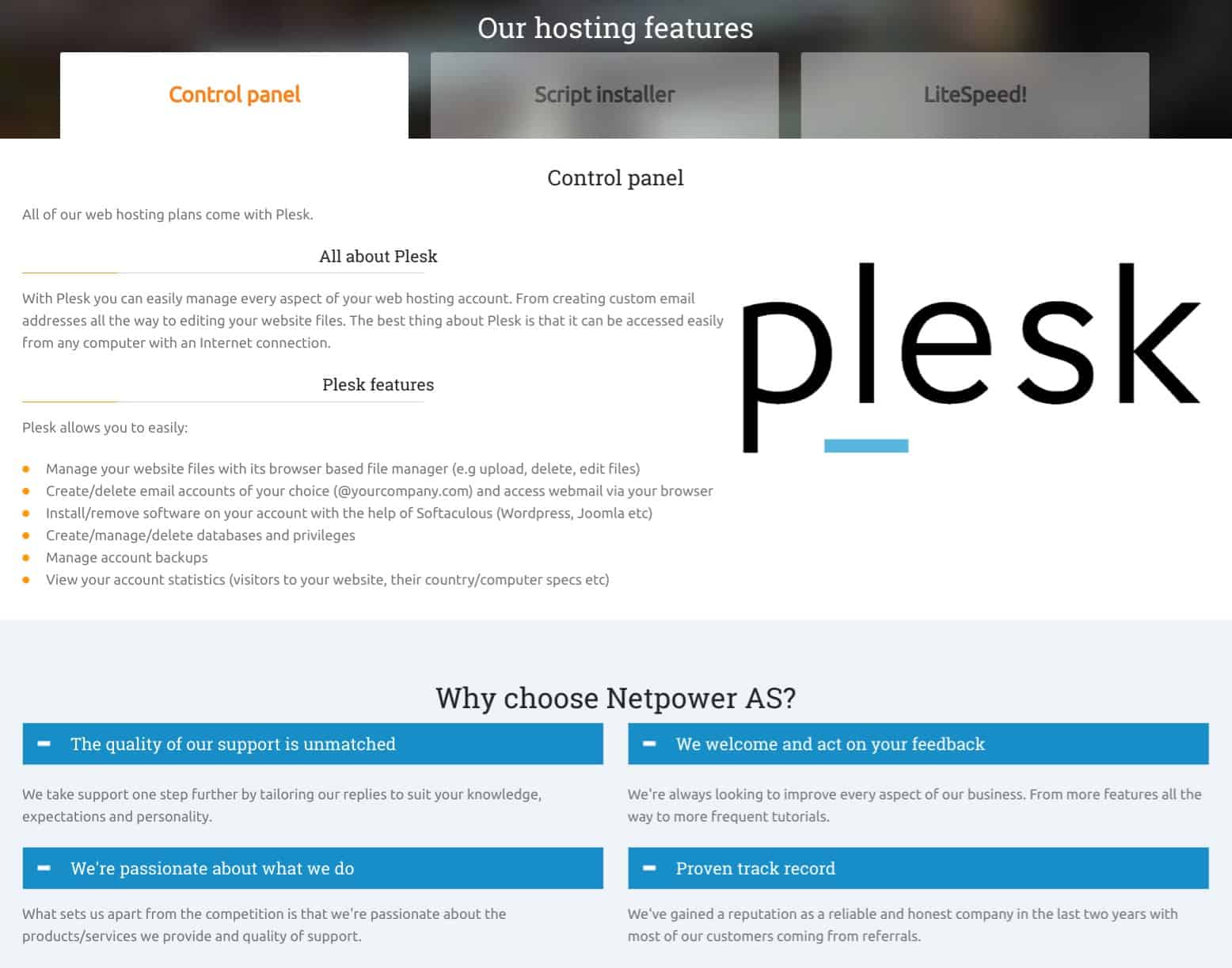 Netpower.no was established in 1995, since when it has been offering a wide range of internet services and solutions from hosting to web design and digital marketing.
This company's HQ and data center are both located in Sandnes, Norway, with branch offices in Bergen, Harstad, and Olso. Add in the fact that you need a Norwegian company number or personal ID number to sign up for a .no domain (or even any domain) with Netpower.no, and you have a thoroughly Norwegian web host. That said, it also has a development department in Ho Chi Minh City, Vietnam.
Netpower.no's main website is in Norwegian, but its hosting product portal can be switched into English.
Features and Ease of Use
Netpower.no offers five shared web hosting plans that are differentiated mainly by bandwidth (2 GB to 100 GB) and web space (from 500 MB to 20 GB).
All shared hosting plans come with a free domain, live support, an online file manager, unlimited subdomains, and various email features. You also get easy, automated upgrades with these plans.
While Plesk is prominently advertised as the control panel for these plans, the description pages also make mention of the Softaculous installer being built into the cPanel control panel so that you can install a range of popular programs including WordPress, Joomla, Zen Cart, Magento, phpBB, MyBB, SMF, and phpCOIN. So you can set up a blog, website, online store, or forum even if you have no coding skills.
Some of the other features of Netpower.no's hosting plans are:
R1Soft daily backups
LiteSpeed Web Server
SSL/TLS support
Antivirus and spam filtering
Web statistics
As well as shared hosting, Netpower.no also provides VPS hosting, cloud hosting, reseller hosting, game servers, dedicated servers, and SSL certificate packages.
The 99.9% uptime guarantee is a little low by industry standards.
Pricing and Support
Netpower.no's shared hosting plans are competitively priced and come with a 30-day money-back guarantee. You can pay annually, biennially, or triennially in Norwegian krone via PayPal, credit/debit card, or bank transfer.
You can reach Netpower.no's support staff by phone, email, online form, or ticket system, but you need to log in to raise a ticket. The company claims to answer all inquiries within two business days during its office hours (9 am to 5 pm, Norway local time), but my exploratory email was answered within just two hours: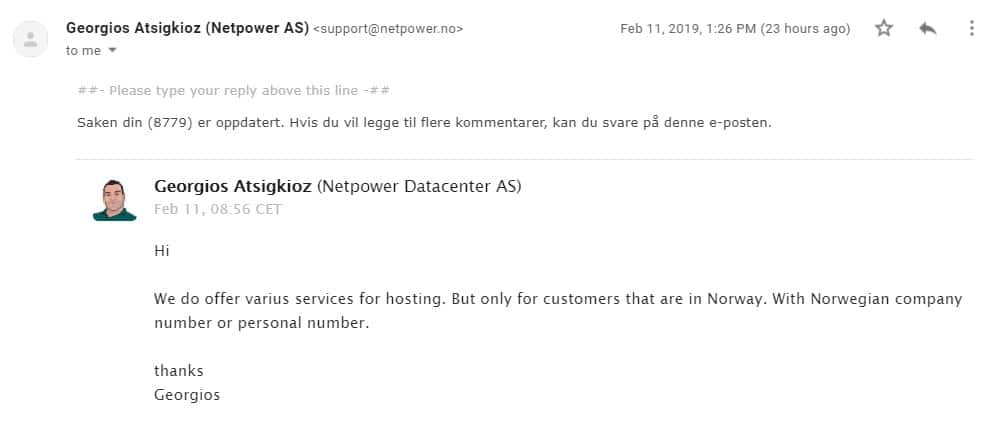 For all practical purposes, there are no self-support resources available, even though the website includes links to a knowledge base, downloads page, and more.