mindSHIFT Online primarily provides Microsoft Exchange Server hosting, but also virtual servers, with impressive 
99.999% and 100% uptime guarantees 
for shared and dedicated servers respectively.
They have been in business for more than 15 years, they have more than 6000 clients, and their website and support are in English.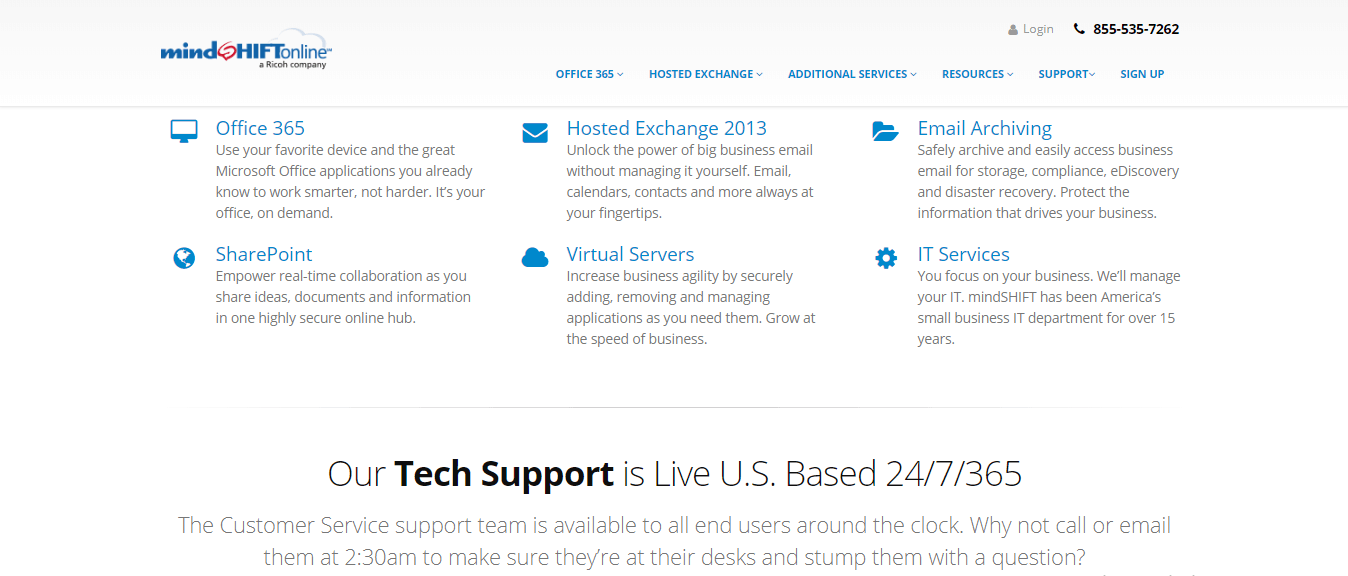 Features and Ease of Use
MindSHIFT Online offers a comprehensive range of services including email servers and virtual servers. Their virtual servers come with the following features are standard:
99.999% or 

100% uptime guarantee, depending on the plan

 

Windows Server 2012 R2 Standard

 

One

 auto-generated IP address

 

From 100 GB to 500 GB HDD storage

 

From 2GB to 8GB of RAM

 
MindSHIFT Online's VPS offerings are branded cloudSHIFT to reflect the fact that these are cloud servers which you can access any time from virtually any device (computer, tablet or phone) that has a web browser. They use VMware as their virtualization technology.
MindSHIFT Online offers three VPS configurations – Standard, Advanced and Premium – all of which use the Windows Server 2012 R2 Standard operating system and come with between 2 GB and 8GB RAM with 100 GB to 500 GB of HDD storage (depending on the package). It's increasingly unusual these days for hosting providers to use hard disk drives (HDD) rather than the faster and more reliable solid-state drives (SSD), so the use of HDD is not their best feature.
You can customize your server (once set up) using their easy-to-use online control panel, and you can contact the company to discuss a server specification that is specific to you before you sign up. In fact, at the time of writing, you have to contact the company to get started because their website Sign Up buttons don't work.
It's nice to see that mindSHIFT Online uses a Tier IV data center – which is pretty rare –  thus assuring less than twenty minutes downtime per year and total fault redundancy. They don't actually own this data center, they merely colocate there, which might mean slower website speeds and slower responses to technical issues.
Pricing and Support
The base VPS packages are fairly affordable but come with consequently low resource caps. And don't forget that any customizations will increase the base package price. But if you want unbeatable uptime and the most reliable data center, signing up with this company could be worth the cost.
While alternative payment terms are not specified online, all prices are quoted per month in U.S. dollars. Since this company's Hosted Exchange and SharePoint plans come with a 30-day free trial, it may be safe to assume that the VPS plans do too. This is certainly something worth asking about when you sign up.
mindSHIFT Online's customer service team has consistently impressed me by going the extra mile whenever I've contacted them via Live Chat. You can access their 24/7/365 support through telephone, ticket, email, and my personal favorite, live chat.