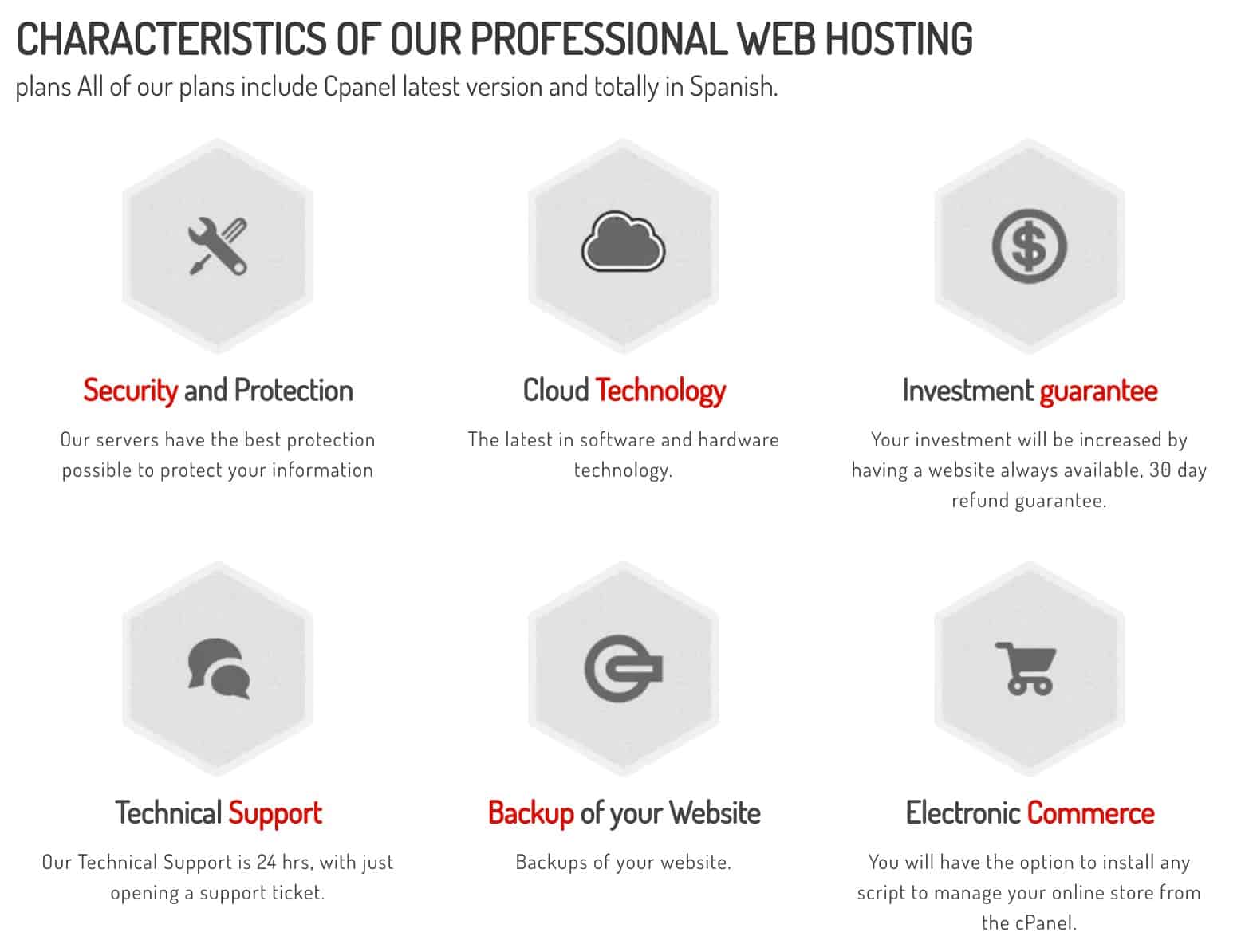 Mexico-based website hosting provider MexiServer was founded in 2009. They have servers collocated in Canada, the U.S.A., and The Netherlands. Their website is in Spanish, but they also offer support in English.
Features and Ease of Use
MexiServer offers a selection of website hosting services primarily for Spanish-speaking customers. These include shared website hosting, reseller hosting, radio streaming hosting, and domain registration.
On their shared hosting plans, customers can enjoy the following features:
Advertised 99% availability
Weekly automatic backups
Free domain registration for one year
One to unlimited domains, depending on the package
1 GB to 100 GB web space
Unlimited monthly data transfer
For beginners, there are some really nice features including Fantastico and Softaculous auto installers, and a cPanel demo (in Spanish) that allows you to test drive the control panel before purchasing. Another great beginner-friendly feature is the website building tool (again in Spanish) which can be purchased with all hosting plans. It comes with 400 readymade templates and fully integrated e-commerce options such as shopping cart, checkout, and product pages. While the Spanish tools are a big bonus for Spanish-speakers, you might decide to think twice if you're not a native Spanish speaker.
The MexiServer website is a little confusing when it comes to uptime, with availability ranging from 99% to 100% depending on which page you read. The support team confirmed to me that actual uptime availability is 99%, which is somewhat below the industry norm. To make matters worse, I can't find a service level agreement (SLA) to say what will happen if their availability falls below the stated 99%, which is no surprise since their terms and conditions include the clause "[MexiServer] will not be responsible for interruptions of the service or for the time the server is offline."
What's really great about MexiServer is that they not only offer great shared hosting plans for beginners but also provide solid virtual private server and dedicated server rentals for when you want to scale up.
Pricing and Support
Prices are extremely affordable when compared to both local and international competition. Even the highest priced package, which includes unlimited domains, is very well priced. Just be mindful that whilst domain registration is included for one year, SSL certificates and the website builder both come at extra cost.
The only available pricing terms are annual, biennial and triennial, priced in Mexican Pesos, United States Dollars, and Euros. There is no discount for purchasing a longer-term plan, and they do not offer a no-obligation monthly plan, but they do have a 30-day money-back guarantee that effectively allows you to try before you buy.
MexiServer does a great job when it comes to customer service. Their 24/7 technical support is available via telephone, email, and live chat channels. I personally prefer live chat, because I like to get instant answers, but some answers came a little slowly (possibly due to their otherwise valiant attempts to understand my English language). MaxiServer also has an excellent resource center on their website.