Infomaniak Network SA, popularly referred to simply as Infomaniak, is a Swiss-owned hosting company founded in 1994 by its two shareholders, Boris Siegenthaler and Fabian Lucchi. The hosting company's head office is in Geneva, Switzerland. The vendor is the number one hosting company in Switzerland by market share.
Infomaniak prides itself on providing high-end hosting services at affordable prices to business enterprises of all sizes in Switzerland as well as several other countries, including France, Chad, Belgium, and Congo. The Infomaniak website is available in English, French, German, Italian, and Spanish.
Features and Ease of Use
Infomaniak's solutions include shared hosting, cloud hosting, WordPress hosting, VPS, and SSL certificates. The vendor's hosting solutions come with the following standard features:
Unlimited MySQL databases
SSH access
Softaculous one-click installer
Multi Site management
Traffic statistics and reports
Multiple PHP versions
Free let's encrypt SSL certificate
Cron management
File backup
Unlimited FTP accounts
Infomaniak owns TIER 3 data centers located in Switzerland. The vendor markets itself as a green company, making sure that all its data centers are environmentally-friendly. Its network uses an internet connection of over 70 Gbit/s which is powered by renowned internet suppliers in Switzerland, providing high availability and reliability.
For clients who are looking for flexible and reliable solutions that allow scaling, Infomaniak has the ideal hosting package for you. The vendor has an all-in-one web hosting plan that incorporates email hosting.
The plan includes extendable 100GB SSD disk space, unlimited MySQL databases, 25+ email addresses, 20GB+ of VOD/AOD, and 20+ domains. The web hosting package also comes with LetsEncrypt EV and DV SSL certificates powered by Comodo/Sectigo.
For very large websites with high traffic volume, Infomaniak recommends its dedicated servers solution based on its cloud servers. In addition, Infomaniak stores backups on different servers in different data centers. The backups are performed daily and users can access them via FTP.
Apart from web hosting solutions, this hosting provider offers CMS like WordPress, Joomla, and Drupal. Through this solution, clients can easily create a forum or an e-commerce website. It offers over 120 scripts with one-click installation.
Pricing and Support
As hinted above, this hosting vendor allows you to create your own hosting package, therefore, prices change based on the features you choose and the resource restrictions you include.
However, the vendor also has competitively priced, pre-designed hosting packages. Infomaniak offers service satisfaction and promises that if you are not happy with the offer, your money will be refunded, thanks to the 30-day money-back guarantee. The company has a guaranteed uptime of 99.9%.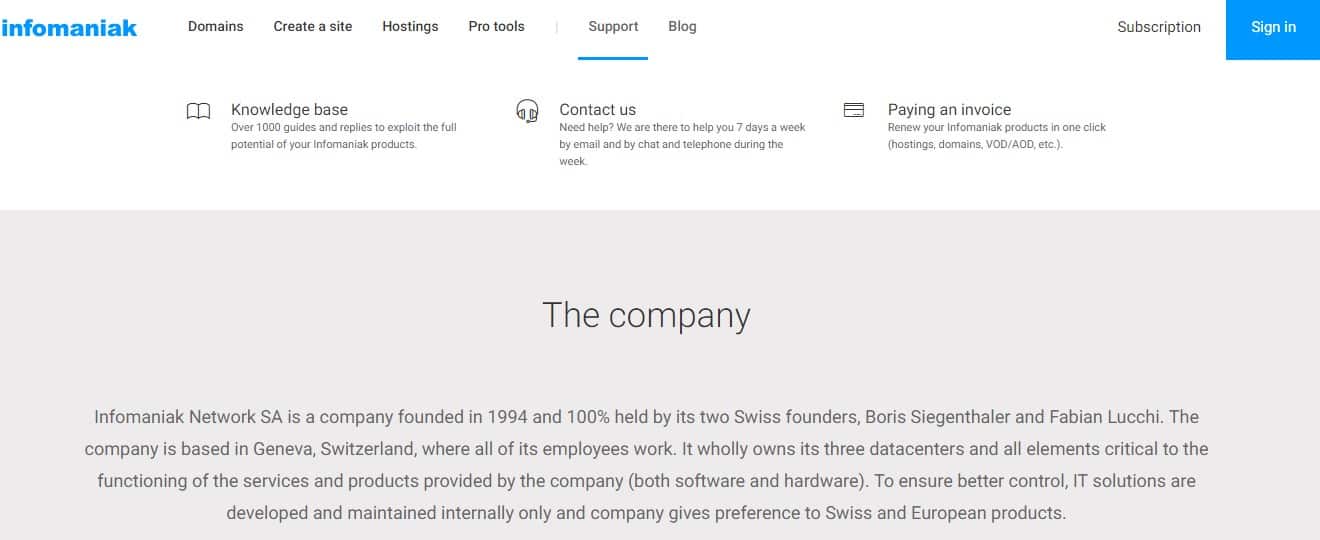 The Infomaniak customer support is available via telephone, email, live chat, or ticketing system. It is listed as available 24/7 but is quite slow to respond. The support team responded to the ticket I opened almost 72 hours from the time I sent it.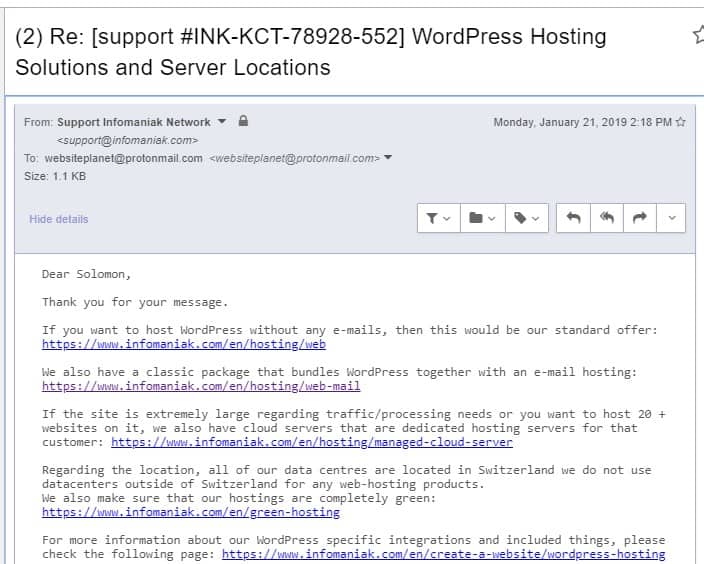 All the same, when they finally did, their response was quite detailed and adequately addressed the issues that I had raised. Indeed, the support team appears quite knowledgeable in hosting-related issues. Additionally, the vendor has made available a comprehensive knowledge base; it has answered over 1,000 questions and has over 500 tutorials and explanatory videos.
How much does Infomaniak cost?Infomaniak offers plans from $6 to $33. The price depends on which type of hosting plan you choose. You can see the updated pricing table (updated weekly) below.
Which Infomaniak plan should I get?My recommendation is to start with a cheaper plan. You can always upgrade later on. Infomaniak can help you with the migration to a more expensive plan. The increase in visitors many times takes longer than expected and you shouldn't pay a lot of money until the need arises. Of course, your needs may vary, and you can consult with a hosting expert from Infomaniak here.
How good is Infomaniak's customer support?Infomaniak is not ranked as one of our top web hosts. But that can also be a result of Infomaniak being a small, under the radar, hosting provider. There are advantages to a small hosting company – as a customer, you are more important to them. You can also check out our comparison of the most popular web hosting services here.