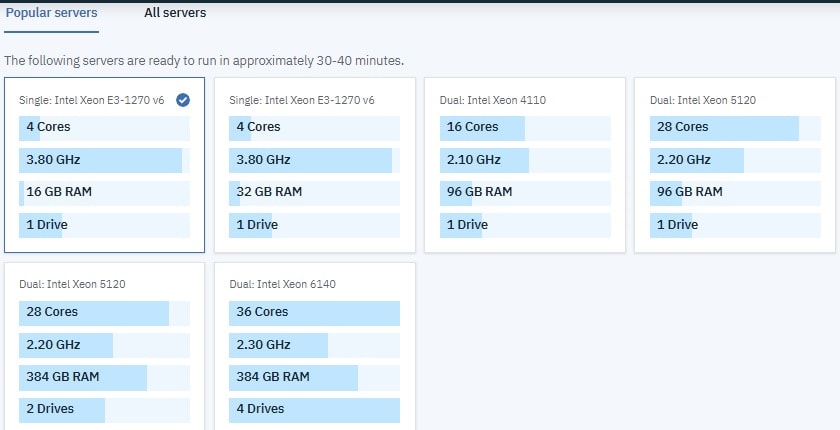 Dallas-based SoftLayer is one of the leading IaaS infrastructure and Cloud VPS providers in the world. Its service offerings span seven industries and include big data, networking, cloud storage, security, blockchain, and application development. The company operates data centers in over 45 locations worldwide.
Features and Ease of Use
Until you order SoftLayer's Cloud solutions or BareMetal servers, you may not fully comprehend just how many features this IaaS behemoth has in store for you. Here are some of them:
cPanel/WHMCS
Domain registration and management
Programming languages
99.99% uptime availability
Backup and restore
PHP, Python, Ruby, Java, Node.js
SSL/TLS connections
Both BareMetal servers and VPS are configurable, flexible, and secure. They come with either single-processors or multiple quad-core processors with up to 3TB RAM and connected to local SSD storage in the range of 800GB to 1.2TB. So, a person can select the number of processors, RAM, and size of SSD storage that meets their workload. For starter, you may use the basic configuration, and then fine-tune your hardware as your resource needs increase.
With regards to power and performance, IBM Softlayer BareMetal servers are ahead of the pack as they include advanced GPUs that can handle intensive computing workloads such as
virtualized graphics, data analytics, and scientific computations.
IBM SoftLayer provides various BareMetal and virtual server configurations, along with an assortment of operating systems, hypervisors, and database platforms. The virtual server configurations are available in either a single- or multi-tenant model, whereas the BareMetal server configurations are available in a single-tenant model only.
Customers have a range of operating systems at their disposal such as CentOS, Debian, Microsoft, RedHat, and Ubuntu. The same applies to databases which include Software Basho, Microsoft, MongoDB, and MySQL. If they so wish, they may get extras such as public IP addresses and OS-specific add-ons such as Microsoft Office 365, Veeam, and Vmware.
Basic R1Soft server backup manager, anti-virus & spyware protection, and McAfee VirusScan are available at zero cost, but I would advise any serious owner to go for the premium options as they come with more features and security options.
Pricing and Support
With SoftLayer Cloud VPS and BareMetal dedicated servers, customers enjoy the best-in-class enterprise solutions and many add-ons, but all these come at a significant price too. Services are not oversubscribed either, meaning that performance and speed remain rock steady.
Cloud VPS users have the option to choose the flexible hourly postpaid model for their on-demand resource requirements or they can opt for the monthly prepaid billing if their workload is not defined. On the other hand, BareMetal servers are offered at fixed hourly prices, but customers can also subscribe to monthly, one-year, or three-year plans.
Server deployment is pretty fast. For instance, pre-installed servers are provisioned within 30-40 minutes while customized servers take three to four hours to run. When you set up a Pay-As-You-Go account, you'll receive $200 in credits for any IBM Cloud service. There is no setup fee charged for the services, but be ready to pay for add-ons such as migration, IP addresses, and extra storage.
Telephone, email, and live chat support are available, but the latter is the fastest way to get help. Typical responses take 30 seconds. With a true 24/7 tech support team, IBM Softlayer ensures customers get answers whenever they're in need. There's also a detailed knowledge base with hundreds of guides and video tutorials that should help you navigate your local environment before you deploy your web services or apps.