HostPacific is a surprisingly experienced hosting provider based out of Thailand, having been around since 2000.
They currently have over 5000 customers from all over the world. One of the main reasons for such a large customer base is that you have three data centers to choose from: Thailand, Singapore, or the United States. In line with their global data center locations, support is offered in both English and Thai.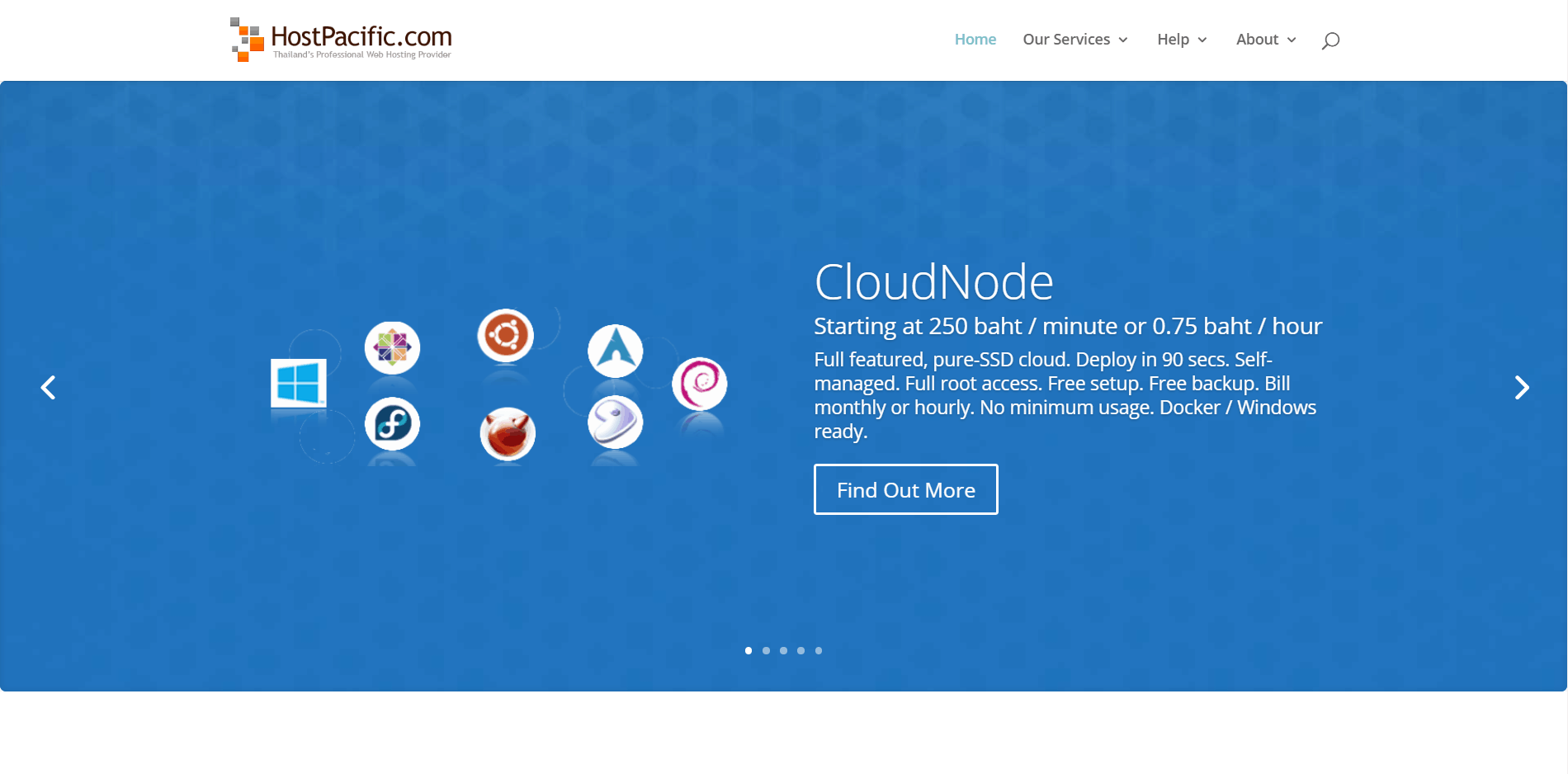 Features and Ease of Use
HostPacific provides all the features typically included in web hosting packages, such as:
Domain registration
SSL certificates
Automatic daily or weekly backups
cPanel management console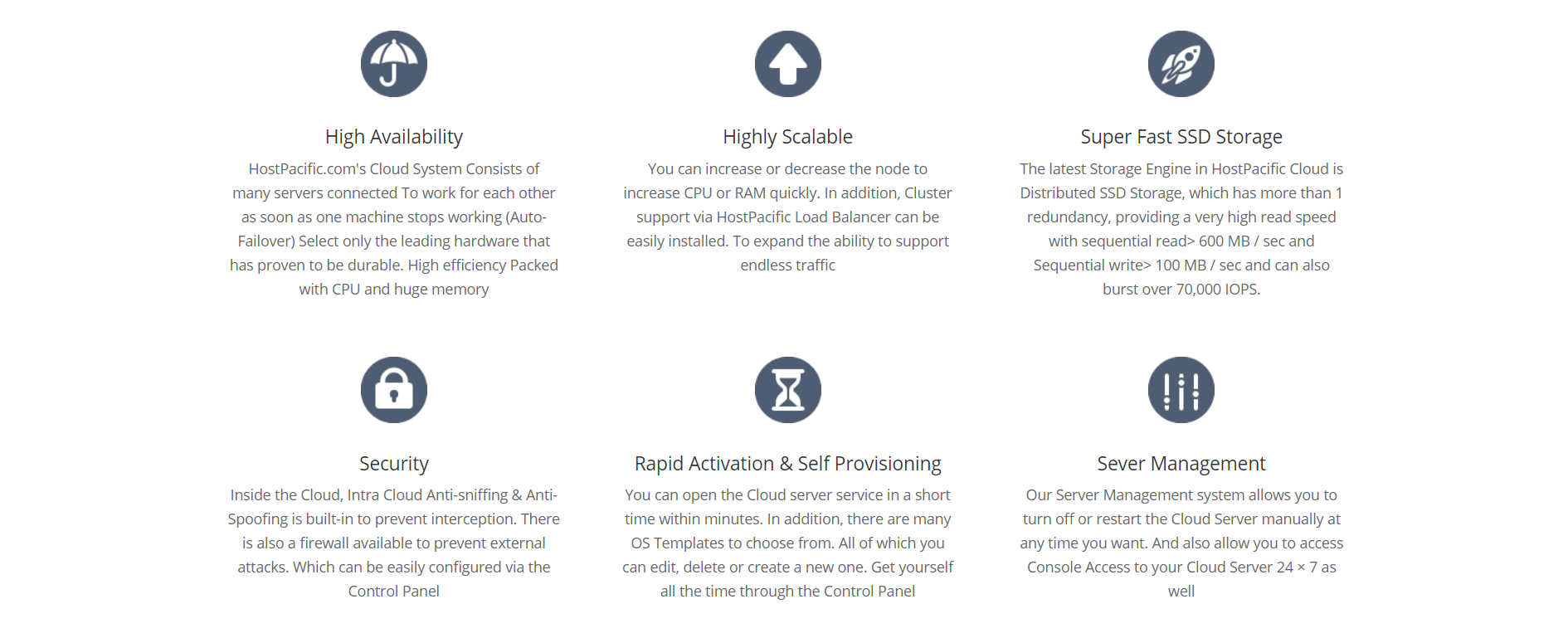 They also pride themselves on delivering scalable, high-performance cloud-based solutions with the following features:
Managed DNS: HostPacific provides great, free DNS management tools to all their cloud, dedicated server, and VPS customers.
Rapid Activation and Provisioning: You can provision your new cloud server within minutes and customize the OS and system features however you'd like, which is great for customers who are planning to manage their own servers.
Unlimited email accounts: HostPacific provides unlimited email accounts even with their most basic shared cloud hosting packages.
SSD powered: All services at HostPacific run on SSDs for optimal disk reading performance.
HostPacific does provide their own hosting management console that's decent (if not the best) in terms of ease of use and the capabilities it provides. However, you can opt to have a fresh licensed cPanel installed on your server if you'd rather work with this popular console. There are also very limited upsells during the signup process, with all their additional paid features unchecked by default.
HostPacific doesn't appear to have an uptime guarantee for their cloud shared hosting service, but they do offer an average 99.95% uptime rating for their cloud servers.
Pricing and Support
HostPacific mainly offers cloud server hosting as well as dedicated node rental. They then also offer a range of auxiliary services that will help you host a website on their servers, which may or may not come at an extra cost.
All plans come with a 15-day money back guarantee, though this isn't readily advertised on their website — you'll have to dig through their Terms of Service to find it. There are no extended contracts as well. You're billed on a monthly basis, though this also means that they don't offer the large discounts most hosts offer for longer terms.
First up is their cloud server products. You can choose from 11 different configurations. All options come with 100 Mbps bandwidth as well as an optional cPanel license at extra cost. Plans range according to the following:
Nodes: Between one and 11.
CPU Cores: Between one and eight.
RAM: Between one and 11 GB.
SSD Storage: Between 40 and 150 GB.
Next up is their dedicated CloudNode rental that you can choose to purchase on either a prepaid hourly or monthly billing plan. There are six monthly and four hourly plans to choose from:
Monthly: Provides between 768 MB to 16 GB of memory, one to eight CPU cores, 20 to 100 GB SSD storage, and one to 20 TB data transfer.
Hourly: Provides between one to 8 GB of memory, one to four CPU cores, 30 to 80 GB SSD storage, and four to 10TB data transfer.
For cloud web hosting, they provide a choice between Thailand, U.S., or Singapore data centers. Packages come with free SSL, a content management system, and backups. Their Thai cloud hosting packages are a little more expensive than their U.S. or Singapore counterparts, which was unexpected (I'd have thought the opposite would be true). Nevertheless, regardless of the country you choose, the plans offer the exact same resources and features:
CP1: 5 GB disk space, one domain, and 200 GB data transfer.
CP2: 10 GB disk space, two domains, and 300 GB data transfer.
CP3: 15 GB disk space, four domains, and 400 GB data transfer.
Unfortunately, HostPacific still operates their support center with a very old-fashioned interface, which doesn't make it the most user-friendly experience. They only offer one-on-one support through a ticketing system. However, the support is available 24 hours a day, and they generally respond quickly and provide helpful assistance.