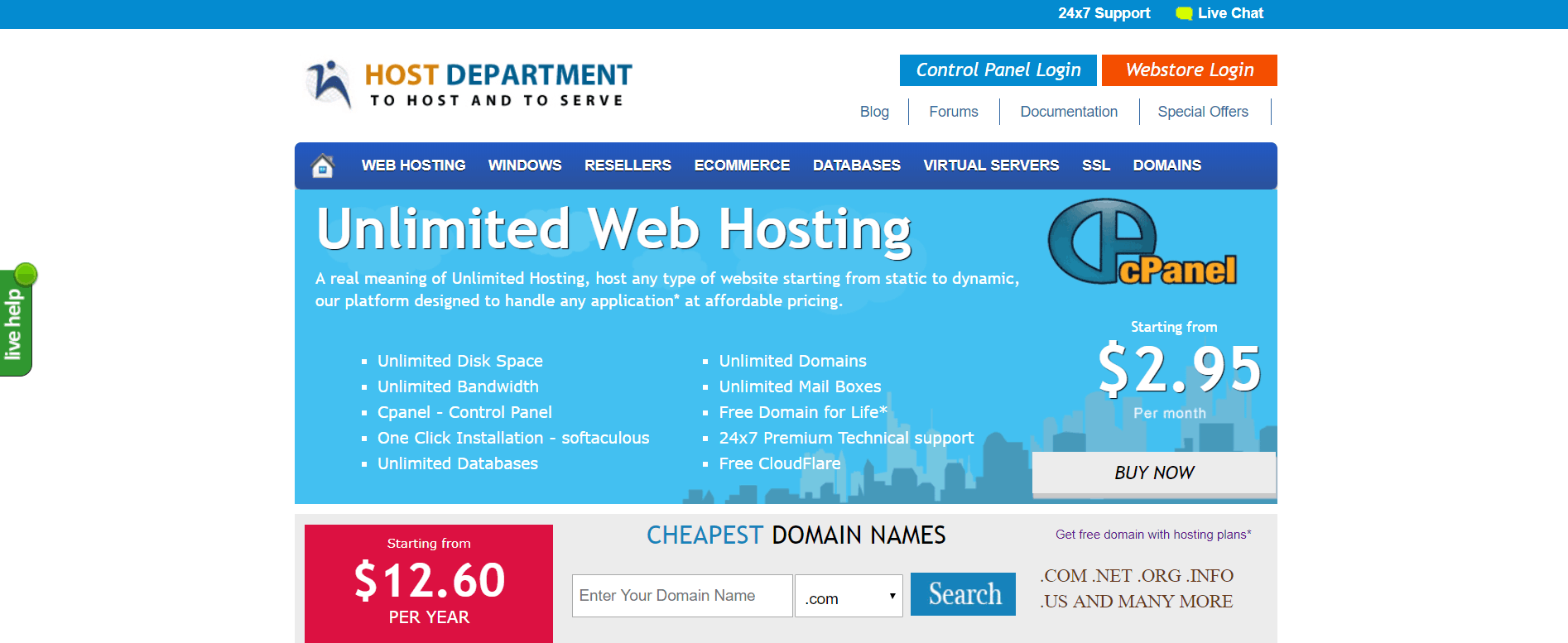 Host Department has been providing some form of internet hosting or domain registration services since 1997 making them one of the most experienced and reliable providers still operating.
With slogans like "to host and to serve" and "low in price, high in value", you are right to have high expectations of their support and affordability. They provide a 99.99% uptime guarantee and a 100% customer satisfaction guarantee. Their facilities are located in the U.S.
Features and Ease of Use
You can find all the supporting services or features you need for a complete hosting solution at Host Department, which include:
Domain registration
SSL certificates
Email management
Use a control panel to manage your hosting (mostly cPanel)

Host Department also offers a number of other stand-out features that will make your hosting simpler and more powerful:
E-commerce: With an e-commerce product, you can choose to have Magento, Prestashop or another e-commerce platform installed on your machine.
Softaculous: This is one of the leading tools that allow you to 1-click install almost any script or hosting software on your hosting solution and is installed on all machines.
Free Cloudflare: Cloudflare is provided for free with most products and is a great tool to improve your hosting product's performance.
Host Department provides cPanel with a license with all their products which is simply the best hosting management console there is. Through their specific hosting products like ASP.NET or their e-commerce options, you can also work with an environment and website-building platform that suits you best. The signup process is also very familiar to anyone who has done this before with no tricky parts.
Pricing and Support
Host Department provides a wide range of hosting products that are all backed by a 30-day money back guarantee. However, if you do cancel your plan, you'll be charged for the free domain you received. You also have to make sure to cancel at least 7 days before your next billing. Usually, starter or basic plans don't qualify for the return policy and VPS plans will charge a $3 setup fee. Most hosting provides a choice of billing period:
Cheap Hosting: Basic, non-refundable shared hosting with 500 MB disk space, 1 GB data transfer, 1 domain, and one database.
Unlimited Linux Hosting: Four plans that offer between 1 and unlimited websites, 10 GB to unlimited storage, 10 GB to unlimited bandwidth, and free SSL certificates. Choose from monthly to triennial billing.
Unlimited Windows Hosting: NET Windows hosting with four plans that all offer unlimited storage and data transfer and between 1 and unlimited websites. Choose from monthly to bi-annual billing.
E-commerce Hosting: Linux hosting with four pricing plans that each come with a free SSL certificate and mostly offers unlimited storage and bandwidth except for the cheapest plan.
Linux VPS Hosting: Four affordable plans that offer between 0.5 to 4 GB of RAM, 15 to 100 GB disk space, 500 GB to 4 TB bandwidth, and 1 or 2 CPU cores.
Windows VPS Hosting: Four more expensive plans that offer between 1 to 4 GB RAM, 25 GB to 90 GB of storage, and 750 GB to 2000 GB of bandwidth.
You can reach Host Department support via email, phone lines, and live chat. All support services are 24/7 and come with all products. Host Department generally provides great support as they respond quickly and stay with you until the issue is resolved. Sometimes they may assume that you have more knowledge than you actually do, which can be annoying but isn't a significant problem.