FullHost is still based where it was founded in British Columbia, where they have been providing high-end hosting services since 2004. They currently offer hosting services out of two highly secure data centers: one in Toronto, Ontario, and the other in Vancouver, British Columbia. There feature-rich web and VPS hosting products for Linux and Windows come at competitive prices, as do their fully managed services.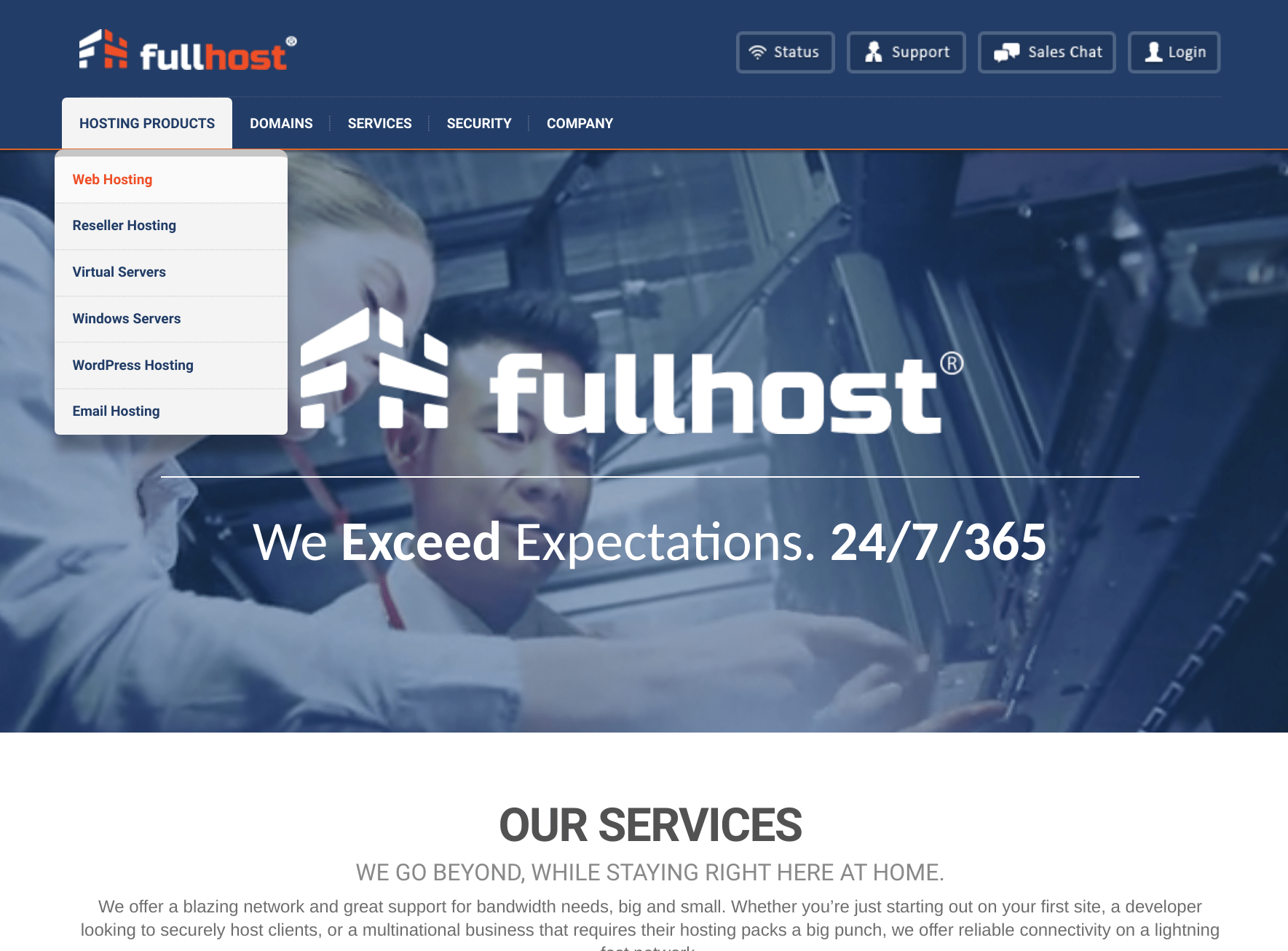 Features and Ease of Use
As the name suggests, FullHost provides the full suite of essential hosting services:
Domain registration (not included with pricing)
Free SSL certificates by Let's Encrypt with most products
cPanel control panel plus Softaculous
Email hosting
Daily backups and exploit scanning
These following features also ensure that you get the best out of your hosting with FullHost:
Optimized Hosting: Where it matters, hosting products come with optimization software such as LiteSpeed and CloudFlare CDN
AnyCast DNS: Provided with all hosting products, AnyCast DNS is a routing algorithm that serves visitors faster by advertising your IP on multiple global network locations
CloudLinux: FullHost's reseller hosting products run on what is widely considered to be one of the best operating systems for resellers.
There's no doubt that FullHost provides feature-rich and premium hosting solutions with the best software running on top-of-the-line infrastructure. They provide all the important software features such as control panels, optimization software, and WordPress hosting for those who want it. In addition, cPanel and Softaculous allow you to install whatever other software you need.
Windows users are equally equipped with fully-managed options. On which subject, FullHost's managed services include geographical redundancy, load balancing, and monitoring by skilled technicians. To top it off, they have a very easy-to-use and modern website with a client area.
Pricing and Support
FullHost provides a decent range of hosting options with very generous terms. Almost all their hosting products come with a free Let's Encrypt SSL certificate as well as a 30-day money-back guarantee and free migration. Their flexible billing offers monthly, quarterly, semi-annual, or annual options, and you can upgrade your hosting at any time.
Web Hosting comes in two flavors:
Shared: Simple website hosting with 99.9% uptime, 50% of 1 CPU core, 10 to 40 GB storage, 100 GB to 500 GB bandwidth, and 1 GB RAM
Enterprise: Provides business customers with 99.96% uptime SLA, priority support, dedicated 2-4 CPU cores, 4 GB RAM,  25 to 100 GB storage, 250 GB to 1000 GB bandwidth, and a dedicated IP
VPS Hosting allows you to choose from five VPS products, each of which has either a self-managed or fully managed option:
KVM-1: 4 GB RAM, 2 CPU cores, 25 GB SSD storage, and 250 GB bandwidth
KVM-2: 8 GB RAM, 4 CPU cores, 50 GB SSD storage, and 500 GB bandwidth
KVM-3: 16 GB RAM, 6 CPU cores, 100 GB SSD storage, and 1000 GB bandwidth
KVM-4: 32 GB RAM, 8 CPU cores, 200 GB SSD storage, and 1500 GB bandwidth
KVM-5: 64 GB RAM, 16 CPU cores, 400 GB SSD storage, and 2000 GB bandwidth
Windows VPS provides a self-managed option for Windows users, with a very similar structure to the Linux VPS hosting but with slightly fewer resources.
WordPress Hosting is a fully managed WordPress-optimized hosting solution with these options:
FullStart-WP: 15 GB SSD storage, 250 GB bandwidth, and medium CPU/RAM
FullPlus-WP: 30 GB SSD storage, 500 GB bandwidth, and high CPU/RAM
FullPremium-WP: 60 GB SSD storage, 100 GB bandwidth, and very high CPU/RAM
You can access 24/7 support services for all packages through various channels on the FullHost website. Priority support is available for certain products and all managed services options. In my experience, the support staff has been responsive, polite, and dedicated. However, I have heard that some users have encountered difficulties in receiving timely responses.
How much does FullHost cost?
FullHost offers plans from $4 to $43. The price depends on which type of hosting plan you choose. You can see the updated pricing table (updated weekly) below.

Which FullHost plan should I get?
My recommendation is to start with a cheaper plan. You can always upgrade later on. FullHost can help you with the migration to a more expensive plan. The increase in visitors many times takes longer than expected and you shouldn't pay a lot of money until the need arises. Of course, your needs may vary, and you can consult with a hosting expert from FullHost here.

How good is FullHost's customer support?
FullHost is not ranked as one of our top web hosts. But that can also be a result of FullHost being a small, under the radar, hosting provider. There are advantages to a small hosting company – as a customer, you are more important to them. You can also check out our comparison of the most popular web hosting services here.