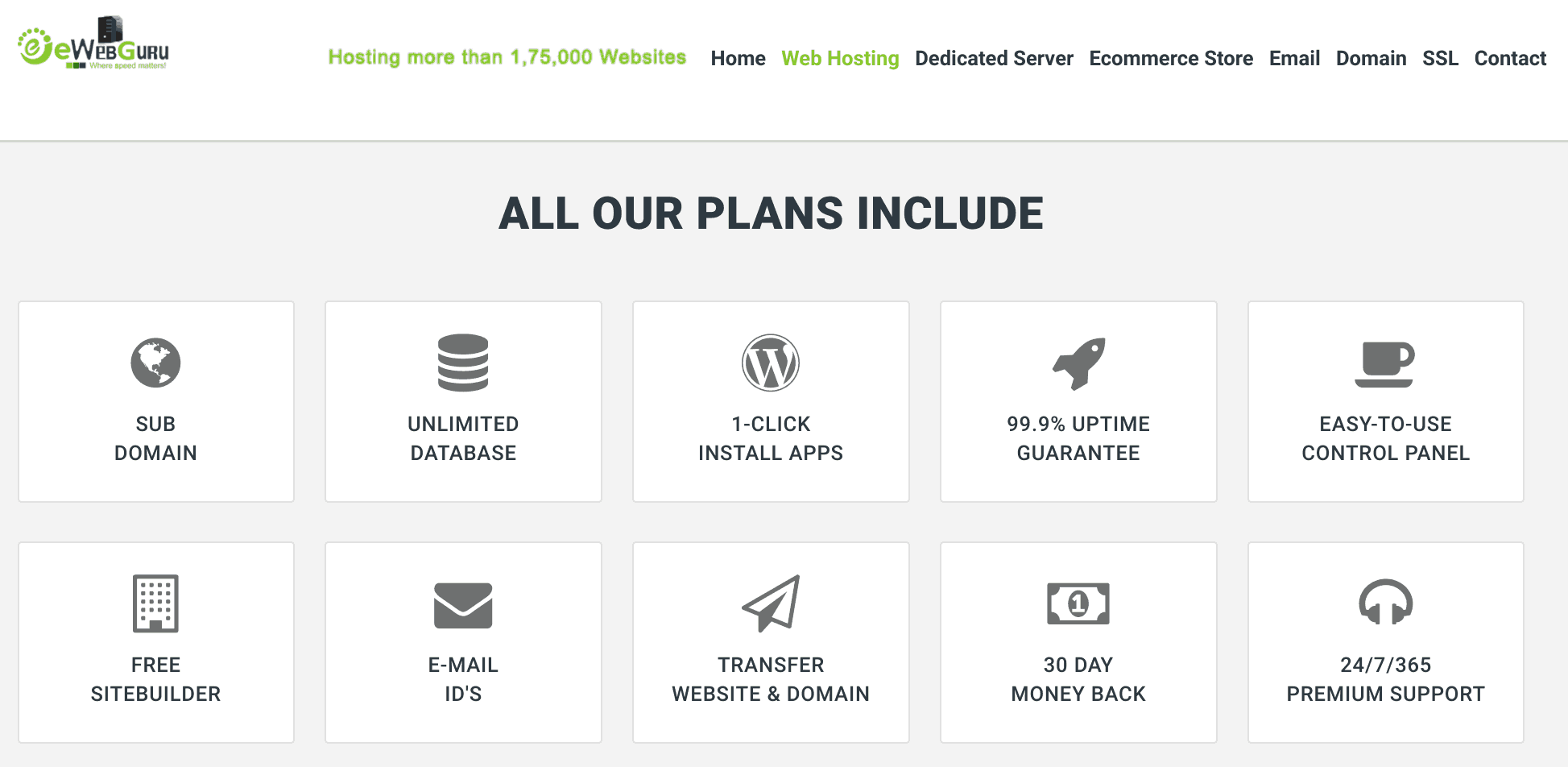 eWebGuru is based in Noida, Delhi and has been providing Internet-based solutions since 2003. They currently have more than 25,000 customers and have a wide range of Windows and Linux hosting solutions for web, reseller, dedicated server, and VPS hosting needs at very affordable prices. They also provide a number of supporting services such as website design, logo design, and search advertising. They offer solutions in Tier IV data centers located in India, and they provide their services mostly in English.
Features and Ease of Use
eWebGuru provides a one-stop-shop solution for everyone's web hosting needs including:
Domain registration (which isn't included in their pricing)
Free and Purchasable SSL certificates via Comodo SSL
Unlimited email hosting with all plans
Website design/development services
cPanel or Plesk included with all hosting
Windows and Linux hosting options
Domain migration services
One of the best reasons to consider eWebGuru's plans is because they have such generous features and services included. All their Linux/Windows and reseller web hosting packages include one-click app installation via their respective control panels, a free SiteBuilder app with templates, SEO tools, unlimited email hosting, DNS management, and RAID 1 redundancy for your storage. Needless to say, both Windows and Linux come with the relevant software environments (such as MS SQL Server and ASP.NET for Windows) and a number of other frameworks.
Their VPS plans are equally feature-rich, with pre-installed software such as Varnish Cache, SpamAssassin, free SSL, and a CSS/JS optimizer framework. They also take performance seriously with Dual Octa-Core processors and burstable RAM.
Their dedicated servers and VPSs are both housed in their world-class Tier IV data centers that boast RAID redundancy, redundant power supply, redundant networks, multi-home carrier neutral bandwidth, and more. You can get up to 100 Mbps uplink bandwidth, and servers are fully managed for your peace of mind. Dedicated and VPS servers are both backed by a 100% uptime guarantee SLA.
Interestingly, they also provide Java hosting with Apache Tomcat for those who have this unique requirement.
Pricing and Support
eWebGuru provides a pricing structure with separate plans for web hosting, reseller hosting, VPS, and dedicated server. Databases and email accounts usually aren't limited, and almost all their pricing structures include one or two unlimited bandwidth plans. Across the board, the Windows options are slightly more expensive than Linux.
You'll have to pay extra for a domain (which isn't always the case with other providers), as well as for DNS management and additional IP addresses (which is typically the case with other providers).
All their products except for the VPS and dedicated servers come with a 30-day money-back guarantee.
Web hosting for Windows or Linux can be billed yearly, biennially, or triennially. Reseller hosting can be billed on a monthly, semi-annual, annual, or biennial basis, and it comes with all the same features as their standard web hosting. Linux VPS has monthly, yearly, and triennial billing, while Windows hosting also offers quarterly billing. Dedicated servers are only available on a monthly basis.
Their pricing starts very low for web hosting – actually cheaper than other already very affordable Indian hosting providers.
eWebGuru offers 24/7 technical customer support with all of their hosting and pricing plans, via a ticketing system, emails, live chat, and phone lines. They also provide an excellent assortment of self-help resources in the form of video tutorials and a knowledge base. While their customer support staff are usually friendly and helpful, it can sometimes take some time to get through or get a response.
How much does eWebGuru cost?
eWebGuru offers plans from $1 to $9. The price depends on which type of hosting plan you choose. You can see the updated pricing table (updated weekly) below.

Which eWebGuru plan should I get?
My recommendation is to start with a cheaper plan. You can always upgrade later on. eWebGuru can help you with the migration to a more expensive plan. The increase in visitors many times takes longer than expected and you shouldn't pay a lot of money until the need arises. Of course, your needs may vary, and you can consult with a hosting expert from eWebGuru here.

How good is eWebGuru's customer support?
eWebGuru is not ranked as one of our top web hosts. But that can also be a result of eWebGuru being a small, under the radar, hosting provider. There are advantages to a small hosting company – as a customer, you are more important to them. You can also check out our comparison of the most popular web hosting services here.