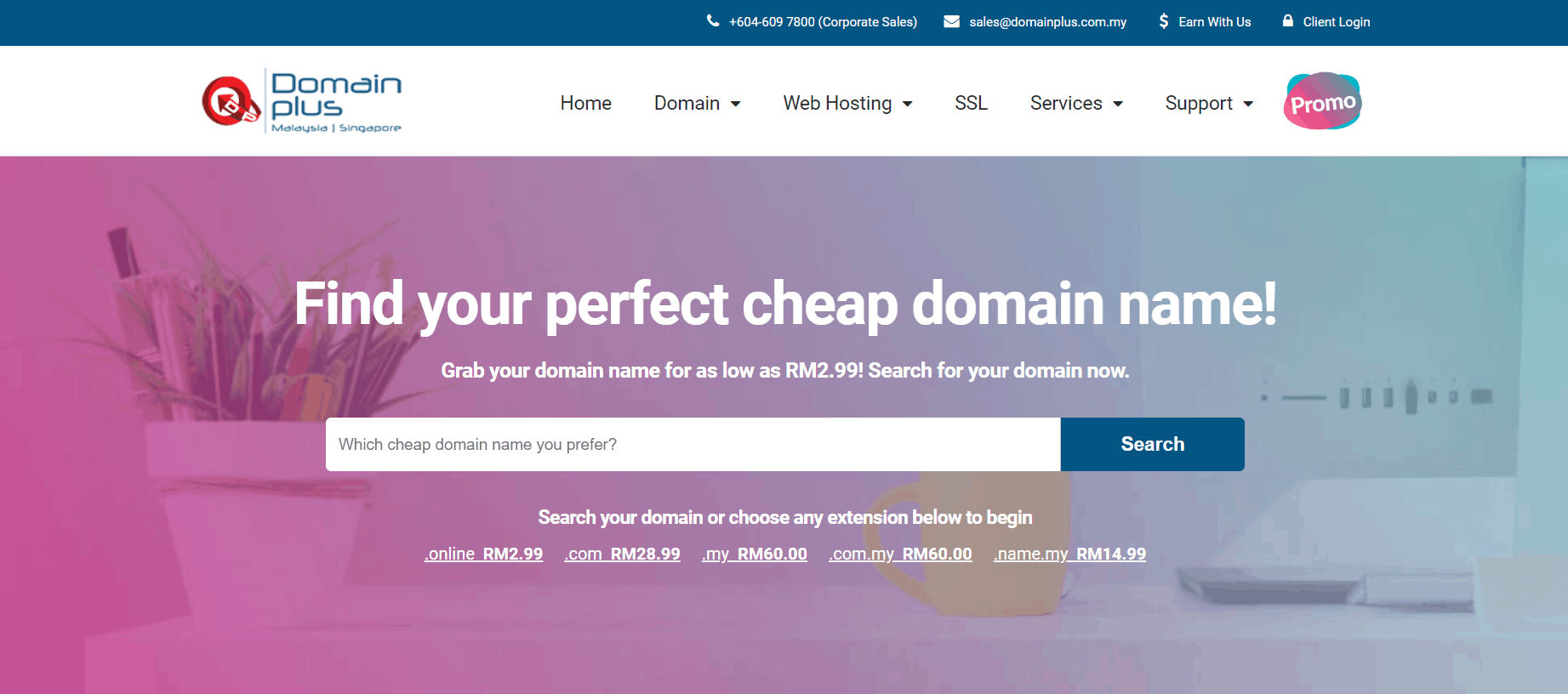 Domain Plus is a Malaysian website hosting service and domain registrar. They offer several shared hosting plans that are great for those just getting started or need a basic set of features. However, due to a lack of robust features similar to other services, they may not be a good fit for those needing robust features or more control over their hosting.
Features and Ease of Use
Domain Plus offers a starter website hosting that is suitable for most personal and many business websites. All of their plans include the following features:
Unlimited domains (most plans)
Unlimited email addresses (most plans)
99% or better uptime
Unlimited MySQL databases (most plans)
Clustered DNS servers
Softaculous auto-installer
One reason this is considered starter website hosting is that of the lack of advanced features for each plan. There's no support stated for scripting and programming languages such as Python. It also lacks any type of emails tools for marketing, spam prevention, etc. There's also no mention of any antivirus, firewall, or anti-DDoS technologies.
The 99% uptime guarantee is a bit lower than the average guaranteed by other providers. If you upgrade to their top plan, you get a 99.9% guarantee, but why not offer this across the board?
Regarding ease of use, it depends on how much you're willing to pay. If you need a drag and drop builder, you'll have to pay to upgrade to Weebly. Otherwise, the simplest tool is their Softaculous auto-installer. Everyone else will have no problem using cPanel access to create their website.
Pricing and Support
Domain Plus offers five professional business hosting plans with the primary differences being storage and bandwidth. Here's a breakdown of their plans.
| | | | | | |
| --- | --- | --- | --- | --- | --- |
| | eXcite1 | eXcite5 | SME25 | PowerBiz 100GB | PowerBiz 250GB |
| Storage | 1GB | 5GB | 25GB | 100GB | 250GB |
| Bandwidth | 5GB | 20GB | 25GB | 100GB | 250GB |
| Domains | 1 | Unlimited | Unlimited | Unlimited | Unlimited |
| Emails | 10 | Unlimited | Unlimited | Unlimited | Unlimited |
| MySQL Databases | 2 | Unlimited | Unlimited | Unlimited | Unlimited |
| FTP Accounts | 2 | 2 | Unlimited | Unlimited | Unlimited |
The eXcite1 and eXcite5 plans are their entry level plans, and while eXcite5 has unlimited domains, I would only host one or two sites, so as not to run into storage issues. The PowerBiz plans are your best option with the 100GB plan more than adequate for most websites, and only a couple bucks more a month than the SME25 plan.
The two caveats are they don't provide free domains or SSL certificates. You must pay for your domain name or transfer one over that you already own. Also, you must purchase SSL certificate for each site owned.
Domain Plus offers website building services through Weebly, but they are an additional fee on top of your standard hosting package. Unless you plan to use their free limited Weebly plan, you're essentially doubling your per month cost by adding the Weebly website builder features.
Support for Domain Plus is below average compared to other companies. They presently only offer ticket support for customers with no ETA listed on responses. There is a robust knowledge base available covering many technical topics. Don't bother using their community forum as it has not been updated in months and appears to only serve as an announcements page.
I don't really like services that don't provide either phone or live chat support, and unless you're technically skilled, this host should be placed at the bottom of your list solely for that reason.