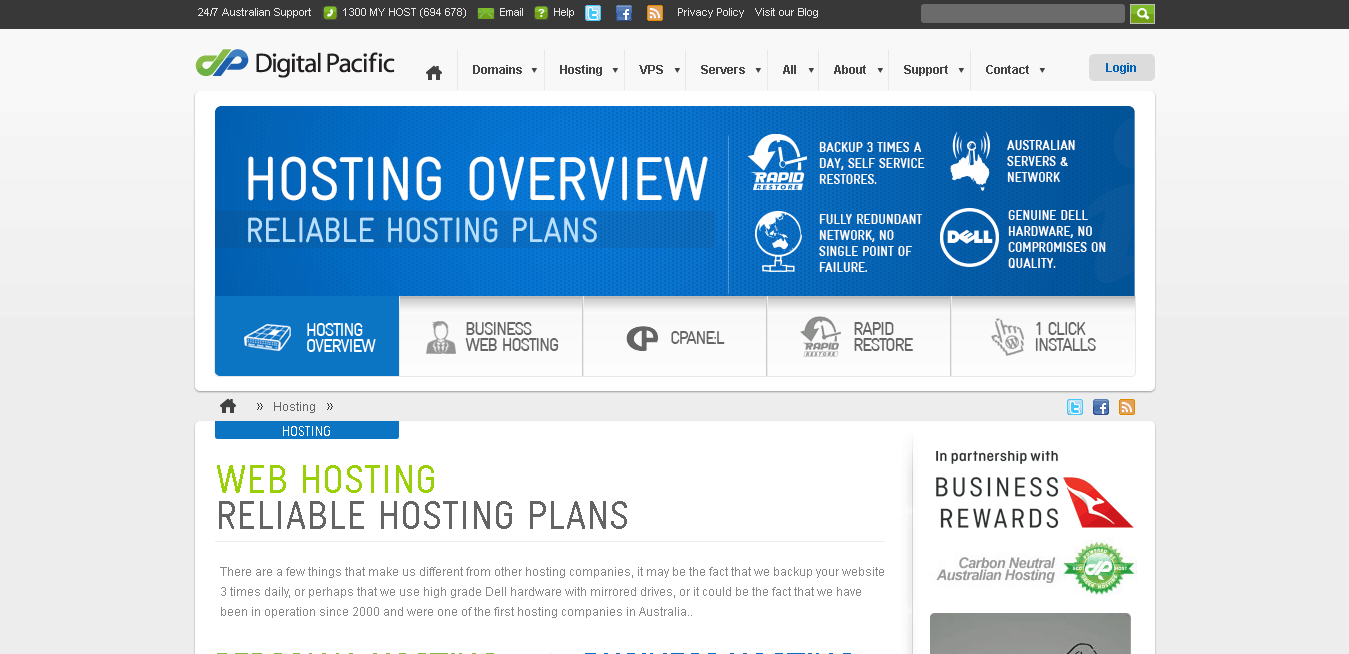 Digital Pacific is an eco friendly web hosting company that was founded in 2000. It offers carbon-neutral web hosting, dedicated server, VPS, and Domain registration services. Its hosting services are scalable and reliable, customer support available 24/7, and prices affordable. The company owns and operates local servers in a secure facility in Sydney.
Features and Ease of Use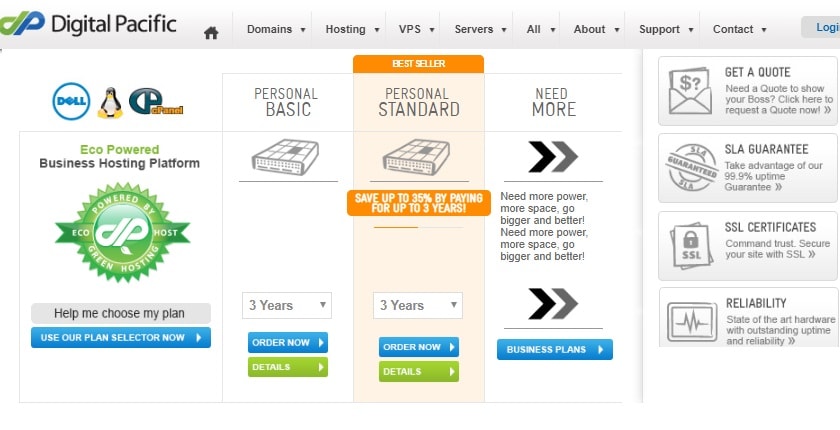 With either shared personal hosting or business hosting, Digital Pacific customers get access to many features and tools for their web projects. Some of them include:
Domain registration and parking
One-click app installer
Web-based file manager
MySQL/PhpMyAdmin
SSH/Shell Access
Webalizer, AWStats
Webmail with SpamAssassin
Cron Jobs
Digital Pacific has an eco friendly approach to web hosting and that's a plus for any enterprise that wants to go green. Its Dell servers are eco powered and fast with a 99.9% uptime guarantee. The firm's Sydney data center has N+1 operation across all critical infrastructure such as cooling, power, and network among others. Servers are connected to independent multiple provider networks with carrier grade network equipment and worldwide distributed DNS.
Shared personal and business hosting packages are powered by cPanel, an easy to use management interface with a ton of features. It also comes with integrations such as Softaculous installer that you can use to deploy WordPress, Joomla, or CMS sites, email manager, MySQL databases, and a user-friendly website builder tool that lets you build a functional website in minutes.
From your dashboard, you can also carry out routine administrative tasks such as file backups, webpage updates via a graphical interface, and monitor website traffic and resource usage. The website looks good at first glance, but could be better if it was organized and much cleaner than it is now.
Sometimes, shared hosting doesn't satisfy the hosting needs of customers. Digital Pacific has the answer with its secure and high-grade dedicated servers and VPS. With both, users can decide the amount of RAM, storage space, bandwidth, and cores that match their workloads.
Pricing and Support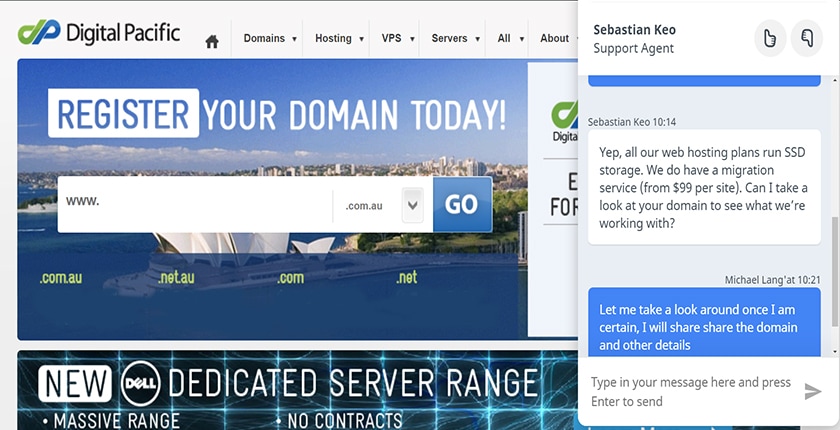 I didn't find anything unusual about Digital Pacific's monthly or yearly plans because they're neither cheap nor expensive. All shared hosting packages come with a 30-day money-back guarantee while VPS plans and dedicated servers have a 10-day money-back guarantee. It's really comforting to know this service wants new users to test and experience all its features before they put down their money, something many providers don't do.
Digital Pacific customers enjoy 24/7 technical support via different channels such as telephone, email, and remote assistance. Typical email responses take 30 minutes or less. From the reviews I have seen online, customers feel the new tech support team is somewhat inexperienced in troubleshooting and resolving server issues and attacks. It's really something Digital Pacific needs to look at if it wants to make customers happy.
If you have the time, take a look at the company's FAQ section and knowledge base, which contains blog posts and video tutorials. They will help you get started with your hosting, emails, database creation, and much more.