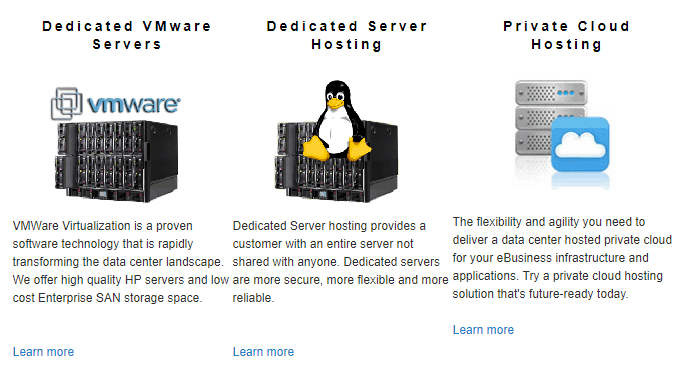 Cybercon is based in the U.S. and has been in business since 1995. Over the years, it has won a number of awards by providing quality services in cloud, dedicated servers, and data center colocation.
Features and Ease of Use
Here's an overview of the features you can expect at Cybercon:
100% network uptime guarantee
Unlimited add-on domains
No SSL certificates
Limited storage
Unlimited bandwidth
The UNIX servers at Cybercon support a number of operating systems including CentOS, Ubuntu, openSUSE, Fedora, FreeBSD, and a few more. For customers interested in Windows-based servers, both Windows Server 2008 and Windows Server 2012 are available. These servers come with a few Windows applications including MS SQL server 2008 and 2012, MS Exchange server 2010, MS Exchange 2007, MS terminal server, and MS SharePoint server 2010.
Cybercon gives you, as well as all the reseller accounts you create, full administrative access to the servers. For Windows accounts, you can use the Remote Desktop Connection to access the Windows server while in case of a UNIX server, you can connect via SSH. You have the freedom to install any software or application on the server without any restrictions.
As far as the hardware is concerned, the following specifications are available:
SAS/SATA Hardware RAID Controller
Intel Xeon processors
Dual GigE Network Cards
Dual Power Supply with A+B power
ECC registered DRAM(8GB up to 64GB)
There are several noteworthy add-on services offered as well. You have the option to purchase additional IP addresses, starting from a single IP and going up to 256 IP addresses. When it comes to DNS services, you can choose from domain name registration, virtual DNS server, and SSL certificate services, which play a crucial role in safeguarding your and your customers' data online. Furthermore, at Cybercon, you have the opportunity to acquire licenses for various Microsoft products, as well as cPanel and DirectAdmin.
Pricing and Support
The four available packages are fairly priced compared to the competition and offer a number of specifications. You can choose from the available options and then further specify the memory, first hard drive, second hard drive, SAN drives, and operating system. The best part about the packages is that you can control each individual specification and create a custom package for yourself, paying only for the features that you need. They accept a number of payment methods, so paying online shouldn't be an issue.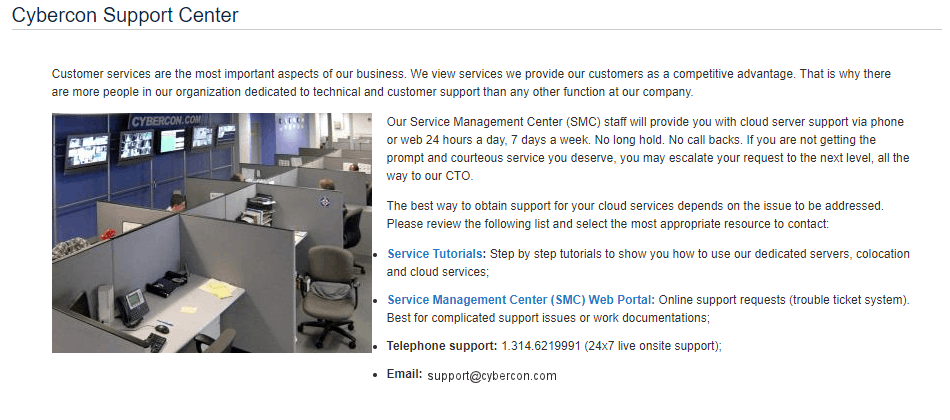 Cybercon offers customer support by telephone, email, and ticketing system. You're guaranteed a quick response 24/7 and in case of non-responsiveness, you can directly contact their Chief Technology Officer. The contact details for the different departments are clearly listed on their Contact Us page. You can also choose to try and resolve issues on your own by going through the knowledge base section that contains comprehensive articles on all of their products.