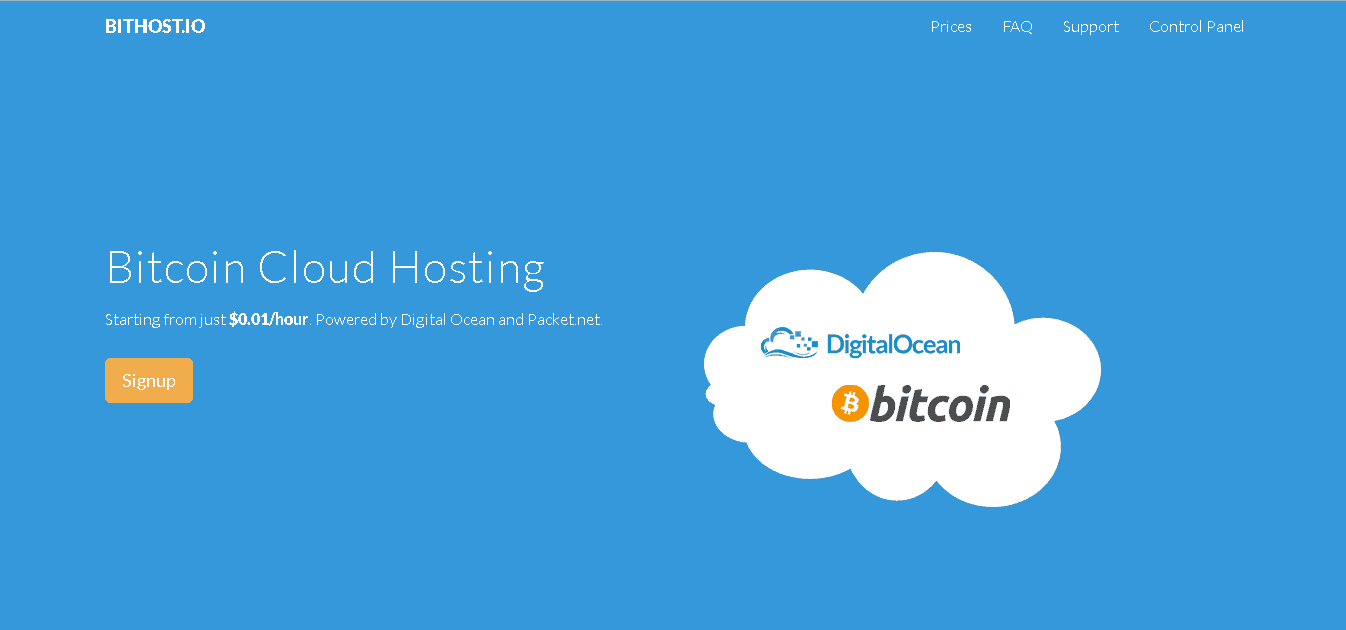 Relative newcomer Bithost was founded in 2014. They occupy a very specific niche selling Digital Ocean, Linode and Packet cloud hosting that can be purchased with cryptocurrencies. This company's website and support are available in English.
Features and Ease of Use

Bithost only resells hosting from Digital Ocean, Linode, and Packet. Picking up on the popular Digital Ocean hosting, here are some of the core features of this particular hosting:
100% network uptime SLA, 99.9% general cloud uptime SLA
Backups can be enabled
From 1GB to 192GB memory
From 1 to 32 vCPUs
From 1TB to 12TB data transfer
In terms of infrastructure, Bithost is a little unique since it only resells cloud hosting services provided by others. But I can tell you that servers are deployed in less than one minute and all of their servers use 100% SSD storage for disk read/write speeds up to ten times faster than traditional hard disk drives.
Bithost offers fourteen resource levels of Digital Ocean hosting, each with different levels of memory, vCPU, SSD and transfer. The smallest plans come with 1GB memory, 1 vCPU, 25GB SSD, and 1TB transfer. The largest plan comes with 192GB memory, 32 vCPUs, 3.75TB SSD, and 12TB transfer. They also offer ten levels of Linode hosting, ranging from 1GB memory, 1 Core, 25GB SSD, and 1TB transfer up to 192GB memory, 32 Cores, 3840GB SSD, and 20TB transfer. Finally, they offer seven tiers of Packet hosting.
As they are resellers of hosting, customers are subject to the T's & C's, SLAs, and specific features of the Digital Ocean, Linode, and Packet originating companies. The good news is that these are three well-known and reputable cloud hosting services, so you can rest assured that you're purchasing top quality infrastructure backed by decent terms and conditions.
To give you an idea:
Digital Ocean provides a 100% network uptime SLA and a 99.9% general cloud uptime SLA, with lost time refunded back to your account at the hourly rate incurred.
Linode has a 99.9% uptime guarantee on their hardware and on network connectivity.
Packet boasts a service level of 100% availability for their network.
The only payment method is cryptocurrency, so this is a good option if you're looking for a degree of anonymity plus the protection that comes with not giving out your credit card details. Whilst they are a very new company offering a relatively new payment option, the general consensus on independent review sites is that they are a trustworthy company.
Pricing and Support
The prices for Bithost are slightly higher than the original prices for Digital Ocean, Linode, and Packet hosting. As mentioned in Bithost's FAQs, this increase is to account for the currency exchange rate and cover Bithost's running costs.
Bithost is adding value by allowing you to buy the originating companies' hosting products with Bitcoin (BTC) and other cryptocurrencies including Litecoin (LTC) and Ripple (XRP). To pay, you simply top up your account with funds, and the per-hour amount (calculated as your monthly cost divided by 672) is deducted from your account balance. All payments are non-refundable, and you are referred to the originating companies' terms and conditions when it comes to cancellations.
BitHost's website is pretty minimal, and clicking the support link simply opens an email composition window in your browser. There are no business hours, no telephone numbers, and no help documents on their website, although there is a small FAQ page. That said, they respond very quickly and expertly by email, and third-party reviews all cite excellent, reliable and trustworthy customer service.
How much does BitHost.io cost?
BitHost.io offers plans from $8 to $1790. The price depends on which type of hosting plan you choose. You can see the updated pricing table (updated weekly) below.

Which BitHost.io plan should I get?
My recommendation is to start with a cheaper plan. You can always upgrade later on. BitHost.io can help you with the migration to a more expensive plan. The increase in visitors many times takes longer than expected and you shouldn't pay a lot of money until the need arises. Of course, your needs may vary, and you can consult with a hosting expert from BitHost.io here.

How good is BitHost.io's customer support?
BitHost.io is not ranked as one of our top web hosts. But that can also be a result of BitHost.io being a small, under the radar, hosting provider. There are advantages to a small hosting company – as a customer, you are more important to them. You can also check out our comparison of the most popular web hosting services here.