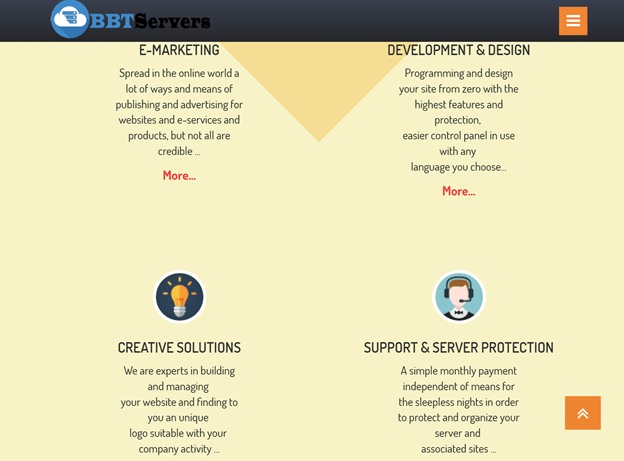 Since its inception in 2013, BbtServers has continually focused on providing server hosting solutions to the Arab hosting world. Its primary goal is to provide the best server-based services at affordable prices and to secure the largest hosting market share in the Arab speaking world. This vendor is dedicated to achieving ultimate customer satisfaction by maintaining a team of highly qualified developers and experienced website designers.
This vendor's hosting and VPS servers are situated in multiple locations all over the world and the website can be accessed in English or Arabic.
Features and Ease of Use
BbtServers provides its customers with a great deal of hosting options. These include shared hosting, VPS, dedicated servers, and smart layer servers. The shared hosting package is comprised of the following features:
24/7 technical support
Multiple email accounts and databases
30-day money-back guarantee
Daily and weekly backups
The shared hosting package has four plans which start out with 10GB storage space and unlimited monthly traffic with possible upgrades of up to unlimited storage space. All storage is on the most recent storage technologies featuring RAID 10 configurations which maximize resource performance. All hosting is run on multiple servers which provide faster website loading speeds with a great uptime guarantee of 99.9%.
Furthermore, for total control and easy management of your hosting resources, you are provided with cPanel across all hosting plans. This is a very simple and innovative yet very powerful control panel whose intuitive interface requires absolutely no technical knowledge to operate.
Pricing and Support
The hosting plans featured on this vendor's website are more expensive than the market standards. Apparently, if you proceed with ordering any of the plans, you will be directed to another webpage with a totally different shared hosting package. This package has five payable plans and a free trial plan but is out of stock. The payable plans are cheaper and have prices that are in line with the market standards.
The most basic plan comes with 2GB storage space and 100GB monthly traffic, while the highest tier plan will get you up to 200GB storage spaces and unlimited monthly traffic.
It's quite a relief to have a 30-day money-back guarantee, especially considering the contrasting hosting packages. During this period, you can ensure that your preferred plan meets all your hosting needs. If it doesn't, you can simply back out within the month and claim your refund.
All hosting plans have monthly and annual billing cycles payable through PayPal, Bitcoin, and direct transfers.
As for customer support, you won't get satisfactory help from the few items in the knowledge base. Therefore it's a good thing that 24/7 technical support is available and you can reach customer service agents for support via ticket, email, or WhatsApp. In my case, the agent personally replied to my ticket in less than ten minutes with a very brief but question specific answer.