To compare the best web hosts, we hosted the same WordPress website on each one and tested performance, customer service, and value for money.
Check out the results here.
Alfanet is an Estonia-based website hosting company. Their website – which is available in Russian, Estonian and English – does not include any information about their customer base or how long they have been in business, which suggests to me that they are a newer less-established company.
Features and Ease of Use
Alfanet offers a no-frills range of website hosting services. As well as domain registration, they offer four website hosting packages called Fresh, Starter, Alfa, and Beta.
As standard, their website hosting packages include the following features:
99% availability
Domain registration at an additional cost
Free SSL certificate, except for the basic package
From 500 MB to 500 GB disk space
Unlimited data transfer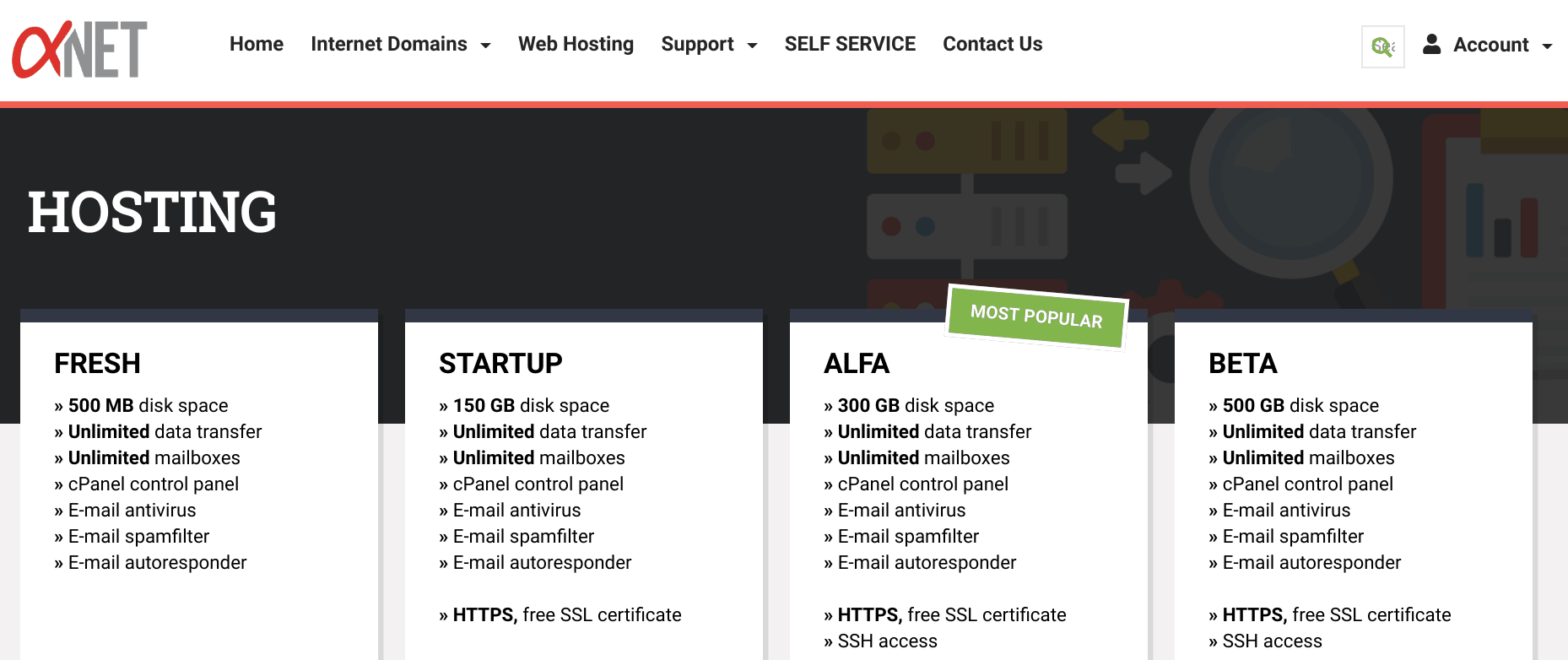 What's immediately noticeable about Alfanet is the simplicity of their website and services. They focus only on website hosting and domain registration, which means that (unlike other companies) they do not offer beginner-friendly tools such as a website builder or a one-click installer for popular programs. Nor do they offer dedicated servers or virtual private servers for companies looking to scale.
In terms of uptime, Alfanet aims to ensure 99% availability. It's great how they include a commitment to 99% availability, but it's not clear what recourse is available if they do not hit their target uptime. The claim of "unlimited" data transfer in all packages is another one of those situations that is difficult to prove or verify. It's one of those things that personally annoys me when companies make extravagant claims instead of providing clear and definite limits.
Pricing and Support
Alfanet's packages are well priced at the low end, but the highest priced packages are quite expensive. That said, they do include HTTPS, a free SSL certificate, SSH access, and the supposedly unlimited bandwidth.
You can purchase their hosting plans in one-, three-, and twelve-month terms, with no discounts available for the longer term commitments. They do not offer a free trial, free plan, or money-back guarantee, but there's little to be lost in starting off with a monthly plan until you're sure.
Their pretty good customer service staff can be contacted via email, telephone, or ticket. I'd like to see some social media messaging options or live chat, not to mention some more information about their working hours and response times. Maybe it doesn't matter, because I have always received an immediate helpful and polite reply whenever I have contacted them by email. The news is not so good if you prefer to help yourself since there is no noticeable knowledge base (though it may well be behind the client area login prompt).