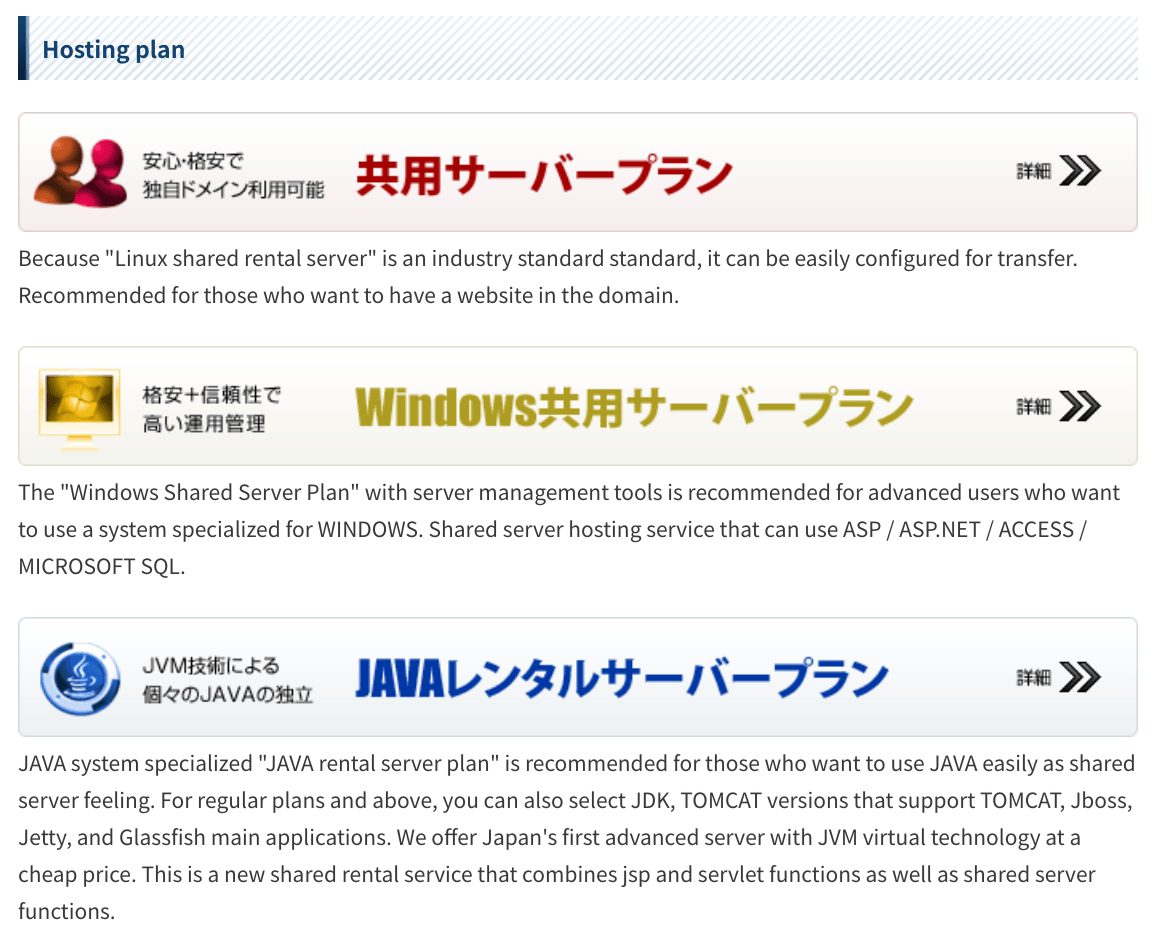 1stRentalServer is based in Fukuoka, Japan. Its main website is in Japanese, but its client support areas support twenty-six additional languages.
This company's core competency is in offering a wide variety of rental servers to meet the diverse needs of its customers. From Linux and Windows shared server plans to VPS, dedicated servers, and Java rental servers, 1stRentalServer does it all. And the company also offers domain solutions (acquisition, renewal, and repurchase) along with SSL certificates.
Features and Ease of Use
There are three shared Linux server plans: Start, Regular, and Business. These region-selectable plans let you choose between domestic Japan (Tokyo) and America (Los Angeles). The core features are:
200 GB to 600 GB disk space
10,000 Gbps backbone
Unlimited IMAP/POP3/Webmail accounts
10 to unlimited FTP accounts
Unlimited subdomains and parked domains
No data transfer charge
Daily backups
phpBB
Uninterruptible power system (UPS)
These plans also come with various security measures: firewall, mail virus check, spam filter, SpamAssassin, and spam blacklist defense. They support multiple PHP versions (4.4 to 7.1), Perl module installer, proprietary CGI, and proprietary SSI.
1stRentalServer also offers three Windows shared rental server plans, four Linux and four Windows VPS plans, three Java rental server plans, and 12 dedicated servers plans (6 each for Linux and Windows).
More than 250 CMS and other applications can be installed automatically, including WordPress, Joomla, MediaWiki, and Moodle. 1stRentalServer also supports open source e-commerce software such as XOOPS Cube, EC-CUBE, and osCommerce. The company's multilanguage control panel supports 29 languages including English, Japanese, and Chinese.
1stRentalServer's server uptime is 99.9999% or more.
Pricing and Support
1stRentalServer's shared rental servers are priced competitively if you opt for the longest billing period of thirty-six months. But if you choose the monthly plans, even its entry-level plan costs almost double the industry average. Whereas most hosting companies these days offer free setup, 1stRentalServer bucks the trend by charging a one-time setup fee.
You can pay for plans in U.S. dollars or Japanese yen through bank transfer, credit card, or convenience store settlement. The available billing cycles include monthly (credit card payment only), quarterly, half-yearly, annually, biennially, and triennially.
1stRentalServer offers trial plans for two weeks. You can sign up for a Linux or Windows server trial using only an email address, but for a Java or VPS trial, you'll need to provide an identification card, utility bill, or proof of your address.
You can reach out for customer support via fax, online form, or the ticket system. I received a reply to my test ticket after four days: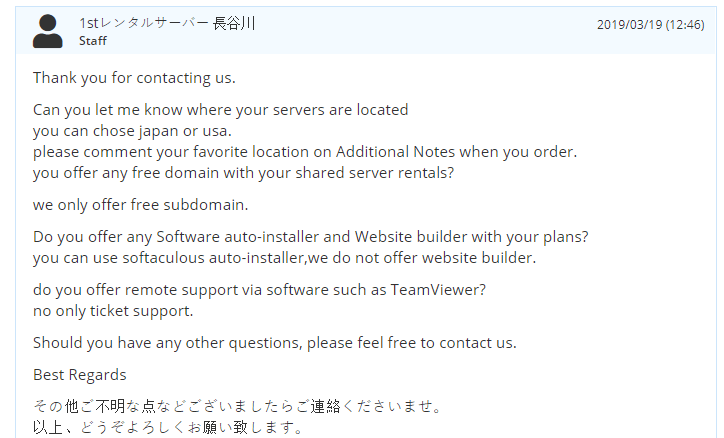 Those seeking self-support can check 1stRentalServer's knowledge base (though it's more like an FAQ), document section, and demo screen for Linux server.