when it comes to building a new website, speed isn't everything. 
I tested both website builders so you don't have to. It's true that both offer quick setup and easy-to-use site editors, but only one lets you really customize your site the way you like.
Weebly produces a much more professional website,
 giving you a wider array of design options and better e-commerce capabilities.
Click here to try Weebly for free,
 or read on to see what makes it the clear winner of this comparison.
1.Templates
Weebly Offers a Better Variety of Themes and Customization Options
Weebly and GoDaddy both refer to templates as "themes," so I'll be using that same terminology through this section. It's pretty clear that
Weebly is stronger in this aspect, offering you a range of options and the flexibility to personalize everything from font style to image placement.
GoDaddy's selection of themes and design options, on the other hand, is much more limited. When you start creating your website with GoDaddy, you're prompted to select a category (e.g., real estate, portfolio, e-commerce, etc.).
From there on, you can only browse themes that fit into this category.
 This narrows your options considerably and is pretty frustrating, in my opinion. I wanted to browse a variety of themes to make sure I was selecting the best one for my website, but was stuck with the themes in my selected category.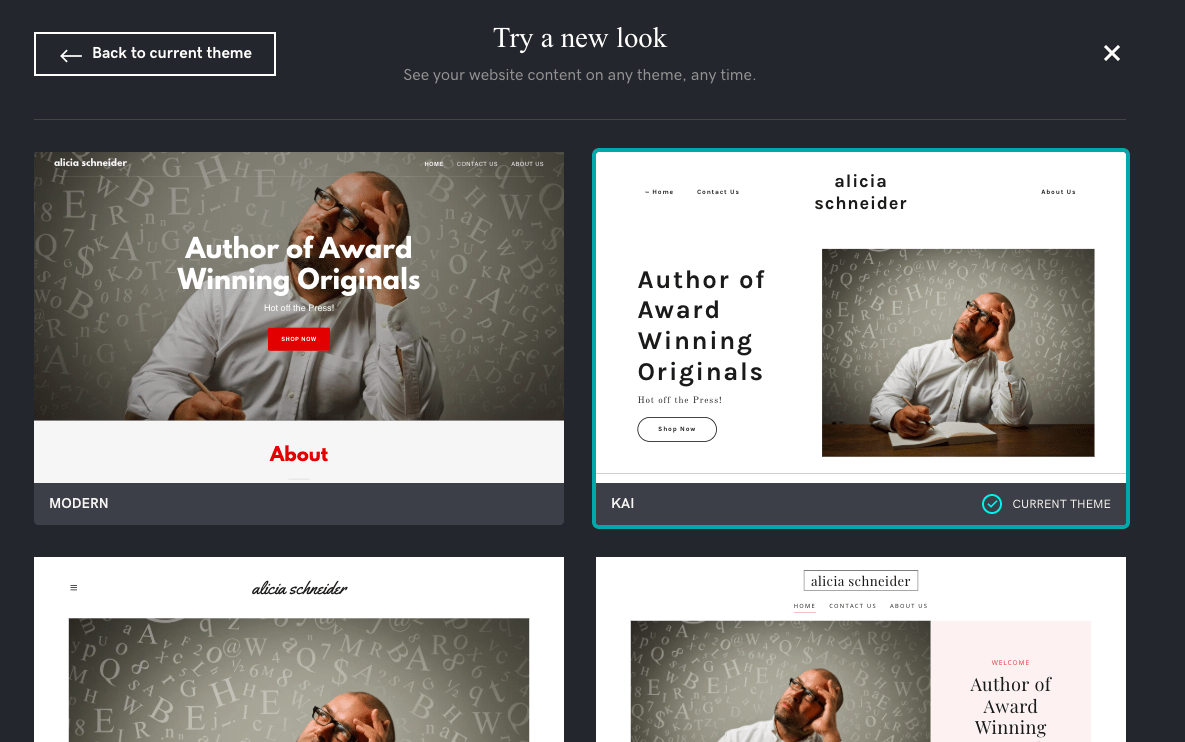 While
GoDaddy has about 100 themes available
, there were only 20 in my selected category, and they all looked quite similar in style. When it came to adding or removing sections, the options were rather limited as well. You can click to add sections, like contact forms or video blocks, but once they are added, it's not easy to move them around.
Elements within each section are pretty static.
You can click on arrows to move an entire section up or down, but you can't change the placement of elements within a section. For example, if a button in a section is centered, it can't be moved to the right or left. GoDaddy lets you select your website's color and font, but applies these selections to
all
 of the elements on your website.
You can only choose one color and one font for your entire site.
This limitation feels particularly extreme when compared to the options other website builders offer. Now let's compare to Weebly. With around only 40 options in total, Weebly doesn't have a huge selection of themes – especially when compared to competitors like
Wix (which has over 500 templates)
. Still, when weighed side-by-side with GoDaddy's themes, 
Weebly's designs are much more diverse.
Another great feature that Weebly offers (which GoDaddy doesn't) is the ability to
preview
a theme before you start building your site.
Click here to check out all of Weebly's themes
.
When it comes to layouts,
Weebly gives you more creative control than GoDaddy
. It's easy to use the drag-and-drop editor to place elements where you want on the page, and they snap right into place. For customizing your theme, you'll also find more options with the Weebly editor. You can make changes to your layout, use different fonts for your text, and choose different colors for different elements on your site (as opposed to GoDaddy's one-color-per-website). If you're more technically inclined, Weebly even lets you edit the theme source code. Both Weebly and GoDaddy let you change your theme at any time without losing your content. Simply select your new theme, and your content transfers right over. You might need to make some minor adjustments in your new theme, but nothing major.
In the battle of Weebly vs. GoDaddy website themes, the point goes to Weebly for its customizable designs that can be changed according to your needs.
2. Ease of Use
Can You Really Build a Website in an Hour with GoDaddy?
Well, yes, but faster doesn't necessarily mean better.
 With GoDaddy, you can create a website with all the basic trimmings quite quickly. And while this can certainly be a benefit, it can also be limiting. To start your website on GoDaddy, you select the kind of website you want to build. For example, you can type "writer," "clothing," or "handyman," and choose the most appropriate category from the many that appear in the drop-down menu.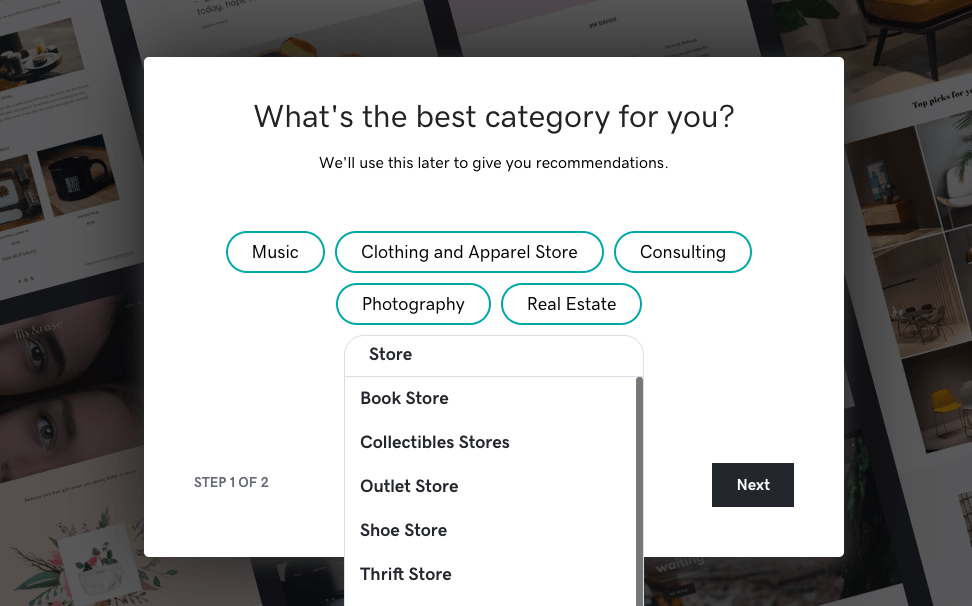 Once you select a category, a skeleton of a website is auto-populated with all the features you're likely to need for that industry. While this
can
 make for fast website building, I felt stuck because,
after I selected a category, I couldn't go back and change it
when the features it included weren't
exactly
 what I needed. If you decide your site doesn't fit within the category you selected, you have to start building your website all over again. Once you get into GoDaddy's editor, it's easy to add content blocks for blogs, calendars, social feeds, and more. There's virtually no learning curve.
 Even the least tech-savvy user can get the hang of using GoDaddy's editor quickly.
GoDaddy divides your website into sections, like your header section, blog section, and email subscription section. You can choose from a few different layouts for each of these sections.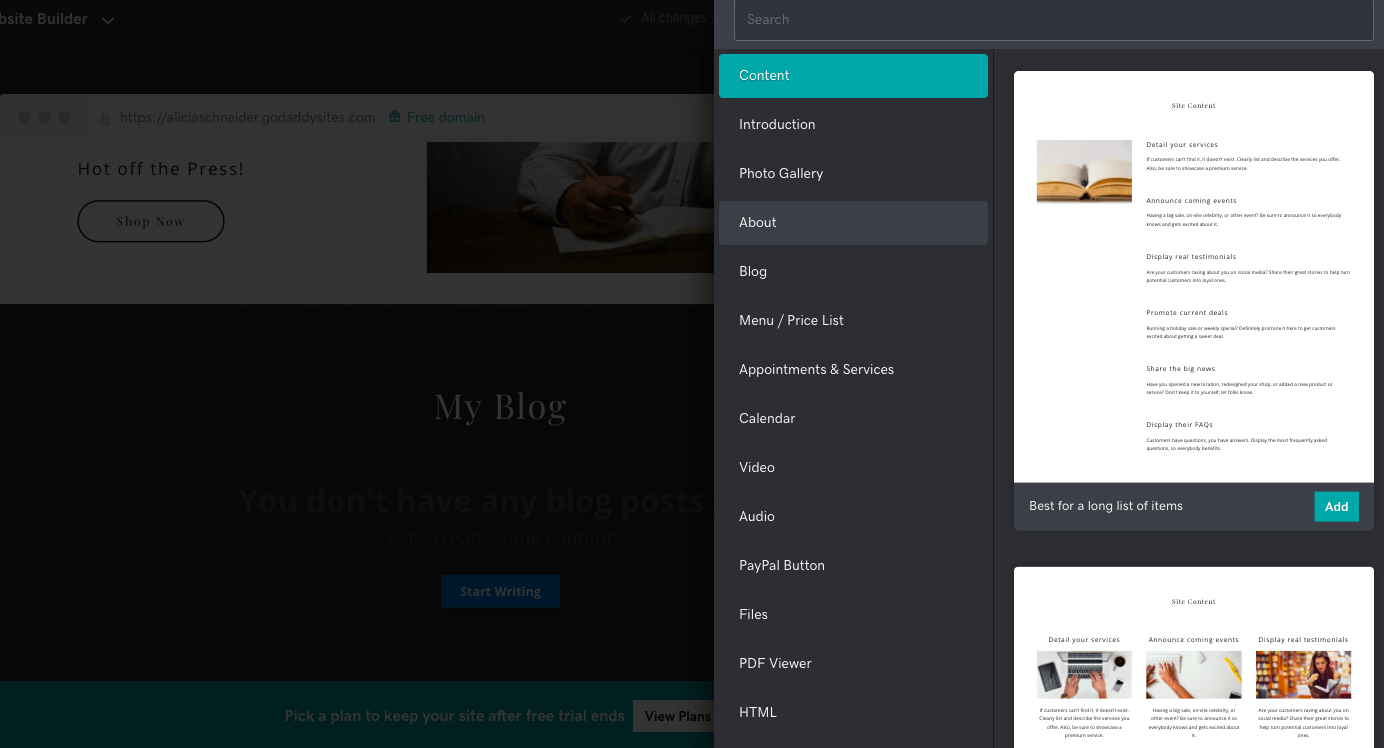 While GoDaddy's site editor is very easy to use,
I didn't feel like it had nearly enough features or customization options to really make the website I wanted.
I was limited by the theme options and frustrated that I couldn't design my own layout to reflect my personal vision for my website.
Weebly's site editor is also incredibly simple to use and well-suited for complete beginners.
 Another major upside with Weebly is that it offers handy step-by-step guides to help you build your site. The drag-and-drop editor
allows for more customization options
 than GoDaddy's editor. You can add text or image blocks, as well as sections for HD video, by simply clicking on them in the menu and placing the sections on your page. When you want to add a new page, you can choose between a few categories, like a blog, product page, or category page. (GoDaddy doesn't offer page categories.) When it comes to design details, Weebly lets you make as many changes as you want – and easily. When you go to your theme settings in the top menu bar, there are hundreds of fonts to choose from and a color picker to give you the exact shade you're looking for.
Both GoDaddy and Weebly are user friendly. However, due to its guided setup, drag-and-drop features, and superior customization options, I have to award this point to Weebly.
3. Apps, Plugins, and Add-Ons
Weebly's App Center Offers Plenty of Third-Party Apps for Your Site
This comparison category is a bit tricky because Weebly has an App Center and GoDaddy has, well, nothing.
That's right, GoDaddy doesn't offer any sort of app store, which is a little shocking since this seems to be standard for
all of the best website builders in 2023
. There are a few (emphasis on "few") external apps that GoDaddy lets you connect to through the settings menu in the site editor. You can link your Google Analytics account to your website, as well as install a Facebook Pixel. GoDaddy also has its own integrated tools for SEO and e-commerce. However, when it comes to adding third-party plugins for more specific functions, you're out of luck.
Weebly's App Center, on the other hand, offers tons of options, from social sharing apps to e-commerce apps and everything in between.
 You'll find integrations with the expected third-party add-ons, like Google Apps, and other popular apps like Privy, to grow your mailing list and allow for paid subscriptions and memberships on your site.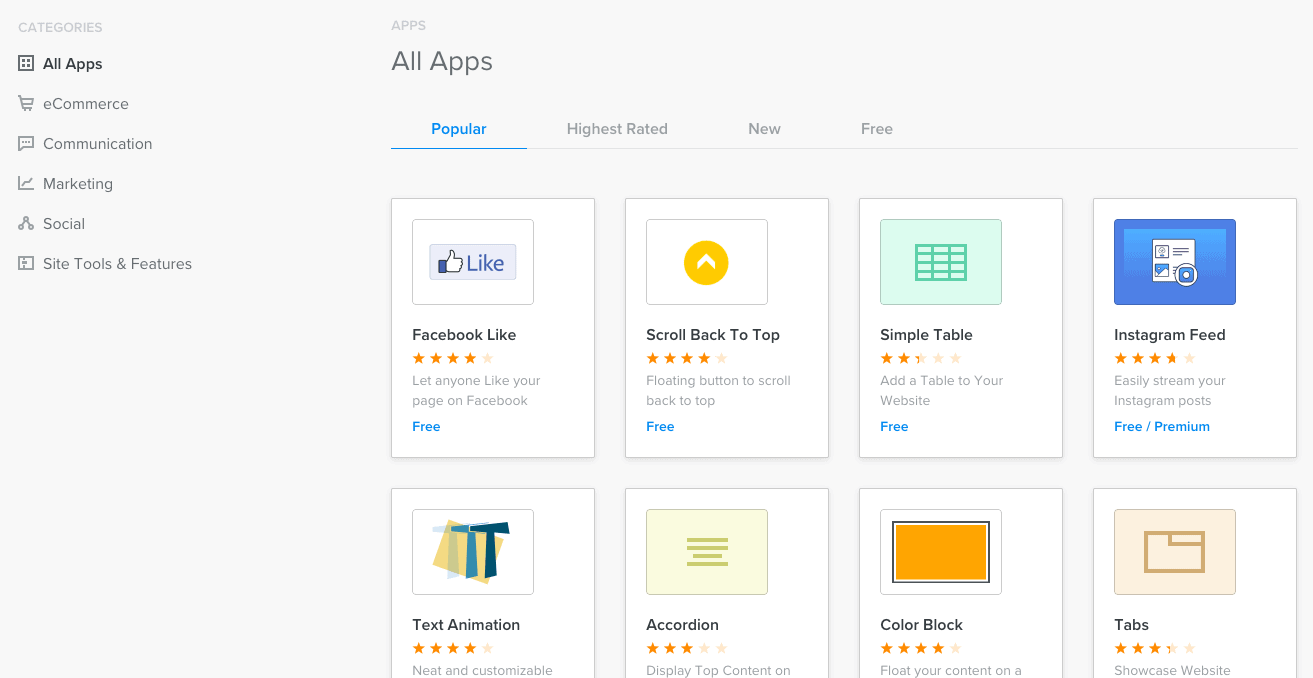 If all you need is a simple site with no integrations, then GoDaddy might be enough for you. But if you're going to spend your time and money on a website, you probably, at the very least, want the option to enhance your site with apps or integrations.
Therefore, there's no competition in this category: go with Weebly.
4. E-commerce
Both Builders Have Decent E-commerce Features, but Weebly Offers More
Weebly and GoDaddy both offer advanced e-commerce features. However, if I had to build an online store using either of these website builders, there's only one I would choose. You'll find it exceptionally easy to start
building your online store with GoDaddy
. Though PayPal payments are accepted on all GoDaddy's plans, to take advantage of its best e-commerce features, such as syncing your product catalog to a marketplace like Amazon or selling your products via social media through your site, you need to have its Ecommerce Plan.
In comparison, you get some essential e-commerce features on Weebly's free plan. 
You can connect a payment processor, sell physical or digital products, and create coupons and gift cards. Sure, the features are limited on the free plan; for example, you can't prompt abandoned cart reminders or add item reviews, but if you're only looking for a store with very basic features, Weebly's free plan may have what you need.
It's important to keep in mind that plans differ by region
, so while these free e-commerce tools are available in the US and a few other countries, in some locations you'll need to upgrade to get them. Both Weebly and GoDaddy allow you to sell physical and digital products as well as services. You can also add a section or calendar for events where you can take bookings and allow customers to make appointments. Both site builders allow you to use Stripe and Square to accept payments from all major credit cards, though there is one exception. Weebly only allows you to accept payments through PayPal on its advanced Performance Plan, while GoDaddy lets you accept PayPal payments on all its plans.
As for advanced e-commerce features, Weebly really shines.
 You can generate gift cards using Square, add a shipping calculator feature, create shipping labels, offer an in-store pickup option, and set up an email reminder to collect product reviews from clients. Adding products to your website is as simple as uploading a photo of a product, setting a price, and writing a description.
Weebly is much better equipped to handle the needs of a small to medium online e-commerce business.
 GoDaddy doesn't let you accept card payments without signing up to its most expensive plan, so Weebly's range of e-commerce abilities across its different plans makes it an all-around better pick.
5. Support
GoDaddy Offers 24/7 Support; Weebly's Support Hours Are Limited
I tested GoDaddy and Weebly's support teams to see which would offer a helpful response in a reasonable amount of time. For this test, I sent a question via live chat to GoDaddy and through an email web form on Weebly's website. You can also contact GoDaddy by phone or refer to its FAQ section.
To send a support inquiry with Weebly, you need to be signed up for an account.
 If you're just shopping around and you have a question, you can browse the guides and FAQ section for answers, or sign up for a free account to gain access to customer support.
Upon contacting GoDaddy, I got a response from an agent within a couple of minutes.
 It required a few follow-up questions on the agent's part, but eventually, I got a satisfactory answer.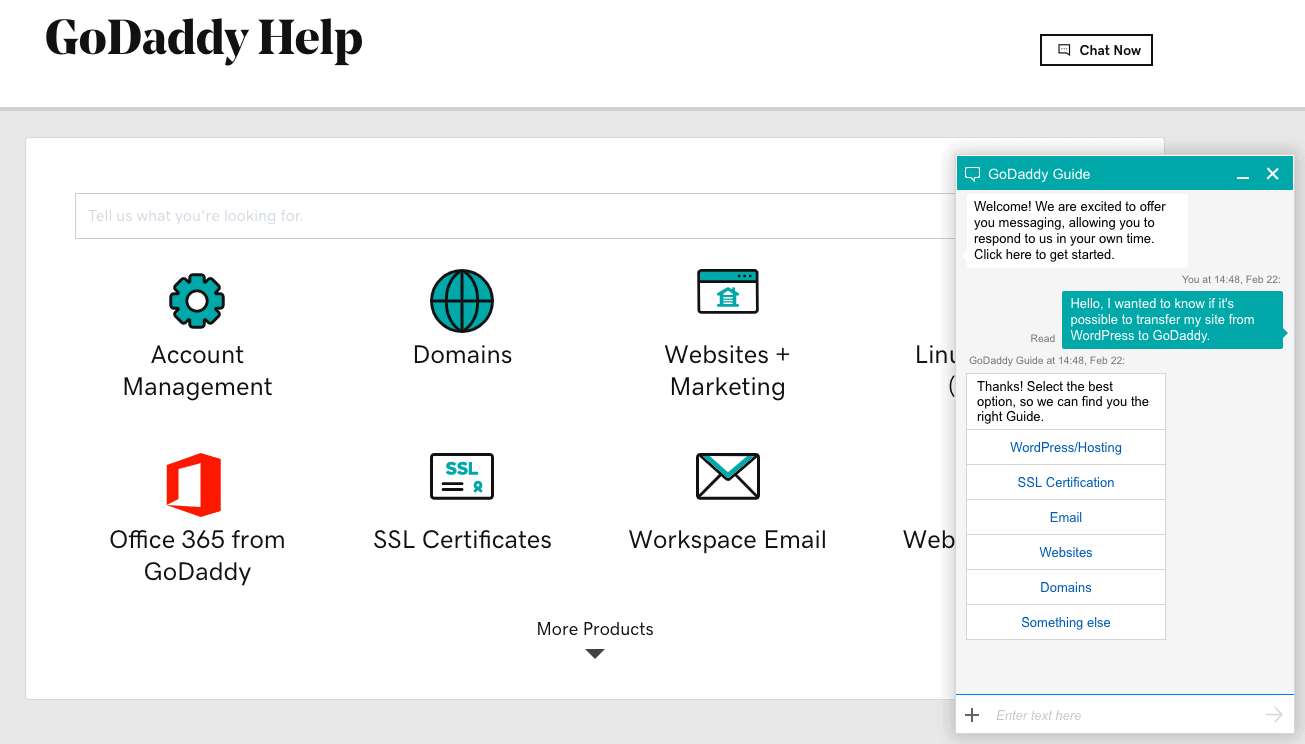 Weebly's live chat agents are only available during US business hours, as are its hotline operators. I used Weebly's "live chat" service (I use quotations because it was neither live nor a real chat) and immediately got a canned response that barely answered my question. From there, I completed the web form to send an email, hoping for a more detailed response.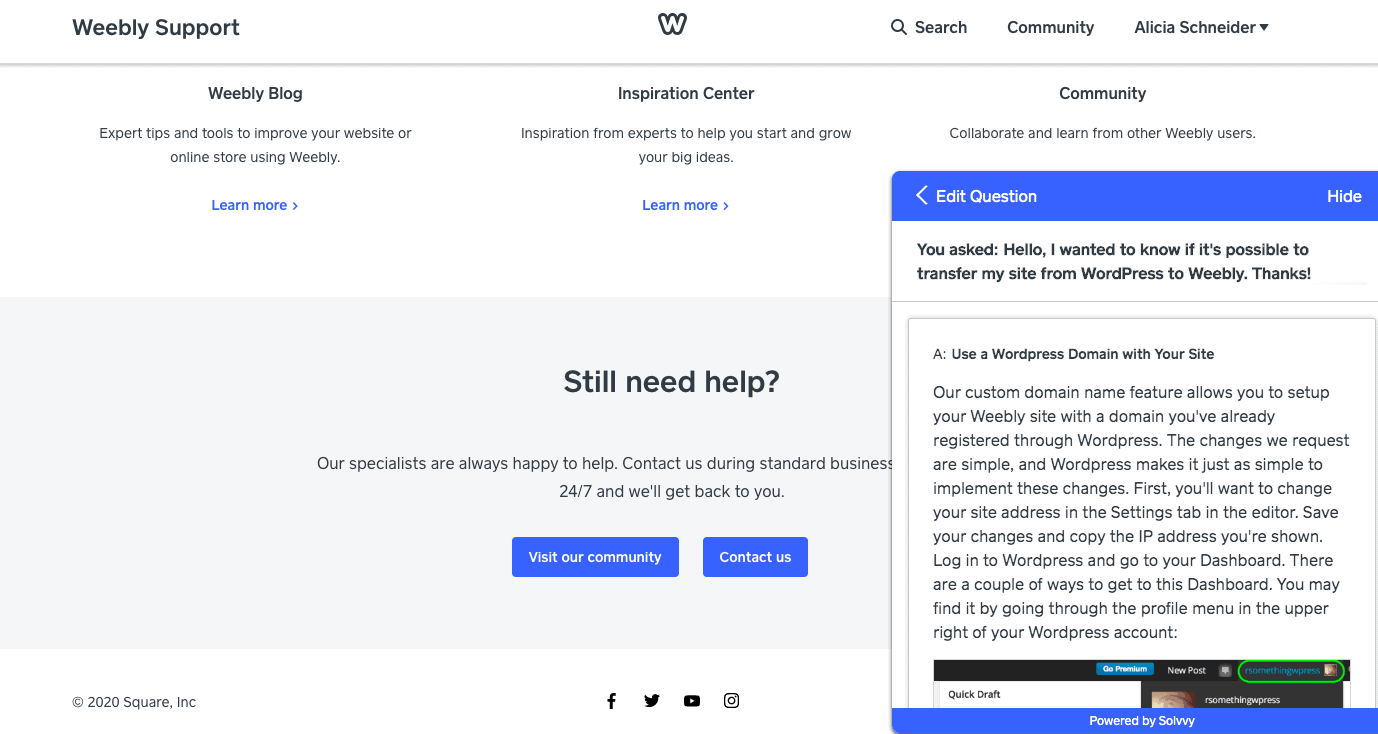 After 48 hours of waiting, I still didn't receive a reply to my email inquiry. Prompt customer service is a cornerstone of any online business these days, so it was disappointing to find that Weebly's customer support is not the best.
If you're choosing your builder based on customer support, I'd definitely go with GoDaddy
, as its agents are more readily available to assist you.
6. Pricing
GoDaddy and Weebly Have Similar Prices, but Do You Get the Same Value?
For starters, GoDaddy offers a free one-month trial of its Standard Plan.
 With this trial, you get access to most features, so you can test the builder out to see if it's the right fit for you before making any sort of commitment.
Weebly, on the other hand, has a free plan – something that GoDaddy is lacking.
 However, Weebly's free plan comes with limited features, so if you want to try out the more advanced options, you'll need to upgrade. Sticking to the free plan means you're restricted to using a Weebly subdomain and that your site will have Weebly branding on its pages, but you'll have access to all the themes, free hosting, and 500MB of storage. Then again, if you're looking to give your business site a professional edge, upgrading to one of Weebly's paid plans is a better move. Let's take a side-by-side look at a couple of the plans GoDaddy and Weebly offer.
Note that the prices, as well as the available plans and features, can vary depending on your location.
GoDaddy
Weebly
GoDaddy
Weebly
Plan
Basic
Personal
Ecommerce
Performance
Price per Month

$

9.99

$

6.00

$

29.99

$

26.00

Storage
Unlimited
500MB
Unlimited
Unlimited
Free Domain
Free with any annual plan
Not included
Free with any annual plan
Free with annual plan
Ad-free
Yes
Displays Square ads
Yes
Yes
SEO Tools
None
Included
Included
Included
E-commerce
Not included
Included with limited features
Yes
All features included
Multiple Shipping Options
Not included
Not included
Yes
Yes
Add Product Discount
Not Included
Yes
Yes
Yes
Accept PayPal Payments
Yes
Not included
Yes
Yes
Customer Support
24/7 support
Chat, email, phone, forum
24/7 support
Priority support
SSL Security
Yes
Yes
Yes
Yes
Website Stats
GoDaddy insights
Advanced site stats
GoDaddy insights
Advanced site stats
Both builders offer some perks in the advanced plans. GoDaddy gives you free ad credits with Google, Bing, and Yelp on both its Premium and Ecommerce plans. Weebly offers some advanced site features, such as the option to build a membership site that allows users to register and sign in to specific areas of your website. While GoDaddy and Weebly's pricing is fairly similar, GoDaddy offers more plan options than Weebly, giving you more choices and flexibility. All of Weebly's plans have e-commerce capabilities, which makes Weebly a solid choice if you want to run a small-scale online store without paying for all the bells and whistles that usually only come with more expensive premium plans.
But since it all depends on your needs, I consider this category a tie.
Which Is the Winning Website Builder?
In the end, there is only one website builder that can offer you the best overall value, and that's Weebly.
While the differences in pricing and plans between GoDaddy and Weebly aren't significant, when you consider ease of use, template options, and e-commerce capabilities, it is clear that Weebly is the superior choice. Not only that, but
Weebly has a free plan
. GoDaddy does offer better customer support, but Weebly's easy-to-use drag-and-drop editor requires less outside assistance, and its online guides can help you learn.
It's less likely you'll need customer support when using Weebly's website builder.
 If you think GoDaddy might be the right choice for you, you can use the
30-day free trial
 to test it risk-free. GoDaddy's value is harder to justify compared to other builders due to its limited third-party integrations. This limitation restricts your potential achievements and the extent to which you can expand your website. On the other hand, the Weebly App Center offers significantly greater freedom, enabling you to accomplish more. Because of all this, Weebly made it to our list of
the top 10 website builders
 – while GoDaddy did not. Here's an at-a-glance breakdown of the main features and functionalities of both website builders:
Free Plan Available
No, only 30-day trial
Yes
Templates
100+, but they look very similar
Around 40 unique themes with a broader variety
Ease of Use
Easy, but not as customizable
Easy drag-and-drop editor
Integrations
A few built-in, but no third-party add-ons
Plenty of apps in Weebly's App Center
E-commerce Features
Only available on Ecommerce Plan
Available on all plans
Plan and Price Options
Basic, Standard, Premium, Ecommerce
Personal, Professional Performance
Customer Support
Reliable 24/7 live chat support
Only available during US business hours
FAQ
Which is better, Weebly or GoDaddy?
For me, Weebly was the surefire winner. I found it easier to use, I was impressed with the number and range of themes, and the App Center had a wealth of apps that I could easily integrate to enrich my site.
Is Weebly really free?
Yes. There is a free plan that will allow you to build a fully functional website. There are, however, limitations to this free plan. If you want a custom domain, to remove Weebly ads, or get more storage space, then you will have to upgrade to a paid plan. You can read more about the top website builders that are available before you make your final decision.
Can I move my website from Weebly to GoDaddy?
Unfortunately, there is no easy way to transfer your entire website from Weebly to the GoDaddy website builder. However, you can move your domain name from Weebly to GoDaddy's servers. Essentially, this means that you'll have a domain name through GoDaddy that points to your site on Weebly. This process is fairly straightforward. You'll just need to unlock your domain by going to your Domains page on Weebly, and clicking Disable under the domain name that you'd like to transfer. At this point, you can copy the EPP authorization code and buy a GoDaddy domain transfer. It will usually take up to ten business days for the transfer to go through.
Is it free to use the GoDaddy website builder?
No. GoDaddy is not free, but it does offer a one-month free trial that will give you access to most of its features, and enable you to build a fully operational website. It's a great way to test if GoDaddy is the right fit for you before you purchase a paid plan. You should also check out our best deals on GoDaddy and other website builders.
Weebly vs GoDaddy – which is better for e-commerce?
Weebly probably has the edge over GoDaddy on this one. Weebly offers basic e-commerce functionality on its free plan. Weebly has also joined forces with Square, adding a huge variety of additional e-commerce features to its offering, including shipping calculators and the ability to create shipping labels. Read more about how these two site builders compare in our e-commerce section above.