find inspiration from these 10 outstanding examples that really knock it out of the park. 
You'll learn effective ways to keep your visitors engaged through blogging and social media tools. You'll also
learn how to use a website builder's features to establish credibility
and build a brand identity. Finally, these websites will show you how to incorporate humor into your content and let your personality shine through.
Did you know that you can build a stunning personal website within minutes?
Wix has over 70 personal website templates
 with most of the best features already built in. Pick your favorite design, add your own text and images, and you're good to go!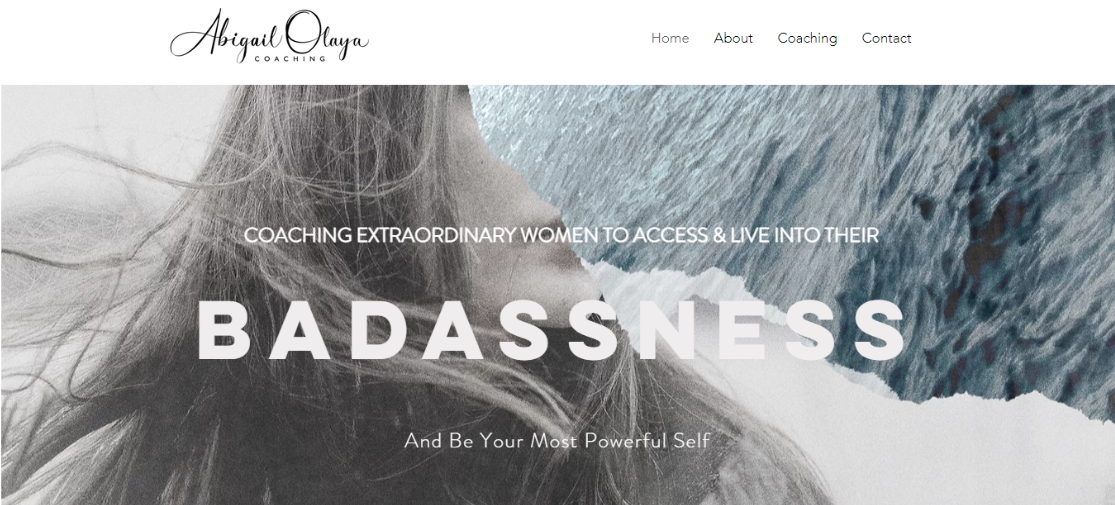 Visit website at: https://www.abigailolaya.com/ Abigail Olaya's website design reflects her approach to coaching – it cuts through the fluff and gets straight to the point.
The homepage grabs your attention with a full-screen image and large font
, introducing you to Olaya's mission. As you scroll down, you can see a list of Olaya's accomplishments backed up by positive testimonials by her clients.
The website is easy to navigate thanks to clearly outlined links leading to other pages
. I like the structure of the Coaching page, which begins with stating common issues Olaya's clients might encounter and follows up with a section about her services, tailored to fit individual needs.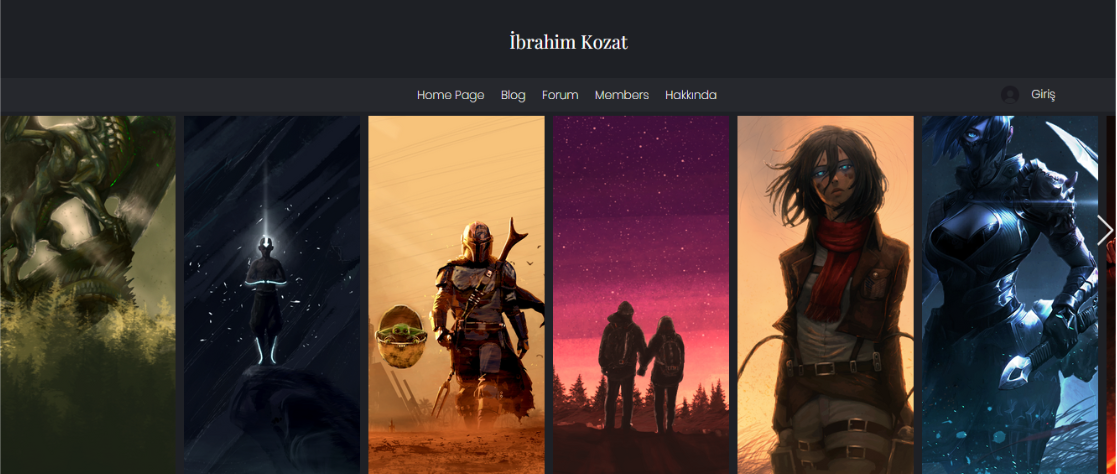 Visit website at: https://www.ibrahimkozat.com/ If you're a graphic designer or any kind of visual artist, you want your work to speak for itself. As you scroll down Ibrahim Kozat's homepage, you'll see
sliders of modern logos and banners, followed by a gallery of stunning digital drawings
. You can click on individual images to see them in full size, and you can share your favorites on social media. The website also has a blog, which allows Kozat to share his creative process and design tips. Another highlight is the forum page, where visitors can discuss all sorts of design topics – it's a great way to connect with an audience. And speaking of connections,
the website even has a built-in chat app powered by Wix Ascend, which is
Wix's suite of business tools
.
Pro Tip.
If you're short on time, setting up a slick gallery of your works might be challenging. With Fiverr, you can
hire a designer for as little as $5
to create a personal website for you, and still get a good-looking website on the platform of your choosing.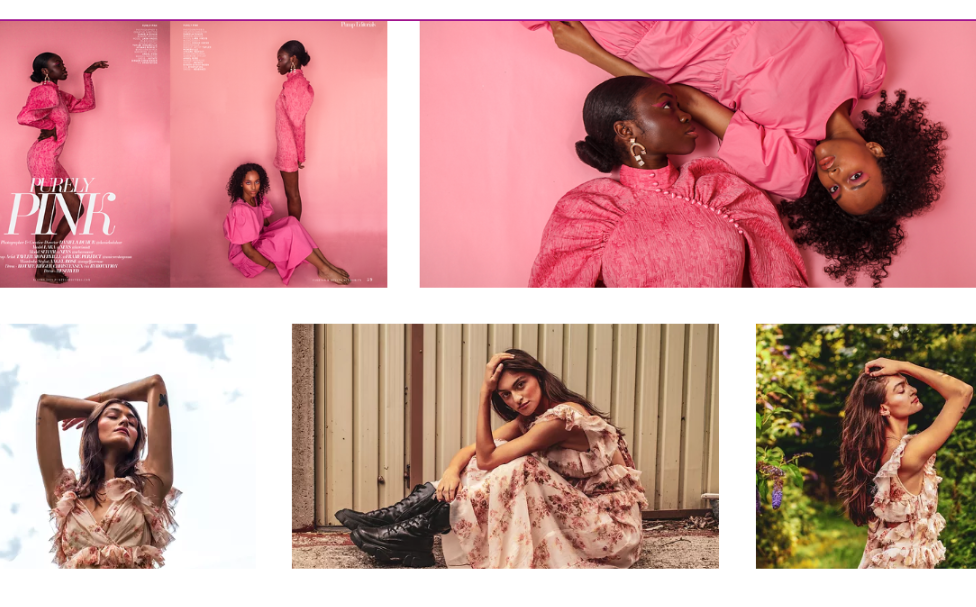 Visit website at: https://www.farrosestyling.com/ Personal stylist Angela Rose's website,
Farrose Styling
, does a great job of reflecting her brand image. There's great
consistency in the choice of colors, images, and fonts
throughout the website, which makes it easily recognizable. Also, there's a cute logo at the top right corner to make it more memorable. While the homepage displays some of Rose's best work, you can click on the Portfolio section to see a wider range of her abilities. And if you like what you see,
you can schedule a consultation thanks to the booking feature
(which you can integrate for free from the Wix App Market). Prominent social media icons make it easy to get in touch.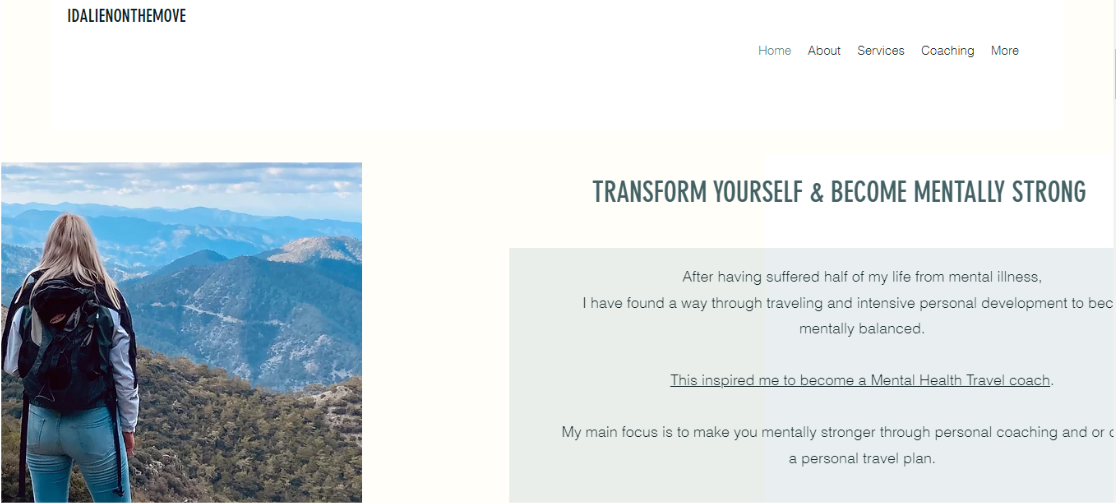 Visit website at: https://www.idalienonthemove.com/
Idalienonthemove
is an innovative blend of mental health and travel platform.
The homepage immediately introduces you to the site's unique concept
and how it can benefit you. You're instantly encouraged to take action thanks to the prominent "call-to-action" buttons.
As you scroll down the homepage, you'll see
a YouTube video
of the mental health and travel coach sharing her experience and advice, which is a great way of engaging site visitors. Anyone can get in touch and ask for more information via the contact form at the bottom of the page.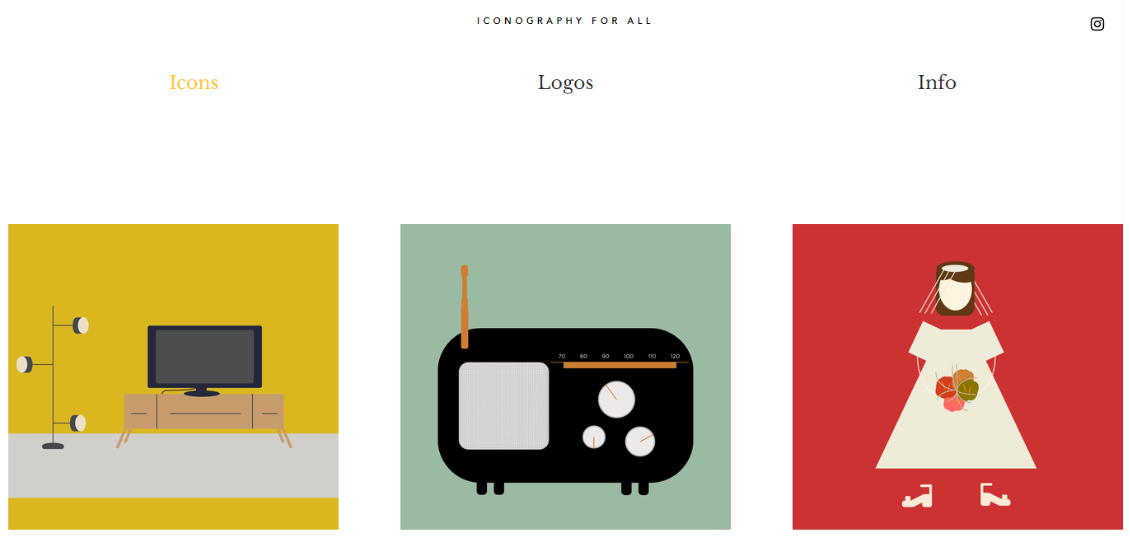 Visit website at: https://www.iconographyforall.com/
Iconography For All
keeps it fun and simple. Lisa Williston, a graphic designer, puts her icons and logos front and center against a white background so that nothing can steal the viewer's focus.
There's a
neatly placed Instagram icon
at the top right corner of the homepage to help you stay up-to-date with her work. Aside from Icons and Logos pages,
there's an Info page with a short introduction, a contact form, and a list of Williston's previous clients
– and that's it! I love how simple yet effective the website is, with perfectly shaped call-to-action buttons and elegant fonts.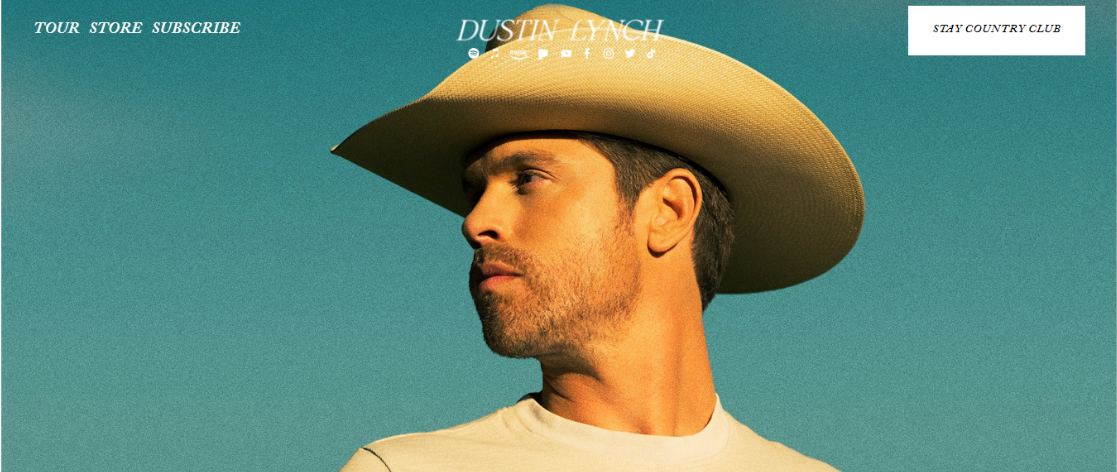 Visit website at: https://www.dustinlynchmusic.com/ Dustin Lynch's website makes the most of
Squarespace's multimedia features
to reach its audience.
The homepage grabs your attention with
full-screen images, recent music videos, and a Spotify playlist
. As you scroll down, an Events calendar shows tour dates and buttons for buying tickets. At the end of the homepage, the artist's Instagram feed is embedded to keep fans updated. Thanks to Squarespace's extensive e-commerce tools,
David Lynch also has a store page for his merch
,
which helps to create a fully-fledged brand
and strengthen his fan base. Speaking of fans, having a Meet & Greet section like the one on Dustin's website shows you care about your loyal audience.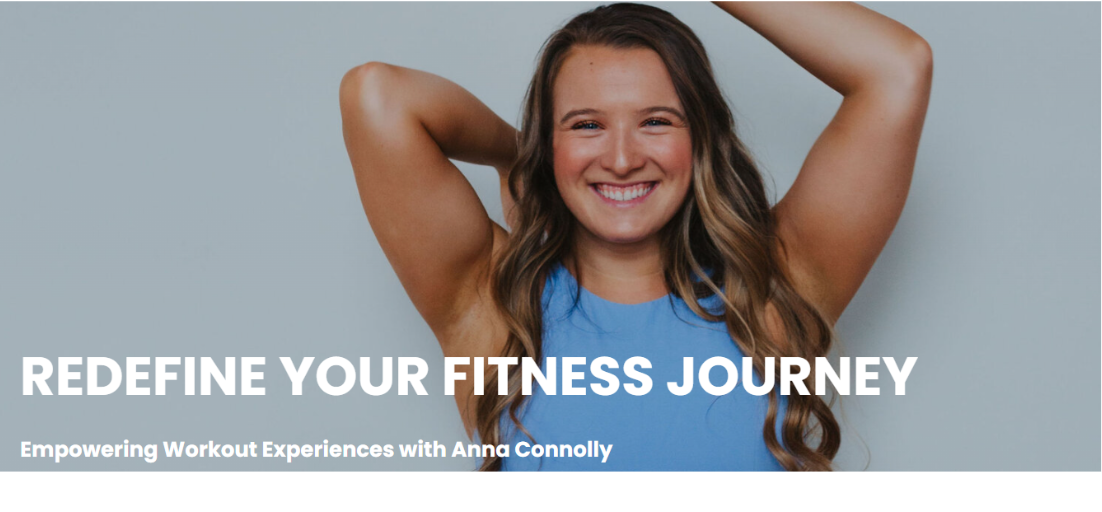 Visit website at: https://www.afcstrong.com/ Anna Connoly is a fitness trainer with a kick-ass website that puts you in the mood to exercise.
The site is easy to navigate
, with Connoly's services illustrated with amazing photos.
I love the
polished design of the social media icons and CTA buttons
, which invite visitors to click without being obtrusive. You can fill out a contact form to ask for more information or book a class if you're ready. Judging by the testimonials, you'll be in good hands.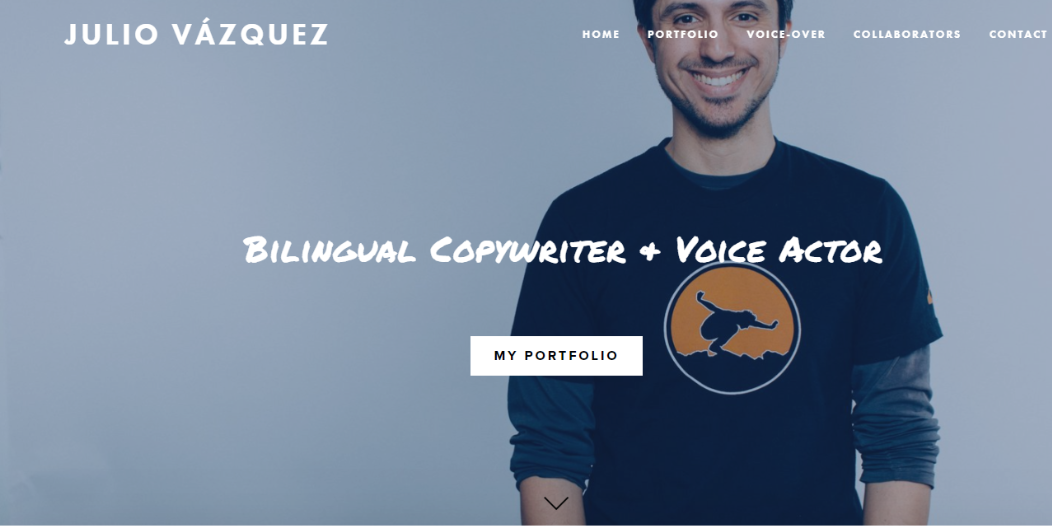 Visit website at: https://www.ivazquez.com/ Julio Vázquez is a copywriter and voice actor who uses an innovative website to emphasize his intriguing career trajectory. I love the use of
playful,
full-screen photos and a quirky font
. The homepage displays a step-by-step guide on how to be a good creative, followed by links to Vázquez's portfolio and social media profiles. I was also impressed by the Voice-Over page, which contains
audio and video files
that showcase the range of his talent
. The Collaborators tab displays a drop-down menu for viewing the directors, engineers, and actors Vázquez has worked with, so even the menu alone shows the breadth of his work.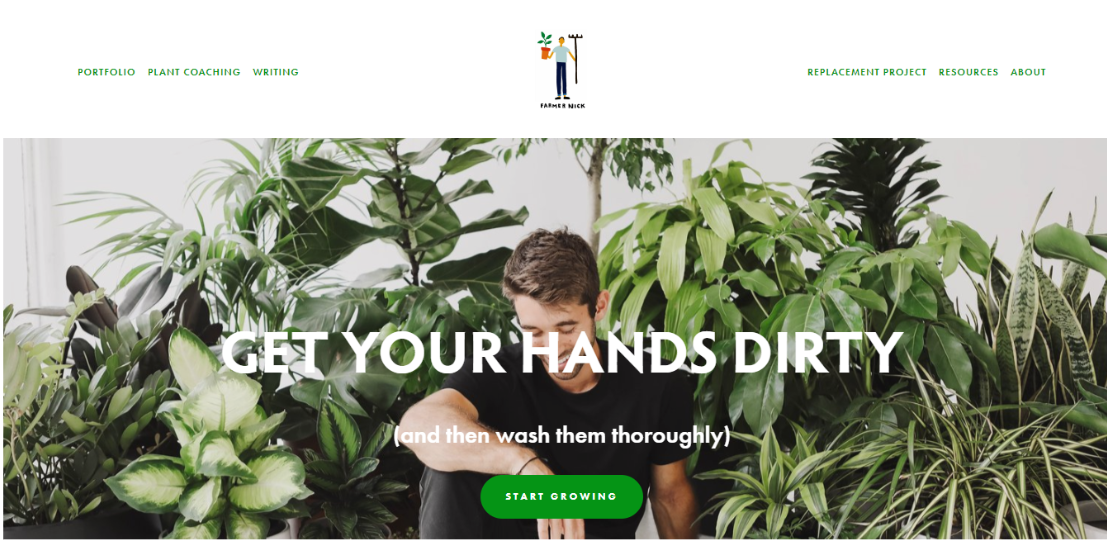 Visit website at: https://farmernick.com/
Farmer Nick'
s clean design and high-quality photos are a reflection of Squarespace's gorgeous templates. Like the visuals, the humorous copy is inviting and makes you want to learn more about caring for plants. Although the site contains a lot of information, it's
very well-organized with clearly outlined links
, so it's easy to get around. The green-coloured fonts, buttons, and drop-down menus are a nice touch, as is the
little farmer logo at the top of the homepage
– it's a great brand development strategy that will make you more recognizable. With Squarespace, you'll be able to
create and download a logo for free
.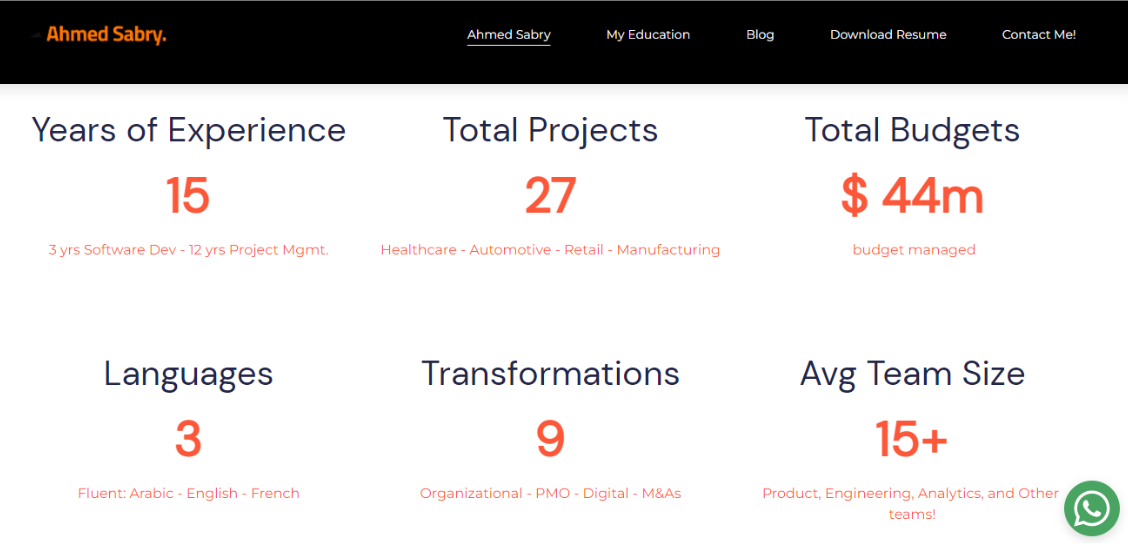 Visit website at: https://ahmedmsabry.com/ Ahmed Sabry's website bears all the hallmarks of
Zyro's signature template design – simple yet compelling.
The homepage displays Sabry's major accomplishments in numbers using an easy-to-digest grid layout. This aligns well with the Testimonials section at the bottom of page, which emphasizes this project manager's credibility. The site's blog also helps to establish Sabry's expertise, allowing him to share tricks of the trade and impress potential clients.
My favorite thing about this website is
that it lets visitors download Sabry's resume
. It's easy to make an inquiry thanks to Zyro's built-in WhatsApp chat function.
Other Notable Personal Website Examples
If you need more ideas on how to build a compelling personal website, these other standout examples are worth checking out.
11. Written by Heather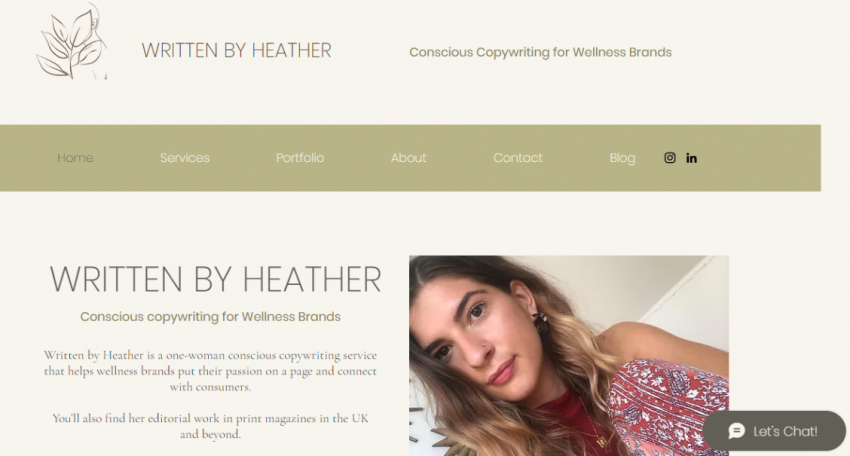 Visit website at: https://www.writtenbyheather.com/ Heather Grant is a copywriter for wellness and eco-aware brands.
I love how well-organized her website is
, especially the Portfolio page, which has separate sections for the different types of services she offers. These sit beneath eye-catching social media icons that prompt you to take action.
12. Gal Rabaniam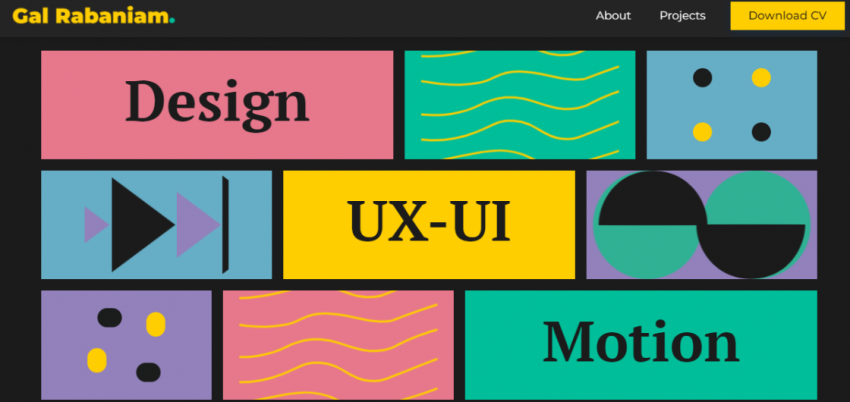 Visit website at: https://www.gal-rabaniam.com/ Gal Rabaniam specializes in UX/UI and motion design, and her website's dynamic homepage reflects her passion. To help keep her versatile projects in focus, the choice of dark background only emphasizes the high quality of every image.
13. Alice Lee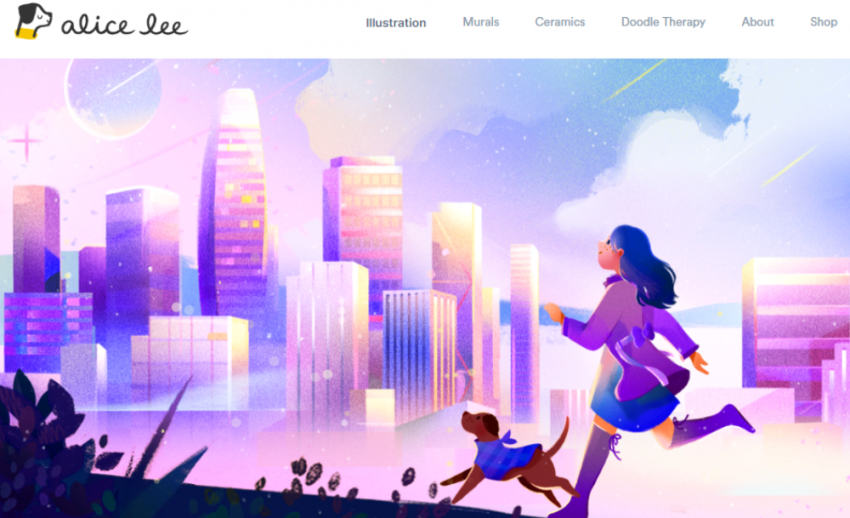 Visit website at: https://www.byalicelee.com/ Alice Lee's website homepage uses
parallax effects to
make her illustrations shine
. Her portfolio of work is cleanly presented and enhanced with effective copy.
14. Sabanna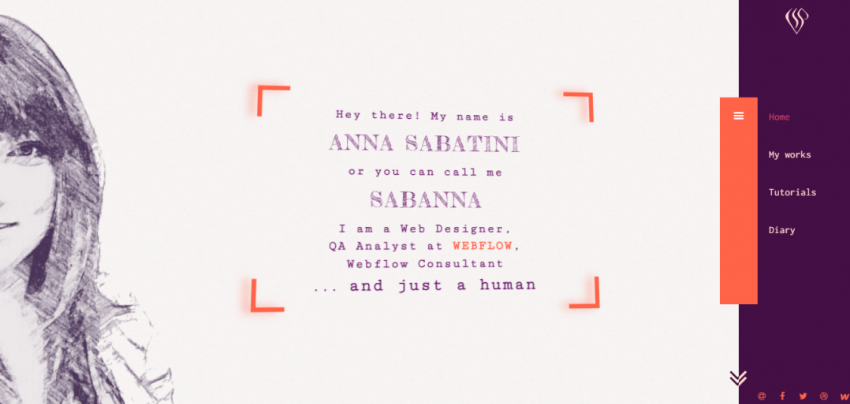 Visit website at: https://www.sabanna.online/ The sketchbook style of Sabanna's website perfectly contrasts with the digital framework of web design. I particularly like
the slick design of the sidebar menu
, which makes navigating the site a breeze.
15. Gary Sheng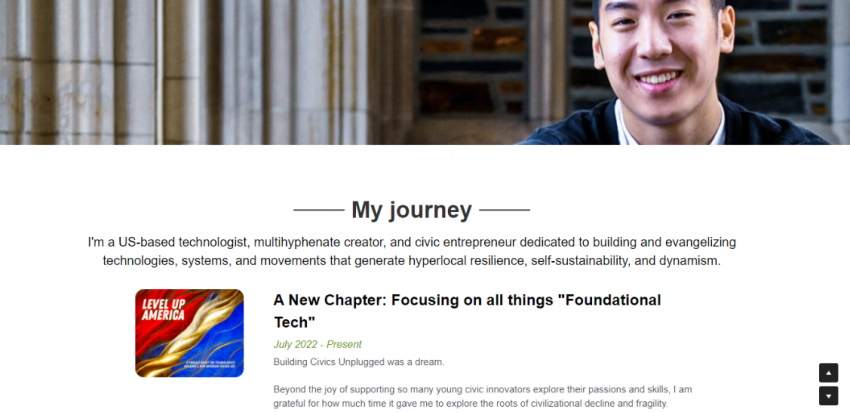 Visit website at: https://www.garysheng.com/ Gary Sheng's website puts a spin on the traditional resume
by including logos and clickable links
to showcase his work and impress potential employers. The site also contains sections about Sheng's work philosophy and the communities he's a part of, helping to give it a more personal touch.
16. Martine Myrup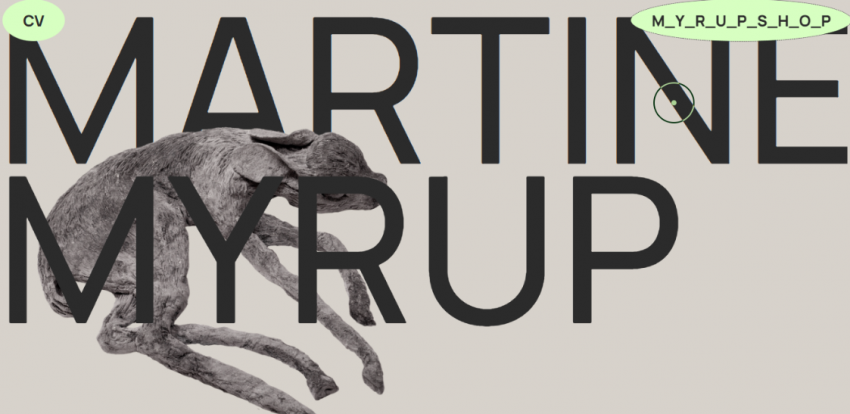 Visit website at: https://www.martinemyrup.com/
Artist Martine Myrup's website
is a mixture of a resume site, a portfolio, and an online store
. The homepage displays previews of her work, and thanks to the sticky green buttons, you can check out Martine's past achievements, then head to her online shop for a treat.
17. Sean Halpin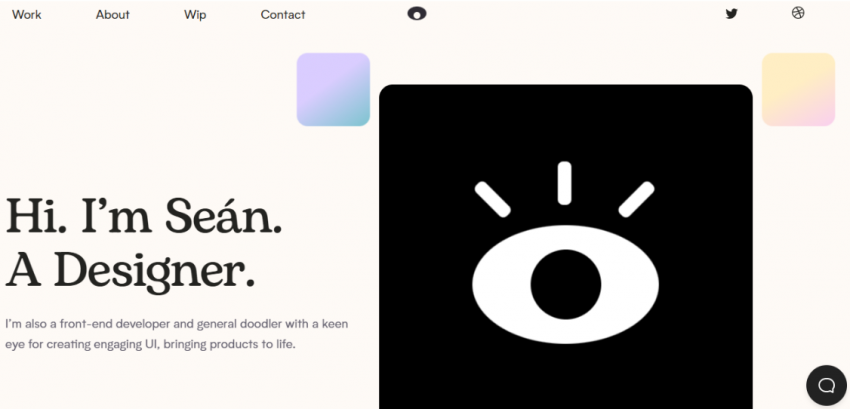 Visit website at: https://www.seanhalpin.design/ Sean Halpin's website has
a
simple yet engaging interface
that reflects his experience as a front-end developer (and a doodler). The homepage invites you to explore his best work with huge, cartoon-like images and subtle hover-over effects that entice you to click. If you like what you see, you can easily contact him via live chat.
18. Vezeri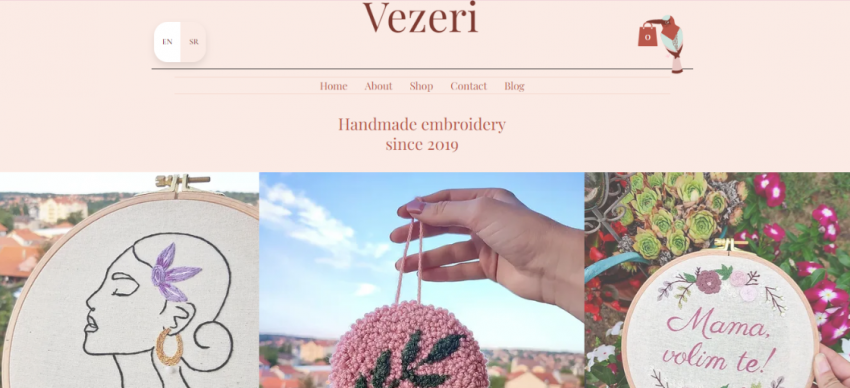 Visit website at: https://jelenanikipavlovic.wixsite.com/vezeri Jelena Niki is the talent behind
Vezeri
, and her website's
clean layout and warm color palette make a great first impression
. The homepage slider uses stunning images to showcase the range of her embroidery skills, putting her products in focus.
19. My Cat Wrote This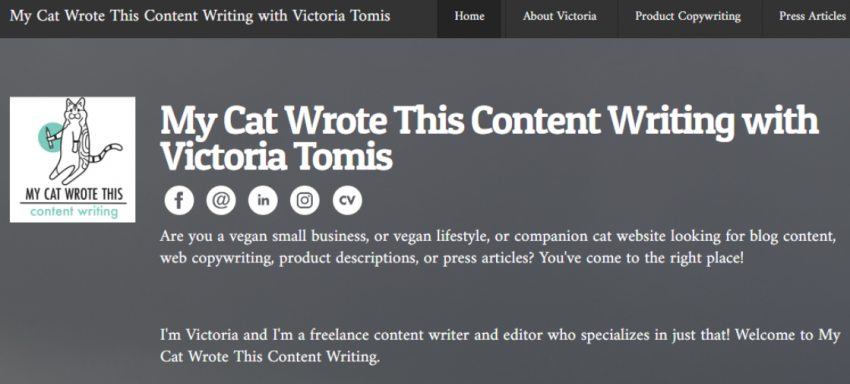 Visit website at: https://victoriatomis.journoportfolio.com/
My Cat Wrote This
is a great example of how to add humor and a personal touch to your content writing portfolio. A standout feature of this website are the
efficient search tools
that make it easy to filter Victoria's publications
.
3 Best Website Builders for Personal Websites
The very best of the websites above were built using either Wix, Squarespace or Zyro. The great thing about these website builders is that they let you create a professional, eye-catching personal website quickly, even if you're a complete beginner.
You'll get attractive, easy-to-customize templates that come with the most useful features already built in
, such as galleries, blogs, booking tools, and more.
Wix has a huge template library (with 800+ designs) and more personal website templates than either Squarespace or Zyro
. Wix also offers the widest range of customization settings, so you can tailor your templates to your heart's content. Despite the design freedom it offers, Wix's drag-and-drop editor is intuitive enough that you never feel lost. You'll also get a ton of useful features, such as blogs, forms, calendars, and chat apps. And if you need more tools, over 300 integrations are available in Wix's app store.
Wix also offers plenty of storage space,
making it a great option for multimedia-rich websites.
Squarespace probably has some of the most modern and polished templates out there
, and you'll find lots of attractive designs under the Personal & CV category. Squarespace's templates are not as customizable as Wix's, but they are automatically mobile-responsive, so they will always look great and load quickly on mobile screens.
Squarespace is a great option if you offer services or plan to sell online
. You'll get extensive e-commerce features, including the ability to offer discounts, sell on social media, accept payments in a variety of ways, and more. Also, Squarespace has a robust scheduling tool that lets clients book appointments directly on your site.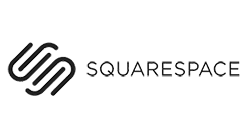 Save up to 30 % on your Squarespace plan today!
Plus get a free domain for one year!
1031 users used this coupon!
Zyro offers a variety of attractive personal website templates categorized into Portfolio, Blog, and Resume sections. You have the flexibility to customize these templates to your heart's content. They come equipped with handy features, including [icons] that provide direct links to your social media profiles, user-friendly newsletter sign-up forms, and the capability to easily incorporate downloadable files. Zyro's plans are some of the most affordable on the market, and its AI tools can be really helpful when building your site. For example,
you
get a
content generator that creates text based on your industry
. AI Image Resizer and Upscaler optimize your photos, while the Heatmap tool predicts how visitors will navigate your site, providing valuable insight for boosting conversions.
Be Creative and Organized when Building a Personal Website
When you're building your own website, consider which colors and pictures best represent you and your work. It's smart to maintain uniformity in your color and font choices to ensure easy recognition. Incorporating logos or icons can boost your memorability, and allowing your personality – particularly any humor – to come through can also make a lasting impression. It's important to keep your site uncluttered and easy to navigate so that visitors can quickly find what they need. Finally, it's essential to choose the right website builder to make all of this possible.
I recommend using Wix to build your personal site
, as it manages to be both feature-rich and user-friendly.
FAQ
What are the 3 types of personal websites?
Typically, personal websites are either blog, portfolio, or resume sites, although they can be a mixture of different styles. Your personal website can also be an online store or a platform for advertising any type of professional service you offer.
What should you put on a website about yourself?
Your own website should contain a short introduction about yourself, your photo, as well as examples of your work and contact information. Depending on what you do, it can also include a portfolio of your work, your blog, a list of services you offer, testimonials, and social media links. You can check out our complete guide to building a website for more detailed information.
How can I create a personal website for free?
Wix has a free plan with a comprehensive list of features for personal websites, such as free apps for online scheduling and galleries. That said, free plans usually limit your access to a website builder's best features. For instance, Squarespace doesn't have a free plan, but its pricing tiers offer great value for money and come with strong social media and e-commerce tools.
Should you create a personal website?
Not only does a personal website increase your online visibility and help you promote your brand or services, it also teaches you how to craft effective content and engage with visitors. Check out our list of the best website builders for 2023 for help with finding the right platform to build your ideal site.