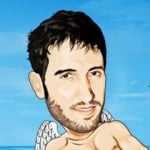 Eliran Ouzan
Eliran Ouzan is the Co. Founder and designer of Website Planet and owns Ouzan Studio, a leading Israel-based web design & development firm.
Widely known for his pixel-perfect and high conversion rate web designs, Eliran has always been a designer at heart, ever since he was a child and first got access to a computer he's been fiddling with MS paint (it was called paintbrush back then) and has since moved on to more professional media such as Photoshop, Illustrator, Flash, AfterEffects, InDesign, 3DMax, mastered them and placed another notch on his belt.
One thing that's remained unchanged though is his passion for the profession.
Apart from design, Eliran also specalizes in SEO, Unique UI & UX (with emphasis on maximizing conversion rate) and has managed the design, development and promotion of over a thousand websites in his career.
Whenever Eliran has some free time and isn't struggling with his sporadically occurring gaming addiction he enjoys long walks on the beach in moonlit nights, a nice glass of pinot noir and perhaps a good book now and then.
He also has a very peculiar habit of walking around with a cape, pretending to be a super hero while making sound effect noises.