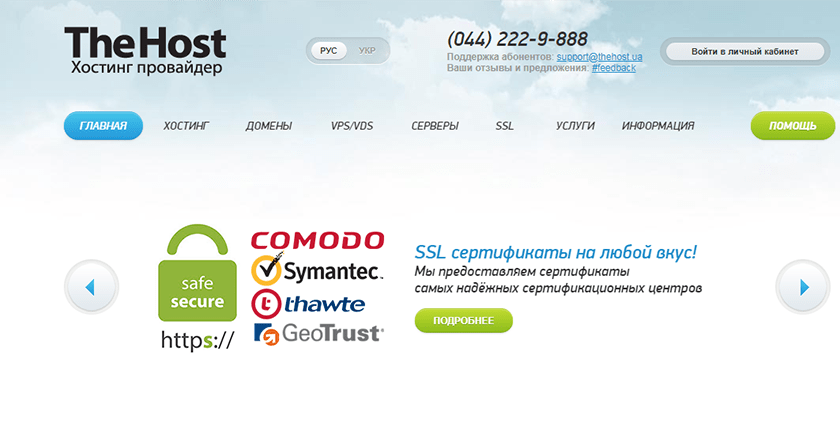 The Host est un service d'hébergement web basé en Ukraine et qui existe depuis 2007. S'il propose une large gamme de services d'hébergement et hébergement partagé, il ne propose pas beaucoup de fonctionnalités avancées. Il ne convient définitivement pas aux débutants, et cible les sites basiques qui n'ont pas besoin de fonctionnalités avancées.
Fonctionnalités et facilité d'utilisation
The Host propose des abonnements visant à fournir des services simples, et c'est tout. Vous trouverez ci-dessous les fonctionnalités de base, présentes dans la plupart des abonnements :
Hébergement de plusieurs sites avec la plupart des abonnements
Sous-domaines illimités
Bande passante illimitée
Accès aux bases de données
Gestion DNS
Versions PHP 5.2-7.2 disponibles
Sauvegardes régulières
Dans l'ensemble, je trouve ses fonctionnalités plutôt moyennes, et il n'y a rien qui les démarque des autres fournisseurs de service. Des fonctions comme AntiDDoS, des IP supplémentaires, et d'autres sont disponibles, mais sont payantes, en plus de l'abonnements.
Ce n'est pas un bon service d'hébergement pour les débutants parce qu'il ne propose aucune forme d'assistant d'installation, ni de créateur sur le système glisser-déposer. Ils peuvent vous installer WordPress ou d'autres CRM, mais il faudra que vous sortiez votre portefeuille. Par contre, si vous savez ce que vous faites, vous n'aurez pas de problème en utilisant leur cPanel. Mais ne vous attendez pas à grand chose au niveau des fonctionnalités avancées.
The Host propose sept niveaux de service, contenant tous les fonctions de bases mentionnées. Les différences sont soulignées dans le tableau suivant :
| | | | | | | | |
| --- | --- | --- | --- | --- | --- | --- | --- |
| | Business Card | My Site | Business | Business #2 | Portal | Portal-25 | Portal-100 |
| Domaines | 1 | 3 | 6 | 10 | 15 | 25 | 50 |
| Stockage | 100 Mo | 500 Mo | 1 Go | 3 Go | 10 Go | 25 Go | 100 Go |
| Bases de données | 1 | 3 | 8 | 15 | 25 | 50 | 100 |
| Boîtes de réception | 2 | 6 | 10 | Illimité | Illimité | Illimité | Illimité |
| Accès SSH | Non | Non | Non | Oui | Oui | Oui | Oui |
Je ne suis pas impressionné du tout par l'espace de stockage présent dans la plupart de ces abonnements, comparé au nombre de domaine qu'on peut héberger. De plus, les certificats SSL ne sont pas gratuits avec ces abonnements. Toutefois, vous obtiendrez 40 % de réduction sur Business #2 ou plus haut.
Tarifs et assistance
Dans l'ensemble, la meilleure option est d'opter pour Business #2 ou plus haut. Ces abonnements ont les meilleures fonctionnalités et peuvent être payés mensuellement. Pour les autres, vous devrez prépayer de six mois à un an de service. Ils proposent certains accès gratuits, mais il faut pour cela les contacter.
The Host propose plusieurs options d'assistance, comme une page Wiki bien conçue et une assistance téléphonique basée en Russie et en Ukraine. Ils ne proposent pas de chat en direct, mais une assistance par e-mail ainsi qu'une page Facebook. Selon cette page Facebook, ils répondent aux messages Messenger en quelques heures.
Résumé
Dans l'ensemble, j'estime que the Host est un service d'hébergement basique, qui fait son boulot pour les sites web simples, mais à qui il manque de nombreuses fonctionnalités avancées pour les utilisateurs avec plus de besoins. Il n'est pas recommandé pour les débutants, vu l'absence d'outils d'assistance de ce service.
Pour
Hébergement de multiple sites avec la plupart des abonnements
Page d'assistance solide
Sous-domaines illimités
Sauvegardes régulières
Contre
Pas d'installation automatique ni de créateur sur le modèle glisser-déposer
De nombreuses fonctions avancées sont des modules