MXHost werd in 2004 opgericht en begon met het eenvoudige idee om toegankelijke en toch aanpasbare premium webhostingpakketten te ontwerpen voor bedrijven van elke omvang. Dit idee heeft zijn vruchten afgeworpen: hun gevarieerde portfolio omvat nu websites voor persbureaus, softwareontwikkelaars, reisbureaus, online publicaties en e-commercebedrijven. MXHost bedient een klantenbestand van meer dan 27.000, inclusief 570 reseller hostingbedrijven. Het Roemeense webhostingbedrijf bedient klanten alleen in hun Roemeens.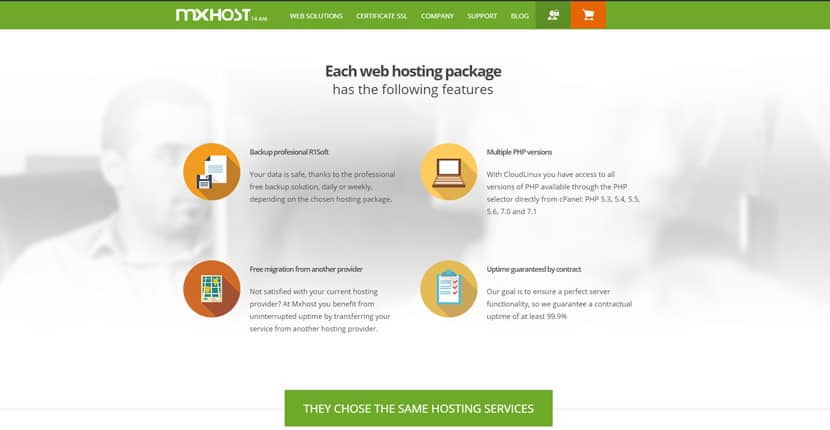 Functies en gebruiksgemak
MXHost biedt shared SSD-hosting, VPS, voor WordPress geoptimaliseerde hosting, reseller-pakketten en dedicated servers.
Hun premium shared SSD-hostingpakketten zijn vooral populair bij hun klanten, aangezien dit niet geen doorsnee servers zijn: ze beschikken over verschillende prestatie bevorderende technologieën, zoals de LiteSpeed Web Server, CloudLinux voor bronnen- en accountisolatie en een dedicated IP-adres (voor zakelijke SSD-pakketten of beter). Alle shared hosting-accounts hebben een gegarandeerde uptime van 99,9% en worden geleverd met een gratis migratieservice voor websites.
Je krijgt ook verschillende functies met toegevoegde waarde, zoals:
Dagelijkse R1Soft-back-ups
Spamfilters
Hosting voor meerdere domeinen (vijf voor het instappakket, onbeperkt voor anderen)
Onbeperkte bandbreedte met zakelijk SSD-pakket of beter
Gratis .ro- of .eu-domeinregistratie bij minimaal jaarcontract
Wat ik echter niet leuk aan hen vind, is dat alleen hun twee hoogste shared hosting-pakketten SSL-certificaten voor je domeinen bevatten. Omdat Google aankondigde dat alle websites zonder HTTPS- en SSL-bescherming vanaf medio 2018 als 'niet veilig' zouden worden gemarkeerd, was dit nogal teleurstellend – en lijkt dit een vergissing te zijn, gezien hun visie om 'toegankelijke' hostingpakketten te maken.
Een ander aspect dat ik niet leuk vind aan MXHost is dat het erop lijkt dat als je een domeinnaam registreert, deze onder hun bedrijf wordt vermeld in plaats van onder je eigen naam. Dit resulteert in een knik in het proces als je ooit wilt migreren of als je je domein ergens anders wilt registreren. Hoewel het geen onmogelijke taak is, kan dit voor beginners een uitermate interessante uitdaging zijn.
Ook moet worden opgemerkt dat, anders dan hun WordPress-geoptimaliseerde hostingpakketten, die worden geleverd met WordPress-specifieke ondersteuning en tools, MXHost geen bijzonder beginnersvriendelijke webhost is. Ze hebben geen app-installatieprogramma's met één muisklik en hun pakketten bevatten geen website-builder.
Prijzen en ondersteuning
MXHost is zeker niet de goedkoopste webhost op de markt, maar als je er rekening mee houdt dat hun instappakket meerdere domeinen omvat, zijn ze niet slecht. Het feit dat ze geen SSL-certificaten opnemen in hun persoonlijke of zakelijke SSD shared hostingpakketten was een teleurstelling, omdat dit extra kosten en ongemak met zich meebrengt voor beginners in de wereld van webhosting. Aan de andere kant was de gratis registratie van de domeinnaam bij hun instappakket een leuk extraatje, hoewel het wordt geleverd met het eerder vermelde voorbehoud.
Helaas biedt MXHost geen gratis proefversies en ook geen geld-terug-garantie – dus er is geen manier om de service echt uit te proberen, voordat je je een verbintenis aangaat voor minimaal één jaar.
MXHost heeft sinds de oprichting in 2004 een degelijke staat van dienst op het gebied van klantenservice opgebouwd, zij het met enkele haperingen onderweg. Ze waren responsief, zelfs als ik op vreemde uren contact met hen opnam, wat een goed teken is voor internationale klanten.
Ze verwijzen je doorgaans standaard naar hun kennisdatabase, omdat hier de meest voorkomende vragen worden behandeld, maar als je problemen hiermee onvoldoende zijn opgelost, kun je altijd een ondersteuningsticket indienen of hen bellen via hun Roemeense ondersteuningshotline (deze laatste is alleen beschikbaar tijdens uitgebreide kantooruren van maandag tot en met vrijdag). Ik vond het vooral leuk dat ze je ook de optie voor ondersteuning op afstand bieden, waarmee een medewerker een grondige, stapsgewijze begeleiding kan bieden met behulp van TeamViewer.
Samenvatting
MXHost is een bovengemiddelde webhost voor intermediaire gebruikers en klanten zullen genieten van de functies met toegevoegde waarde van hun zakelijke SSD-pakketten of beter. Hun shared hosting-pakketten op een lager niveau zullen echter beperkend zijn voor bedrijven of individuen, die hun online- aanwezigheid willen laten groeien.
Voordelen:
Dedicated IP bij zakelijke SSD-pakketten of beter
Prestatie bevorderende technologieën
Responsieve klantenondersteuning, zelfs op vreemde uren
De mogelijkheid voor ondersteuning op afstand via TeamViewer
Nadelen:
Niet-beginnersvriendelijk
Geen gratis proefversies of geld-terug-garanties