Infomaniak is de grootste hostingprovider in Zwitserland en heeft meer dan een kwart miljoen websites op zijn servers. Het bedrijf bedient vooral voor high-end klanten, zoals blijkt uit het feit dat 70% van de klanten webbureaus zijn.
Functies en gebruiksgemak
Als je je hostingaccount en je eerste WordPress-website instelt, kun je gebruikmaken van meer dan 130 gratis premium-thema's. Naast WordPress, kun je eenvoudig meer dan 120 andere CMS'en, waaronder Joomla en Drupal, installeren, beheren, back-uppen en beveiligen.Het maken van een showcase-website, een portfolio, een forum of een e-commerce-site is vrij eenvoudig.
Bij je account krijg je onbeperkte opslag voor e-mail en bijlagen. De webmail-software is in Zwitserland gemaakt en maakt zelfs het synchroniseren en delen van belangrijke tools, zoals agenda en contacten mogelijk.
De SSD-opslag, die door Infomaniak wordt aangeboden, zorgt voor bijna drie keer hogere paginalaadsnelheden en is vooral gunstig voor dynamische websites en andere webtoepassingen, zoals Joomla, Drupal of WordPress. Hun back-ups worden opgeslagen op een andere server, zodat de veiligheid van al je online-data wordt verhoogd.
Andere opvallende functies zijn:
SSH-toegang
Meerdere PHP-versies
Cron management
Multisite-beheer
Onbeperkte FTP-accounts
Trafficstatistieken en -rapportages
Dankzij het groenste datacenter in Zwitserland zorgt Infomaniak er bovendien voor dat de hosting milieuvriendelijk is. De energie, die voor het doel wordt gebruikt, is 100% groen!
Prijzen en ondersteuning
Met Infomaniak kun je je eigen pakket samenstellen. Het basispakket bevat 100 GB-schijfruimte, 25 e-mailaccounts, 20 domeinen en onbeperkte databases. Je kunt dit echter aanpassen en de schijfruimte, e-mailaccounts en een aantal websites naar wens wijzigen. Als je deze waarden wijzigt, wordt de prijswijziging in realtime bijgewerkt, zodat je exact weet hoeveel je voor de exacte vereisten moet betalen!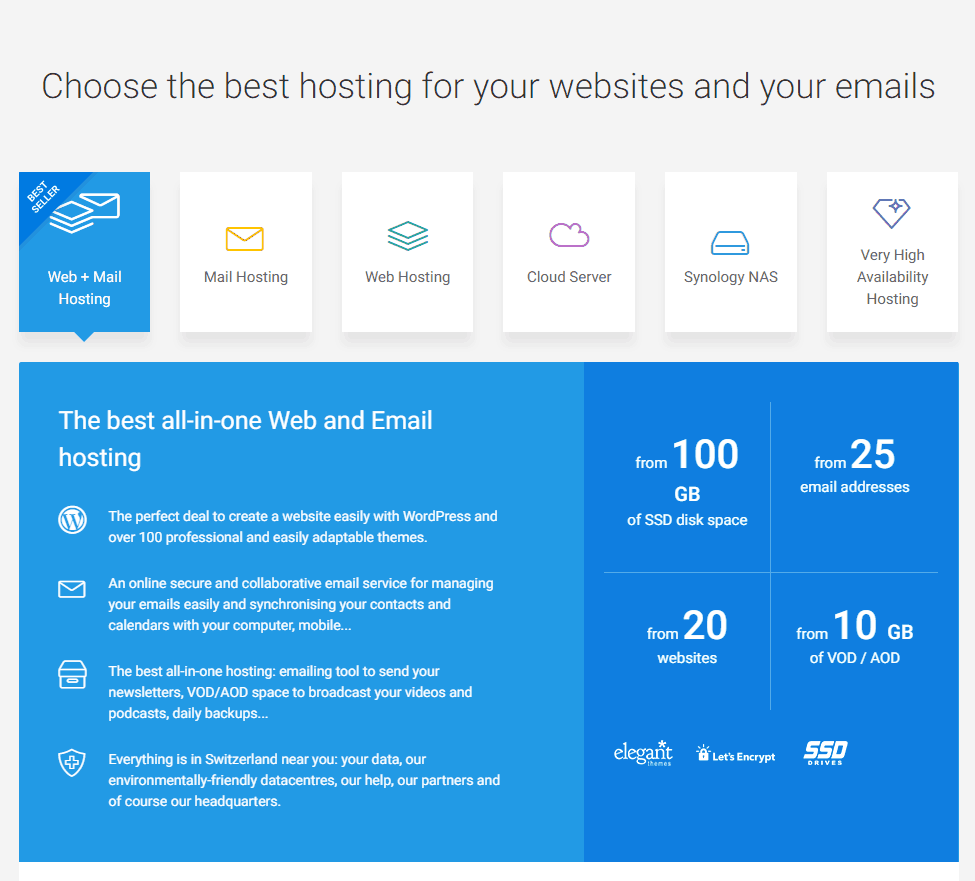 De kennisbank van Infomaniak bevat meer dan 1000 artikelen met informatie over alle aangeboden producten en diensten. Je kunt ook contact met hen opnemen via het contactformulier door de juiste categorie te selecteren van het probleem, waarmee je geconfronteerd wordt. Helaas kon ik geen live chat of een telefonisch contact op hun website vinden.
Samenvatting
Infomaniak is een milieuvriendelijke oplossing voor de hostingvereisten van een typisch webbureau. Het bedrijf biedt aanpasbare pakketten, zodat je alleen betaalt voor de specificaties die je gebruikt. Zelfs voor particulieren is de dienst qua prijs vergelijkbaar met andere webhostingbedrijven, maar de functies zijn nog steeds behoorlijk indrukwekkend.
Voordelen:
Een enkel pakket dat je kunt aanpassen aan jouw specifieke behoeften
Beheer van meer dan 100 websites met één hostingaccount
Perfect voor individuen met meerdere kleine websites
Nadelen: