AccuWeb Hosting, dat is opgericht in 2003 in New Jersey, biedt niet alleen een breed scala aan hosting diensten aan, maar is ook door Microsoft goedgekeurd als een WebMatrix Compatible Hosting bedrijf, én is een van de aanbevolen leveranciers voor verschillende ASP.NET componenten. Computer- en systeemengineering studenten kunnen een gratis, volledig uitgerust hostingpakket krijgen.
Eigenschappen en Gebruiksgemak
AccuWeb Hosting's VPS plannen zijn zeer configureerbaar, wat verklaart waarom ze een populaire keuze zijn voor mensen die VPS hosting zoeken. Hun Windows VPS-hostingpakketten zijn bijzonder aantrekkelijk, omdat er geen extra kosten zijn als je kiest voor een Windows-licentie in plaats van een Linux-installatie.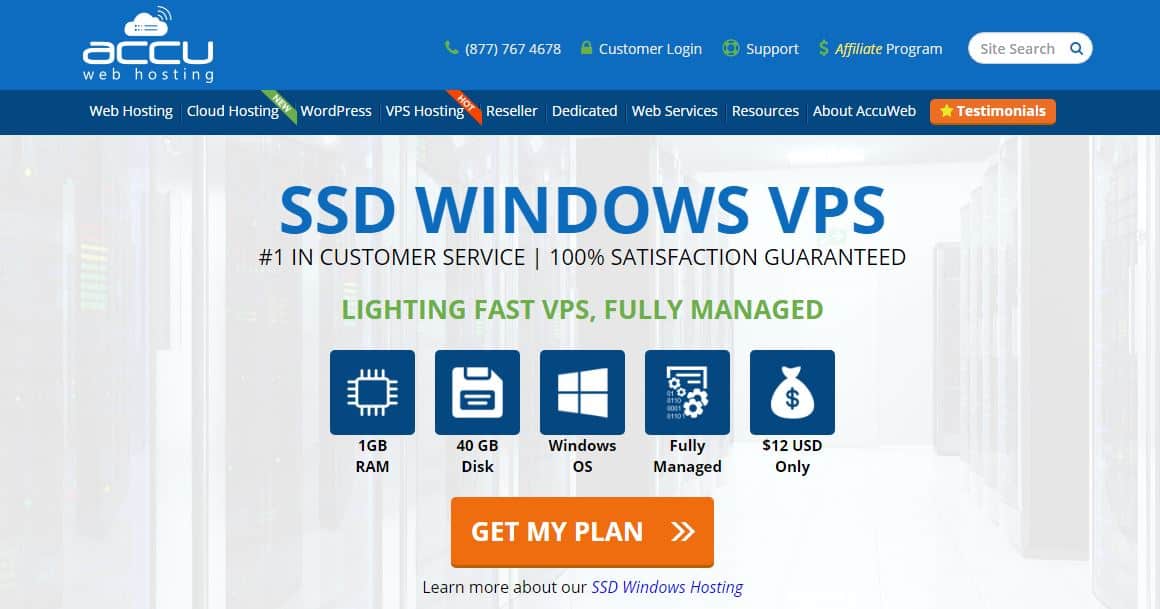 Hun gedeelde hostingpakketten zijn ook niet verkeerd. Ze hebben ervoor gekozen om hun pakketten te onderscheiden door bij elk pakket een royale hoeveelheid pure SSD-opslag aan te bieden. Bovendien zijn ze voorzien van SSL-certificering, gratis dagelijkse back-ups en de LiteSpeedWebServer om snelle pagina laadsnelheden te garanderen.
Account management is eenvoudig met de meegeleverde cPanel installatie (SolidCP of Plesk voor VPS hosting pakketten). Je kunt meer dan 300 apps in één klik installeren met behulp van Softaculous, en je kunt zelfs hun team de apps direct na aankoop van een hostingpakket voor je laten installeren.
Hun uptime beoordeling is uitstekend, met een 99,9% uptime garantie.
Prijzen en Ondersteuning
AccuWeb Hosting's pakketten variëren behoorlijk:
Gedeelde SSD-hosting
Cloud hosting
VPS hosting
Dedicated server hosting
Reseller hosting
WordPress hosting
Kortom, ze bieden vrijwel elk hostingpakket dat je nodig zou kunnen hebben, en hun pakketten kunnen worden aangepast aan de fase waarin je bedrijf zich op het moment bevindt.
AccuWeb belooft een probleemloze annulering en er is een 'niet-goed-geld-terug'-garantie (minus de licentiekosten van het Plesk-controlepaneel). Je moet echter nog steeds een support ticket indienen als je je hostingpakket wilt upgraden of downgraden, omdat er geen optie is om dit rechtstreeks vanuit je beheerportaal te doen. Houd er rekening mee dat Premium Windows VPS-pakketten niet kunnen worden geüpgraded of gedowngraded vanwege de manier waarop de clusters zijn georganiseerd en HyperV VPS-pakketten niet kunnen worden gedowngraded.
Ze bieden interessant genoeg gratis hosting voor computer- en systeemtechniek studenten, hoewel er een paar criteria zijn waaraan moet worden voldaan voordat studenten in aanmerking komen. Het gratis studenten hostingpakket is volledig uitgerust en wordt zelfs geleverd met 25 e-mailaccounts.
AccuWeb Hosting biedt 24 uur per dag ondersteuning via live chat, e-mail, telefoon, een uitgebreide kennisbank en zelfs een blog met korte artikelen over de verschillende technische elementen van hosting. Toen ik hun live chat testte, werd ik binnen 30 seconden verbonden met een klantenservicemedewerker. Hij was persoonlijk en beleefd, en beantwoordde al mijn technische vragen met gemak.
Samenvatting
Het is geen verrassing dat AccuWeb Hosting een aanbevolen keuze is voor veel bedrijven: hun betaalbare, schaalbare plannen zitten vol met functies en ze hebben hun best gedaan om een probleemloze ervaring voor hun klanten te creëren.
Voordelen:
Uitgebreid assortiment schaalbare, aanpasbare pakketten
Ondersteunend personeel dat 24 uur per dag beschikbaar is
Uitstekende server uptime
Uitstekende Windows VPS hostingpakketten
Nadelen:
De verscheidenheid aan plannen kan beginners overweldigen
Automatisch WordPress-beheer kan vervelend zijn