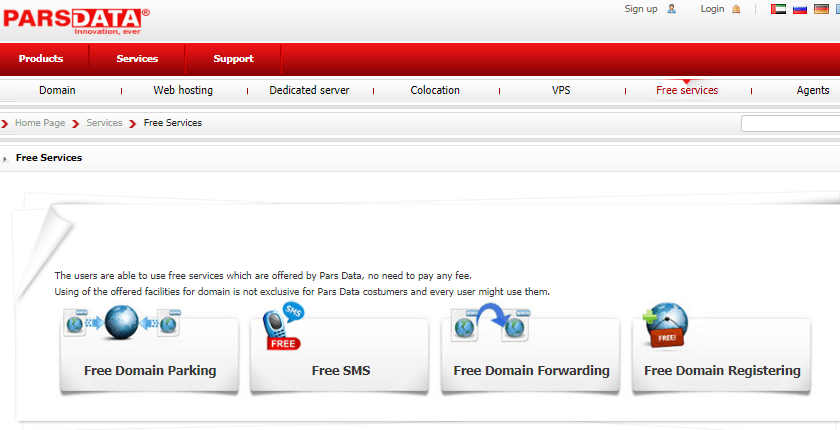 ParsData has been registering domains and providing web hosting services, dedicated servers, and colocation hosting to customers in Iran and Canada since 2001. In addition to hosting websites, ParsData also provides software development solutions and data center services to customers in Iran and Persia. The website is available in Arabic, French, German, Russian, and English.
Features and Ease of Use
When you sign up for their Linux-based or Windows-based hosting, you'll get access to the following features and more:
Free domain registration
MSSQL and MySQL databases
Web-based file manager
Data backups and restore
24-hour server monitoring
SSL certificates
DDoS protection
Support for Javascript, Ajax, Xhtml, Php, .Net
24-hour technical support
No customer in their right mind would want to host their website on slow or unreliable servers. ParsData operates load-balanced and reliable server infrastructure with redundant hardware and network connections. Local servers are in Tehran while others are in Canada.
Customers have the freedom to choose whether they'd like to host their websites on local servers or international ones. Servers, ports, and protocol are monitored round the clock to ensure they function properly.
Security-wise, there are many positives too. Besides securing its servers with DDoS protection, ParsData also provides customers with reliable software and hardware security tools including a firewall to bolster their security level. There are also onsite technicians and security experts who monitor and deal with security issues before they cascade to the website level.
Most of us love getting free things, so we tend to gravitate towards hosting providers who offer free hosting or free marketing credits. ParsData isn't far off in this regard. When you sign up with them, you get free domain registration, free domain parking, and free domain forwarding for one year in addition to free SMS over the internet, something which many hosts don't provide to customers.
Pricing and Support
The Iranian Rial has been on a free fall for some time now and that's reflected in ParsData's prices. Despite this fact, hosting prices are well within the market range when you convert them into dollars. The minimum ordering period is three months, though they have monthly and annual plans. All of their hosting packages are backed with a one-week warranty, which is not great, considering many hosting services offer at least a one-month trial.
If we consider the testimonials on the website, it seems that ParsData has a friendly group of employees who are dedicated to assisting customers in maximizing their hosting accounts.
Their response time is average and they're accessible via online chat, email, ticketing, and telephone. In addition, they have a good support center comprised of help guides, an FAQ section, and presentation articles, which may come in handy when troubleshooting hosting account issues.