Webtropia is gevestigd in Duitsland en biedt sinds 2001 zijn diensten aan. Ze bieden state-of-the-art apparatuur en snelle servers aan klanten over de hele wereld. Ze hebben samengewerkt met een aantal grote namen in de branche, waaronder Hewlett Packard, Intel, Kingston en TeliaSonera.
Functies en gebruiksgemak
Webtropia biedt enkele van de goedkoopste IP-adressen in de branche. De IP-adressenpakketten zijn schaalbaar, dus als je eisen met de tijd veranderen, kun je altijd om meer IP-adressen vragen. De servers hebben een jaarlijkse gemiddelde uptime van 99,95%. Dit wordt bereikt via de Service Level Agreement (SLA), waaronder alle dedicated servers vallen.
Het beheren en monitoren van de servers is vrij eenvoudig. Je hebt eenvoudige toegang tot de data op de servers en je kunt deze op elk gewenst moment evalueren. In het geval van een storing, kun je ervoor kiezen om per e-mail of sms te worden geïnformeerd. Het centrale klantenbeheer geeft je de mogelijkheid om domeinen en DNS-entries te beheren en zelfs de server opnieuw te installeren of opnieuw op te starten.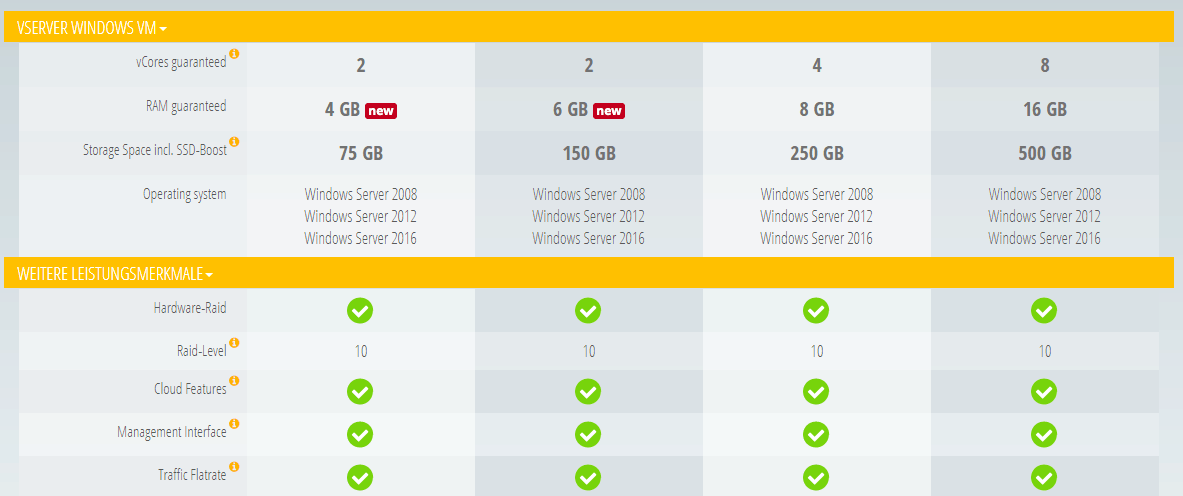 De pakketten bevatten SSD-hard drives om ervoor te zorgen dat je betere prestaties krijgt vergeleken met de SATA hard drives. Als je applicaties snelle toegang tot data vereisen of dynamische content hebben, heb je SSD-hard drives nodig.
Prijzen en ondersteuning
De dedicated serverpakketten van Webtropia bieden zowel Intel- als AMD-CPU's. Er zijn in totaal drie pakketten: Ryzen Pro, Kaby Lake en Kaby Lake Neon. Het Ryzen Pro-pakket bestaat uit een AMD Ryzen Pro 1700x CPU met 19″ MSI Server, 3,4 GHz prestaties per kern en 32GB RAM. Het Kaby Lake-pakket bestaat uit een Intel i7-7700k-CPU met 19" Msi-server, 4,2 GHz-prestaties per kern en 32 GB RAM. In het Kaby Lake Neon-pakket is het RAM hetzelfde, maar de prestaties per kern veranderen naar 3,8 GHz met een 19″ Supermicro Server en een Intel Xeon E3-1275v6 CPU. In vergelijking met andere serviceproviders zijn deze pakketten zo goedkoop als men kan hopen in deze branche.
Webtropia biedt klantenondersteuning zowel in het Duits als in het Engels. Hun ondersteuningsstructuur is anders dan gewoonlijk wordt verwacht van hostingproviders. Ze bieden een gratis basisondersteuning via telefoon en e-mail. Als dat niet voldoende is, kun je kiezen uit drie verschillende pakketten op basis van je exacte wensen. Alle betaalde ondersteuningspakketten bieden 24/7 service.
Samenvatting
Webtropia biedt dedicated servers tegen extreem lage prijzen, terwijl de hoogste kwaliteit van de dienstverlening wordt gegarandeerd, zoals blijkt uit hun samenwerking met toonaangevende bedrijven en het gebruik van moderne apparatuur in hun infrastructuur.
Voordelen:
Betaalbare pakketten
Gold level SLA
Efficiënt beheer en monitoring
Ondersteuning in het Engels en Duits
Nadelen:
24/7 ondersteuning alleen beschikbaar voor betalende klanten