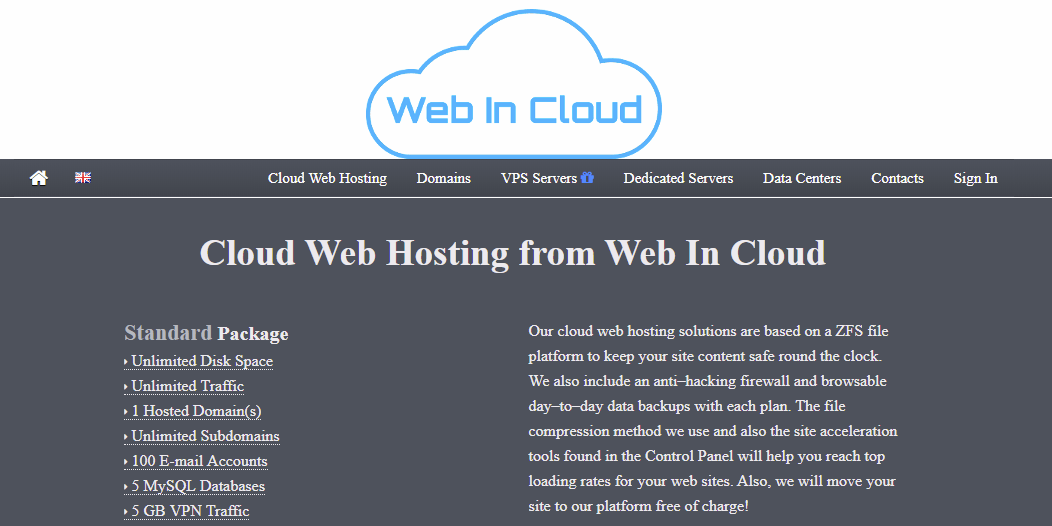 Web In Cloud is a web hosting company that's based in the United Kingdom. It offers web hosting, domain registration, Virtual Private Servers (VPS), and dedicated servers. Its website is available in English, French, Spanish, Portugues, and Chinese.
The company's servers are located in the United States, UK, Australia, Bulgaria, Finland.
Features and Ease of Use
Web In Cloud offers web hosting that is based on a ZFS file system that allows disks to be added and removed dynamically without you recording downtime. It also allows backups to be created from instantaneous snapshots.
Shared hosting customers enjoy the following:
99.9% uptime
Free domain registration on the top plan
Four or unlimited add-on domains
Daily automated backups
Unlimited disk space
This company uses cloud server technology which is not likely to be affected by service disruptions and downtime due to the fact that different aspects of your websites are taken care of by different servers for better load balancing. For example, emails, DNS, and databases are in three different servers.
Web In Cloud provides an anti-hacking firewall that filters all of the incoming traffic to your website and stops all dangerous incoming queries.
It uses Memcached, Varnish cache, and file compression to accelerate the performance and load time of websites on its servers. Not only will your load time be faster, but your Google PageSpeed score is also accelerated as well. Fast loading websites can also reduce bounce time, thus improving your SEO results.
Web In Cloud doesn't offer cPanel. Instead, you get the Hepsia Control Panel. In many ways, the management tool is easier to use and helps you get through processes fast. For example, instead of using an FTP client, you can safely upload files by simply dragging them into the file manager opened on your browser.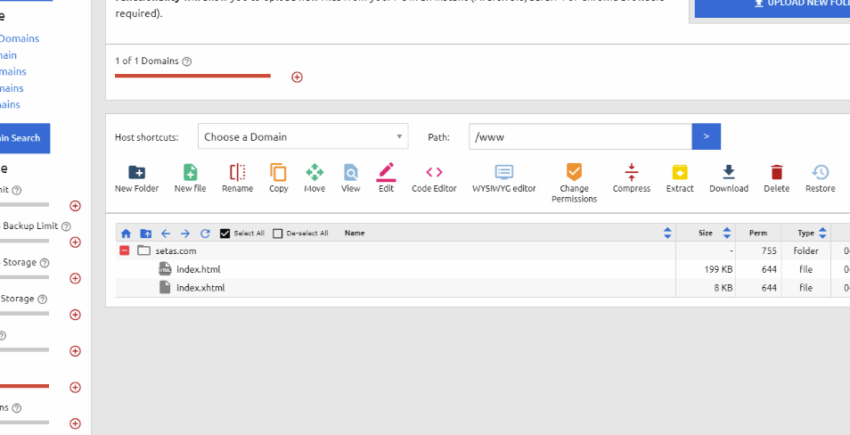 Hepsia comes with a one-click installer for more than 40 applications, including WordPress. You can use its website builder and free themes instead to design your website if that's what you prefer. It also has a PHP framework installer.
Pricing and Support
Web In cloud offers four shared hosting plans with different levels of features. For example, you get SSH access with the top plan (Enterprise) but not with any other plan. For the features on offer, its prices are low cost.
It has no setup fees or hidden charges of any kind. Although it advertises monthly prices, I only saw an annual option during checkout. Fortunately, Web In Cloud offers a free 30-day trial for all its shared hosting plans. It also provides a 30-day money-back guarantee after payment.
Its VPS plans are low cost, as well. If you're lucky, you might sign up when there are special offers available – which is quite frequently – and you'll be able to get VPS for up to 90% less than its usual price. The dedicated servers are reasonably priced.
Web In Cloud provides a one-hour response guarantee to support tickets, and its support agents work 24/7. You can also contact the company through its numerous phone numbers or email. Otherwise, you can check through the knowledge base for tutorials to fix whatever it is that's broken.
To my dismay, I sent an email to customer support but never received a reply.