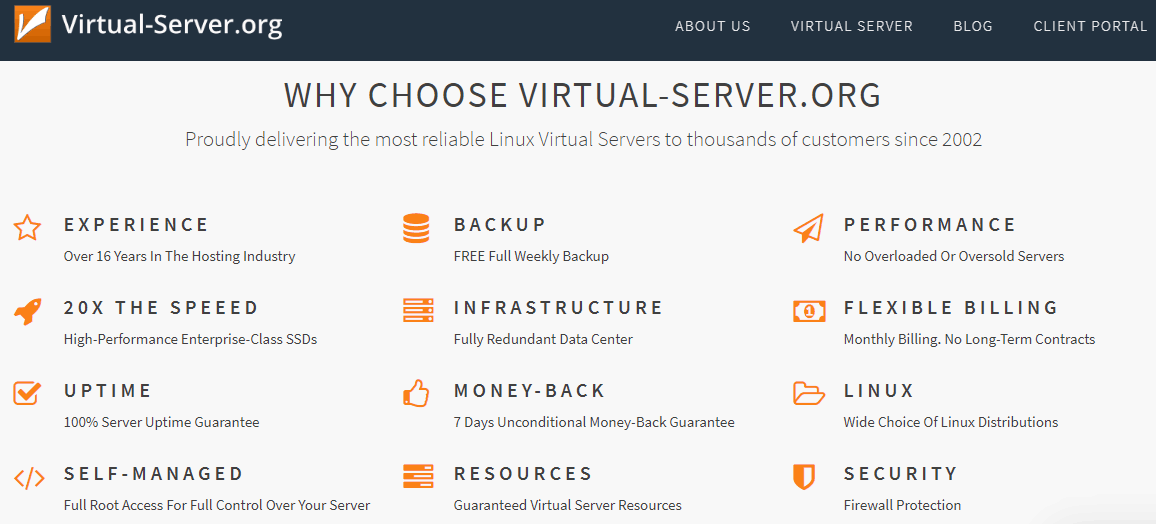 Virtual-Server.org is a small hosting company that simply isn't a match for big brands like
Hostinger
. The bigger hosting companies simply offer a better price for similar configuration.
The Virtual-Server.org website and service is provided by Rose Web Services LLC, which will turn out to be more important than it at first appears.
This company has provided thousands of customers with cheap but super-fast web hosting for 17 years, and it has recently introduced SSD virtual servers. Protected servers are housed in a fully-redundant data center in St Louis, Missouri, and customers get to choose from many Linux distributions with root access.
The Virtual-Server.org website is in English.
Features and Ease of Use
As its name suggests, Virtual-Server.org provides a pure VPS service, so you won't find shared hosting or server rentals here.  What you will find are the following features:
Easy-to-use cPanel/WHM control panel
Native SSD storage
Free DNS management service
Gigabit network
WordPress compatibility
Let's Encrypt SSL
Virtual-Server.org offers users a wide choice of Linux distributions including Ubuntu, Debian, Arch Linux, and CentOS, so you can install the one you're comfortable with. Provisioning is instant, and you don't need to worry about losing key data because you get full weekly backups for free.
All virtual servers run on branded hardware with (typically) Dual Quad Core Intel Xeon CPUs and up to 64 GB DDR3 RAM. With write speeds of 450 to 500 MB/s, the SSD-based virtual servers are up to 20 times faster than standard virtual servers that use mechanical disks.
Virtual-Server.org doesn't overload or oversell its servers, so you can be 100% confident that you'll get a guaranteed resource allocation. The 99.9% network uptime SLA pays out 10% of your monthly fee for every 60 minutes of downtime that falls below the threshold.
Pricing and Support
As part of its 13th-anniversary celebrations, at the time of writing, Virtual-Server.org is giving customers a 50% discount across all its monthly plans. If that's not value for money, I don't know what is. Servers are provisioned instantly, and resource allocations remain the same. You can pay by PayPal or using any major credit card, and you can cancel with a full refund within seven days.
It's easy to scale up at any time from the client area. So if a low-end plan doesn't please you, you can upgrade to a high-end plan with more cores, RAM, transfer bandwidth, and up to 640 GB of storage space.
Since I didn't initially see that provisioning is instant, I initiated a live chat to ask about deployment times. The live chat agent told me that, in fact, Virtuals-Server.org's VPS plans are being discontinued, to be sold instead via its parent company Rose Web Services LLC. This is borne out by the fact that none of the "buy now" buttons actually lets you select a server: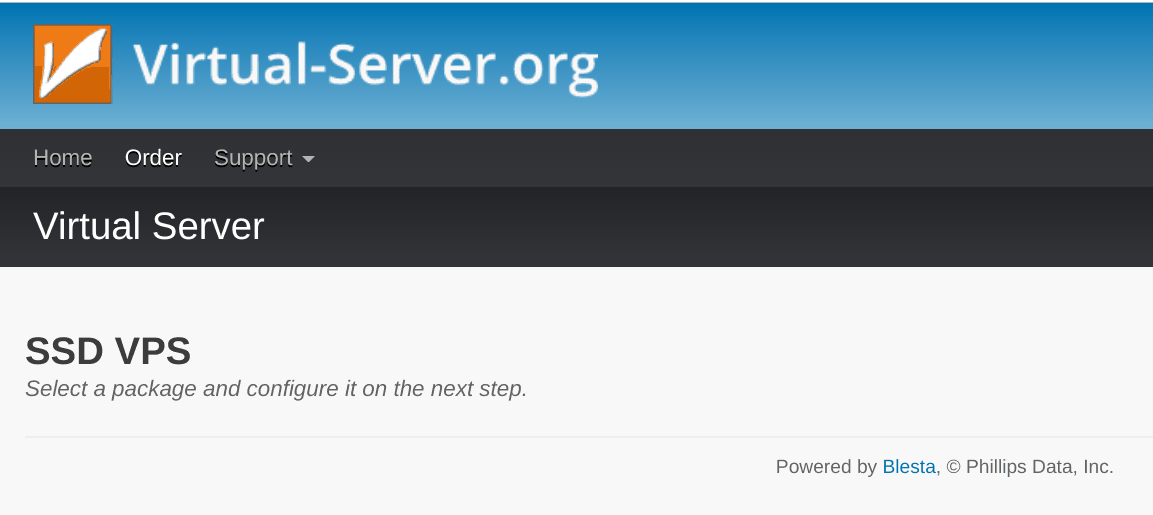 Although Virtual-Server.org's knowledge base is empty, its blog contains plenty of how-to articles.