Flexential was created by the merger of Peak 10 with ViaWest in 2017 after more than 20 years of experience in the same industry between both companies. Flexential has 41 datacenters throughout Nothern America in both the U.S. and Canada and it's safe to say they cover every inch of the region. They serve a number of industries and provide professional services that range from penetration testing to disaster recovery to IT Project Management.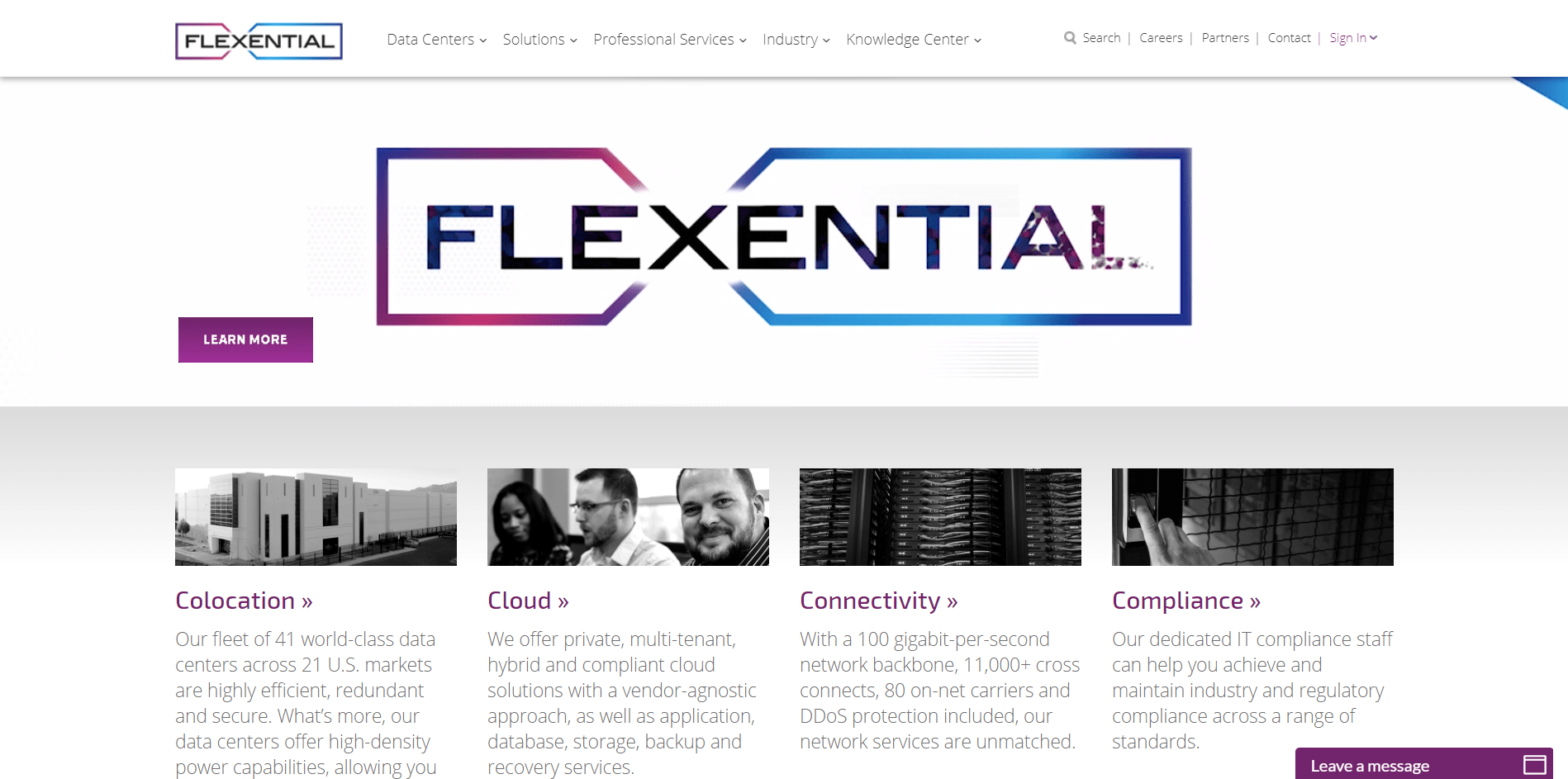 Features and Ease of Use
As Flexential offers premium IT infrastructure and server hosting for large-scale corporations, they don't really offer any web hosting specific services or features. Instead, the following are the ones their client base will be more interested in:
Connectivity and Colocation: With 41 data centers in North America, you can make your servers highly redundant and secure your data by spreading them across multiple centers. It will also allow you to deliver services and content fast anywhere.
Professional services: You won't need to go anywhere else for your business server support services. They offer everything from threat handling and prevention to architecture and planning services to risk assessment and disaster recovery.
Managed server infrastructure: You can opt for fully managed solutions for your business so that it's monitored 24/7 and you have less to worry about.
Highly scalable: It doesn't matter how large your business is, Flexential has the physical infrastructure and capability to keep scaling with your increasing requirements.
Flexential's products and services are in line with the needs of their core market, which is enterprise-level businesses with massive infrastructure requirements. As such, it's not meant for individuals without an IT team in place that can install their software and manage their systems. The professional services offered by Flexential means that you don't have to rely on yourself for everything, but it's still an enterprise solution.
Pricing and Support
There is no pricing available on the Flexential website as all their plans are based on consultation with their future customers. You will provide them with information to set up the exact solution you require and be billed accordingly. That also means that how and when you can cancel will depend on your agreement with Flexential although they require that you submit a request for cancellation 10 days before the billing cycle to avoid being billed again.
They offer the following solutions:
Managed colocation servers: Spread your servers across some of their 41 centers for increased performance, availability, and redundancy.
Connectivity: This is for businesses that want to run some of their infrastructures partly in the cloud with a hybrid cloud solution.
Cloud: Fully-fledged cloud servers for businesses who want to run infrastructure or host in the cloud.
FlexAnywhere: This is an infrastructure service that allows you to connect all your information endpoints through a single solution and is like all the above rolled into one.
Flexential provides always-on-call support via ticket, email, and phone. Their support staff consists of both technical engineers physically present at their data centers as well as other support staff. As their customers have critical availability requirements, they are quick to respond and highly capable.
Summary
If inter-connectivity across the North American continent, colocation, and scalability for your IT cloud infrastructure is a huge concern, then Flexential just might have what you are looking for. However, if you are looking for simple web, cloud, or VPS hosting, you're better off looking elsewhere.
Pros:
41 Data centers across North America
Highly scalable cloud infrastructure
Colocated, interconnected, and managed servers across the U.S.
Compliant with all the latest standards
Cons:
No standard hosting solutions or products
For enterprise-level businesses only