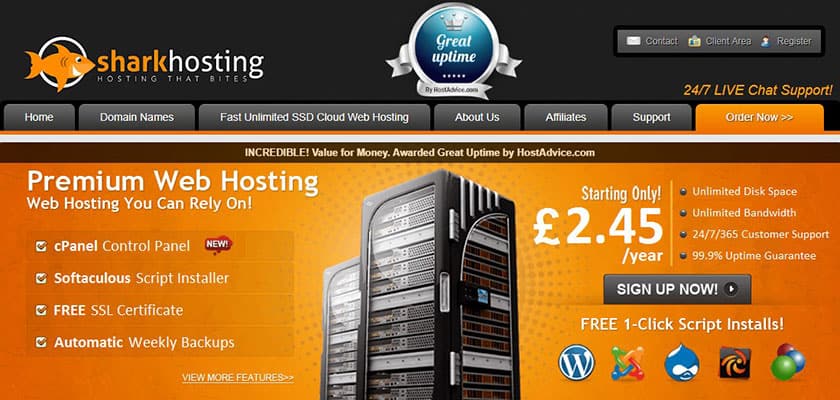 To compare the best web hosts, we hosted the same WordPress website on each one and tested performance, customer service, and value for money. Check out the results here.
Founded in 2015, Shark Hosting is a website hosting provider based in London. A relatively new company, Shark Hosting provides services to customers in more than 90 different countries. Their website and support are available in English.
Features and Ease of Use

Shark Hosting offers a wide range of website hosting services including shared website hosting, adult website hosting, cloud website hosting, and domain registration. Yes, you read it right, explicit adult website hosting is stated explicitly as an option… but obviously not an obligation.
Their website packages include the following features as standard:
99.9% uptime guaranteed
Automatic weekly backups
Domain registration
Unlimited subdomains and parked domains
Free Let's Encrypt SSL certificate
Unlimited SSD storage and unlimited bandwidth
Shark Hosting offers excellent quality Tier 3 data centers located in America, as well as cloud servers located in England. It's important to note that the American servers are owned by Shark Hosting themselves but are colocated in another company's data center. Since the server location and management is outsourced, there is some potential for slower site speeds and less immediate assistance on technical issues.
One of the main selling points of Shark Hosting is their "unlimited" website hosting packages, which claim you can have unlimited disk space and unlimited bandwidth. Since it's physically impossible to have anything totally unlimited, it's well known that this is merely a marketing strategy used by website hosting companies. So while you should not take the word "unlimited" at face value, in fairness to Shark Hosting I can tell you that they are very transparent about explaining this on their website in detailed user-friendly language:
"1-5 GB bandwidth per account, per day is not even noticed on our monitoring software. You may of course, transfer a lot more if needed, there is no cap. Of course if your account receives 1GB per Second(!) traffic or sends terabytes of data per day, it might not be tolerated (as it starts slowing down the whole network, causing problems for other users), it's far from any normal activity, which regular users browsing your site can never cause."
Put simply, the unlimited plans are subject to a fair use policy.
Pricing and Support

Shark Hosting's biggest plus is their pricing. It is incredibly cheap, and they seem to be able to provide the same service as other large website hosts for a fraction of the cost without sacrificing quality. Basically, they have cut overheads to the bone by using a remote team, and they are passing on those savings to you and me.
They offer a variety of different contract lengths: one, three, six, twelve, twenty-four and thirty-six months. You get a lower price for choosing a longer contract, but even the most expensive month-to month-contract still comes at a very affordable price. The billing terms are also very flexible. For example, you can cancel at anytime, there is a 30-day free trial, and if you are not 100% happy then you can take advanage of their "anytime money-back guarantee".
Shark Hosting has plenty of customer service options. My personal favorite is the 24/7 live chat, via which I've contacted them several times and always received a prompt answer from a friendly operator. Whenever the live chat operators have been unable to help, they have always passed me over to an appropriate team member.
As well as live chat, they also have a ticket system for technical questions. What's great about this is that the average response time is displayed right above the ticket submission form, so you already have a good idea of how long you will have to wait for an answer. They also have a large knowledge base with lots of helpful documents.
How much does Shark Hosting cost?Shark Hosting offers plans from $0 to $6. The price depends on which type of hosting plan you choose. You can see the updated pricing table (updated weekly) below.
Which Shark Hosting plan should I get?My recommendation is to start with a cheaper plan. You can always upgrade later on. Shark Hosting can help you with the migration to a more expensive plan. The increase in visitors many times takes longer than expected and you shouldn't pay a lot of money until the need arises. Of course, your needs may vary, and you can consult with a hosting expert from Shark Hosting here.
How good is Shark Hosting's customer support?Shark Hosting is not ranked as one of our top web hosts. But that can also be a result of Shark Hosting being a small, under the radar, hosting provider. There are advantages to a small hosting company – as a customer, you are more important to them. You can also check out our comparison of the most popular web hosting services here.